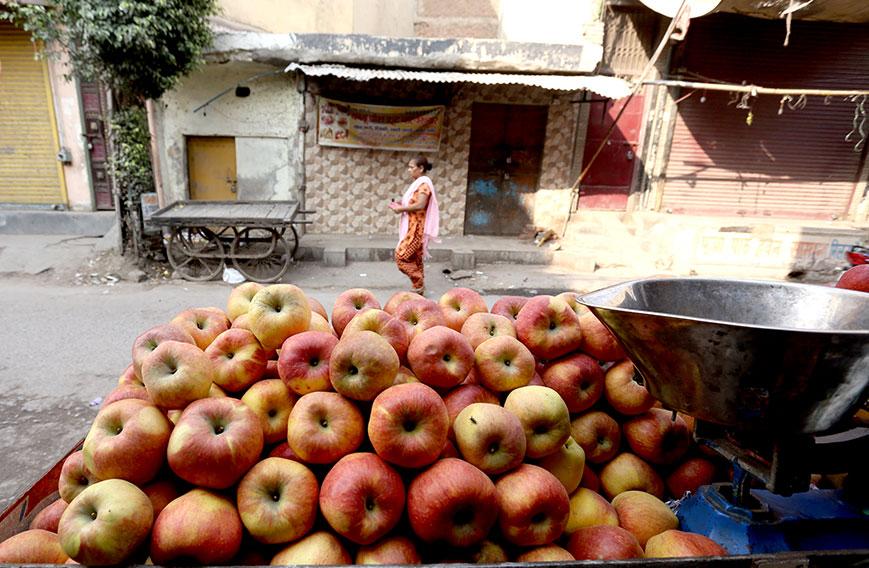 Don't import apples, say hill farmers
Bharat Dogra, Shimla | Photographer: Ajit Kirshna, New Delhi
Published: Dec. 05, 2016
Updated: May. 02, 2017
In several Himalayan villages, owners of apple orchards are angry about the Union government's decision to facilitate the import of apples. While earlier apple imports were permitted at only one port, now import of apples can take place using many ports as well as land and air routes. This is likely to increase apple imports and lower prices. This may be good news for consumers but apple orchard owners in the Himalayan region are not at all amused.
They are asking why the government emphasised increasing the spread of apple orchards as a development strategy in many Himalayan states if finally a decision was to be taken to facilitate the import of apples on a very large scale. These apples are being imported from countries which are known to give huge subsidies and generous help for promoting export of farm products.
Surendra Chauhan, an orchard owner in the Upper Shimla region in Himachal Pradesh, says, "Increasing imports of apples will have an adverse impact on our economy. We had a satisfactory harvest this time but we should also be able to get a proper rate. If the markets of cities like Delhi are filled with imported apples then we may not be able to get a good rate for our fresh and healthy produce."
Both the BJP and the ruling Congress party in Himachal appear to be on the same page on this issue. Atul Sharma, a Congress leader, said that the Modi government has gone back on its pledge to apple orchard owners regarding protection of their interests. Prakash Thakur, another Congress leader, said that before the Lok Sabha elections Narendra Modi had promised to protect orchard owners from apple imports.
On the other hand, former horticulture minister and present BJP leader Narendra Baragata said that the ruling Congress government in Himachal had failed to protect the interests of orchard owners in court and this is why this problem occurred.
Orchard owners point out that they face several problems growing apples. Instead of helping them, the government is forcing them to face competition from highly subsidised farmers in the developed world.
Vijay Jadhari, coordinator of Save The Seeds movement in Uttarakhand, says, "This is the time for helping apple farmers as they face many problems in these times of climate change. Instead, the government is increasing apple imports which will be very harmful for local farmers."
If the price of apples collapses, it will ruin the livelihoods of a whole chain of people, said Suresh Bhai, a Gandhian social worker based in Uttarkashi district of Garhwal, who has been preparing a people- and environment-centred development policy for the Himalayan region. "The government is not properly fulfilling its responsibility of providing necessary know-how to apple farmers. Instead, policies that result in increasing imports are being pursued which will make it more difficult for orchard owners to survive in times of increasingly adverse weather conditions."