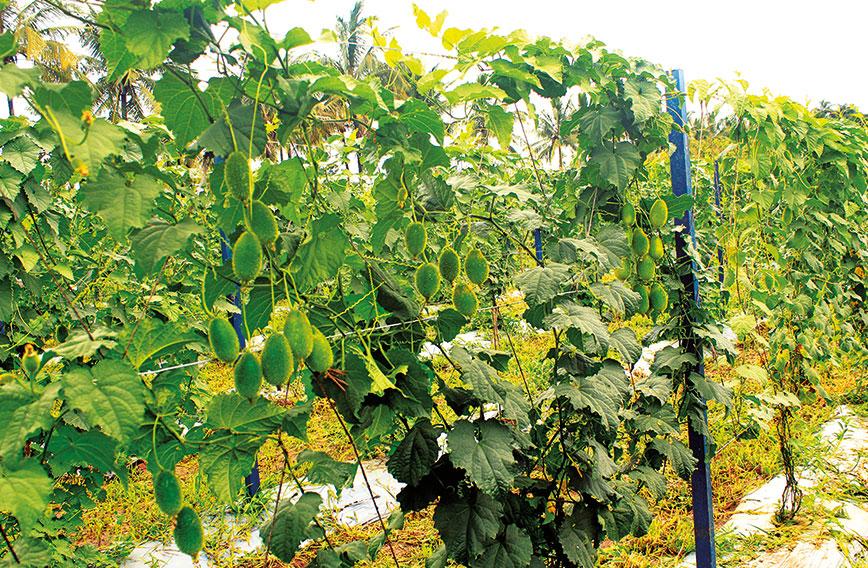 The Assamese kakrol or teasel gourd on a trellis at CHES | Photograph by Ches Chettalli
Assam gourd hits a sweet spot in Karnataka
Shree Padre, Chettalli
Published: Mar. 16, 2019
Updated: Jan. 30, 2020
A small spiny vegetable from Assam is set to debut in Malnad district of Karnataka. Locally known as madahagala or kartoli (Momordica dioica) in Kannada, its Assamese counterpart is called kakrol (Momordica subangulata).
The local madahagala, a wild spine gourd variety, is grown by just a few farmers in coastal Karnataka and Uttara Kannada district, mostly for their own consumption. Since the vegetable is seasonal it appears in the market once in a while. But the spine gourd is very popular among Konkanis, especially Gowda Saraswath Brahmins, and sells for as much as Rs100 per kg.
In fact, sellers of this vegetable merely have to park at a busy street in Mangalore and wait. Customers turn up to buy it. Hotel Ayodhya in the city makes a deep-fried dish of spine gourd called 'pagila fry' which is a popular item.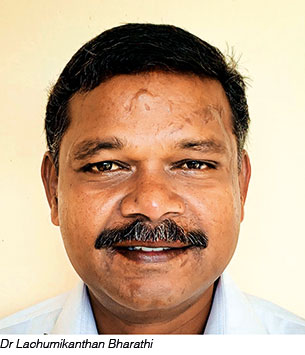 Dr Lachumikanthan Bharathi, head of the Central Horticultural Experimental Station (CHES), Chettalli, has now launched a campaign to commercially cultivate the Assamese variety, which is a teasel gourd. Five thousand plants have been produced for distribution among interested farmers.
"Spine gourd grows very well in Kodagu and the adjoining areas of Malnad. Although demand and price are high, nobody thought of cultivating it commercially. We at CHES intend to campaign for its commercial cultivation from this year," says Dr Bharathi.
"Madahagala has high demand in Maharashtra and Kerala too. A farmer can easily earn Rs 1 lakh from a quarter of an acre," says Dr Bharathi, who plans to organise a 'Madahagala Day' this June to propagate the vegetable.

Grow and sell: CHES is a substation of the reputed Indian Institute of Horticulture Research (IIHR). Before Dr Bharathi was transferred to Chettalli last year, he was working at the IIHR's substation in Bhubaneswar where he carried out extensive research on spine gourd.
Extolling the virtues of the Assamese kakrol, Dr Bharathi says it is far superior to the local wild spine gourd. "It is larger in size. The local variety weighs only 30 to 40 gm whereas kakrol's weight is around 100 gm. The local variety's underground tuber sprouts only after the onset of the monsoon in June. It yields crops in August and September. But the Assamese variety's tuber sprouts by January or February. It can be harvested for six months, from April to August. Plant propagation is also easier. You can produce several plants from cut tubers or from tiny tubers that grow around the mother tuber. From the local variety we can produce only a few plants," he says.
Plants can be raised from seeds too. There are distinct male and female vines. A female ratio of 10: 1 is recommended for commercial cultivation. But with seed propagation, one ends up with more male vines. One is also unsure of getting true to type mother characters from seeds.
All said and done, the Assamese variety has one weakness. It has to be pollinated by hand. The process is simple but laborious. "Pollination is not that difficult. You have to pluck the male flower and rub it on the stigma of the female flower before 9 am. One male flower is enough to pollinate five to six female flowers. In the peak season, one person will take about an hour to carry out pollination in a quarter of an acre," says Dr Bharathi.
In February 2018, Dr Bharathi got a trellis for kakrol erected on the CHES campus. A trellis is a fence-like structure with GI (galvanised iron) wire. A trellis is taller than a fence and has two or three rows of wires with a wide gap so that the vines have room to spread. This makes harvesting convenient. Since kakrol requires pollination by hand, a trellis is the right choice for its cultivation.
CHES sold the kakrol it raised for a nominal price of Rs 50 per kg through its own outlet. From a quarter acre it earned RS50,000. "It got sold out almost as soon as it reached our sales counter. A few retired people even waited for it to arrive. Local traders approached us to buy it on a wholesale basis. But our rules don't permit us to sell to traders," says Dr Bharathi. In Kodagu market the kakrol was selling at more than double this price.
A few superstitions prevail about cultivation of spine gourd. People, mostly agricultural labourers in and around Dakshina Kannada district, believe that those who plant this vine will die once its tuber grows to the size of the cultivator's head! In the past, to prevent this, labourers would cover their heads with a basket, believing the tuber would surely not grow bigger than the basket. "If this belief was true, I would have died a number of times," jokes
Dr Bharathi.
Fruitful campaign: CHES is providing interested farmers 100 plants along with knowhow on how to cultivate kakrol. Farmers from Kodagu, Dakshina Kannada, Udupi and Chikmagalur districts can contact CHES directly for kakrol plants. Preference is being given to farmers who will commercially cultivate kakrol on at least a quarter of an acre. The ideal time for planting is February. "We will also teach farmers how to raise new plants so that next year they can, on their own, expand acreage for kakrol," says Dr Bharathi.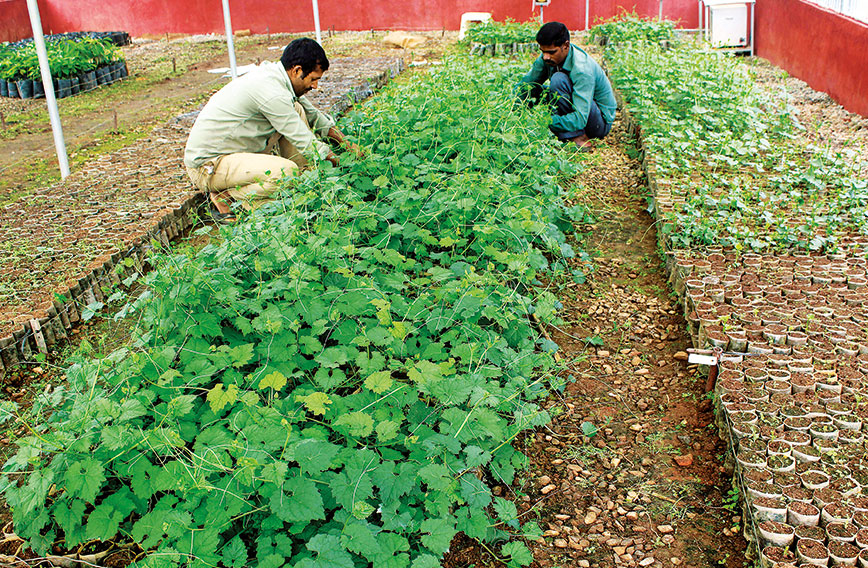 Through its own outlet, CHES sold the kakrol it raised at a nominal price of Rs 50 per kg.
Instead of using costly steel poles for erecting the trellises, farmers can make them with inexpensive, locally available material. The poles need to be the height of an average man. Three rows of GI wires have to be tied horizontally across the trellis. The first line should be tied half a metre above the ground, and the other two at a gap of 30 cm each.
At the end of the first season, the vine develops underground tubers, and in the subsequent season, vines emerge. The teasel gourd can be cultivated on the same trellis for five or six years. About 1,000 plants can be grown in a quarter of an acre if the spacing is two by two metres.
A few farmers in Dakshina Kannada district have cultivated the Assamese teasel gourd for domestic consumption. Malya Shankara Bhat, who is from near Punacha, is one such farmer. He saw the Assamese variety at a supermarket in Puttur and became interested. He took a few kilos home and planted their seeds.
Bhat confirms what Dr Bharathi says. "Ten to 12 teasel gourds weigh a kg. But our local variety is smaller and you need double the amount to get a kg. There is a slight difference in taste. The Assamese variety is slightly bitter and pollinating by hand is a bit difficult," says Bhat. "But the Assamese variety yields crop almost throughout the year. After one crop is harvested, the vines have to be pruned and manured. In another 40 days, you start getting the next crop." Further studies are required to assess the best months for pruning.
Dr Bharathi plans to hybridise teasel gourd to solve the problem of manual pollination. "We were successful in this experiment in Odisha, but fruit size declined," he says.
More than 25 farmers have booked teasel gourd plants with CHES, Chettalli. Somangada Ganesh Thimmiah, 54, a retired soldier from Ponnampete, is one of them. He has taken 400 plants and is all set to plant them. "I have studied this variety and got all the information I need from CHES, Chettalli. As I grow vegetables organically, marketing shouldn't be an issue," he says optimistically.
Contact: Dr Lachumikanthan Bharathi – +91 97766 75599; lkyuvan@gmail.com