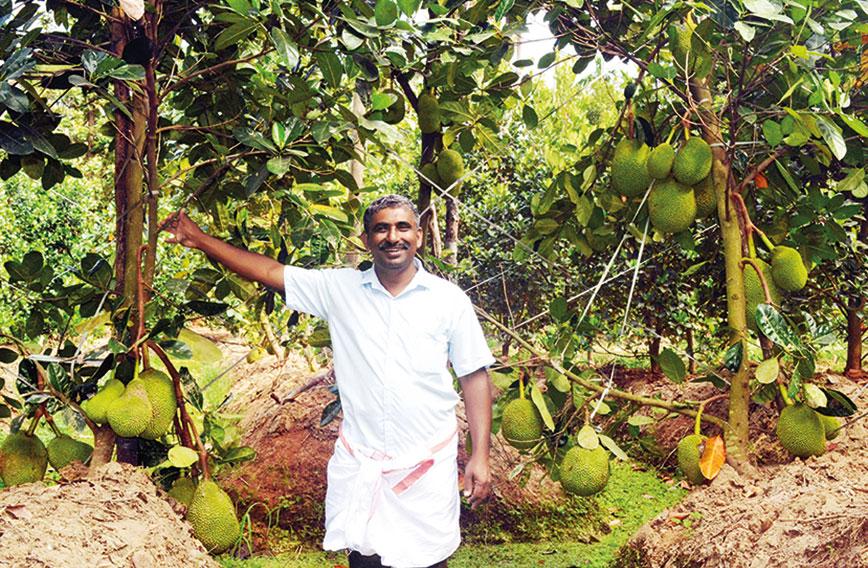 Antu Pallippadan in his dense jackfruit orchard | Photograph by Shree Padre
Jack hotspot: Thailand Pink booms in Kerala village
Published: Apr. 03, 2019
Updated: May. 16, 2019
Antu Pallippadan's jackfruit farm is a sight to behold. It has 400 jackfruit plants standing in close proximity on just one acre. Typically, jackfruit plants begin to provide fruit only from the third or fourth year and yields stabilise from the fifth or sixth year. Pallippadan's wondrous plants are only two years old, yet they yield eight to 15 fruits each.
Pallippadan's plantation, Paduva Jackfruit Farm, is in Edakunnu, 40 km from Ernakulam in Kerala. A high-density jackfruit plantation like this one is unusual. The only place in India which has jackfruit plantations is probably Panruti in Cuddalore district of Tamil Nadu.
Fifty-year-old Pallippadan used to run a plant nursery. He says he has started earning a good income now from his plantation. He has been selling jackfruit since December. So far he has
sold two tonnes but expects to sell five tonnes altogether this calendar year. He will earn, according to his calculations, Rs 5 lakh from just one acre of jackfruit plants.
Pallippadan has opted for a jackfruit variety intriguingly called Thailand Pink. Its forte is that it bears fruit twice a year, if not more. So, during jackfruit's off-season last year, from September to February, when prices climb to Rs 50 per kg, Pallippadan offloaded his jackfruits and earned more. The price of jackfruit also increased because of its newly acquired status — the Kerala government declared it the state fruit last year.
An income of Rs 5 lakh from an acre of jackfruit is unheard of. In fact, if Pallippadan trees don't catch phytophthora fungal disease in the monsoon months, he could even earn Rs 8 lakh, he says.
Thailand Pink, probably from Thailand, is the latest craze among jackfruit farmers in Kerala. Its nearest rival is Singapuri Wada, a local variety from Maharashtra; which is better is likely to become a topic of intense debate among farmers and scientists. A number of other varieties have also been floated by the University of Agricultural Sciences in Bengaluru.
High-density farm
Jackfruit plantations are actually a new phenomenon in the southern states. "Since around five years, in Karnataka's five to six drier districts, not less than 1,000 hectares of jackfruit plantations have come up," says Dr V.S. Hittalamani, a well-known retired horticultural scientist. But these plantations space their plants at least 8/8 metres from one another.
On Paduva Jackfruit Farm, plants are packed tightly together at only eight feet from one another. There is 10 to 12 feet of space between rows of trees. This kind of density would have required four acres if the accepted norm of spacing trees by 8/8 metres were followed.
"If there hadn't been floods last August, these trees would have grown to double their height," says Pallippadan. The plants were submerged for five days. "At that time I was getting my first crop. A few bunches of fruit were dangling from most of my plants. We feared they would all die. Luckily, only 50 plants died." The other plants slowly recovered. It was the next crop that Pallippadan started selling last December.
Farmers prefer Thailand Pink for many reasons. First, if managed well, it starts fruiting the very next year. Second, it yields fruit at least twice a year. Claims that it bears fruit 365 days a year are a gross exaggeration but the variety does provide some fruit almost every month. Third, fruits are small, just four to eight kg, convenient for a small family.
Nobody knows the original name of Thailand Pink. It is said that the late Sundara Rama Raju, a nursery owner from Andhra Pradesh, first brought it from Thailand. It caught the attention of nurseries in Kolkata which started growing it and selling it for just Rs 30 to Rs 40 per graft.
Thailand Pink's popularity began to snowball. Nurseries in Kerala realised the variety would sell. To market Thailand Pink they thought of catchy names like Vietnam Early and Vietnam Super Early. The carpels of this variety are yellow.
In Kerala and Karnataka grafts of Thailand Pink sell for Rs 100 to Rs 200. A controversy recently erupted on social media when a farmer from South Kerala claimed that he had developed a new jackfruit variety which he had named Ayur Jack. He started selling grafts for Rs 600 to Rs 1,000 each. Those who saw them said it was just Thailand Pink by another name.
Pallippadan claims that his farm has one of the oldest Thailand Pink trees in Kerala. Eight years ago, he says, two French businessmen told him that Thailand Pink was available in Kolkata and that it was a dwarf variety which yielded fruit through the year. So Pallippadan procured 100 grafts of Thailand Pink from Kolkata. The venture failed. Even after three years, they didn't yield fruit.
But he tried again this time, buying more expensive grafts. He planted 400 grafts in December 2016 on a paddy field he had leased for three years. He planted the grafts very close together, he says, on the advice of the person he bought them from. "He told me these are dwarf plants and don't need much space," says Pallippadan.
His paddy field is in a marshy area with a perennial stream running alongside. A bund made for a banana plantation that existed earlier was already in place. The place is moist and no irrigation is required.
Pallippadan orchard and nursery now attract visitors who buy the fruit. Kochi airport is just a 30-minute drive away. A local exporter regularly buys jackfruit from Pallippadan to export to the Gulf. The plantation yields less fruit only in June and July, says Pallippadan. "Otherwise, we get fruit throughout the year." Impressed by Thailand Pink's performance, he has planted another 800 plants nearby, using buds from his older plants.
"When I started I didn't have much information on spacing and other farm operations. But, looking back, I think I should have spaced the plants wider. At that time many people made fun of me for raising such a dense jackfruit orchard. Now they get dumbstruck, seeing the outcome," says Pallippadan.
Scientific opinion
Pallippadan might have erred in some agronomical aspects of planting but his achievement is that he proved that a dense jackfruit orchard can flourish and give decent returns from the third year itself. By the fifth year yields stabilise, according to horticulturists and academics.
Dr K.C. Shashidhar Kumbar, head, Agriculture Engineering Department, University of Agriculture and Horticulture, Shimoga, says: "Of course, spacing will shrink as the plant grows. But he need not worry too much. Farming is not a forestry exercise. You can harvest your crop for the first few years and then, as spacing shrinks, you can cut alternate trees."
"Jackfruit requires well-drained soil. Yields could get affected once the roots of the tree go deep from the raised bunds," says Dr Shyamala Reddy, associate professor, University of Agriculture Sciences, Bengaluru, who is a jackfruit expert. "Since this is a dwarf variety it is suitable for high-density planting though spacing should be 20/20 feet."
Dr Reddy says Thailand Pink also needs thinning and pruning, or else fruits will become smaller and of poor quality. The plant, too, will become less productive over a period of time. Also, this variety requires more nutrition, especially potash.
Thailand Pink's main competitor, Singapuri Wada, originated from Prakash Sawant's farm in Wada, Maharashtra. Which one is better? "That's a difficult question," says Gururaj Balthillaya, a grafting expert from Athrady, near Manipal in Karnataka. "There is a very slight difference between them."
The point is that nobody has raised a high-density plantation with Singapuri Wada. It also hasn't caught the attention of graft experts in Andhra or Kolkata the way Thailand Pink did.
But both are vulnerable to fungal disease especially in heavy rainfall areas like the Karnataka coast, warns Balthillaya who recommends a fungicide spray to keep the disease at bay. The downside is that farmers aren't mentally prepared to spray medicine on jackfruit. They see it as a zero attention crop.
"In my opinion, Thailand Pink makes a better vegetable. When it comes to fruit, Singapuri Wada scores higher. It is sweeter. Its carpels range from light yellow to saffron. Both have less latex. Singapuri Wada, however, has fewer carpels," says Balthillaya.
Jacob Chalissery, a fruit farmer from Bengaluru, has a jackfruit plantation near Belthangady. "The Thailand Pink variety is good for domestic consumption but not for commercial purposes. Its carpels are thin and soft. Peeling the bulb is not easy. When better varieties come up, it won't be able to compete."
Gabriel S. Veigas, a retired forest officer, is a pioneer in jackfruit plantations. His 10-acre farm in Dakshin Kannada district has just started yielding fruit. "Antu Pallippadan's experiment is worth following. It illustrates that jackfruit farming can be a serious profession," he says.
Locals are tougher
The downside of varieties like Thailand Pink or Singapuri Wada is that they are more vulnerable to disease.
"In coastal areas, varieties from low rainfall regions like Bengaluru UAS' Swarna, Lalbagh Madhura, Singapuri Wada and Thailand Pink are affected by phytophthora fungal disease. In contrast, local varieties like Prashanthi and Ananya remain unaffected. Farmers with jackfruit plantations should not forget this," says Veigas.
Dr Ganeshan Karunakaran, head, ICAR-IIHR's Central Horticultural Experiment Station (CHES) in Hirehally, praises the Thailand Pink variety. "Undoubtedly, Thailand Pink has superior genetic character. It has proved its mettle in different climatic zones by retaining its attributes. When local varieties begin flowering, Thailand Pink is ready with fruits."
His own trial plot in CHES, Hirehally, has varieties like Mankale Red, Lalbagh Madhura, Swarna and Thailand Pink. But only Thailand Pink yielded fruit in the second year itself.
Dr Karunakaran says Thailand Pink is suitable for high-density plantations but his choice for spacing would be 20/20 feet between plants. To ensure adequate sunshine, he recommends regular pruning.
"Jackfruit is mainly a stem bearer and not a terminal bearer like avocado or mango or guava. The growth of its canopy should not be restricted. Regular pruning will give the plants much required rest. If trees are planted too closely you will get a cloudy micro climate which will encourage pests like the fruit moth and fruit borer," he says.
He advises training of branches when plants are young. The branches should be trained so that they spread out in three directions. A rope and a wooden stick can be used. The lowest branches should be one and a half feet above the ground and the second rung of branches should be another one and a half feet from the first rung. At CHES he has limited the height of jackfruit trees to just six feet, which, he says, is the right height. n
Contact: Antu Pallippadan – 096335 15131