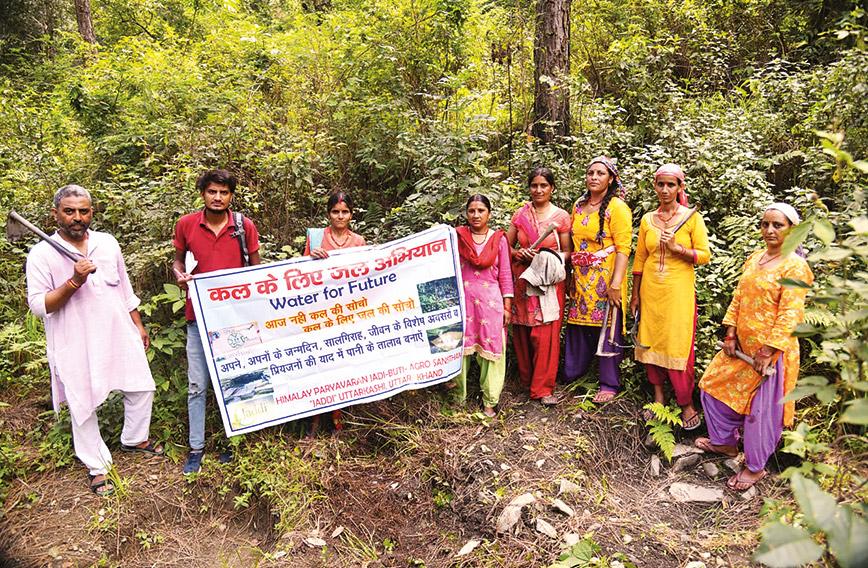 Women are leading the pond digging campaign
Dig a pond in memory of a loved one, nourish the earth
Rakesh Agrawal, Dehradun
Published: Feb. 14, 2023
Updated: Mar. 29, 2023
WHEN Sukhdev Chamoli's 87-year-old father died, he was overwhelmed with grief. He too is an elderly 67. His mother had died some years before. "She used to say, die today and tomorrow is another day, which means the dead are soon forgotten," recalls Chamoli.
But he wanted to do something to preserve the memory of his parents. Chamoli says his father was a very hardworking man though somewhat quarrelsome. He spent long hours tending to his small 0.2-hectare terraced field, mostly to irrigate it. Chamoli also remembered him as a loving father to his three children.
On his mother's birthday, Chamoli decided to honour his parents' memory with an unusual gesture. He dug a tiny pond on his family field in Chamkot village in Uttarkashi district. "They will bless me for recharging the earth with water and rejuvenating my small field," says Chamoli.
He was inspired by Dwarika Prasad Semwal, an elderly Gandhian activist, who has been leading a pond digging campaign across Uttarakhand called Kal Ke Liye Jal (Water for Tomorrow) since 2021.
"I realized, as a Gandhian, that travelling is very educative. It taught me that you must align people's emotions with the change you seek to bring. The emotional connect is so important," says Semwal. "Water, land and forest are organically related, intrinsic to survival and close to people's hearts."

Semwal also heads the Himalaya Paryavaran Jadi Booti Agro Sansthan (HPJBAS). For his water mission he realized it was important to get the women involved. In three villages, Chamkot, Kulhad and Siror, he set up a Ganga Sakhi Sangathan (GSS) and couched his message in religion. He said saving water was an intrinsic part of Hinduism.
"We worship Vishnu with water before any auspicious work is started. We offer water to Shiva. Quenching the thirst of humans and animals is punya ka kaam (a virtuous act)," says Mithila Bhatt, a GSS secretary.
Initially, the reaction was tepid. Then Semwal hit upon the idea of asking people to dig ponds in memory of their loved ones or to mark an important occasion like a birthday or anniversary.
The GSS, consisting of 70 members, took a pledge to dig small water pits. "In the old days kings, landlords and rich traders would dig ponds. The government pays zero attention to this so we the ordinary people have initiated this movement. Every member will dig 50 water pits or jalkunds, three feet wide and 1.5 feet deep in the memory of their ancestors or for a birthday or anniversary," says Ramkumar Chamoli, pradhan of Chamkot village.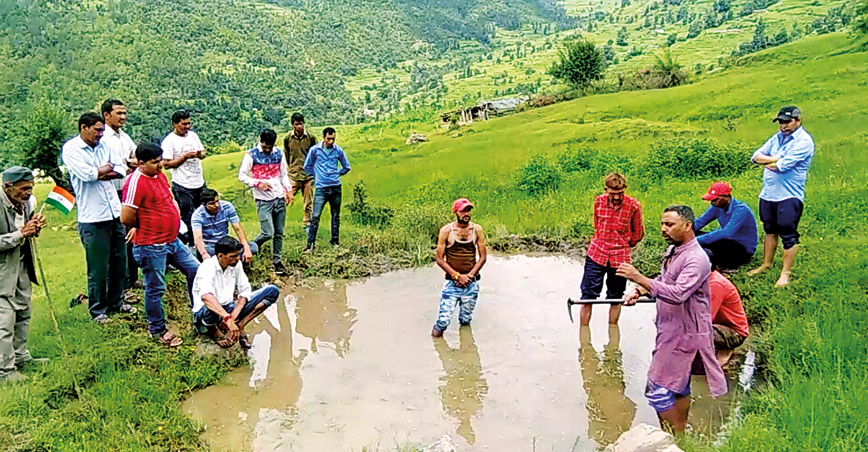 It can be a large pond or a small water pit
Sukhdev Chamoli dug 50 water pits. Six villagers dug 185 pits which were bigger. "In this case one pit is counted as two," says Mahendri Semwal, president, GSS. Parvati Devi, a small farmer, dug a larger pit and Vinita Devi dug one on her wedding anniversary.
Altogether 3,500 water pits have been dug in Chamkot village and its adjoining mixed forest of three sq. km.

Last year the water mission spread to other parts of Uttarakhand. In Srikalkhal village of Uttarkashi district, 50 students of the Government Inter College dug four ponds to honour their teacher, Suraksha Rawat. They even harvested rainwater from the school building terrace, directing it to the four ponds they had dug."It was my birthday on August 12 and my students gave me this precious gift," says Rawat.
In September, Dwarika Prasad Semwal asked Chief Minister Pushkar Singh Dhami if they could dig a pond for him on his birthday. Dhami agreed and a pond was dug in Dudhli forest on the outskirts of Dehradun in honour of the chief minister.
Enthused by the wide media coverage his mission received, Semwal has decided to train young people in large numbers to become water soldiers. He plans to dig 1,000 water pits in Dehradun next year.