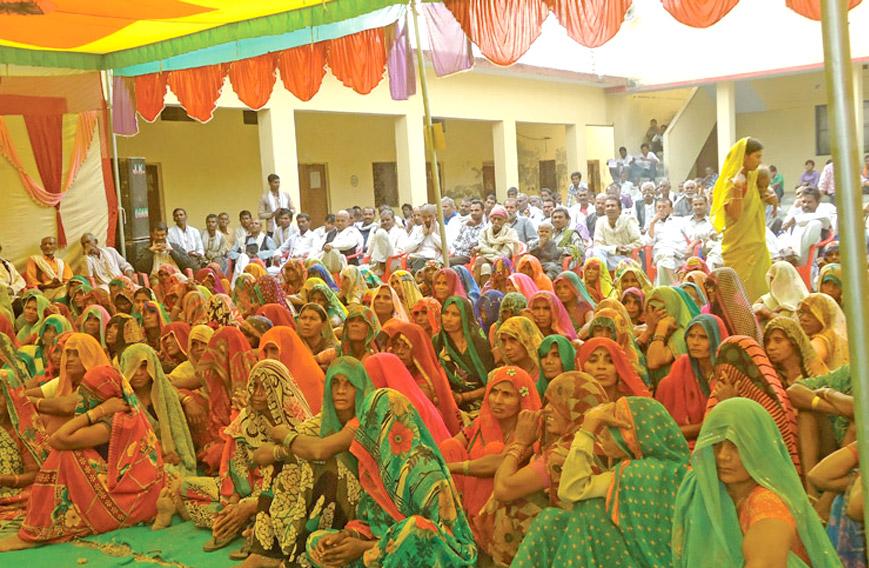 Bharat Dogra
Published: Mar. 28, 2016
Updated: Dec. 05, 2016
Despite all the rhetoric about land reforms, Dalits have been able to acquire only very small plots of cultivable land. According to estimates, just 44 per cent of Scheduled Castes own land as compared to 74 per cent of upper caste households in rural areas. Fields owned by Dalits are also extremely small.
Very few Dalits are able to acquire non-land assets. For instance, 96 per cent of Dalits do not even own a tubewell as compared to 86 per cent of upper caste households. And 52 per cent of Dalits do not even own a buffalo. It is also well known that Dalit women are the worst-off when it comes to land ownership.
Access to cultivable land is one of the most critical factors in mitigating poverty and hunger. When a family does not own land they are forced to migrate to cities to earn a living. Ownership of land encourages parents to send their children to school. It also enables poor families to grow some of their food and get better nutrition.
When the government does allot small parcels of land to Dalit households they are prevented from taking actual possession of the land by upper castes in villages. The Dalit households face habitual discrimination. They live in fear of powerful households in their villages and are not able to challenge them.
A public hearing on land rights of Dalits in Banda district of Bundelkhand region, organised on 29 November in Oran, a small town, exposed the arbitrary methods employed to prevent Dalits from acquiring land.
Ram Karan Adarshi, a senior activist of Gramin and Khetihar Workers Union (Rural and Farm Labour Union) said that efforts were recently made to enact legislation in Uttar Pradesh which would have facilitated transfer of Dalit land to others by removing the curbs that had been placed on such transfers. He said that, due to resistance to such a law, voiced by Dalit organisations, such legislation has not been passed yet. But Dalit organisations need to be vigilant.
Adarshi, who also has a fellowship supported by Action Aid, said that thousands of Dalits who were given pattas (land deeds) were not able to occupy and cultivate the land allotted to them. Several such cases are pending in the courts. Dalits who struggled for land rights in Banda district have faced a lot of aggression but they will continue their struggle, said Adarshi.
Several Dalit women gave testimonies regarding the problems they had faced while defending their land rights. They spoke with emotion as well as conviction. They were not afraid to answer questions from panellists and others. Raja Bhaiya of Vidyadham Samiti, a local voluntary organisation and one of the main panellists, said that the confidence of the women was evidence that the weakest sections of society are now much more determined and prepared to defend their legal rights.
One of the cases highlighted from Galgala Purva of Atarra tehsil related to Rajkaran whose patta was sold by the village pradhan to someone else. Despite informing officials promptly, no help was provided to the complainant. Sumer, a Dalit resident of Bisandi village, in Baberu tehsil, was trying to reconstruct his house when he and his wife were beaten up by a dominant person of the village who was accompanied by eight other persons.
Sushila of Oran village complained that her family had received a cultivable patta, about half of which was occupied and sold by a powerful local muscleman. When her family resisted, she and her husband were beaten up by him. Sushila's family complained to higher authorities but they did not get any help.
Raghuvir, also from Oran, was stopped from building his house on the patta allotted to him. He had to halt construction midway and lives in constant fear that those who prevented him from building his home may grab his small piece of land.
Ramsakhi from Singhpur, Attara tehsil, complained that dominant persons began to cut the trees on her land and when her family resisted, she and her husband were beaten up badly. These local goons also felled the trees. Mahaprasad from Utarva village, Badansa, resisted the effort of local upper caste goons to grab his land and he too was beaten up badly. The goons continue to occupy the land despite several complaints to the authorities.
Such cases revealed the extent to which justice has been repeatedly denied to Dalits. Lawyers pointed out how intricate methods are used to delay and deny justice to Dalits. However, activists and villagers reiterated their determination to struggle for land rights, braving all odds.
When the government allots land to Dalits, it must follow its orders through and see that the Dalits actually acquire the land. Stringent action should be taken against encroachment and deliberate destruction of crops on fields owned by Dalits. Small loans to buy non-land assets could also be extended to Dalit families.