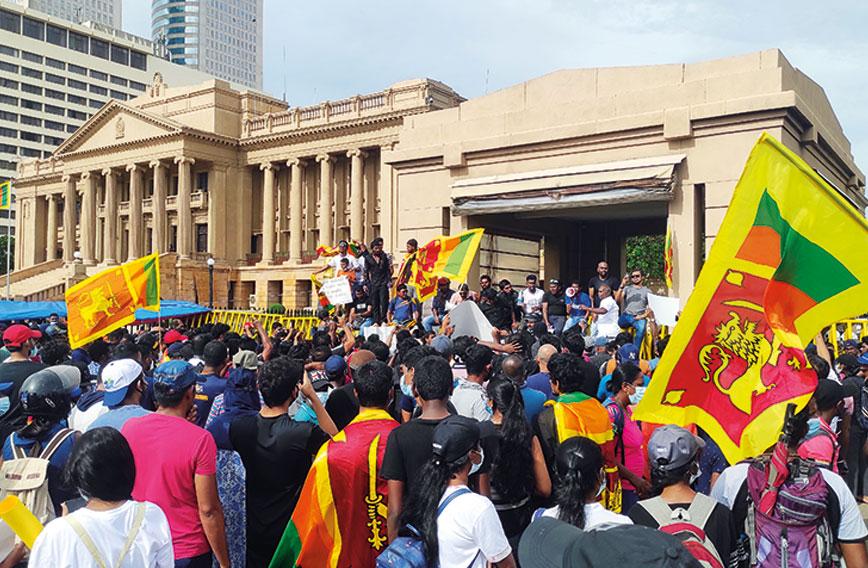 Strife in Sri Lanka and (below) the good life on one of Sikkim's organic homestays
Lanka could learn from Sikkim how to go organic
Civil Society News, New Delhi
Published: Apr. 29, 2022
Updated: May. 27, 2022
WHEN the Sri Lankan economy collapsed with a sigh recently, prominently sticking out of the debris was a failed attempt to take the island nation into full-scale organic agricultural production.
The Rajapaksa government had virtually overnight ordered a switch to organic agriculture to save foreign exchange on the import of chemical fertilizers and pesticides.
But going organic, instead of being the solution, became a bigger problem with food crops failing and the famed Sri Lankan tea industry withering.
Now Sri Lanka has turned to India for food aid, but it would have done well to have earlier sought advice on what it really takes to transition from chemical to natural farming.
India has in Sikkim an entire state which has been declared organic. India also has a robust and growing organic food industry which handholds farmers as they go from chemical pesticides and fertilizers to natural practices.
Sikkim grows its local rice, millets, vegetables, fruits like oranges and avocados and spices organically. There are no studies as yet on how much more farmers earn by selling organic produce, but the fact that they haven't looked back indicates a high level of satisfaction.
The example of Sikkim is particularly interesting because the switchover was conceived of and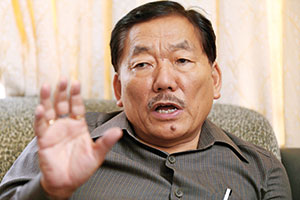 Former Sikkim Chief Minister Pawan Chamling: Strongman with a vision
managed by the Sikkim Democratic Front (SDF) state government under then Chief Minister Pawan Kumar Chamling.
It is also worth noting that organic practices were traditionally prevalent in Sikkim, many of its farms being too remote for chemical fertilizers and pesticides to reach them.
Nevertheless, when it came to having a complete makeover by giving up chemicals, the state chose to hasten slowly.
The transition was a careful one. It took all of eight years or so from 2008 to 2016, when Prime Minister Narendra Modi went to Gangtok to declare Sikkim India's first organic state.
Farmers going completely organic in their fields had to wait three to five years and during that time the state had to ensure that they felt encouraged to go the distance.
"Yes, a three-to-five-year frame is what you're really looking at. A farmer would have to wait that long. But in Sikkim already we were not that inorganic, unlike maybe Sri Lanka or other places. Therefore, you know, changeover was also maybe easier," says Prem Das Rai, who was in the Lok Sabha for two consecutive terms from Sikkim and also head of the sub-committee of organic agriculture in the State Planning Commission.
Farmers had to be incentivized and the decline in production had to be compensated for. Equally, when fall in production would affect supplies, imports from the plains were possible.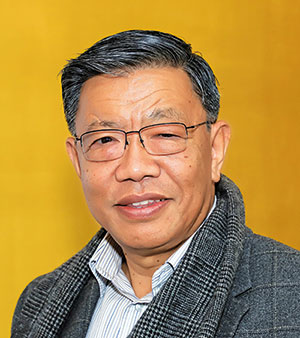 P. D. Rai: 'We incentivized farmers'
"I think our productivity levels did fall. We will definitely accept that. But those shortfalls were made up by whatever import was needed at that particular instance. Things are back to normal and you can get any amount of organic vegetables and organic legumes and organic stuff that you want within the state. And being a local person, we don't really look for labels or anything else," says Rai.
"So we definitely didn't have to get through the kind of problem Sri Lanka has had. Sri Lanka has given a very, very bad and exceptionally negative narrative to organic farming. I think that's very, very sad because that could have been avoided," he says.
In Sikkim much had to be anticipated and planned for. Certification, for instance, is a complicated and expensive process. Almost 76,000 hectares had to be certified. Farmers could not be expected to pay for certification so the state government had to underwrite the cost.
A whole range of biopesticides were also brought in so as to avoid a situation in which there would be crop failure because of a pest attack.
Several agencies with good credentials were brought in to train master trainers who would train others who would go to villages and into the fields.
"The Indian Council for Agricultural Research (ICAR) has almost like a centre of excellence of organic farming in Sikkim. So they continue to give a lot of training to farmers and so on and so forth," explains Rai.
Chamling and the SDF were in power in Sikkim for 24 years from 1994 till 2019. He was a strong man, virtually unchallenged in his party and the state. But despite his sway, he let the shift to organic take all the time that was needed.
Chamling's early years in power coincided with the green concerns which defined the early and mid-'90s. Across the world the green movement was growing. In India, the Centre for Science and Environment (CSE) under Anil Agarwal was recognizing chief ministers for their green policies and Chamling topped this rating.
The Chamling government had also decided to frame a vision document for the state for which it went to Dr Ashok Lahiri at the National Institute of Public Finance and Policy.
"They suggested that if we really wanted Sikkim to prosper and be sustainable, we should go the green way," says Rai.
Armed with this vision for the state in 2001, the political supremacy Chamling enjoyed and the intellectual realization that India was changing along with the rest of the world, the SDF government began looking at the possibility of going organic.
"We didn't know fully where we were headed at that time. But we felt it wasn't a good idea to have too much inorganic stuff inside and so we should go the organic way," says Rai.
From 2003 the organic agriculture question was debated in the government and the state planning commission. Rai headed a sub-committee on organic agriculture. Finally in 2008, it was decided to go ahead and a resolution to this effect was passed in the Sikkim Assembly.
A COMPANY IS BUILT
In roughly the same number of years, Raj Seelam has built up Srestha Organic whose brand 24 Mantra is now widely recognized as the first choice of a growing number of families.
The company works with tens of thousands of farmers across India and has been an active partner in Sikkim's emergence as an organic state.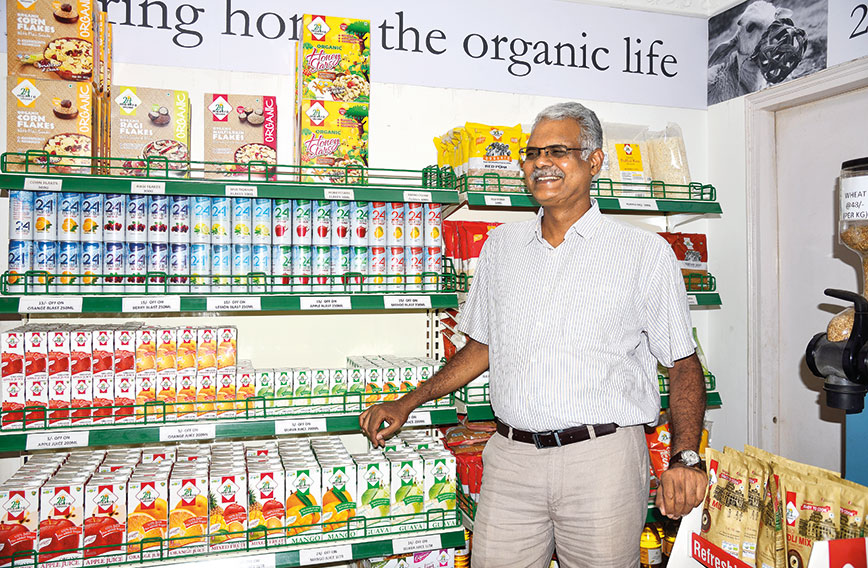 Raj Seelam: 'Trust matters. You have to work with farmers'
"Organic is a certain philosophy and one needs to have conviction. Sri Lanka was prompted to go organic by its foreign exchange crisis," says Seelam.
"Additionally, the opening up of the economy in the 1970s and 1980s, I was reading somewhere, has haunted the economy of the island because a lot of agriculture got destroyed. So, liberalizing blindly is perhaps also one factor," he explains.
"A lot of preparation is required for going organic because it is not just a question of stopping use of fertilizers and pesticides. It is an alternative system. We have to figure out different means of building up soil and fertility. Second is creating a natural balance so that you don't need to make chemical interventions," he explains.
"For farmers we work with it takes three to four years and that is also the period for certification. Just convincing farmers and enrolling them takes three to four field visits. Afterwards we have full-time people stationed there. In our case for every 200 to 300 farmers we have one of our persons stationed there. Their job is to visit the fields regularly, train the farmers, if they have any problem provide solutions, and if they don't understand, they immediately reach out to our agronomist. We have an app for all our staff and they're able to kind of see the solutions there. And otherwise, we have a specialist, an agronomist, they can reach out to. So it's fairly intensive. Typically, each farm gets visited anywhere between two to three times a month. And that's a continuous effort," says Seelam.
The process of going organic also results in a fall in yields during the transition. Typically, it is 10 to 15 percent in the first year, says Seelam. Since Srestha Organic is not in a position to compensate farmers, it encourages them to go organic in phases. So, someone with 10 acres may do two acres at a time.
Seelam says organic practices have been successful with staple crops like cereals, oilseeds and spices. With spices there is a "bit of a challenge in terms of pests and disease management" and work is on to find solutions.
"Otherwise with most crops, we don't see many challenges. In fact, I think there's an ICR Research Institute called Cropping Systems Research Institute. So they have done quite a few studies and they found that in most cases, organic yields are comparable with conventional yields except for two or three crops," he says.