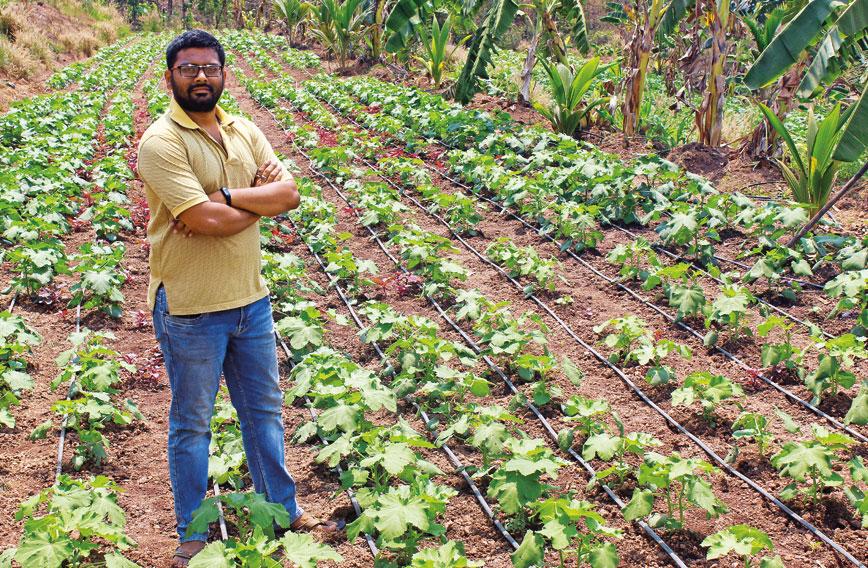 Chaitanya Malik: 'We started the farm and then realised organic farming requires cow dung and urine.' | Photograph by Derek Almeida
Goan engineer's dream comes true with Gir cows
Derek Almeida, Panaji
Published: May. 16, 2019
Updated: May. 28, 2020
When Chaitanya Malik graduated from the Goa College of Engineering with a specialisation in computers, he mapped out a surprising future for himself. Instead of computers he decided he was going back to his ancestral village to practise organic farming. Five years later, he has a four-acre farm where he grows cluster beans and lady's finger or bhindi. He also has a dairy, which sells 100 litres of desi or superior A2 milk a day. The farm and the dairy make a profitable enterprise.
Chaitanya's choice of career is unusual given his background in engineering. A new airport coming up at Mopa is bound to bring in land sharks and Chaitanya feared there would be encroachments on his family's land.
His farm is located in the village of Chandel-Hasapur which is around 32 km from the capital city of Panaji. In this tiny village, almost everyone is a Malik. Chaitanya's family owns nearly 100 acres. Around 50 percent of their land is in forested areas, but the remaining, although dry with laterite soil, is waiting to be ploughed and planted.
As we sit in a fairly large shed with around 13 brawny Gir cows, three bulls and seven calves, Chaitanya, 25 years old and raring to go, explains how dairy farming became an essential element of his plan.
"We first started the farm and then realised organic farming requires cow dung and urine. So, we decided to rear cows," he said. "After doing some online research, I learnt that desi or indigenous cows are best suited for organic farming. They have a hump which absorbs sunlight and that, in turn, enriches milk and urine."
He says the desi cow's virtues are documented in ancient Indian texts. But through modern science it is known that A1 and A2 are different proteins in the casein family.
Most cows produce A1 milk, but desi or indigenous cows do not come out of cross-breeding and give A2 milk, which is healthier and easier to digest.
The dairy unit started in June 2016 with three cows purchased from Gujarat. For the first month milk was sold to Goa Dairy for Rs 24 per litre. Chaitanya quickly discovered that there was a huge demand for A2 milk. "A2 milk can fetch up to Rs 120 per litre in Mumbai and in parts of Hyderabad it is sold for even Rs 150 per litre," he said.
Having figured this out, Chaitanya redrew his plans. He named his dairy Dr Malik's Farms. "We sent WhatsApp messages on a broadcast group and on July 5, 2014, we received an order for five litres per day. By the end of July, we had orders for 25 litres and we now sell 100 litres of milk per day to customers in Mapusa, Panaji and Porvorim."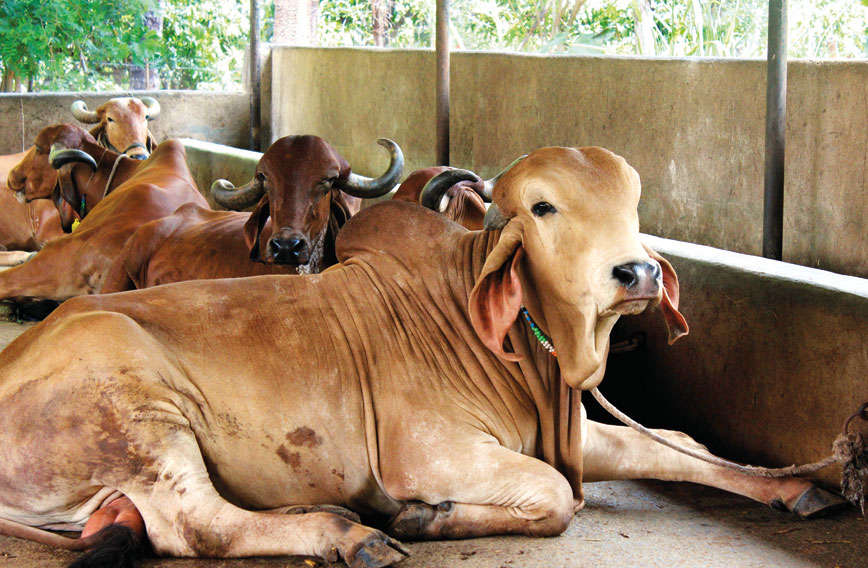 The Gir cows | Photograph by Derek Almeida
As demand grew, so did the number of cows. Buying cows for Rs 60,000 to Rs 70,000 an animal has an element of risk. Some cows yield milk for three months and then dry up. Others produce less milk and have to be sold off to local farmers for one-third the price. Gir cows, which are native to Gujarat and Rajasthan, are accustomed to temperatures as high as 45 degrees. Goa's more temperate climate is cool for them but they quickly acclimatise to local conditions.
After delivery, cows generally produce milk for at least eight months and, in rare cases, up to one and a half years. Pointing to a cow which had just delivered, Chaitanya proudly said, "She produces up to 17 litres a day."
Given the high cost of feed and the fact that most of it has to be procured from outside the state, cows have to give a lot of milk to justify being in the dairy. Even seven litres of milk a day is too little.
"Dry fodder and maize have to be procured from Belgaum while mountain grass is gathered from around Mopa airport area," he explained, "and once the airport comes up, access to grass will be cut off." Chaitanya has built a poly-house of around 2,000 sq m at the farm to grow fodder for the cattle. He buys cottonseed cake and ground maize from local distributors.
Input costs for the dairy unit are around Rs 1 lakh per month, but the high price that A2 milk fetches — Rs 90 per litre — makes it profitable.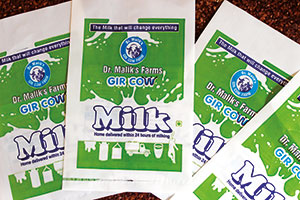 For the two farm workers and two helpers who transport the milk to customers, the day begins around 3 am when the vehicle is loaded. The first doorstep delivery is made at 4.30 am to customers in Mapusa, followed by those in Porvorim and by 8.30 am the last delivery is made to households in Panaji. Cows are milked at 5.30 in the morning and evening, and today's milk is packaged and sold the following day after freezing.
Musing on his decision to switch to organic farming, Chaitanya said, "After getting a degree
in computer science the only option for a Goan is to migrate to larger cities in search of jobs. Since we had land here and we realised that once the airport was built encroachments would begin, I thought the best way to protect our land was by utilising it."
Besides, there was no compulsion to take up a job to provide for the family since his parents hold good jobs. His father is a PhD in organic chemistry and teaches at PES College while his mother is headmistress at a government school in Porvorim.
"Initially, they thought my decision to get into farming without any background was fraught with risk, but they eventually came around when the farm became a success story," Chaitanya proudly recounted.
A few hundred metres from the dairy unit is the farm, which has an electrified fence to keep bison, monkeys and wild boar out. A natural spring runs through the middle and on one side is a canal which brings water from the Tillari irrigation project. Here, water is not an issue. Chaitanya has installed a small filtration plant to remove sediment so that smaller pipes of the drip irrigation system, which is spread all over, don't get clogged.
The drip irrigation system, set up with 70 percent subsidy from the government, was his choice for two reasons. One is that the soil sucks up water at an alarming rate and water supplied through traditional flow systems does not reach all parts. The second was labour.
Work started in 2014 soon after Chaitanya completed his engineering studies. Out of four acres, around 2.5 acres are under cultivation and the main crop is lady's finger. "We chose lady's finger because it is a sturdy crop suitable to Goa's environment and fetches a good rate," he explained.
Practically all the produce is sold to the Goa Horticulture Corporation which pays between Rs 35 and Rs 40 per kilo. At present three crops of lady's finger are grown per year with cluster beans planted in winter. "We are benefitting from the demand for organic food," he said. Since Goa is small and the distance between farm and customer is not much, middlemen are eliminated.
It took Chaitanya around two years to start earning profits. And this was made possible since his input costs are negligible. The cow dung produced at the cattle shed is used as manure while urine sprayed on the plants acts as a natural pesticide. "We also spray a mixture of garlic, chilli and tobacco ground in equal proportion," he added.
Chaitanya has also created a revenue stream by renting out a tractor, purchased again with 90 percent subsidy from the government, to farmers in the area. "Although the government provides a tractor for ploughing, only one vehicle is available for Pernem taluka which is not adequate. During the ploughing season from June to August our tractor is fully booked," he said.
This 25-year-old IT graduate has plans for growth and his motto is, if you want to succeed in agriculture you have to treat it as a business, not a hobby.