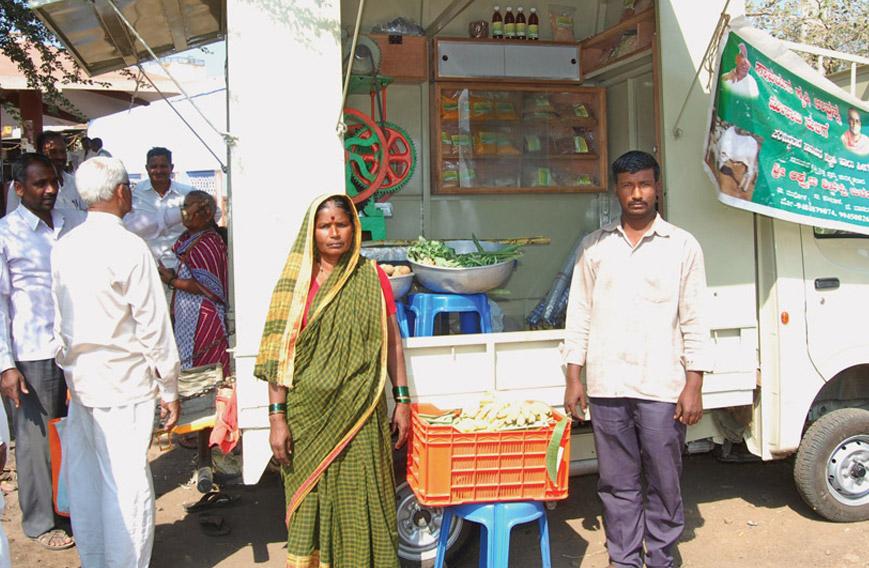 Organic veggies from field to van to customer
Shree Padre, Kasargod
Published: Mar. 21, 2016
Updated: May. 17, 2016
Saikumar Billur was working long hours in a cement factory after doing a diploma course in engineering and he wasn't happy. He came from a farming family near Mudhol in Bagalkot district of Karnataka and missed the bucolic life he had left behind.
One day, his father messaged him: "Come back to our village. Work with me. I will pay you more."
Saikumar packed his bags and headed home. He figured that if he worked for such long hours for his family, he would not only earn more but be happier.
His father, Lakshman Shivappa Billur, 64, had started a small business from a Tata van. An organic farmer, he would load his farm produce into the van and take it to different places in Mudhol for sale. Organic sugarcane juice was quickly becoming his bestselling product.
This unique method of selling directly to consumers was picking up and he needed helping hands.
Saikumar now drives the van and works as cashier, salesman and campaigner for organic products. "Since it is our own work, I don't get bored or tired. I meet new customers, talk to them and try to create a bit of awareness," he says.
"Pay the organic farmer now or the doctor later," reads the status on his smartphone.
For Lakshman this is a long-cherished dream coming true. He switched to organic farming 15 years ago and now grows sugarcane on three acres of his eight-acre farmland. On the rest, he grows wheat, turmeric, chickpea, vegetables and fruits like papaya and sapota.
"I like to grow poison-free foods for consumers of my taluk. Now that my fellow farmers and I bypass middlemen, we get a better price," he says.
A sugarcane-crushing machine occupies centrestage in his Tata van. His mother, Sushilabai, helps Saikumar in extracting sugarcane juice.
Lakshman has already achieved local fame in marketing organic jaggery and organic jaggery powder. For 10 years he has been producing organic jaggery from sugarcane grown on his field. The jaggery is produced without any chemicals. All jaggery available off the shelf has chemicals that are not recommended for human consumption. (Read Civil Society, June 2015.)
Lakshman regularly sends consignments of jaggery and jaggery powder to Pune, Chennai, Bellary, Puttur and other places. The jaggery products he and fellow farmers produce sell under the brand name of Mudhol Jaggery.
Lakshman's success lies in his ability to sell directly to consumers. The customer pays the money for his jaggery products directly into his bank account. Around 50 per cent of his production is sold directly to consumers this way and sent via lorry or courier.
"I have about 20 to 25 regular customers all over the state who buy jaggery directly from me," says Lakshman proudly.
After the Karnataka government started a Jaggery Park in Mudhol, Lakshman began getting his jaggery products made there. Last year the Jaggery Park exported eight tonnes of his jaggery powder to Russia. He sells a kilo of jaggery for `50 and jaggery powder for `65. A recent jaggery product he has introduced is liquid jaggery (kakambi).
Selling organic jaggery products is turning out to be more lucrative for farmers than selling chemical-laden sugarcane to sugar factories.
A 200 ml glass of organic sugarcane juice sells for just `10. "At the recently held Bagalkot Horticulture Fair, our mobile van earned `17,000 by crushing seven quintals of sugarcane to make juice. If I sold the same sugarcane to a factory, I would earn a paltry `2,000," says Lakshman.
Lakshman is Vice-President of the Susthira Krishi Balaga (Sustainable Farmers Group) in Mudhol. As part of the group's activities, he ran a sugarcane juice shop at Mudhol for four years. He closed the shop when he was asked to relocate it to the first floor. His rationale was that it would not attract customers. But this initial foray into business gave him firsthand experience.
Lakshman must be the first farmer in Karnataka to go door to door in a van to sell organic produce. Business was excellent in the last three exhibitions he took his van to. In three days, he earned `28,500. In fact, in Bagalkot the demand for sugarcane juice was so high that he ran out of sugarcane. He couldn't, of course, rush back to his fields to bring more sugarcane.
His van offers more than sugarcane juice. He sells around 10 to 12 products including turmeric powder, rice, honey and vegetables. He plans to increase his product range to 25 soon. "All that a household kitchen requires should be available in our van," he says.
For the past 10 years Lakshman has built a network of organic farmers. "We only buy from farmers who shifted to organic farming at least four years ago and whose fields we have visited. One-third of the farmers we buy from are certified organic farmers. The rest are farmers whom we know well and can trust."
Four local farmers, Babugouda Patil, Hanumantha Karigar, Mahanthayya Mutt, Kajjidoni and Vishwanath Vantagodi, supply him vegetables, fruits, grains and other produce. He gets his supply of poha (beaten rice) from Satish Hegde of Kilara in Siddapur. Lakshman plans to keep 10 per cent of the price as commission for his sales services. But currently he is passing on the entire amount he gets from the sale of their produce to them.
Another secret of Lakshman's success is that both his sons work with him. Siddappa, his elder son, who has completed his schooling, now shoulders the responsibility of farming with his wife, Rekha. She recently won the 'Best Woman Farmer' award from the University of Agriculture Sciences (UAS) in Dharwad.
Lakshman grows a sugarcane variety provided by the Mudhol Jaggery Park. Its juice is sweeter and more copious than other varieties. Every fortnight he plants five to 10 guntas (a gunta is 2.5 cents and 40 guntas make an acre) to ensure he gets a continuous supply of sugarcane throughout the year.
The family has decided to increase the area under sugarcane cultivation by another acre. "So we have two acres for jaggery and another two for sugarcane juice," explains Siddappa.
Mudhol has about 10 sugarcane juice shops that use chemically grown sugarcane. "Customers ask me, Why is your sugarcane more tasty than theirs," says Lakshman. "I tell them the juice from chemically grown sugarcane is thinner and less tasty. We use cow urine, cow dung, mulching and no chemical inputs. Our sugarcane comes from a field that converted to organic farming 15 years ago."
His mobile van parks itself in three areas in Mudhol. He informs his customers in advance about the timings of the van. People bring bottles along to collect the sugarcane juice and take it home.
It has cost Lakshman `4.5 lakh to convert the Tata van into a travelling shop. He took a loan of `3 lakh from Karnataka Vikas Bank. The remainder came from his personal family savings. He has to pay back `10,000 to the bank every month. "To break even, we should sell products of around `6,000 daily. Right now, our sales are around `3,000. But word is yet to spread." Lakshman has distributed handbills in Mudhol about his organic venture. Sales are higher at exhibitions and Krishi Utsavs.
During the monsoon, sales are usually bleak. But Lakshman is upbeat. "Yes, sales do go down by 50 per cent but we find people drink sugarcane juice even during the rainy season," he says. Young Saikumar plans to offer organic tea during the lean season to improve earnings.
Contact Saikumar: skmrbillur094@gmail.com Phone: 99450 82668