Satara puts its water systems back
Shree Padre, Satara
Published: Aug. 05, 2016
Updated: Jan. 30, 2020
In 1708, Shahu Maharaj, grandson of Chhatrapati Shivaji, the great Maratha leader, conquered Ajinkyatara, a fort built by Raja Bhoj in the 12th century. Ajinkyatara's strategic location in Satara district of Maharashtra helped the sturdy Marathas keep watch over south Maharashtra. Climb up to the fort and you get a bird's-eye view of Satara town and its surrounding hills.
Centuries later, another battle has started from this historic fort, a war of another kind — the war against drought.
The mantra of water conservation is spreading from here to parched villages in Maharashtra that were reeling under drought for three years.
This silent movement started when Satara's local daily, Sakal, issued an appeal to citizens to clean up the premises of the fort through shramdan (voluntary labour) on 10 January 2013. A favourite spot for walkers, it was littered with plastic bottles and garbage. A group of people turned up to help.
But on the second day just three regular visitors to the fort arrived for shramdan. They were Dr Avinash Pol, a dentist, Mahendra Jadhav, a building contractor, and Bhagwan Mahipal, a dealer in pump sets. Undeterred by the lukewarm response, they resolved to spruce up the fort's vast grounds themselves.
Every morning, from 6.30 am to 8.30 am, they would work. After a week, a curious onlooker, Dr Sharad Jagtap, joined them. One by one, more hands came forward. Soon, the fort was clean.
Dr Pol then suggested that they begin soil and water conservation work in the fort's 100 acres overrun by wild flora. It would help the crippling water shortage their town was facing. The volunteers readily agreed.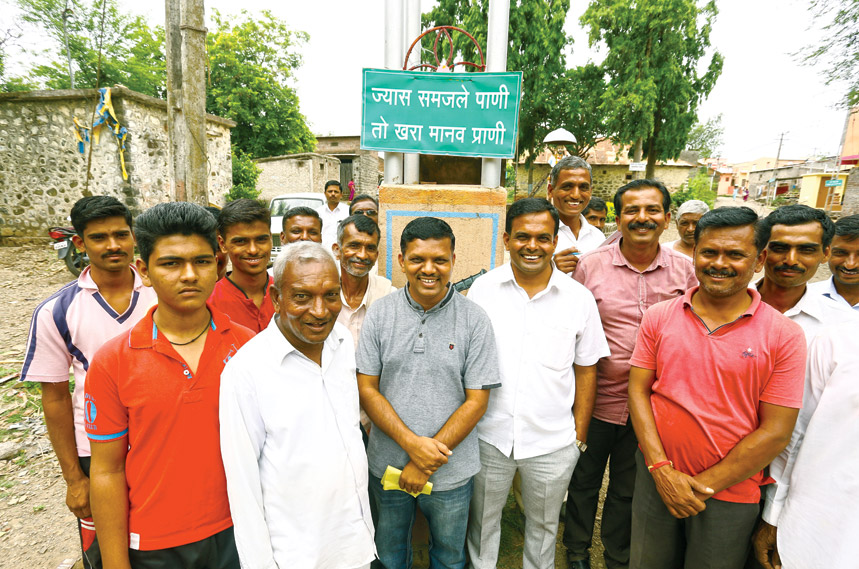 Dr Avinash Pol (centre) with residents of Velu village which is now zigzagged with water systems
For four years, rain or shine, 40 people from Satara in uniform do shramdan here every morning. Among them are doctors, software engineers, bankers, businessmen, retired persons and even a policeman.
More than 65 acres are now dotted with continuous covered trenches (CCTs), loose shoulder bunds (LSBs) and small check dams. About 7,000 trees have been planted and nurtured.
"We joined hands because we realised this kind of community work is for our future," explains Shailesh Chavan, an engineer, who is a drone photography expert.
Satara has been rewarded with water. "The water level in bore wells had gone down to 200 feet in the foothills before we started work. Recently, we heard people say they were getting water from newly dug wells at a depth of 40-50 feet in the same area," says Jadhav.
Volunteers took the message, 'Self-help keeps away drought', to parched villages in the district. Led by Dr Pol, who is now called panyacha doctor (water doctor), the core team travelled to these villages, drew up plans, linked them to government officials and arranged funds.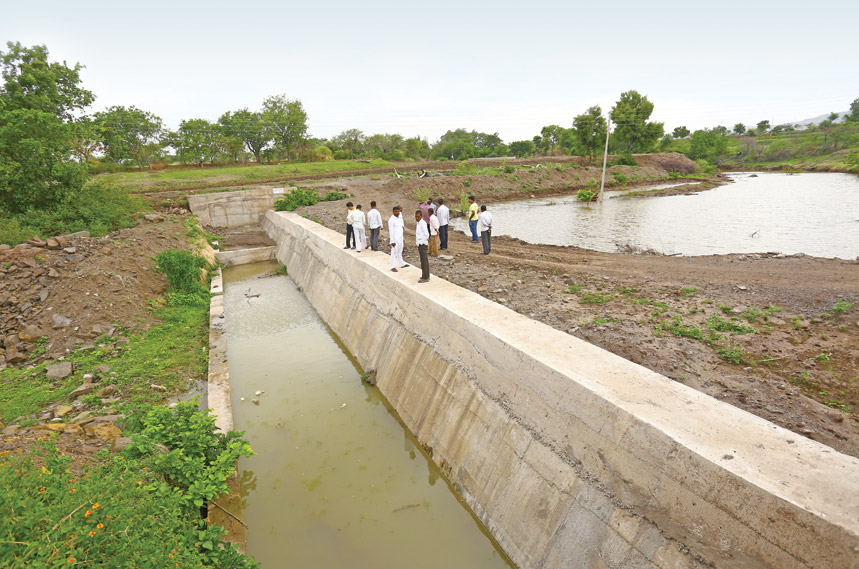 A check dam next to a percolation pond in Jakhangaon village
"Water harvesting and conservation is happening through daily shramdan in Rehmathopur, Jalagaon, Velu, Bichukale and many other villages," says Dr Pol.
Spreading this movement still further is the Pani Foundation, established a year ago by Hindi film actor Aamir Khan and his wife, Kiran Rao. The foundation has started a unique contest with Dr Pol's help, called the Satyamev Jayate Water Cup. Villages in drought-prone districts compete to win the prized cup.
The Naam Foundation, founded by Hindi film actor Nana Patekar and Marathi theatre actor Makarand Nanaspure, is also working with Dr Pol to scale up water conservation so that sparse rain doesn't wreck the lives of people ever again.
PEOPLE SPREAD THE WORD
"There is a serious scarcity of water in Maharashtra," explains Dr Pol. "Our irrigation coverage is just 16 percent. Most villagers are migrating to cities. Once we create a model in one area, it spreads. Nearby villages learn from it. I don't need to campaign. I tell people to spread the word. If watershed work is implemented scientifically, 300 to 400 mm of rain is enough."
Dr Pol and his volunteers are now working in around 50 villages of Satara district. Whenever a village appeals for help, Dr Pol arrives on the spot. One of his most dramatic stories of a turnaround in water availability is about Velu village in Koregaon taluka of Satara district.
One day, Sharad Bhosle, a building contractor living in Satara, approached Dr Pol and explained the plight of this water-deprived village. The very next week, Dr Pol, along with the Deputy Collector, went to Velu and did a thorough on-site inspection.
"If all of you do shramdan, you can put an end to your water woes," Dr Pol said and explained the kind of water and soil conservation work that the village needed to do. Work started with two volunteers from the village. Then a few more joined in. Dr Pol linked the village to government officials and a few donors.
If you walk up a surrounding hill and look at Velu today you will see a landscape zigzagged by a myriad CCTs, LSBs, nala bunds and so on — all to ensure every drop of rain is captured.
In the first fortnight of June, it rained in Velu. Just four cm. Yet the village exploded with excitement. A drizzle had turned their wells and ponds wet with water. When you are ready to put rainwater to good use, just four cm can be a lot.
For the first time in three years, Velu sent back its tankers. Farmers began buying drip irrigation pipes and seeds of potato and ginger. Pravin Bhosle, a farmer with 20 acres, booked a truckload of potato seeds. For six years he hasn't been able to cultivate his land because of scanty rain, he says.
"Even if we get just 200 to 300 mm rainfall like we did for the past three years, we should get a good crop," he says. The normal rainfall here is 500-600 mm.
Nanavare, another farmer, has five acres. He plans to grow lots of ginger in between his sapota trees. Satara's ginger is famous in India and many farmers here grow this crop with drip irrigation.
Nanavare has spent Rs 6.65 lakh to build a large tank lined with plastic. He has also erected nala bunds and loose boulder bunds. At the lowest end of his land, there is an open well. There was a time it would turn dry very fast. Now, thanks to soil and water conservation structures made by the villagers, his well has water.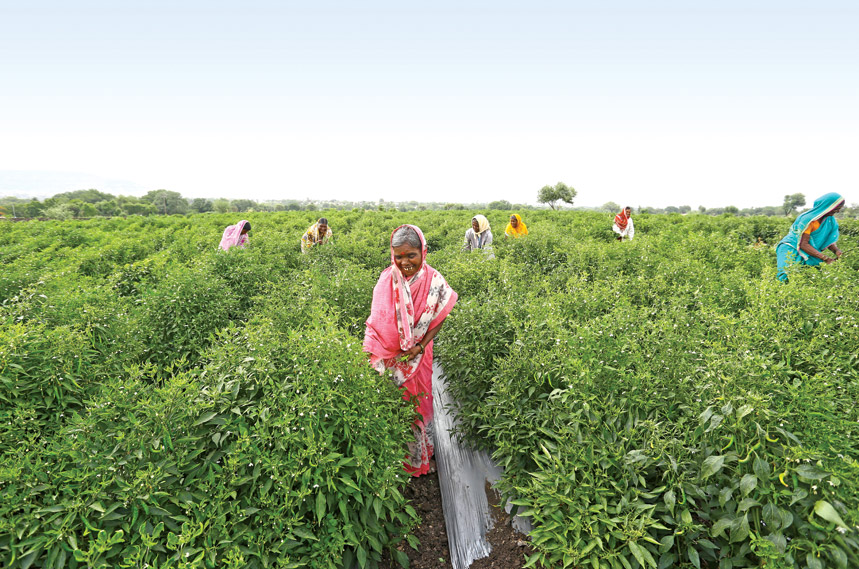 Women farmers in Jakhangaon now grow chillies
The villagers had also noticed that an old tank on a hill would fill to the brim with rainwater and the excess would spill into a river. There were four more tanks at a lower elevation, but the water wouldn't always reach there. Can't that water be directed to our village, they enquired. Dr Pol realised they were right.
That observation might create history. For the first time a project interlinking percolation ponds is being implemented in Maharashtra. More than five villages will benefit and around 10,000 acres can be brought under cultivation thanks to enhanced irrigation.
The plan is this: The topmost tank will be connected to four percolation ponds below it through a two-foot-diameter pipeline of about two kilometres.
A feasibility plan was drawn up by Dr Pol's team and sent to engineers working for the government for an opinion. It was a viable plan, they said. For funding he approached Anu Aga, their MP. A video through a drone was made and sent to her. Aga was impressed and released Rs 96.58 lakh for the project.
People from an adjacent village objected and began to play politics. A political leader complained to the collector. But Dr Pol stood firm. "Look, this is a government project. It will be made. If you don't cooperate, unnecessarily your village will be blacklisted. Officials will think you are a quarrelsome village." They finally agreed. They too will benefit. The project is expected to be completed by the end of this year itself.
"I was sarpanch of Velu three years ago," says Pravin Bhosle, "I never dreamed that I would play such an important role in this great transformation. If Dr Pol had not come to our village, we would have remained in the same sorry state. Doctor saab, for us, is like God."
"Out of all the villages I have worked with so far, Velu stands first in involvement and speed. What you see here is the outcome of the past nine months of work. Many more works are yet to be done. But what has been done so far will ensure their water security. Velu will never again face drought," says Dr Pol confidently.
JAKHANGAON INVENTS A DAM
For the past 10 years Jakhangaon, with a population of 3,000 and 1,500 hectares of land, had been suffering water scarcity. When Dr Pol was invited here about four years ago the village's water supply was providing each family just 20-50 litres every day. In 2001 tankers had to be rolled in. But they would bring water once in eight or nine days. At least one or two people from each family had migrated to Mumbai in search of work.
There was no way anyone could earn money. The village used to have 1,530 animals and they used to be taken wherever there was water. Soon, no water could be found anywhere. Four years ago, the number of livestock dwindled to 30. A mere 25 hectares could be cultivated. Most families found themselves surviving on money sent from Mumbai by their men.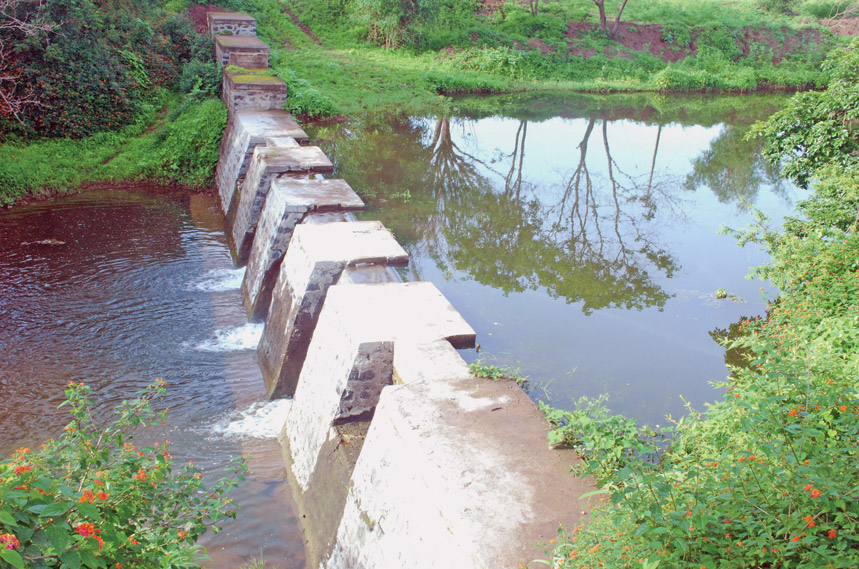 The revived KT Bandhara dam in Jakhangaon
A rivulet, Jamb oda, 4.5 km long, runs through the village. It had many vented dams popularly known as KT Bandhara (Kolhapur Type Bandhara). Wooden planks and compacted soil were used to close the vents at the end of the monsoon. The entire rivulet was heavily silted and no bandhara was working
The doctor worked out a blueprint. The first priority was to desilt the Jamb oda. But this took a long time since the stream was loaded with silt. Dr Pol suggested that the vents — some were leaking — be closed with concrete. A cut-off trench was built in front of the leaking dam and lined with plastic behind. Black cotton soil was filled into the trench. These steps revived the old bandhara and the method has now spread to other villages.
Villagers have constructed 14 new check dams, basically modified gabion structures, for just Rs 3 lakh. These would have cost the irrigation department at least Rs 15 lakh each. The modified gabion structures they have built are now locally famous as the Jakhangaon model. Across still smaller streams, low-cost check dams designed by Padmakar Bhide of Pune have been made. All in all, Jakhangaon has constructed 38 check dams, big and small.
As a result, the water table has risen. There is no drinking water shortage. CCTs have been dug in about 133 acres. Work is ongoing.
Cultivation has resumed. Farmers have formed groups and started growing chillies using plastic mulching and drip. They get an average of Rs 60 per kg for chillies. Milk production has increased to 1,000 litres per day. It is pooled and sent to three collection centres.
"In such a small village, our people are spending a lot of money every day to recharge their mobiles," says Santhosh Mahadik, a local villager.
"We didn't have mobile phones a few years ago," says Jitendra Shinde, the sarpanch. "Now, apart from BSNL, two private phone companies have erected towers in our village."
SPRING IS REVIVED
It isn't as if there is no water in every village. Sometimes people don't know how to tap it sustainably. Take the example of Alwadi in Satara district. Last year the villagers invited Dr Pol for a visit. It is a remote village of 808 hectares surrounded by steep hills. Around 600 people of 95 families live around here. Though just 35 km from Satara, Alwadi doesn't have any facilities. A bus service started here only three years ago.
All the villagers are small landholders with around two to five acres. They were cultivating rice as their first crop. Actually, there is no dearth of water. A spring flowed down from a hilltop near their village and then dived into an earthen channel which drank up all the water. So the villagers couldn't cultivate a second crop.
The water table is also high. But people are poor and don't have the money to dig a well. Income from just one crop wasn't enough to make both ends meet. So they migrated in droves. Half of Alwadi's population lives in Mumbai.
Dr Pol climbed the steep hill and saw the spring. Within minutes, an idea flashed in his mind. The water from the spring could be brought to the villagers through a pipeline.
But there was a hitch. The spring was in a dense forest. Unperturbed, he returned with the tehsildar and district forest officer. They took a look. The forest officer agreed to give permission. The next task was to put a pipeline in place. The doctor sent Bhagwan, a water activist and pipeline specialist, to work it out. He then connected the leaders of the village with a donor.
"People were waiting for a solution for 60 years. The forest officer gave us permission saying they do have provision for providing water for drinking. For the pipeline I put Bhagwan in touch with the irrigation engineer. A friend agreed to provide the pipes after I appealed to him. We took the collector to the village. He said through ATMA (Agricultural Technology Management Agency) we could provide villagers with drip irrigation and strawberry plants. So they began strawberry cultivation," says Dr Pol.
Funds from the rural employment guarantee scheme were used to dig trenches for laying a pipeline. It took the villagers a month. Since the spring is on a hill, the water flows down due to gravity. Most of Alwadi now has adequate irrigation. Water is distributed in rotation for farming. Strawberry cultivation was tried out last year. Villagers didn't make much money out of strawberries last year because prices fell but they gained knowhow and now have the confidence to give it another try.
A section of the village doesn't get water but another stream on a hill has been identified. Says Vasanth Surve, "If we bring that water through a pipe it would water the remaining fields in our village."
LAKES ARE THE ANSWER
In Jalna, as a result of drought 1,500 bore wells had dried up. People got water once in four or five days. Jalna is dotted with steel industries and the town's monthly water bill was as much as Rs 20-50 lakh.
Local organisations invited Dr Pol to find a solution to their misery. Dr Pol surveyed the area. He saw that Jalna had four heavily silted lakes.
Ghanewadi lake, over 600 acres, had been built by the Nizam. A Ghanewadi Samrakhshan Manch had started desilting it but work was moving at a snail's pace.
The Jayakwadi dam is located about 50 km from Jalna in Aurangabad village. The government had spent Rs 250 crore connecting Jalna to the dam via a pipeline. The dam had very little water. The Jalna municipality had to spend Rs 1 lakh per day on electricity just to pump some water from the dam. The municipality hadn't paid the electricity bill for three years so its electricity supply had been disconnected.
Dr Pol suggested that the Ghanewadi lake, which is just four km from Jalna, be revived. Water could flow via gravity to the town. The Ghanewadi Samrakshana Manch needed to be strengthened. Dr Pol delivered a stirring speech appealing for help. A friend from Mumbai immediately donated Rs 25 lakh. Around Rs 1 crore was collected virtually on the spot. The next day, work began in earnest. The government pitched in. The people got involved.
The Siddhivinayak Temple Trust expressed a desire to help the drought-affected villagers. Dr Pol invited them to Jalna. Come and see, he said. They came and were impressed enough to sanction `25 crore for Jalna to have a new water system. Several check dams have been constructed. This is another example of how Dr Pol "connects right people for good work".
BICHUKALE'S SHRAMDAN
Sambhaji Pawar, a kirana shop owner from Bichukale, lives in Satara. He is a member of the Ajinkyatara shramdan group. He took the message of water conservation to his dry village, Bichukale, 25 km from Satara. Since 2010, his village had been dependent on tankers.
The villagers approached Dr Pol. He visited the village and suggested water conservation measures. "Initially there was a very lukewarm response to the appeal for shramdan. We were just two members but we carried on working. Eventually, people joined us," recalls Sambhaji. Now Bichukale with its 302 families organises shramdan every Friday. The water table has risen and conservation work is in progress.
If the shramdan at Ajinkyatara and the work of Dr Pol sparked the idea of water harvesting and conservation and spread it to parched villages, the Pani Foundation is helping to scale up the work and popularise it by creating competition.
Actor Aamir Khan and wife Kiran Rao set up the Pani Foundation a year ago. Satyajit Bhatkal, director of Satyamev Jayate, is its CEO. This foundation works solely on water projects. It trains people in watershed management and underlines the importance of shramdan.
THE WATER CUP
The Pani Foundation has launched a unique contest called the Satyamev Jayate Water Cup. Three drought-prone taluks have been selected: Koregaon from Satara district, Ambajogai from Beed district and Warud from Amravati district. The villages that want to take part have to apply and 116 villages have done so. The local panchayat selects three men and two women from each village who are then trained by the foundation at three centres, which are becoming famous here for the superb training they provide in water conservation. The foundation pays for transport, accommodation and training.
After the recruits were trained, the contest started on 20 April for 45 days. A questionnaire of 100 marks has been drawn up. A group, which included Dr Pol, worked out the guidelines and criteria for marks. Thirty-five marks are for shramdan, 25 for machinery work, 10 for water budgeting, 10 for people's participation, 10 for motivating people, five for open well and borewell recharge and five for an innovative idea.
The first prize is of Rs 50 lakh, the second of Rs 30 lakh and the third of Rs 20 lakh. About 8,000 to 10,000 people participated in shramdan for one and a half months, which may well be a world record. The results will be announced on 15 August, Independence Day.
Dr Pol is also working with the Naam Foundation, founded by actors Nana Patekar and Makarand Nanaspure. Inspired by Patekar, Nanaspure has been working in Maharashtra's rural areas where farmers have been committing suicide. The Naam Foundation provides financial help to families of farmers who have taken their own lives and helps educate their children. It also works on water conservation.
Both the Pani Foundation and the Naam Foundation are hugely impressed by Dr Pol's work and have made him a trustee.
DOCTOR ON CALL
It was while studying dental science at Bharati Vidyapeeth in Pune that Dr Pol began wondering why the long queues for medical treatment consisted mostly of villagers. He realised it was because of poverty caused by poor conditions of farming, lack of water and education.
As soon as he set up his dental practice in 1997 at Satara, he began his first project on sanitation at a village called Beblewadi. Villagers began contacting him and the discussions invariably veered to the scarcity of water.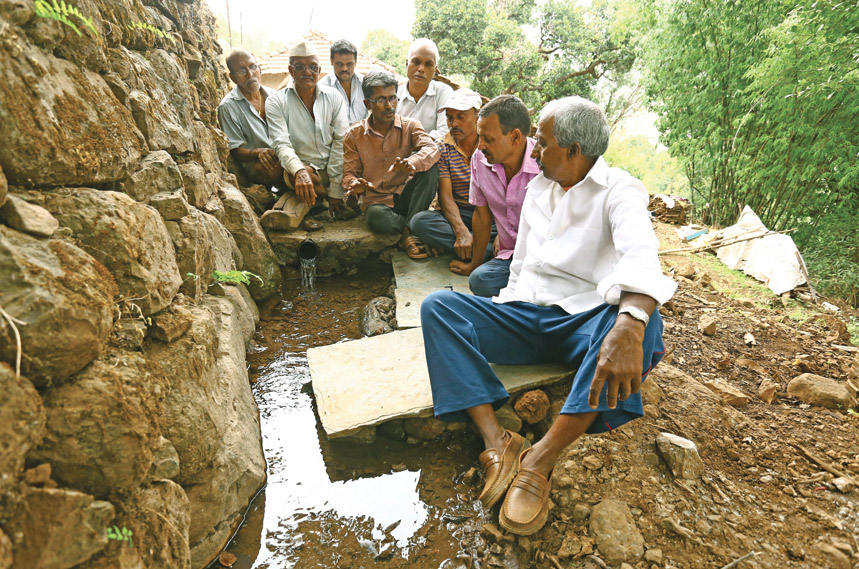 Residents of Alwadi village gather near a pipe that taps water from a stream on a hill
No school or college teaches rainwater harvesting or watershed development. "These things probably can't be taught in school. I too did not know. But I learnt. I spoke to gram sevaks and to people working in agriculture. I went to see water works. I turned to Google. In the past three years, since the beginning of the drought, my work has widened and become better known."
He first travels to the village with water problems and does an exhaustive survey. His past work in sanitation, education and water comes in handy. "I do the survey the way I diagnose a patient. Once I examine his teeth, I decide whether a filling will do or a root canal or a bridge. I identify the specific problems of the village and possible solutions too."
Dr Pol makes use of government schemes, contacting officials and bringing them to see the village. He also uses his volunteers judiciously.
He respects the opinion of villagers, takes them into confidence and makes them responsible for implementation. "Our investment should not be in projects. It should be in human beings," he says. "I haven't gone to Alwadi for months. They built a road with rural employment guarantee scheme money on their own. I helped them connect with the department. Soon the road will be tarred."
Dealing with government requires paperwork and endless delay. Yet work gets done at amazing speed. Dr Pol has even taken farmers to Sikkim and China on a study tour, using government schemes.
"There are many government officers who want to work sincerely for the country. But they are not linked to the right people in villages. I do this," he says. Dr Pol has a busy schedule but he keeps aside three to four hours every day to listen to the problems of villagers. People from different villages ring him up. To give time to everyone he uses WhatsApp and his Android phone.
"I tell them it's difficult for me to visit everyone. But if you want to hear my views, call me after 8 pm. They assemble a gram sabha and give me a call. They put their phone on speaker mode and near a microphone. I have taken part in hundreds of gram sabhas on phone," he says.
Dr Pol doesn't tell donors to pay directly to villagers either. Donors are requested to deposit the money with suppliers. Payments are made through the bank.
A notable impact of water returning to villages is that people who had migrated to Mumbai are coming back to farm once again.
What is the biggest lesson Dr Pol has learnt in these years? "Keep your head cool, your words sweet and your mouth shut. Then you will succeed," says Dr Pol.
Contact: Dr Avinash Pol – 75880 59497; dravinash.pol@gmail.com