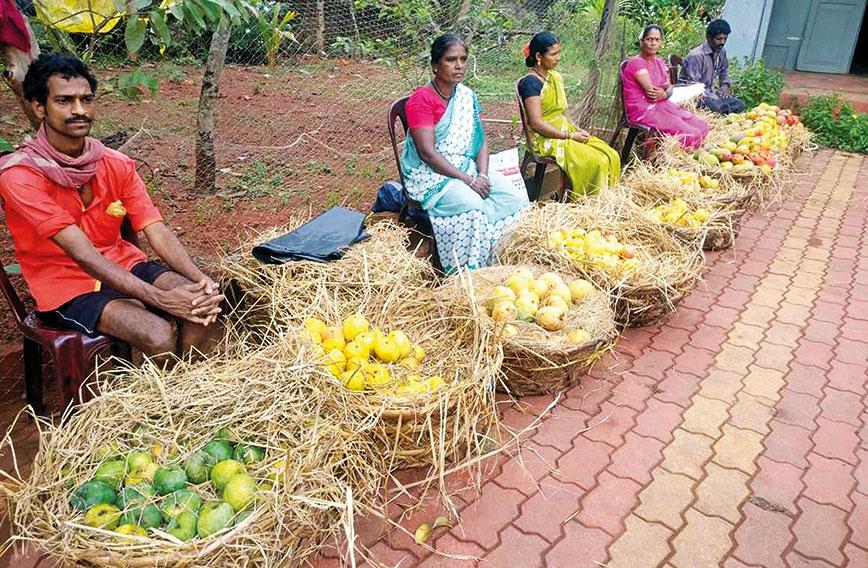 Vendors sell the Kadi Ishad mango by the dozen so that it attracts buyers and sells quickly
Mango in a big hurry lasts just three days
Shree Padre, Ankola (Karnataka)
Published: Jul. 22, 2022
Updated: Feb. 17, 2023
WHAT does a farmer do with a haul of juicy mangoes that have a shelf life of just one day? The easy thing to do is to dump those mangoes and grow the pricy Alphonso or Totapuri instead.
But that's not a choice the farmers of Ankola taluk in Uttara Kannada district of Karnataka want to ever make. The Kari Ishad, the mango with the short shelf life, is the pride of their taluk. It is also on the verge of acquiring Geographical Indicator (GI) status.
"It is raw today, ripe tomorrow and overripe the day after," remarks Venkatesh G. Naik of Shetgeri Cross who has been growing Kari Ishad and other mango varieties for three generations.
Farmers in Ankola do grow Alphonso, Totapuri, Neelam and other commercial varieties. They follow some good practices too: mangoes are naturally ripened with hay, harvesting is done with a net attached to a plucker, and mangoes are graded before being marketed.
One strange custom is that they sell mangoes by the dozen and not by the kilo. During the mango season, a daily morning market springs to life in the heart of the town. Farmers and middlemen bring mangoes in large baskets. Brokers, not consumers, arrive to buy the fruit in bulk and dispatch it to Hubli, the only market for Kari Ishad mangoes. Some mangoes go to Karwar too. Although Sirsi town is nearby, no supply chain has been created so far. Hundreds of women sell Kari Ishad by roadsides.
Kari Ishad is round and resembles the Rumani and Mundappa varieties. It is bunch-bearing and yields a good crop. Three mangoes, on an average, make one kilo. The crop season starts in March and ends in May. This variety grows well only in the local micro-climate.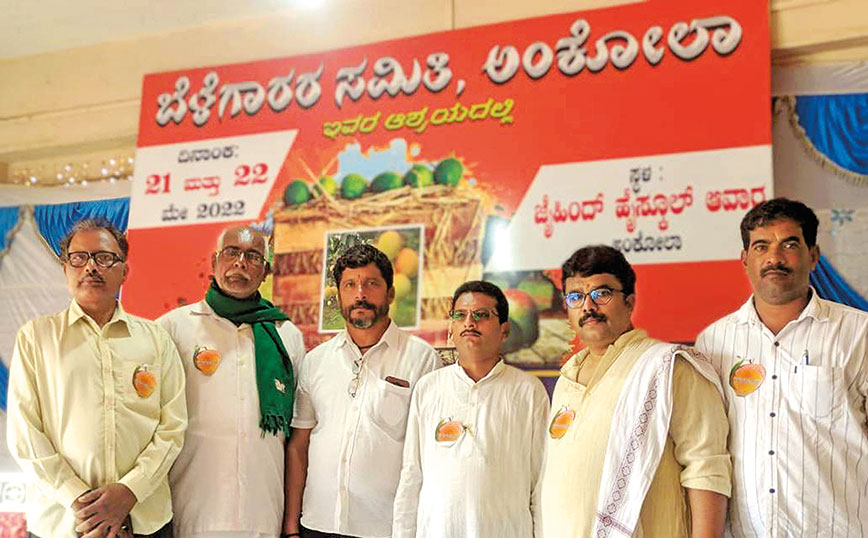 The Ankola Farmers Committee: Ramachandra Hegde (fourth from left) and Nagaraj Naik (fifth from left)
A TWO-DAY FAIR
The Ankola Belegarara Samithi (Ankola Farmers Committee) held a two-day mango fair over May 21-22 to draw attention to their mangoes and attract buyers. About 25 mango growers took part. How to sell their mangoes was the question uppermost in their minds.
According to Dr B.P. Satish, deputy director, horticulture, Sirsi, out of 683 hectares of mango cultivation in Ankola taluk, Kari Ishad is grown on around 75 hectares. Its yearly production is around 750 tonnes. Popular commercial varieties are grown on 150 to 200 hectares and their annual production is around 2,000 to 2,500 tonnes.
Retired bank manager V.H. Naik has about 60 mango trees in his orchard. Apart from Kari Ishad, he has well-known commercial varieties and a local variety called Chalti. He earns, on average, Rs 30,000 every year by selling his crop to middlemen."We get a passable price only if there are no summer rains," says elderly Devaraya Naik, who has 50 mango trees and earns on average Rs 50,000 annually.
"Each household in Ankola has one or two mango trees. There are families which own 30 to 50 trees too," explains Naik. "At the start of the season, Kari Ishad is priced at Rs 10-15 per piece. But once the season picks up, we end up with only Rs 5 per piece."
"There are no attempts at value addition," points out Ramachandra D. Hegde, secretary, Ankola Belegarara Samithi. Eateries in Ankola town serve mango juice for Rs 30 per glass during the season. That's it.
"Some small farmers buy mangoes from their neighbours on a contract basis. But one rainfall is enough to shoo away buyers. Taking the fruit to nearby towns is not practical due to transport costs. There should be more buyers for our mango crop. Because of all these problems, only about 30 percent of our crop gets sold."
Nagaraj V. Naik, president of the Ankola Belegarara Samithi, says his family has figured out a route to successful selling. "We understood that if we harvest mangoes ourselves and market the fruits directly, we will get better returns. This time, after the mango fair was over, we received orders from faraway places. Sitting at home, my dad sold 800 fruits to distant customers. We sent parcels by bus and some customers came and picked up the mangoes. We got a much better price of Rs 200 to 250 per dozen."
Venkatesh G. Naik has also learnt a few trade secrets. His family stopped selling to middlemen since his grandfather's days. They handle sales and send their mangoes directly to Hubli. Recently they started supplying to nearby Karwar. This year, instead of dispatching ripe mangoes, they sent unripe ones. "This prevents the usual 10 percent wastage during transport and handling. In addition, we don't need to check the mangoes for ripening every day. This process means considerable labour for us. My relatives have also started sending unripe mangoes to the market," he observes.
Venkatesh has about 225 mango trees of different ages and varieties, spread over six acres. He says they get 20 percent more money by avoiding local middlemen and sending
the crop at unripe stage. Their average
annual income from sale of mangoes is around Rs 2 lakh.
Another innovation Venkatesh has successfully implemented is 'dwarfing' or pruning huge old mango trees. He pruned three of his 35-year-old trees years ago. "From the third year you start getting a good crop again. The fruits are healthier and bigger. The biggest advantage is easy harvesting.
"The very next year after pruning, lots of tender branches emerge. You have to be careful to cut the weaker ones to make room for aeration and light. I got 60 percent of the from the third year after pruning."
Although this is a very useful technique, none of the farmers has shown interest in it. Perhaps the horticulture office or local Krishi Vijnan Kendra (KVK) could conduct a demo or extension programme on this method.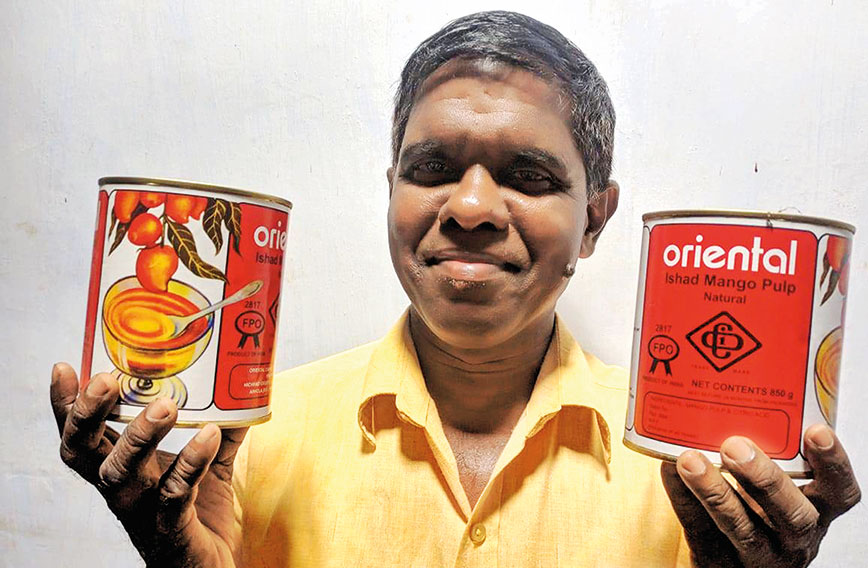 Oriental Canneries, founded during the British Raj, is the only factory here which makes mango pulp
COLONIAL FACTORY
Oriental Canneries is the lone factory here that produces mango pulp only from Kari Ishad mangoes. Founded in 1908, during colonial rule, the factory functions with machinery dating back to the Raj.
Its current owner, 71-year-old Pundalika P. Prabhu, bought the factory in 1970 and it has been producing pulp since 1975. Its average annual production is 5,000 to 10,000 tins of 850 grammes each. Local ice-cream parlours, who convert the pulp into mango juice, are its main clients. A small percentage of pulp is bought by housewives who serve it with puris or chapattis.
In 1908, when the British started Oriental Canneries, 20,000 tins of pulp used to be shipped to England from Ankola every year.
The factory had been shut for three years and resumed operations this year. The company buys Kari Ishad mangoes at the rate of Rs 400-500 for 100 mangoes. It produces mango pulp for just three weeks before closing again.
The pulp goes to Sirsi, Honnavar, Kumta and other nearby towns. "If there is more demand, we are ready to produce more," says Prabhu.
According to Nagaraj Naik, the Ankola Belegarara Samithi plans to organize another mango festival next year. To attract more visitors they will need to expand their range and include value-added products like freshly prepared aamras.
"The people of Ankola are sentimentally attached to their local Kari Ishad mango. It is supreme for them. But if you view it dispassionately, there are many other commercial varieties that are far superior to this one," points out Dr Satish. "Kari Ishad's biggest limitation is that it has to be consumed on the very day you buy it."

Contact: Nagaraj Naik, president, Ankola Belegarara Samithi – 94481 38788