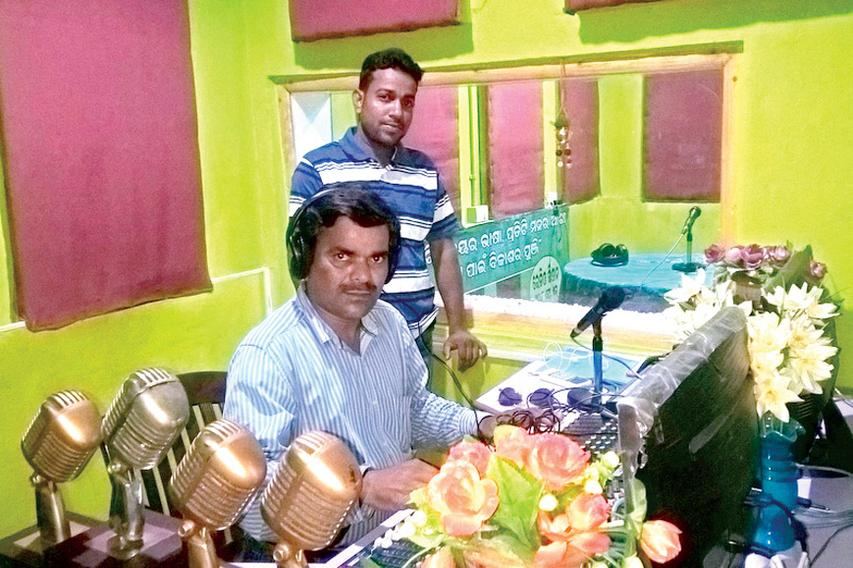 Women pluck betel leaves after radio campaign
Biswajit Padhi, Bhubaneswar
Published: Apr. 25, 2016
Updated: Jan. 30, 2020
Basanti Bhoi cultivates two gardens of betel leaves all by herself at Dhanahara village in Odisha. A year or two ago, a woman farming betel leaves would have been unthinkable. An age-old tradition barred women from entering betel enclosures. But today women in the district can grow betel leaves and work as labour in a betel garden.
It is a social revolution brought about by Radio Kisan, a community radio station. This year the station won two prizes: for promotion of local culture and for its path-breaking campaign, 'This is my right,' which broke social taboos that barred women from working in betel fields.
The Ministry of Information and Broadcasting gives these awards every year in three categories to honour the work of community radio across the country. Radio Kisan has now received an award from the ministry three years in a row.
Pradipta Kumar Dutta, founder of Radio Kisan, and his team are jubilant. They are stationed at Athantara in Puri district, around 23 km from Bhubaneswar. Radio Kisan has a licence to broadcast programmes in a radius of 15 km. The radio station is promoted by AID (Association for Integrated Development), an NGO that works mostly in the field of agriculture but tackles social issues as well.
"We have brought about long-lasting change," says a beaming Dutta. "Our effort has been most satisfying."
Farmers here grow black gram and paddy, but their main cash crop is the betel leaf. Input costs are high but so are the returns. Farmers say they earn between `12,000 and `15,000 a month by cultivating 60 vines of the betel leaf. They harvest more leaves in the monsoon when the leaf is at its crunchy best, but the price declines. Betel farmers earn more in summer when good quality leaves are scarce.
In 2015, Biranchi Bhoi, Basanti's husband and a betel leaf farmer in Dhanahara village, approached Dutta at Radio Kisan. Bhoi had a problem. He couldn't work in his betel leaf field because he had broken his leg in an accident. His son was studying for an MBA degree and Bhoi did not want to disrupt his studies. His wife offered to chip in but Bhoi couldn't enlist her help. "Betel leaf enclosures are considered sacred," he says. "Social custom bars women from entering."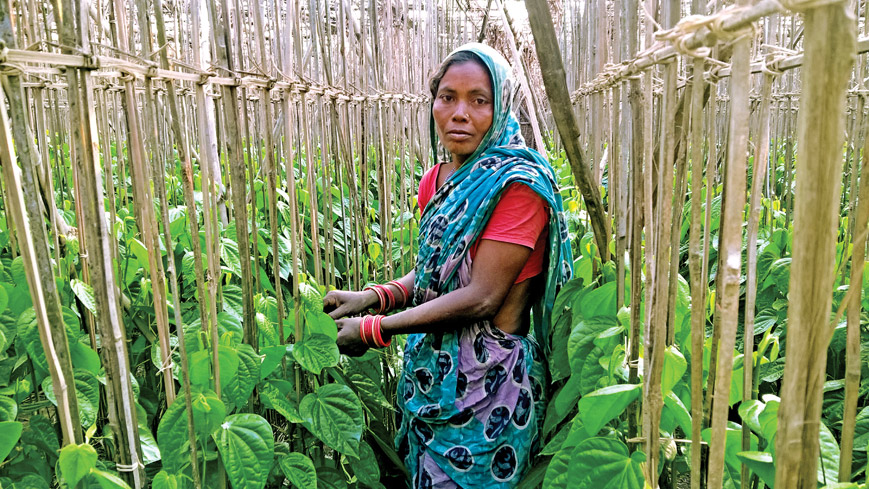 Since betel leaves are eaten raw, pesticides are not used for cultivation. So a pest attack or disease can ruin a farmer because input costs are high and betel is a sensitive crop. Since women menstruate, they are regarded as impure and capable of spreading disease. This is why village communities do not allow women to enter betel leaf enclosures.
Dutta got in touch with Dr K.B. Mahapatra, an agricultural scientist with the Department of Mycology and Plant Pathology in the Orissa University of Agriculture and Technology, Bhubaneswar. He asked why pests attacked betel leaves. Dr Mahapatra said menstruating women had absolutely nothing to do with pest attacks. In fact, what mattered was the personal hygiene of workers who entered betel enclosures.
Radio Kisan ran a series of broadcasts with Dr Mahapatra telling farmers convincingly that women weren't responsible for pest attacks on betel leaves. They also advised farmers on how to keep betel fields clean so that pest attacks would not occur. A specific protocol on hygiene for betel workers was drawn up.
"Dutta babu and his team educated us about the procedures to be adopted before entering betel enclosures. They also convinced the men to allow us to work on our betel fields," says Basanti, standing in her luxuriant betel garden. "The income is helping us pay for our son's education, after my husband became an invalid."
Her house is half-constructed and she says they will complete it after her son graduates. "We work in the betel gardens but we don't go there when we are menstruating," says Basanti.
Radio Kisan's campaign has had another spin-off. Betel leaf cultivation is now providing a livelihood to scores of women who work as agricultural labour.
"In fact, no commercial radio would have dared to challenge a social issue based on age-old beliefs," says Sanjay Biswal, a lecturer in anthropology.
This year Radio Kisan's programme on Guapur, a predominantly Hindu village where the samadhi of a Sufi saint is worshipped by Muslims and Hindus, won them the prize for promoting local culture.
In 2014 too Radio Kisan was awarded in the local culture category. Dutta and his team had featured a series on local folk songs and music with 'Palla, Das Kathia and Dhuduki.' These forms used to be very popular and when the radio broadcast it, the locals loved it.
In 2015 Radio Kisan was honoured for its work with farmers whose crops had been devastated by floods. In July 2014, the Dhanua river breached its banks and flooded Balipatna and Balianta blocks. But one part of the block wasn't flooded.
"We knew if paddy was replanted immediately it would give the farmers a harvest," says Prashant Dutta, agricultural coordinator of Radio Kisan.
AID had already organised several Farmer Clubs. The radio asked them to motivate farmers in the area that had not been overrun by water to share surplus paddy saplings with the flood-affected farmers. They appealed to listeners through their radio programme, Ame Apanka Sathire (We are with you) to sell or donate their saplings.
Radio Kisan mapped the affected farmers and their sapling requirements. AID's field staff cross-checked the information through field visits and by phone. Eighty-six farmers registered to share their saplings and two said they would donate them. The farmers affected by the flood were able to sow paddy and got a harvest that season.
Radio Kisan demonstrates how information and an activist media can be a powerful agent of change.