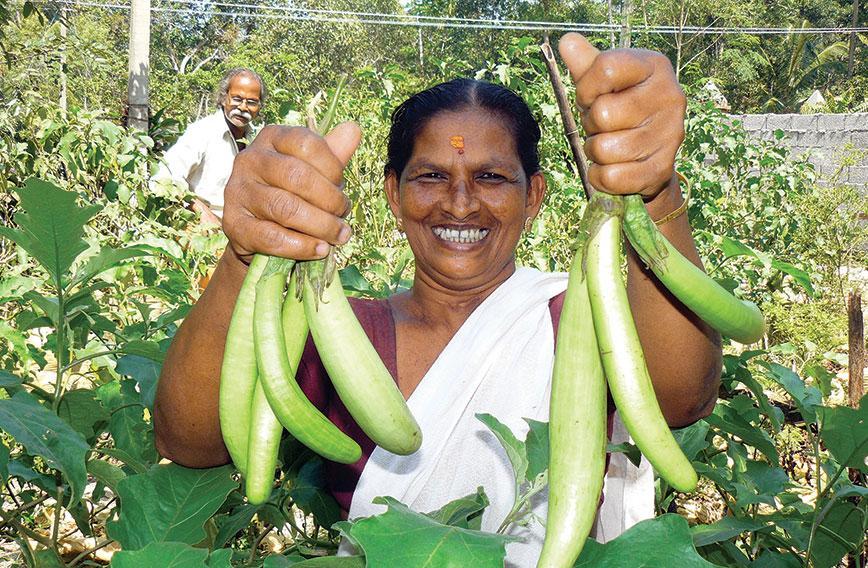 GM food crops are not needed here
Bharat Dogra
Published: Dec. 19, 2022
Updated: Feb. 17, 2023
Till very recently the Indian government, supported by a range of farmer, health and environmental activists, had taken a clear decision not to permit any genetically modified (GM) or genetically engineered (GE) food crop in the country, keeping in view the widely documented risks and hazards associated with such crops.
The only GM crop released in India so far is GM cotton in the form of Bt cotton. Although cottonseed oil is regularly used in preparing namkeen or salty snacks and its oilcake is consumed by dairy animals, cotton is regarded as a commercial crop and not a food crop.
Around 2009-2010, GM lobbyists made a big effort to introduce the first food crop in the form of Bt brinjal in India. But after a widely appreciated democratic process of holding public hearings, consulting eminent experts from diverse fields and obtaining the opinion of state governments, the then Union Environment Minister Jairam Ramesh announced a moratorium on Bt brinjal and prepared a very well-reasoned document on the decision, the evidence and the process which was placed in the public domain and appreciated globally.
However, barely was this decision announced than the GM lobbyists got busy once again in pushing for introducing another GM food crop, this time mustard. They had plans to introduce other GM food crops once the gates were opened with GM mustard as the first crop to be introduced in India.
These initial efforts were checked after mobilization by activists and a court battle as well. The Supreme Court's technical committee advised very clearly against the introduction of GM mustard. Amazingly, soon after this, and after many adverse aspects of GM mustard had been widely established, this year again efforts to introduce GM mustard started on a very shrill note, preceded by the US government's efforts at the World Trade Organization (WTO) to break the barriers to exporting GM food to several developing countries, including India.
In India the government regulatory agency agreed to the environmental release of GM mustard (hybrid DMH-11) but this has been challenged in the Supreme Court. In Kenya, the government agreed to withdraw its moratorium on GM food imports but the High Court checked this decision. In Mexico, where the president, supported by many activists and farmers, is firmly opposed to GM crops, the government came under increasing pressure from its powerful neighbour, the US, to agree to import GM yellow corn.
Clearly, there are very big stakes involved as those committed to agro-ecology and food safety struggle against a powerful lobby of industrial-agriculture corporations. Meanwhile, strong scientific evidence against the many serious risks and hazards of GM crops has been steadily growing.
The scientific literature on this issue was reviewed by a very senior scientist, the late Dr Pushpa M. Bhargava, founder of the Centre for Cellular and Molecular Biology who had also been appointed by the Supreme Court as an expert on food safety issues to guide the court. He had stated, "There are over 500 research publications by scientists of indisputable integrity, who have no conflict of interest, that establish the harmful effects of GM crops on human, animal and plant health, and on the environment and biodiversity…. On the other hand, virtually every paper supporting GM crops is by scientists who have a declared conflict of interest or whose credibility and integrity can be doubted."
A group of eminent scientists organized under the Independent Science Panel have stated in very clear terms: "GM crops have failed to deliver the promised benefits and are posing escalating problems on the farm. Transgenic contamination is now widely acknowledged to be unavoidable, and hence there can be no co-existence of GM and non-GM agriculture. Most importantly, GM crops have not been proven safe. On the contrary, sufficient evidence has emerged to raise serious safety concerns, that if ignored could result in irreversible damage to health and the environment. GM crops should be firmly rejected now…. By far the most insidious dangers of genetic engineering are inherent to the process itself, which greatly enhances the scope and probability of horizontal gene transfer and recombination, the main route to creating viruses and bacteria that cause disease epidemics." At least in present times we should heed such a warning given by eminent scientists.
In addition, there have been several official reports in India on the hazards and non-desirability of GM crops—apart from the Jairam Ramesh document of February 2010, there has been the Sopory Committee Report of August 2012, the Parliamentary Standing Committee Report on GM Crops of August 2012 and again of 2017 which was more specific regarding the dangers of GM mustard, and the Technical Expert Committee (TEC) Report.
While all GM crops and particularly GM food crops are dangerous, this is particularly true in the context of oilseed crops including mustard. This is because oilseeds provide edible oils which are used in preparing almost all our cooked meals to a lesser or greater extent.
In addition, mustard has important medicinal uses in India. Its leaves are consumed directly as food and its oilcake is widely fed to dairy animals. Claims of higher yield for GM have been widely refuted to be false and based on wrong comparisons. Several higher yielding non-GM mustard varieties are available and a satisfactory rise in mustard production has been achieved with them.