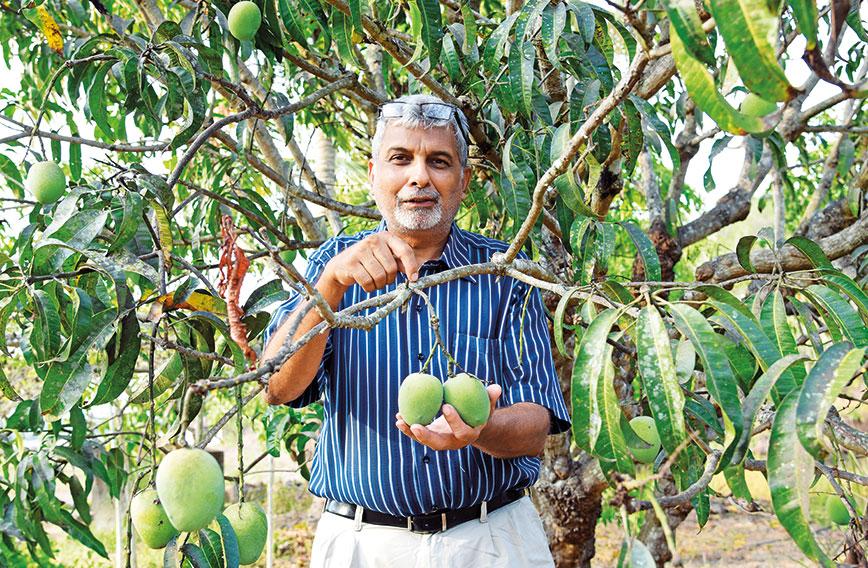 Anthony Pacheco at his farm with his luscious mangoes
Anthony Pacheco's idyllic organic farm in Goa
Derek Almeida, Chorao (Goa)
Published: Jun. 20, 2018
Updated: Nov. 09, 2018
Anthony Pacheco is one of those rare entrepreneurs who is at home in both an electronics workshop and a farm. Once a week, on a Sunday, he catches a ferry at Ribandar which is about three km from Panaji and crosses the Mandovi river to disembark on the island of Chorao which is home to the Salim Ali bird sanctuary.
A 20-minute drive takes him to his one-acre farm which is at the other end of the island. Once there he inspects the 45 Mankurad and two Thai Honey Dew mango trees to see if they are growing well or have been attacked by pests. His home's wet waste is unloaded and allowed to decompose.
The undulating land, which overlooks a large pond, has black pipes running in directions that only Pacheco is aware of. This elaborate drip irrigation system was set up with a subsidy of Rs 30,000 from the agriculture department. "We did get a subsidy but it was not enough," he said. "The problem with the scheme is that the upper limit for one acre of land is not realistic." This means the farmer has to make investments for extension of the system to other parts of the plot.
This did not stop Pacheco, who, with his knowledge of electronics, uses his phone to control the amount of water used and the time of irrigation. He can now start and stop the pumping from anywhere, using his mobile phone.
Initially he used a system purchased from Ocean Agritech, Pune, which was sufficient to control a single pump. When the time came to source water from a second well he switched to an advanced system which could control up to five pumps through a SIM card.
"When I visit the farm I also deposit liquid organic fertiliser (Panchgavya) in a tub which is then fed to the trees through the drip irrigation system," he explains and adds, "This farm is completely organic."
The farm is a mix of a lot of fruit-bearing trees. While mango grafts occupy a major portion, Pacheco also built a water-pipe frame covering an area of 20 sq m to grow tendli vegetables. "In nine months I earned Rs 5,400 from the tendli patch alone," he said. "If I were to increase the area to cover the entire farm I would earn not less than Rs 10 lakh, tax-free, per year."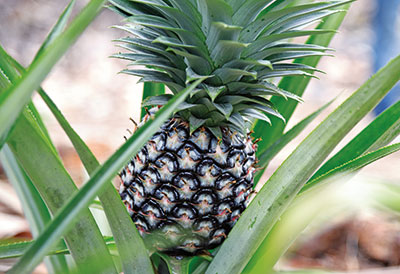 The land was first planted by his grandfather who grew paddy and a few fruit-bearing trees. After completing Inter (Science), Pacheco went to Mumbai in hopes of becoming a radio officer in the merchant navy. He joined St Xavier's Institute, Mahim, but eventually took up electronics. In 1994 he returned to Goa and set up an electronics service workshop which is now the designated service station for JBL.
Then, in 2010 he decided to get back to the land. Digging pits to plant the mango grafts proved harder than expected. Under the top soil is a layer of solid laterite and Pacheco had to hire a JCB excavator. A mixture of soil sourced from Bicholim, river sand and cow dung in equal measure was used for the pits.
Water was not an issue as the plot has three wells sunk through solid granite. While water is drawn from one of the wells, Pacheco wants to preserve the second one which has the traditional lever system for lifting water along with a short canal which was used to irrigate vegetable patches.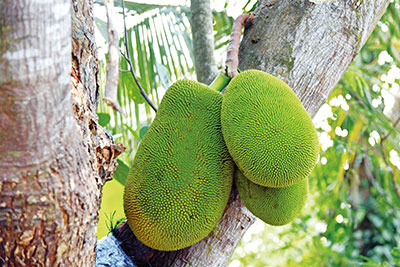 The farm has an assortment of trees. Two huge mango trees, probably planted by his grandfather, stand on the edge of the property but it is the jackfruit tree that draws attention. "The jackfruits on the tree used to turn black and drop to the ground. After the irrigation system was set up and fertiliser pumped through it, the tree started drawing nutrition and today it has large ripened fruit waiting to be harvested," says Pacheco.
He also has three pepper creepers which yield two kg per vine, but Pacheco, aware of the earnings from pepper, has other plans. In the corner of the farm is a 10-foot-thick PVC water pipe. "Can you guess the purpose of this pipe?" he asks. "I plan to grow pepper using the Vietnamese technique. I first place a PVC mesh around the pipe, fill it with soil and compost and then allow the plant to creep upwards. Instead of having one set of roots at the bottom the vine will spread its roots at every level and this increases the yield."
He has several guava trees which were brought from Jharkhand, pineapple plants and two coconut trees which used to yield 25 nuts. "After using a bio-fertiliser which I purchased from Pune, the yield increased to 300 bigger nuts," he said. A glycedria tree, which sprouts leaves laden with nutrients, is located near one of the wells.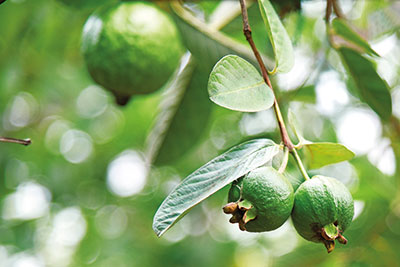 Pacheco is a self-taught horticulturalist who continuously emphasises the need for education in modern methods of farming. "You have to combine learning with the land to make it work," he says. What he means is that he had to learn everything the hard way.
"I was told by agriculture experts that the flowers of the mango grafts had to be broken off for five years in succession to strengthen the plant. I did it for two years and today I get a crop of around 1,500 mangoes," he said. He is now looking at harvesting at least 20,000 mangoes in 10 years when the grafts grow to their full height.
At the start Pacheco took the decision to go completely organic and that proved to be problematic because he had no guide and was forced to find solutions himself to the many problems. "I do most of my research online and meet farmers from outside the state at the Pune agricultural seminar every year."
On one occasion two mango grafts were attacked by the borer worm. The traditional method to get rid of it which was advised by the agriculture department did not help. After making several enquiries, Pacheco purchased an organic pesticide from a Hyderabad-based company which worked.
On another occasion he noticed a leak at a joint of the irrigation system. After careful examination he discovered that a tiny hole had been made by ants. "Instead of using chemical we mixed wood ash in soil and spread it over the joint." The ants disappeared. Pacheco regularly collects wood ash from the local baker which he uses to battle ants.
If one is observant one will notice a plastic object tied to one of the trees. "This is used to trap male fruit flies," he explains. "A female hormone is sprayed on the inside to draw the male fly which is then trapped."
Pacheco, who also purchases cow urine online in five-litre cans to be used as a fungicide, is determined to use organic inputs but laments that the approach of the state agriculture department is not encouraging. "The department is not oriented towards organic farming. Most of the people in the department are trained to use chemicals and use of organic pesticides is frowned upon and the success of organic farmers is kept under wraps. We need a special subsidy for organic pesticides and fertilisers because they have to be bought in bulk and have a shorter shelf life."