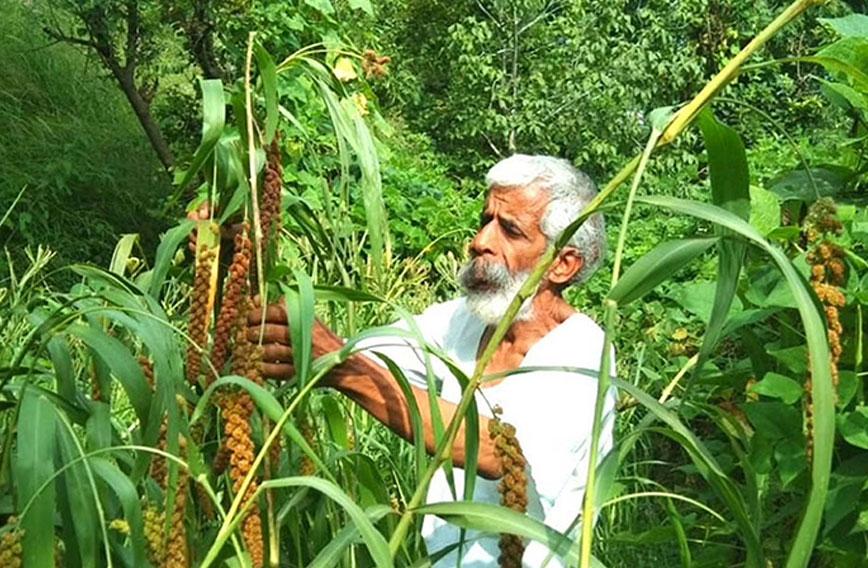 Save Seeds saves villages from forest fires
Rakesh Agrawal, Dehradun
Published: Oct. 28, 2022
Updated: Oct. 28, 2022
The hill state of Uttarakhand is one of the worst affected by forest fires. Between November 2021 and June 2022, as many as 12,985 forest fires occurred — turning tracts of forest into ash.
But thus far, devastating forest fires haven't engulfed stretches of forest in Hewalghatti, a scenic valley surrounded by tapering hills in Tehri district. That's due to the efforts of Jardhargaon, a village of 600 households. Groups of women, local watchmen backed by social activists, keep forest fires at bay.
This village has two forests it looks after. One is a 429.5-hectare community forest with oak and rhododendron trees. The other is a reserved forest under the revenue department of 229.9 hectares which has many pine trees and to which villagers have community rights.
The credit for organizing villagers to protect their forests from fires goes to the famous Vijay Jardhari, a small farmer who founded the Beej Bachao Andolan and started a movement to collect and save hundreds of traditional seeds. He also promoted the state's bara anaj system under which farmers traditionally grow 12 different crops on their terraced fields. This method ensured food security and crop diversity.
It was then that Jardhari started mobilizing villagers to protect forests and prevent fires. He set up a Van Suraksha Samiti (VSS) which prohibited cutting of green wood and started regulating the distribution of wood. The VSS has also taken measures to stop the sale of minerals and stones from the village.
"The VSS appoints Van Sewaks or watchmen to ensure that villagers dutifully follow the rules and fines are imposed on the violators," says Jardhari. The VSS consists of 10 members who are chosen unanimously at a meeting of the gram sabha. The villagers also formed a Mahila Mangal Dal (MMD) or women's committee way back in 1987, that continues to this day. It also mobilizes women against limestone quarrying and grazing.
"From time to time we simply close a portion of the forest. It is exclusively used only for grass cutting, subject to certain rules," says 79-year-old Dhoom Singh Negi, Jardhari's colleague, a passionate social worker, and winner of the 2018 Jamnalal Bajaj Award for Constructive Work.
Behind Jardhargaon lies the community forest that villagers, mostly women, enter every day to collect dry wood and fodder. It's a place where they also rest and chat about their homes and their in-laws.
The women watch out in case any neighbouring village's forest is catching fire and rush to alert the villagers, if they see any smoke. "Our village has 26 toks (hamlets) and we have a large MMD. When summer sets in we increase patrolling and keep a keen eye on our neighbouring village forests," says 32-year-old Lakshmi Devi, a member of the MMD in Jardhargaon.
The women's patrolling has indeed paid off. Last year, when the forest of a neighbouring village, Jhaldiyalgaon, caught fire, the women spotted it and rushed in with youth to douse the flames. They didn't let the fire spread.
The Pani Panchayat also plays a significant role. It has built a large tank to stock water for this purpose. "We use this water to extinguish any forest fires that might happen," says Uma Devi, a member of Jardhargaon's MMD.
The success of Jardhargaon in keeping its forests safe from fires is the result of such community institutions, visualized and implemented by Jardhari and his green activist friends like Dhoom Singh Negi, Kunwar Prasoon, Raghu Jardhari and Saab Singh.
They have their own enforcement mechanism — the Van Sewak and the MMD members patrolling the borders of the village.
Adopting this mechanism, the villagers have succeeded in keeping fires away from the revenue forest area as well. They say that since this part of the forest is dominated by chir pine, which doesn't retain groundwater, it is more prone to blazes.
"While wide-leafed trees like oak store up to 40 percent of the rainwater they receive, trees with pointy leaves like pine can hold only 8 to 16 percent of received rainfall," says Prof. J.S. Rawat, head, geology department, Kumaon University.
However, S.P. Singh, senior scientist and former vice-president of Garhwal University, differs. He says, "As the temperature goes up, the chir trees gradually close their stomata in order to store water. On days when it's very hot, they use this water. In summer, trees shed their leaves to save water. These leaves, in turn, become a safety cover for the soil and help it retain moisture even in the harsh climate."
All the same, the villagers of Jardhargaon believe pine forests are prone to fires. "Those forests are used to tap resin which is highly inflammable," says Saab Singh. "But such incidents don't happen in our pine forests. No fire is allowed to be lit there. No beedi is lit."
The community forest area is doing well. "Villagers report that wild pigs, deer species, leopards, and black bears have reappeared in the forests. Even the occasional tiger is reported," says Negi.
A scientific assessment suggested that the Jardhargaon CCA has amongst the most diverse flora of the region, better than many government-managed forests. Water availability in the village has improved, along with fodder and medicinal plants, notes a study carried out by Kalpavriksh, a well-known environment NGO in Pune.
But what is threatening forests here and causing forest fires is the hectic infrastructure being built by the government. Hill roads are being broadened, trees uprooted, debris is being dumped in rivers, dams are being built and mining is being carried out. Climate change is also to blame.
Jardhargaon's neighbouring villages, Kataldi and Nangni, have been identified as a potential site for mining limestone and a patch of slope has been leased by the state government to a private contractor.
But, inspired by Jardhargaon, the villagers of the area have been protesting against this for the past 15 years. They have, thus far, managed to stall commencement of work by, among other means, physically occupying the leased area.