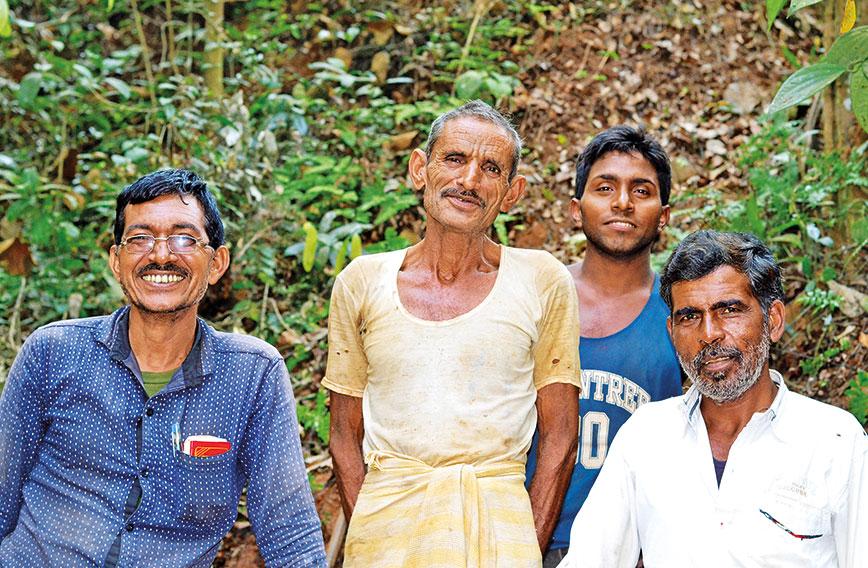 Govind Bhai from Rajasthan (second from left), in Kerala's Kasaragod district
'Ada bore' travels south from Rajasthan
Shree Padre, Kasaragod
Published: May. 28, 2018
Updated: Jan. 30, 2020
Govind Bhai of Nimas village in Nagore district of Rajasthan has a grassroots technology that is in demand in rural Maharashtra, Goa and Kerala. He is an expert in 'ada bore', a method of digging bore wells horizontally instead of vertically.
In Kasaragod district of Kerala, people are intrigued by Govind Bhai's ada bore technology. The horizontal bore well, drilled with an electric motor, is new to Kerala. "This is like digging a suranga," many spectators remarked after seeing Govind Bhai's technique.
The suranga is a manmade horizontal cave for water (See Civil Society July 2016). For farmers of Padre village, the ada bore seemed a Godsend, a low-cost way of drilling a miniature suranga in a day or two.
Twenty-five years ago, Govind Bhai, who was born into a family of farmers, joined a team that was digging an open well for his family. The team had to dig 300 feet to finally strike ample water. But the very next year the water source began dwindling. Govind Bhai thought things through and decided to dig horizontally from inside
the well.
He went to Sojat city and got local fabricators to design a mechanised drilling unit. Armed with this drilling apparatus, he dug his first horizontal bore well. He drilled more than 300 feet, and augmented the water source in a big way. Govind Bhai now found himself in demand locally. His neighbours asked him to dig horizontal bore wells for them too and that became his main profession.
Horizontal bore wells are more sustainable than vertical ones because they tap water only from shallow aquifers. Such bore wells can be recharged with rainwater every monsoon. Also, an ordinary pump can easily lift this water. Best of all, horizontal bore wells don't drastically shrink groundwater so they don't attract the wrath of neighbouring farmers.
Work took Govind Bhai and his team to Maharashtra. After a few years a doctor from Goa took Govind Bhai's team to his state. That was 17 years ago. Goa became Govind Bhai's second home. Every summer he travelled to Goa from his village in Rajasthan to carry out water works. Apart from ada bore drilling, his team specialised in open well digging, well concrete ring making and desilting of wells and earthen tanks.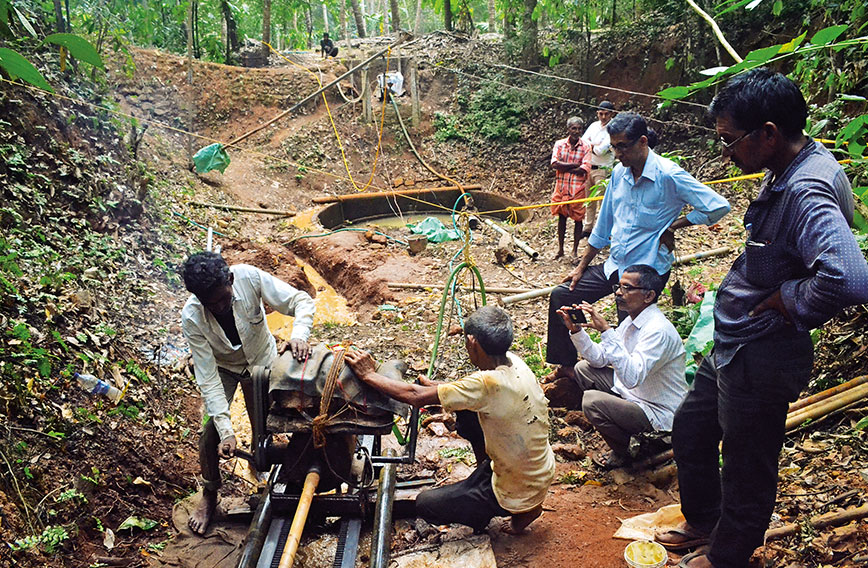 The ada bore taps water only from shallow aquifers
Govind Bhai's assistants, who went with him 17 years ago, have all become successful entrepreneurs doing the same work. The horizontal bore well proved to be amazingly successful in Goa. Almost all horizontal wells in Goa are dug from inside open wells. Govind Bhai recalls the case of Madhu Marathe who got enough water in his ada bore well to instal a 5 hp pumpset for irrigation. Harshad Prabhu Desai, a farmer from Ponda, used to get water for only one hour in summer from his well. Four years ago he had got three ada bore wells dug. He can now run his 5 hp pump for 12 hours a day. But this technology can't help farmers who have heavily exploited their groundwater.
Ada bore overtakes suranga
In Kasaragod district of Kerala, farmers have taken to Govind Bhai's ada bore technology, which in Kannada is called adda bore. The reason is that the suranga, a very useful traditional technology, has of late become difficult for ordinary people to make. The reason is that just a handful of suranga diggers are left. Since labour is expensive, the cost of getting a suranga dug has climbed sky-high.
Shrinivasa Bhat Angraje got three ada bore wells dug in a few weeks this February. One had to be abandoned after drilling because it entered a hollow area. Though drilling had to be halted because stones got in the way, all three ada bore wells have struck water. The water flows on its own due to gravity. No pump is required. "I am really satisfied," said Angraje.
Angraje is the third farmer who opted for an ada bore well. Umesh Saale got three ada bore wells dug and Shivaprakash Paleppady two. Both are happy. Needless to say, Govind Bhai was flooded with orders and had to bring in one more drilling team so that he could meet this rising demand.
The concept of drilling bore wells horizontally is not new to places on the Kerala-Karnataka border. For three decades, Muhammad, who rechristened himself 'adda bore Muhammad', has been drilling horizontal tube wells manually. His team must have dug over 1,000 such 'adda bores' with a satisfactory success rate. But his method has limitations. He is unable to drill for more than 50 feet. With labour becoming expensive, Muhammad finds it difficult to find helpers. In Govind Bhai's method the drilling is mechanised. He uses a 7.5 hp three-phase motor which can drill about 10 metres per hour if the soil is loose.
Horizontal bore wells are drilled from inside open wells and earthen tanks too. The platform of the drilling unit is carefully mounted with the correct alignment. The drilling bit, which is four inches in diameter, is attached to the motor. It drills into the soil and two workers manually move the motor forward with the aid of a simple system. Water is pumped inside the drilling rod with another motor. This water mixes with drilled loose soil and comes out through the hole. This way, the drilled soil is taken out.
Once the rod enters the soil — each rod is a metre long — the motor is pulled back and another drilling rod fitted. The process is repeated until drilling reaches the required distance. Govind Bhai's team has the capability of drilling up to 100 metres. But if a stone comes in the way, the bit can't drill. Kasaragod farmers are inserting perforated PVC pipes inside the ada bore to prevent soil from collapsing within the bore well in the long run and blocking the supply of water.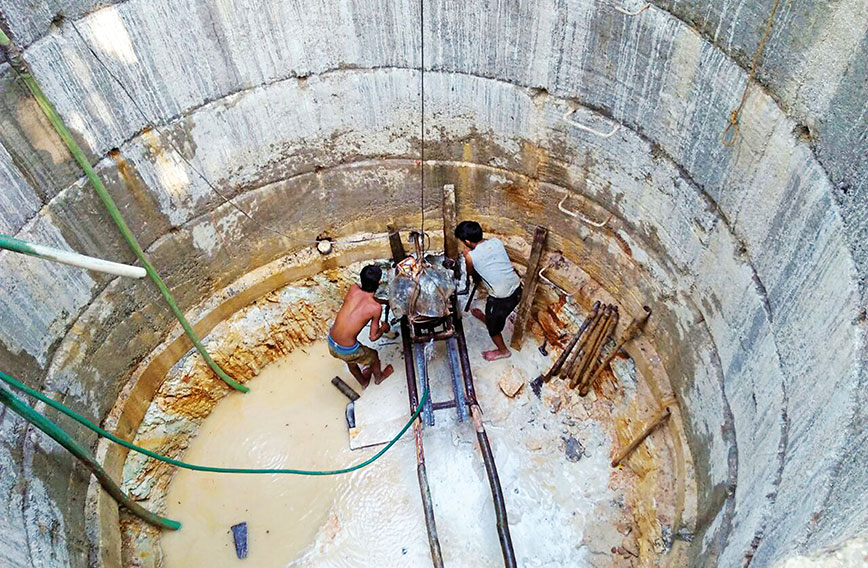 Most horizontal wells are dug from inside open wells
This semi-mechanised horizontal bore well drilling methodology is farmer-friendly technology. But it is still very crude. One of the biggest problems is that just one stone in the digging route is enough to block the whole effort. The team needs to be equipped with powerful drilling bits that can cut through at least some stones. Also, small technical problems creep in while digging, wasting the team's time and energy. These issues need to be fine-tuned.
"Horizontal drilling is required for road work, cable laying and so on. We have very expensive and efficient imported machines that carry out such work efficiently. Govind Bhai's technology is an inexpensive jugaad. In Rajasthan we have a number of such machines that can drill horizontal and vertical bore wells," says Jagjeet Singh Narang, editor of Boring Today, a magazine published from Jaipur, "If our IITs and our engineering brains collaborate with these teams, improve their efficiency and do some trouble shooting, it would be far more useful for farmers. Instead of supporting truck-mounted rigs that cost a fortune, governments should support these tiny systems that offer livelihood options for poor families."
The ada bore can provide water for years if rainwater falling in its catchment area is harvested by making small trenches and pits. Drilling too many ada bores without recharging won't be a productive exercise. So while ada bore is an inexpensive technology, it has to be used judiciously.
Contact Govind Bhai at 94622 62305 / 95711 44524