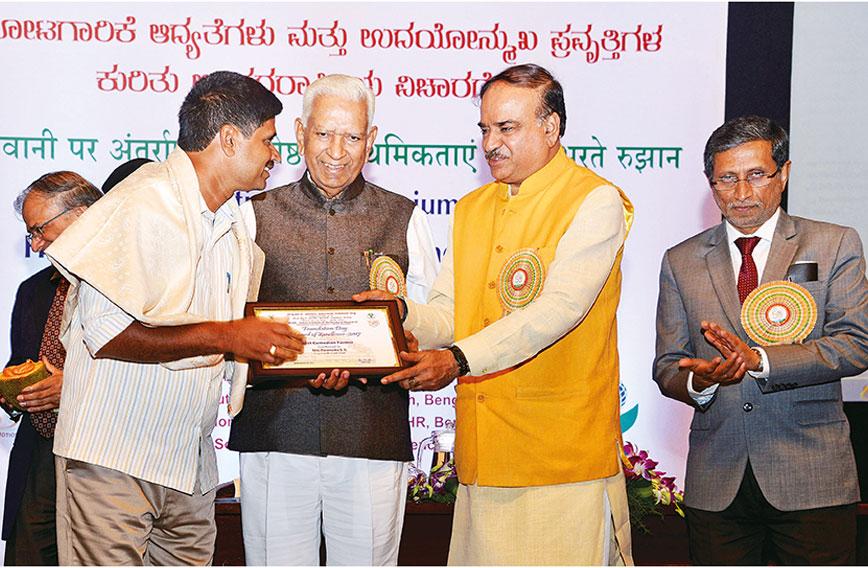 Paramesha receiving the award from the Governor
Siddu jack is an ace by Karnataka farmer
Shree Padre , Bengaluru
Published: Nov. 04, 2017
Updated: May. 06, 2019
S.S. Paramesha's farm in Chellur has a 35-year-old jackfruit tree which yields unusual fruit. It is small, red, flaky and very tasty. While scouting around for unique varieties of jackfruit in Tumkur district's Gubbi taluk, Dr Karunakaran and his team from the Central Horticulture Experimental Station (CHES) came across Paramesha's farm and his extraordinary tree. They were most impressed.
The CHES is at Hirehalli and is a sub-station of the Indian Institute of Horticulture Research (IIHR) in Bengaluru. The IIHR decided to propagate Paramesha's jackfruit, honour him for conserving a unique variety and ensure that he received an income from his genetic wealth.
In September, Paramesha was presented the Custodian of Novel Jackfruit Type Award by the Governor of Karnataka, Vajubhai Rudabhai Vala, in Bengaluru. For the first time in India, a jackfruit variety is being registered in a farmer's name. Paramesha's red-fleshed variety has been named the Siddu jackfruit after his father, S.K. Siddappa.
The CHES has entered into an MoU with Paramesha to produce grafts of Siddu jackfruit for the next three years. The station proposes to sell the grafts at Rs 200 per piece. Seventy-five percent of the revenue earned by selling the grafts will be paid to Paramesha. Yet, this milestone event was missed by the general media. There is huge demand for this tasty fruit with attractive coppery red flesh.
The first instalment of 1,000 Siddu grafts is ready and was formally launched at a simple function organised at the CHES premises in Hirehalli.
This pioneering move by IIHR is very significant. It will become a model and precedent for many more excellent farmer varieties to be registered in the name of their custodians. The second important impact is that their initiative will showcase the red-fleshed jackfruit — an untapped genetic wealth of Karnataka — to the rest of the world.
The mother tree at Paramesha's farm yields fruit that weighs just 2.5 kg. The average number of bulbs it produces is 30. Scientists at IIHR believe that this variety of jackfruit is very convenient for small families because of its tiny size. The shape of the fruit is irregular. The estimated yield of the tree per annum is 1,098 kg. The tree's fruiting season is from March to July and the average number of fruits produced is around 450.
In fact, Tumkur Gubbi is emerging as a hotspot of the red-fleshed variety of jackfruit. "This region has several jackfruit varieties. We went around looking for the best ones," says Dr M.R. Dinesh, director of IIHR. "Dr Karunakaran came across Paramesha's excellent variety with its pink flakes and small fruits. While conserving such varieties we also want the farmer to get economic benefits. Since Paramesha doesn't know grafting, we offered to graft his jackfruit variety and pay him 75 percent of the proceeds."
The colour of bulbs in jackfruits found in Gubbi taluk and in Toobugerehobli in rural Bengaluru varies from orange-yellow to light red to dark red. No serious evaluation or survey of these varieties had been carried out until now to assess the number of trees or identify the best red jackfruit cultivars.
The red-fleshed jackfruit isn't well known. People in Bengaluru and Tumkur are familiar with it. During jackfruit festivals, if red flaked fruits are on sale, buyers crowd around those counters.
Kerala has two noted red-fleshed varieties. There is Sindhhoram, released by Kerala Agriculture University, and Pathamuttam. Interestingly, red-fleshed jackfruit doesn't generally grow in heavy rainfall areas. In Karnataka, Mankale red, a famous variety, is found in Sagar, a heavy rainfall area.
But in the Toobugere and Gubbi belt, around 10 percent of trees have red-fleshed fruit. This probably makes Karnataka or India, for that matter, the place with the highest number of red-fleshed jackfruit.
For the past three years, CHES, Hirehalli, has been making efforts to identify the best jackfruit varieties in the Tumkur region, including the red-fleshed ones. In June, due to the efforts of Dr Karunakaran and his team, an exhibition of jackfruits was held at IIHR, Bengaluru. Out of the 65 varieties of fruit displayed, 42 were red-fleshed. A majority of these were from Tumkur. For the first time in the country so many varieties of red-fleshed jackfruit were exhibited under one roof.
"Tumkur belt has a lot of outstanding red varieties," confirmed Dr Karunakaran. "Vendors at Dabaspet (about 72 km from Bengaluru) once in a while sell such fruits. I have tried to trace the location of the mother trees through them. I have even offered to pay Rs 1,000 for such tip-offs. But they fend me off by making excuses."
Dr Karunakaran says the best red-fleshed varieties he has tasted were fruits that were small and irregular in shape. There was one large-sized variety of around eight to 10 kg he tasted that belonged to a farmer called Mylarappa. Jackfruit experts like Ananthamoorthy Javali, Gururaj Balthillaya and Channegowda have also appreciated this variety. Tragically, it is feared that the mother tree will die shortly. "There are at least 10 best varieties in the areas I have covered in Tumkur. Much more of the region needs to be combed," explains Dr Karunakaran.
The red-fleshed variety is in season from May to July. In June and July, the fruit floods the market and a few consumers get to enjoy the luscious red jack.
Contact: CHES, Hirehally: 0816-224 3214 / 3792; Email:chestumkur@iihr.res.in