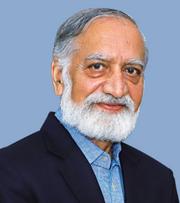 KIRAN KARNIK
A much-used slogan is roti, kapda, makaan. Of these, food is a survival necessity, and has long been on top of the agenda. The vagaries of the weather — now worsened by climate change — with their impact on crops, create uncertainty, making food a perennial point of concern. Irrigation and grain storage facilities assure availability but, even today, far too many go to bed hungry. However, for a large proportion of the population, food is no longer a concern.
Yet, for the well-off in urban India, food continues to be high on the agenda — for reasons other than scarcity or affordability. For them, it has moved from necessity to a lifestyle product. What and where one eats has become an important issue, as vital as the routine task of consuming a meal. The composition and content of a meal at home is driven not merely by taste, but by the latest recommended diet: organic, Keto, gluten-free, intermittent fasting, low-salt — endless possibilities, and new advice every day from "experts"!
Dining out entails choosing between the wide varieties of cuisines now available in restaurants. This, and the growing willingness to savour diverse foods, has resulted in a mutually reinforcing loop between availability and consumption. As a result, one can find restaurants that serve cuisines from different parts of India: besides the standard "South Indian" (idli, dosa) and "North Indian"(chhole, paneer, chicken tikka), one can also savour momos from the Northeast, Hyderabadi biryani, Bengali machher jhol, Rajasthani dal bati and much else from the diverse regional cuisines of the country.
For those with wider tastes, there are restaurants dedicated to food from Thailand, Lebanon (actually, Mediterranean), France, Japan, Korea, Burma — even Vietnam and Peru. Often, some of these are covered under the broad title of "Continental" or "Southeast Asian". Then there are — far more common — those that serve Chinese and Italian food, though both pizza and most Chinese recipes have been so thoroughly localized that they have become a part of Indian cuisine!

Many restaurants are inevitably multi-cuisine, serving an assortment of Chinese dishes, pizzas, and burgers, besides standard Indian dishes. At dinner parties in homes, as well as at wedding receptions, it is common to have a mix of global cuisines, with pasta hot stations competing with wok-fried noodles; teppanyaki with shawarma; tandoor-fresh kebabs vying with piping-hot dosas or appams. Clearly, as far as food is concerned, globalization is alive and thriving!
Apart from what is served (including fusion foods, the new form of globalization), restaurants are categorized by how they serve (self-service, takeaway) and how fast they do so. Fast food outlets (quick-service restaurants, or QSRs, in hotelier jargon) compete with fine-dining restaurants — those that provide a more formal décor and ambience (at higher prices!)
A sub-category of fast food is roadside or street food, available off a thela: a low-cost and mobile QSR. These generally cater to the floating population around busy office complexes, markets, and transport terminals, providing an essential service in a cost-efficient manner. Some attain fame for the quality of food and become drive-in eateries for car-owners. Their equivalent on highways is the dhaba, a wayside restaurant intended mainly for truck-drivers. Here too, some have a reputation which attracts the well-off to specially drive down to savour the best-tasting food. As a result, some — like their city brethren — have evolved into fancy (and high-priced) restaurants, no longer catering to a low-income clientele. The same evolution has taken place for the "shacks" on Goa beaches. In many ways, restaurants reflect both the inequity and diversity of our society.
In the years ahead, food seems set to be a lifestyle definer, like one's clothes or accessories. A leisurely meal in a fine-dining restaurant is as different from a hurried one at home, as a quick, functional bath is from a slow, relaxing session in the sauna. Where you eat and what you eat will be an indicator of your personality and identity. Already, common-interest groups are forming around food choices, some as strongly bonded as those around golf or bridge or Sufi music.
Another important element of the food story has been the change in status of the "manufacturer" ­— the lowly cooks and the under-appreciated khansamas in remote "travellers' bungalows" of yore have evolved into much-celebrated chefs. To be recognized and spoken to by one in upmarket restaurants is the ultimate dream of status-seekers. Doubtless, in years to come, some chefs will be celebrities, competing for popularity with cricketers and movie stars. Meanwhile, some home chefs have turned entrepreneurs (triggered by COVID lockdowns) and, with so many single-person or both-working households, the demand for such home-cooked food is bound to boom.
Meanwhile, the sad state of health — especially amongst the poor — evidenced by the dismal figures for child stunting, wasting, infant mortality and so on is largely due to poor nutrition. While access to food has vastly improved, proper nutrition is still a problem. In future, thanks to science, this may well be overcome by packing all necessary nutrients into a single tablet. This may extend further to one tablet providing the day's need of food: a quick "meal" for those in a hurry. QSRs may be replaced by UQM — ultra-quick meal — tablets.

What is all this doing to the social aspect of eating, of friends and family breaking bread together? Already, the concept of a daily family meal, exchanging the day's events and banter over the dining table, seems to be dying. Will eating in a group be limited to an occasional fine-dining outing? Food has always been a part of culture (and is now a major force in India's soft power); how will the new food practices alter culture?
Molecular gastronomy is now in fashion. Artificial intelligence and data analytics will take this further and combine it with tastes, specific diet requirements and other factors, creating a new field: computational gastronomy.
With all these changes, as we look ahead, it is interesting to speculate about how this evolution in the way we look at food and eating will play out in all its dimensions: nutrition, business, science and sociology.
Kiran Karnik is a public policy analyst and author.
His most recent book is Decisive Decade: India 2030, Gazelle or Hippo.