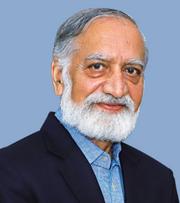 KIRAN KARNIK
THE recent flooding in Bengaluru, the IT capital of India and amongst the most important global hubs for the tech industry, has once again highlighted the sorry state of urban infrastructure in the country. Equally, it has exposed the inability to foresee and forestall critical problems, so as to deal efficiently with those that do occur.
Earlier, images of floods in Hyderabad were flashed in the media: cars were submerged, buses stranded, and people waded through waist-deep water. Boats were also seen, not on rivers or lakes, but navigating roads in more than one of India's premier cities. People being rescued in boats is, unfortunately, a routine yearly image from some parts of the country, especially Assam and Bihar. In fact, a file photo from a decade ago would look no different, except for the people. But boats on city roads are a new phenomenon.
Yearly flooding is routine in the financial capital, Mumbai, causing disruption in many critical economic functions and serious human problems, including flood-induced infections. In the national capital and its neighbour, the so-called "millennium city", Gurugram, a few centimetres of rainfall throw traffic and life out of gear. While some of these issues may be laid at the door of "extreme weather events", triggered by climate change, the problems occur even with just one sharp shower.
It is now well established that inadequate stormwater drains, their abysmal maintenance, and bad road engineering are major causes of urban flooding. However, the biggest contributor is probably poor — or subverted — town planning. Filling of lakes and natural drains, felling of trees, and unthinking concretisation leave no place for any excess water flows to be absorbed.
A few months after the calamity of the otherwise-welcome monsoon rains, urban centres in North India begin to gear up for the dangers of air pollution. This, too, has become a routine yearly feature, with a repetition of the same concerns, warnings and promises. Like the similar-to-the-past images of floods in Bihar or Assam, the headlines and news reports of yesteryear could be used this year too. Sadly, this includes things like one more extension of the time-limit for thermal power plants to comply with pollution norms. First mandated in 2015 for implementation in two years, even seven years down the line the only action is another extension — upto 2026, in some cases. Meanwhile, people continue to suffer the effects of pollution, from respiratory problems to even death.
Images of submerged cars, boats in the streets of our major cities, and CEOs going to work in tractor trailers make for interesting viewing and humorous comments. However, for those who live amidst the problems, it is a time of loss and sorrow. It also has a wider impact, with the breakdown in civic amenities and infrastructure affecting the image of India globally.
The speed of future economic growth is dependent on India becoming a big part of global value chains. These require reliable partners and locations for global supplies. At a time when many — including the government — seek to promote India as a better, more trustworthy alternative to China, work disruptions, for whatever cause, are hardly an advertisement for the reliability and dependence of supplies from India.
Looking ahead, despite global efforts ("reduce, remove, repair"), carbon-triggered climate change and the consequent extreme weather events are not going away anytime soon; if anything, they may get worse in the short and medium term. Rising sea levels, high temperatures, droughts, and intense rainfall are already becoming the norm. It is leading to inundation, water shortages, forest fires, floods, and a host of health issues. Added to this is air pollution.
Climate change and many of its consequences are inevitable in the next few years. The questions then are: how best can we minimize the impact and handle these challenges? If we focus on urban areas, the one overall single factor which is vital for handling many problems is governance. So many of the problems can be traced to poor policies, organizational issues, lack of expert advice and inadequate resources. Corruption—through the nexus of politicians, builders and the executive — distorts or bypasses policies and regulations. The recent court-enforced pulling down of the twin towers in Noida is a classic example. With the connivance of the powers-that-be, the builder violated all norms. Apparently, no one in authority saw these massive structures coming up! It was only after a years-long legal battle by local residents that they were declared illegal. Similarly, in the national capital, encroachment on the floodplain leads to flooding in the Yamuna. Worse, there are officially-sanctioned projects on the floodplain.
In Bengaluru, a great deal of the flooding is due to construction that has come up on lake-beds. In Mumbai, encroachment into the Mithi river leads to flooding. In Haryana, the government is trying to dilute regulations and court orders to reduce the area of reserved land in the Aravalis: this, at a time when Gurugram is amongst the worst-polluted cities and desperately needs more tree cover in and around it.
All these issues point to a deficit in governance. Multiple administrative agencies worsen the situation and dilute accountability. Despite the 74th Constitutional amendment, local governance in the city has neither the resources nor the authority to do very much. Enforcement of laws, efficient implementation, accountability, and transparency all require decentralization of these. When this is done (e.g., during Covid in Mumbai), the results are visible. Yet, neither the Centre nor the states seem keen to empower city administrations.
For their well-being, all our cities need strongly empowered and well-resourced administration. Without that, we will continue to drown.
Kiran Karnik is a public policy analyst and author. His most recent book is 'Decisive Decade: India 2030, Gazelle or Hippo'.