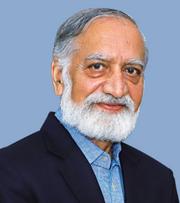 KIRAN KARNIK
ELECTIONS in many states this year and for the Lok Sabha in 2024; the 75th anniversary of Independence and of the Republic; the biggest country; the third largest global economy — these and other important milestones mark this decade, culminating in the 80th anniversary of the Republic in 2030. As we look expectantly and with hope towards a bright future for the country and each citizen, it is necessary to analyze what might influence where we reach in 2030. What can be done to ensure more positive outcomes? More importantly, what is the destination and which are the goals we want to achieve?
This column, through a series of articles over the course of the coming months, will seek to identify and analyze the major factors that will determine how fast we move and where we will be in 2030. Each piece will discuss an "influencer" area and its possible status in 2030. The purpose is to stimulate a debate: in these columns and through our readers within the groups that they are associated with.
At the outset, it must be noted that this author is an incurable optimist. Therefore, though the column may sometimes paint dystopic pictures, the overall lens through which we view the future is of definite optimism. Like Indian weddings, this country has established an ability to overcome chaos, conquer all odds, be resilient, and finally achieve success. Hence, the optimism is probably nothing more than realism!
As a natural segue with this author's earlier column (Tech Tales) in Civil Society, we begin this series with technology. To say that technology is all-pervasive and ubiquitous is trite, and yet largely true. Only "largely", though, because the forced shift to online teaching in the past two years has highlighted that millions of children lack access to the technology (devices) required, resulting in great educational deprivation. Similarly, we know that hundreds of millions did not have the comfort of online purchases, financial transactions, information access or socializing. We must urgently end this access inequity because technology will, without a doubt, be a vital necessity by 2030.
By the end of the decade, technology will be a major driver of India's economic growth through what one may broadly call the hi-tech sector. One example is the space industry, which is yet nascent but growing very rapidly. Already an important element of the national space programme, it will ride the worldwide boom and capture a part of the global market. India's already-large pharma sector — a world leader in vaccine production — will see further and high-value growth through investments in R&D, strengthening its position as the "world's pharmacy". New medical devices, based on combining bioscience with electronics and software, constitute another area in which Indian innovators are making waves. High-tech wearable health devices will become mass products. Remote diagnostics and tele-consultation will be the norm for much of the population, creating a large, new market.
There will be strong growth in manufacturing and maintenance of tech products such as mobile phones, TV sets, telecom equipment and so on. Even if only a part of the value chain is in India, it will add considerably to both GDP and employment.
India's huge thrust on green energy, related to the commitments we have announced at global fora, is already creating a big demand for products linked to solar and wind power, nuclear and hydel energy, and production of green hydrogen. Recycling and reuse technologies are being invented or adapted. Electric vehicles and hydrogen as a fuel will slowly but surely dominate transportation. In these areas — as in space — we are already witnessing an upsurge in start-ups and innovation. The "greening" of existing industrial processes through new technologies, the use of additive manufacturing, robotics, AI and automation — so-called Industry 4.0 — will add considerably to the growth of the tech sector.
These and other areas like Agritech will add to the boom already taking place in Fintech and Edtech, making the tech sector an engine of India's economic and job growth, with high export potential.
Yet, when we look at the global scene, one cannot but help feel that we missed the bus in some areas where we were at one time amongst the front-runners: for example, in the production of electronics and nuclear energy. In both fields, early leaders had the foresight to initiate action for creating a talent base, institutional mechanisms and a fair degree of industrial capacity. But somewhere, a few decades ago, we lost the plot (possibly our ambitions and thrust too) and settled for short-term quick fixes. Fortunately, recent developments now provide new opportunities which must be leveraged.
India's ability to capitalize on the huge opportunities and ensure strategic autonomy in the tech area will depend on its actions in the next few years. In this, there is much to learn from the phenomenal ongoing success of our globally competitive IT software industry. Conducive policies, industry-government partnership, training, agility, far-sighted leadership and innovation are some features, apart from the guiding hand of the industry association.
In order to derive the full benefits — economic gains, employment, inclusive development, strategic autonomy and power — that the tech sector could deliver for India, there are some necessary conditions. These include visionary leaders, facilitative policies, an ecosystem that promotes innovation, large R&D investments, upgrading educational standards and institutions, large-scale skilling, autonomous and well-funded research institutions, and government-industry partnership. A framework that ensures these across different tech areas will most certainly help India to not only fully capitalize on the promise of technology, but also to become a global leader in a few areas by 2030. It can then truly become India's techade.
Kiran Karnik is a public policy analyst and author. His most recent book is 'Decisive Decade, India 2030: Gazelle or Hippo'.