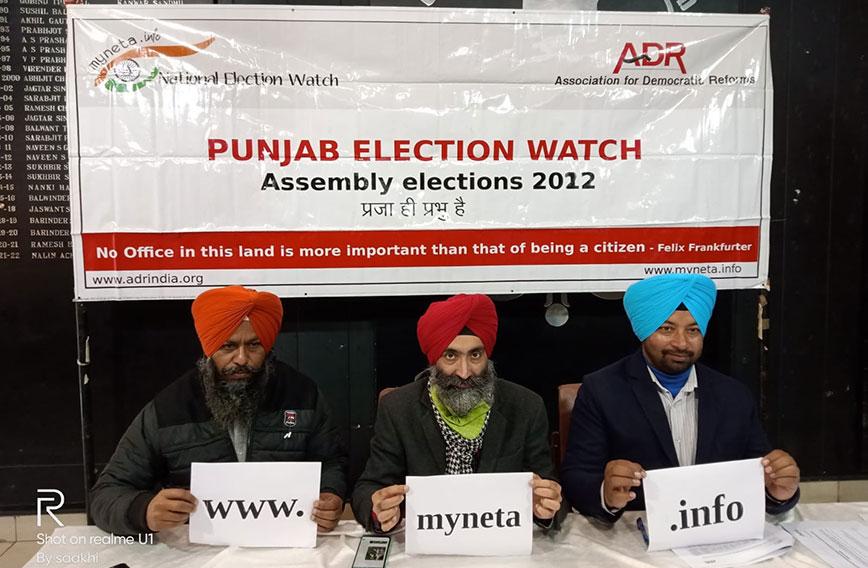 Money-muscle index in Punjab elections
Surmayi Khatana, New Delhi
Published: Jan. 19, 2022
Updated: Mar. 29, 2022
Of the 3,547 candidates who stood for election to the Vidhan Sabha and Lok Sabha in Punjab between 2004 and 2019, as many as 11 percent had criminal cases against them and 6 percent faced serious criminal charges.
These are the findings of the Association for Democratic Reforms (ADR) and Punjab Election Watch based on an analysis of the election affidavits filed by these candidates with the Election Commission.
ADR has been collecting candidate information and analyzing it since the 1999 PIL in the Supreme Court for transparency in elections and the 2003 judgement for filing of affidavits by candidates declaring assets and detailing particulars regarding pending criminal cases. All of the affidavit data can be found at myneta.info.
"We have been releasing summary reports of the affidavit information every election. We decided that since we have been tracking such information since 2004 in Punjab, we can analyze and find any trends or patterns across the data," says Jaskirat Singh, trustee of ADR.
The report, Analysis of Criminal and Financial Background Details of Candidates and MPs/MLAs since 2004 in Punjab, analyzes the background of candidates.
Out of the 413 elected MPs and MLAs, 17 percent have declared criminal cases against them with 8 percent having serious criminal cases. The average financial assets of all candidates is Rs 3.50 crores and the average assets of all those elected as MPs and MLAs is Rs11.42 crores.
Crime pays?
The report calculates the chances of winning an election with a criminal record by analyzing the correlation between criminal cases declared and the chances of winning the election.
"It is very interesting that in the analysis of winnability of clean vs tainted candidates the report shows that there are only 11 percent chances of winning an election for those with a clean record while it is 18 percent for those with criminal records," says Parvinder Singh Kittna of Punjab Election Watch.
The party-wise breakup shows that 71 or 22 percent of 325 candidates contesting on Shiromani Akali Dal (SAD) tickets since 2004 had criminal cases against them. For the Congress, 56 or 14 percent of 406 candidates who contested had criminal cases against them. For the BJP, the number was eight or 10 percent out of 83 candidates. For the AAP 15, or 11 percent of 142 candidates had criminal cases pending against them.
Among MPs and MLAs the report shows 29 or 15 percent out of 195 MPs and MLAs elected on a Congress ticket since 2004 have declared criminal cases against themselves, with 14 or 7 percent facing serious criminal cases.
For the SAD, 29 or 20 percent of its 142 MPs and MLAs had criminal cases pending against them of which 13 or 9 percent faced serious charges.
For the BJP, four out of 42 MPs and MLAs elected had cases pending against them and two had serious cases. For AAP, it was three out of 24 with one serious criminal case.
Financial assets
The average financial assets declared by candidates was Rs 3.5 crore whereas the average assets of elected MPs and MLAs in the time period was Rs 11.42 crore.
A party-wise analysis of the financial assets of candidates shows that for Congress the average is at Rs 10.86 crore. The BJP candidates have declared average assets of Rs17.82 crore, the Akali Dal Rs 9.33 crore and Independent candidates Rs1.05 crore.
For elected MPs/MLAs, the report shows that the average assets for 195 MPs and MLAs from the Congress is Rs 13.59 crore. The average assets of the 42 BJP MPs and MLAs is Rs 7.18 crores. For 142 Akali Dal MPs and MLAs, it is Rs 11.33 crores and the average assets of eight Independent MPs/MLAs is Rs 3.75 crores.
The relationship between declared criminal cases and the financial assets of MPs and MLAs is also interesting. While the average assets of 69 MPs and MLAs since 2004, with declared criminal cases is Rs18.00 crore, the average for 32 MPs and MLAs with declared serious criminal cases is Rs 26.69 crore.
"Analysis of the data has revealed that money power and muscle power have a large bearing on the outcome of the election results in Punjab," remarks Jaskirat Singh.