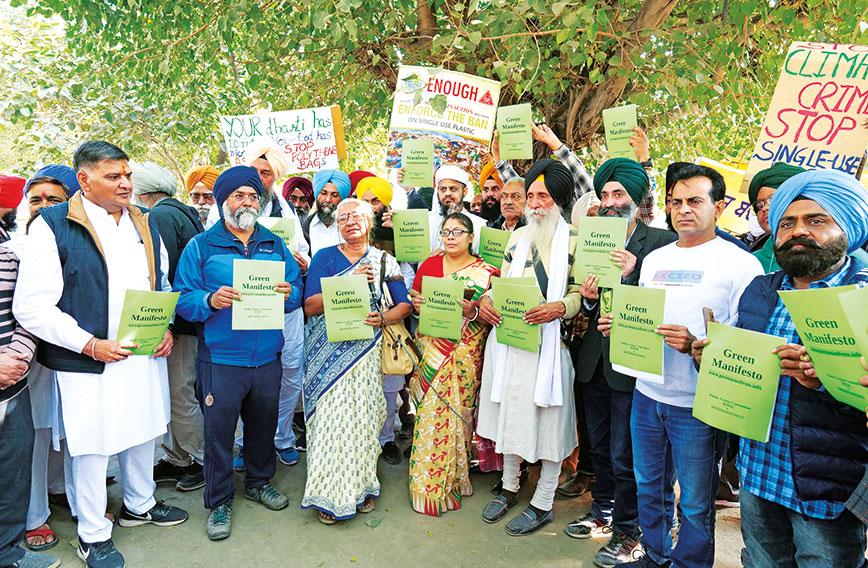 Citizens of Ludhiana hold up the green manifesto with Medha Patkar
Green manifesto in Punjab but by voters, not parties
Civil Society News, New Delhi
Published: Dec. 31, 2021
Updated: Jan. 19, 2022
PUNJAB has an array of environmental problems. Some of them have to do with pesticide overuse and exploitation of groundwater. Others are caused by emissions and wastes. Sewage has been contaminating water sources. The state's green cover is in jeopardy.
Serious as these issues are, general concern is lacking in both people and politicians. Activists say even when people die from pollution, the message doesn't seem to go home.
So, how to get everyone talking about the decline in the environment, especially when it is now having a direct impact on the quality of life?
Some activists see a People's Green Manifesto as one way of bringing their concerns into focus. They hope political parties will at least sit up and listen during election time. Perhaps it will also prompt voters to think.
The manifesto was released recently and it deals with the location of industrial parks near forests, chemical waste being dumped in water bodies, poor urban planning, dumping of garbage, pesticides and better traffic management. There are, in all, 40 points.
"Election time is when the ear plugs are removed. Otherwise what we say falls on deaf ears," says Jaskirat Singh, one of the activists behind the manifesto.
"When people are asking for atta, dal, free electricity and what not, let's see if they can also talk about the environment a bit. Hawa paani ki thodi baat karte hain, kya pata koi is time pe tukka lag jaye (Let's talk about clean air and water at election time. Maybe this time we will be lucky)," he says with a bit of humour.
But Singh is being self-deprecating. He, and others like him, have put in a lot of effort in preparing the manifesto and giving it visibility.
They have also reached out to local luminaries. Baba Balbir Singh Seechewal, who is famous in Punjab for singlehandedly cleaning up water bodies, has agreed to be the face of the initiative. There are also Dr Inderjit Kaur, Baba Sewa Singh and Giani Kewal Singh — all of whom are recognized locally. Medha Patkar was invited to Punjab to release the manifesto.
Lack of awareness and the apathy that results from it prevent people from making demands on their politicians.
"I see people are suffering, but they are not talking about it. Probably most of them don't even realise why they are suffering. In one particular village in Abohar near Fazilka there were 11 deaths in 2021 due to cancer. I know that they drink water from the Budda Nala," says Singh.
Cleaning up the Budda Nala has been a major issue for residents in Ludhiana like him who are aware of its toxicity. Currently, chemical wastes and sewage end up in the Budda Nala as it passes through Ludhiana. Its water is consumed further down.
Also of great concern is the danger to Matewara forest which is 20 km from Ludhiana. The government has planned a 1,000 acre industrial park there, right on the floodplains of the Sutlej.
The People's Green Manifesto raises these issues amongst others. It suggests framing an industrial policy that takes the environment into account. How factories are located is important. Also, with urbanization growing, there is a need for managing cities with greater foresight.
A similar green manifesto was put out 10 years ago and was largely ignored by politicians. This time too politicians haven't shown much interest.
The earlier manifesto was on broad issues. It was on organic farming and pesticides and made some mention of water and air pollution. It got glossed over because of this — and perhaps because it was ahead of its time.
Now more people are aware of environmental problems. The framers of the current People's Green Manifesto are, therefore, hopeful of evoking at least some kind of response. They have taken up current issues, such as the location of the industrial park, in the hope that it will resonate with people.
More than 20,000 people have been reached using the internet and public meetings. It is a small number, but a beginning has been made.
"We are keeping it very simple. We are taking it step-by-step. We have a long-term vision but we don't have a long-term plan as such. Politicians are so smart, they slip away at every next step. You cannot count on them," he says.