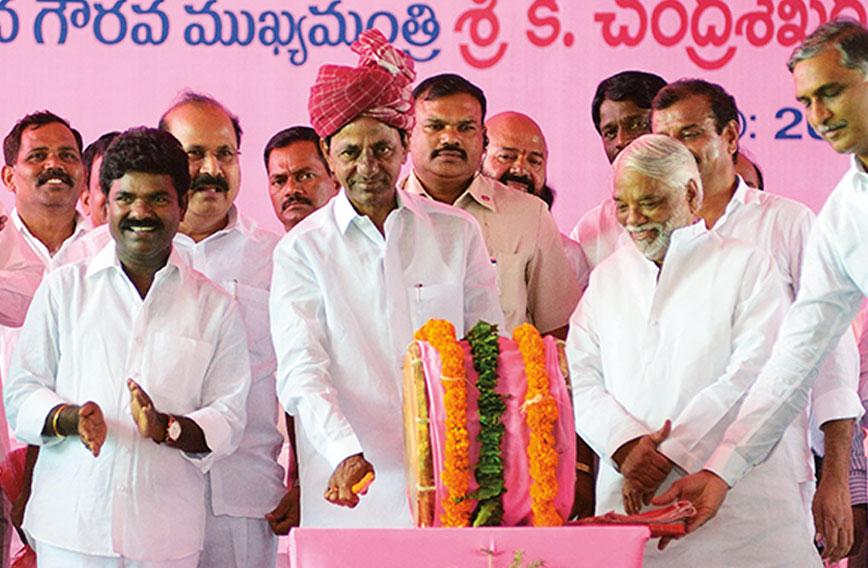 One of many launches | Photo: P. Anil Kumar
Is KCR invincible after first term of targeted sops?
T.S. Sudhir, Hyderabad
Published: Oct. 31, 2018
Updated: Feb. 28, 2020
In Addagutta locality of Secunderabad, Chandrakala is happy that for the past four months she does not have to stand in a queue with buckets at the community hand pump to fill water. A tap connection in her home has ensured a life of dignity for this 54-year-old homemaker.
"It wasn't just the physical effort of lining up and carrying water pots back home or the ugly fights. It was somehow demeaning that such a basic necessity was not available to us at home. Now, with the tap connection, we feel we are not on the street,'' explains Chandrakala.
One reason the movement for the separate state of Telangana took off was a sense of alienation and of being treated as second-class citizens in undivided Andhra Pradesh governed by leaders from Andhra and Rayalaseema regions. It is this feeling of self-respect that K. Chandrasekhar Rao, or KCR as he is popularly known, has tried to address with the kind of welfare schemes he has designed as Telangana's first chief minister since June 2014.
"No woman in Telangana should be seen waiting for a water tanker on the street," KCR had said while announcing the project and promising to complete it before 2019.
A tap connection for every household is part of Mission Bhagiratha, a Rs 40,000-crore project that aims to provide 100 litres per capita per day of potable water to every household in Telangana. The water is being tapped from the Krishna and Godavari rivers, the two major water sources that flow through Telangana.
When KCR decided to dissolve the Telangana assembly eight months ahead of the scheduled elections in April 2019, the belief was that he had done so based on astrological advice. But a closer look at the manner in which he has gone about preparing the ground for a second term reveals an approach reminiscent of J. Jayalalithaa.
In 2016, Tamil Nadu showed its appreciation of Jayalalithaa's welfare measures like the Amma canteens providing subsidised food and the Amma kits for newborns and young mothers by giving her a second successive term. Her welfare measures helped create a narrative of a caring government. KCR's style of governance has taken a leaf out of the AIADMK book and designed populist sops tailormade for each section of society. By going to the people now, KCR subtly wants to convey that he has finished the job ahead of time.
"I can say 99.8 percent of the promises we made in our manifesto in 2014 have been fulfilled. In addition, we have also implemented measures like Rythu Bandhu that were not part of our manifesto,'' he declared proudly.
Farmer's friend
More than halfway through his term, KCR realised that if there is one statistic that puts Telangana to shame, it is its position among the top three states when it comes to farmer suicides along with Maharashtra and Karnataka. Since Telangana was formed, close to 3,500 farmers have killed themselves, according to activists and opposition leaders. KCR sought to reach out to this politically important sector through his Rythu Bandhu (Farmer's Friend) programme.
Under the scheme, the government gives Rs 8,000 per acre as input subsidy (Rs 4,000 for the kharif crop and Rs 4,000 for the rabi crop). In the first financial year, Rs 12,000 crore was earmarked for the scheme. In the first instalment that was handed out in April 2018, nearly 5.8 million farmers received cheques. KCR's argument is that this will ensure the farmer is not at the moneylender's mercy for sowing the crop.
But the programme has had its share of controversy. The problem is that it does not cover 1.5 million tenant farmers in Telangana, who are the people actually tilling the fields. The cheques are given to the landlords who are farmers only in name and live in cities, having rented out their fields. It is, in that sense, a double bonanza for them. In addition to the rent, they get a subsidy from the government which they do not pass on to the tenant farmer.
"Of the Rs 17,000 crore of agricultural credit that is given by public sector banks, 25 percent goes to people settled in Hyderabad who own agricultural land in the districts. This Rs 8,000 too goes to the same landowners instead of the cultivators. Ideally, this scheme should be an incentive for those who do farming. Instead, it has become an incentive to own land," points out G.V. Ramanjaneyulu, an agriculture scientist.
But KCR did not budge. He made it clear that tenant farmers would not be part of the largesse.
"Most tenant agreements are oral in nature. The government is not a party to the decision to lease land. If we get into it, it will only lead to legal complications. Besides, tenants and terms and conditions can change every year, every crop season, so how can the government keep track?" says C. Parthasarathi, agriculture secretary of Telangana.
To defend its list of farmer beneficiaries, the government's argument is that 39 percent of those who received cheques have land holdings of three acres and less and that does not make them rich farmers.
"We can criticise the implementation of the scheme but it is tough to call the Rythu Bandhu itself wrong,'' says N. Ramchander Rao, MLC of the BJP in Telangana. "It is a fact that farmers are in distress, borrowing liberally from private moneylenders at exorbitant rates of interest. This measure is at least small relief."
What puts KCR in a slightly comfortable position electorally is his intelligent blend of politics and governance. When Jayalalithaa started the Amma canteens, the late Cho Ramaswamy had told this writer, "She is not looking at a vote in every idli." But KCR with his targeted approach can actually afford to do so.
Subsidy for shepherds
For instance, to specifically target the shepherd community, 8.4 million sheep were distributed at a cost Rs 5,000 crore. Each of the 400,000 beneficiaries had to bear one-fourth of the cost (Rs 1,250) while the government paid the remaining 75 percent (Rs 93,750). In the last couple of years, these sheep have given birth to an additional 2.5 million sheep. What made such a government scheme stand out was the attention paid to detail.
"We asked the district administrations to grow Style Hemata grass in forest lands and horticulture lands for fodder for sheep. We brought in veterinary doctors and mobile health vans and ensured each lorry carried only four units of sheep to avoid health problems,'' said T. Srinivas Yadav, animal husbandry minister.
Two-bedroom flats
One of the promises made by KCR's Telangana Rashtra Samiti (TRS) government was it would construct two-bedroom flats of 560 sq feet for the poor. To build 2.74 lakh houses, the government earmarked Rs 17,660 crore. But in four years the government has been able to complete less than 12,000 houses even though construction is on to construct 1.5 million houses. KCR's hope was that the dream of stepping into their own houses in the next few months would net him the votes of beneficiaries and their families.
"Construction of the flat allotted to our family has begun. Hopefully it will be completed by end of 2019,'' says Gattaiah, a daily wage worker whose slum dwelling was cleared by the authorities in late 2017. He and many others were handed occupation certificates. It is this constituency, that cuts across caste and religion lines and is based on a roti, kapda, makaan template that KCR hopes will work for him this December 7.
Shaadi Mubarak
The government also targeted specific schemes for communities. Kalyana Lakshmi and Shaadi Mubarak help families with funds for their daughters' marriage. Initially meant for Muslim and Dalit families, the scheme was also an effort to curb the sale and trafficking of young girls by getting them married to old Arab Sheikhs from the Gulf. Started in 2014, the scheme gave Rs 51,000 to each family but was increased to Rs 1 lakh and then extended to Backward Castes and upper caste BPL families as well. Over 400,000 families have availed of this help so far.
"The Shaadi Mubarak scheme has helped so many Muslim families in the Old City area of Hyderabad. It shows that our government has its heart in the right place and is able to design schemes that help the most needy,'' says Mahmood Ali, deputy chief minister of Telangana.
Reviving lakes
But KCR has also shown the sagacity to look ahead. His Mission Kakatiya proposes to rejuvenate over 46,000 lakes and tanks in Telangana in order to provide micro irrigation facilities to farmers. Nearly 5,000 of these water bodies are chain-linked lakes, with an ayacut of close to 2.5 million acres. So far, work is going on at 27,000 lakes that have been identified under the scheme. In fact, all 46,000 lakes in the state have been geo-tagged to ensure they don't get encroached on by corrupt government machinery.
"In my childhood, I used to swim in this pond. But since the silt was never removed it became unusable. In the past three years, so many of our water bodies have been desilted in our villages. They were filled with fresh rainwater which can now be used for irrigation, bathing and other needs. Earlier they were either encroached on or garbage was dumped in them," says Mritunjay, a farmer in Medak district.
The opposition is imploring the people of Telangana not to fall for what it says are cosmetic works done in some districts. It alleges huge corruption in irrigation works.
"The KCR government implemented irrigation related projects wherever he and his family members received commissions,'' claims Uttam Kumar Reddy, Telangana Congress chief. "When Telangana was formed, the state debt was Rs 69,000 crore. Today it stands at Rs 2 lakh crore.''
But it is not just the rural vote that KCR has on his radar. The TRS was very weak in Hyderabad. The Andhra population settled here was seen as inimical to the movement for a separate state during the agitation. In 2014, the TRS won just two seats from the Greater Hyderabad area but by the time the municipal polls were held in 2016, the TRS gained strength, winning 99 of the 150 wards in the corporation.
For the urban English-speaking population KCR offers the feel-good factor. Telangana has pitched itself as an investor-friendly state with its I-pass policy that makes it mandatory for every industrialist to get all government clearances within 15 days, or else it is deemed as given.
The state ranked first jointly last year in the Ease of Doing Business rankings and came second by a whisker this year, proof that attracting investment and creating employment is the government's constant focus. The fact that Ikea, the Swedish furniture company, chose to set up its first shop in Hyderabad, endorses the city's image as an investor-friendly destination.
For its youthful workforce, Telangana is focusing on the Cost and Quality of Doing Business. This was after feedback revealed that when IT majors like Infosys, Wipro and TCS recruited young people from Telangana, they had to be retrained for the next seven months to mould them for their requirements. This meant that those employees did not generate any revenue for that period as they could not be deployed on any ongoing projects.
"We found out from these big recruiters the kind of software and applications the new recruits would work on when they joined and introduced that in the fourth year syllabus. As a result, the seven months' retraining programme has been reduced to just 15 days of orientation, bringing down the cost factor significantly for these companies," says Jayesh Ranjan, Industries Secretary of Telangana.
Telangana is now in election mode. KCR and his team are trying to ensure that the beneficiaries of his government's schemes turn up in the polling booths to express gratitude by voting for the TRS' ambassador car symbol.