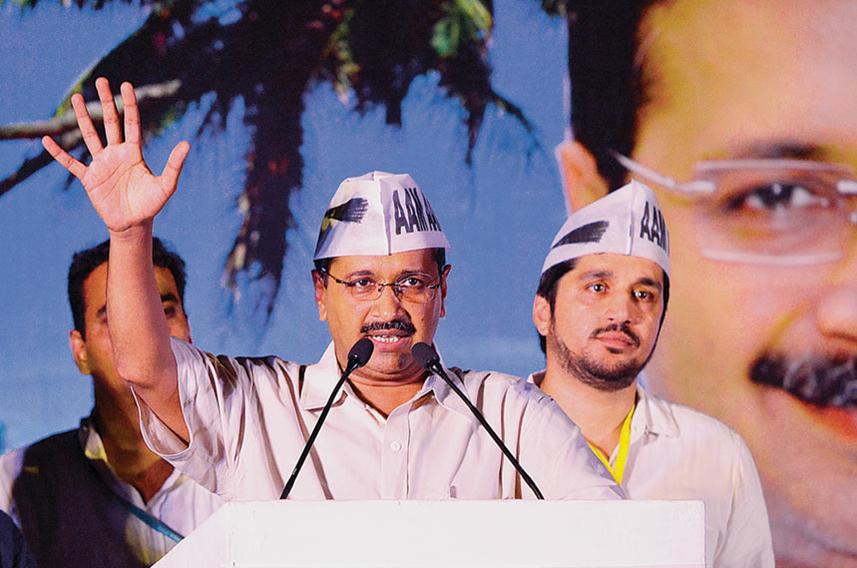 AAP speeds up its Goa campaign
Gauri Gharpure, Panjim
Published: Aug. 02, 2016
Updated: Dec. 04, 2020
The monsoon downpour didn't stop Arvind Kejriwal, Aam Aadmi Party (AAP) leader and chief minister of Delhi, from making his second visit to Goa in two months. Goa deserves attention because it is not just sun, sand and beach. It is the smallest state in India but one of the richest, with high literacy, a strong Panchayati Raj ethos and political awareness.
The Goa Assembly is a mosaic of 40 seats. The ruling BJP has 21 seats and the Congress nine. The remaining 10 are shared by small but strong local parties. The Maharashtrawadi Gomantak Party has three seats and the Goa Vikas Party two. There are also as many as five independent MLAs. They include ex-Congress strongman Atanasio (Babush) Monserrate, who was recently arrested on a rape charge. The Independent MLAs might turn out to be the game-changers in the upcoming Assembly elections.
AAP Goa hopes to carve a niche for itself within these complex dynamics and is the only party to hit the ground running in anticipation of the 2017 Assembly polls.
During the three days he spent here, Kejriwal packed in meetings in south Goa with the fishing community at Vasco and an interaction with youth in Ponda. In north Goa, he met stakeholders in the tourism sector in Calangute and the Archbishop in Panjim.
"The manifesto is our Bible, Gita and Koran. We are going door-to-door to understand what you want and once we make promises, we won't back out," Kejriwal told people from the tourism sector at the Calangute Association Hall.
It was a particularly rainy day and the Calangute main road was bereft of banners or any publicity material. It was business as usual and tourists strolled around, unaware of the political sizzle. By the time Kejriwal showed up — he was late by an hour — the hall was packed with people, most of them sporting the AAP caps that were distributed to those who registered at the main desk.
The party has employed unusual tactics to create a buzz.
PROMINENT BANNERS
On 22 May, the first time Kejriwal was in Goa, the party prominently displayed banners across the state. The public meeting, which was streamed live on AAP Goa's Facebook page and its website, had a large turnout. Party workers created a buzz even after the event was over. They sent text messages and status updates on social media: "We believe in cleaning up after our events. Our volunteers are removing all publicity banners. In case you find one in your area, please alert us with a text and we will ensure it is removed."
After the 18 June celebration of Goa Liberation Day, the party again morphed into a "clean-up" gang with workers showing up at Azad Maidan in the city centre, after Chief Minister Laxmikant Parsekar was done with his speech, armed with brooms and garbage collection bags.
Suhani Shah, in her early twenties, currently leads the social media team of AAP Goa and was its former youth wing coordinator. "Our campaigns are simple and transparent. We even live stream our coordinator meetings," she says.
On Holi this year, AAP's Goa Youth Wing organised the second edition of its car wash campaign. Young supporters volunteered to wash cars after the festivities were over for a donation. Drive-in spots were designated in Mapusa, Ponda and Vasco, and AAP earned around Rs 20,000. "The campaign demonstrated the dignity of labour and youngsters, some too lazy to clean their own bikes, joined us to clean other people's cars! We are taking small but steady steps," Suhani says.
ONLINE CAMPAIGN
An online campaign appreciating the efforts of its women party workers began a fortnight before International Women's Day. The party posted two or three profiles of women workers with photos, their contribution and reasons for joining the party. The campaign ended with 120 new registrations at a cultural programme on 8 March.
After Kejriwal's recent meeting in Calangute, the party collected Rs 5,000 in cash and got 158 registrations. On 5 July, the AAP Goa social media team collaborated with AAP Qatar to run a Twitter and Facebook campaign called #DonateToSaveGoa and collected Rs 1,18,576 by the end of the day.
Walter Lobo, owner of a guesthouse in Calangute, asked Kejriwal how his party plans to serve Goa. "Who will be here, Mr Kejriwal? We don't want any high command," Lobo said, while admitting that he is a disappointed BJP supporter.
That is the question on everyone's mind. While AAP may be creating a buzz, one obvious drawback is that in two years the party has yet to come up with one promising leader. There is not a single chief ministerial probable that Goans can assess so far.
Ashutosh, national leader of AAP, is undeterred by such challenges. "The democratic process has its own momentum. Five years ago no one knew Kejriwal. We don't believe in imposing a leader. The churning of the democratic process will bring in a leader. People will decide their chief ministerial candidate and we don't think it is that important anyway. What is important is the idea of change, and the promise that we will bring it," he says. AAP leaders say the party is in talks and will come up with a name soon.
Kejriwal has declared that the party will win 35-40 seats. He was trolled for wearing a copal, a traditional headgear made of flowers worn during the San Joao festivities. The fishing community has presented a 40-point manifesto to AAP and meetings with taxi-drivers, shack-owners and hoteliers are expected to yield similar manifestoes.
ROLE OF THE CHURCH
The leader's calling upon the Archbishop is also significant. Traditionally, the Catholic minority seeks guidance from its parishes. Local priests have been vocal about their political leanings in the past. In the last Assembly elections, the Catholic community was inclined towards Manohar Parrikar. But after his abrupt departure for the Centre, leaving the reins in the hands of Parsekar, many felt disappointed, if not betrayed.
The debate over the medium of instruction in primary schools, with demands to stop grants to English-medium schools in order to push Konkani, has further angered sections of the community.
Parsekar has been sympathetic to the anti-English-medium demands of the Bharatiya Bhasha Suraksha Manch, headed by local RSS chief Subhash Velingkar. The BJP's proximity to the controversial right-wing religious group, the Sanatan Saunstha, whose members have been accused of the murder of rationalist Narendra Dabholkar and a bomb blast in south Goa, is not going down well with sections of the Goan diaspora. The Sanatan Saunstha is headquartered in Goa and has garnered open support from the BJP and its allies in the past. AAP Goa is gunning for the BJP on such issues, including its inability to respond to public demands to ban casinos and bust drug and prostitution rackets in the state.
AAP Goa has also raised the issue of the alleged graft charges against Parsekar's brother-in-law and a banner at the Calangute meeting prominently berated the chief minister for inaction. Parsekar laughed dismissively when asked about the inroads AAP has made in Goa. "What can I say? They believe in sensationalising," he said.
But will they win, as Kejriwal claims? The general opinion is that AAP will cut into the Congress' votes. Ask industry stakeholders if AAP will win 35-40 seats and they roll their eyes.
At the annual general meeting of the Goa Chamber of Commerce and Industries, Parsekar explained how the government had helped industry. "The problem of getting no-objection certificates from the pollution control board was settled. We have cleared about 98 proposals which are expected to give employment to 50,000 persons in five years," he said. Panjim MLA Siddharth Kuncolienkar blamed "vested interests" for stalling industry's progress and causing unnecessary delay in the construction of a flyover in Mandovi and a solid waste management plant in Panjim.
AAP, on the other hand, with its workers like noted architect Dean D'Cruz alleges that the swift "single-window" clearances are marred by massive kickbacks, complete disregard for environmental laws and unwillingness to understand public opinion. Environment activist Claude Alvares, who supported AAP Goa in the 2014 elections, has challenged the construction of the Mandovi flyover, saying it will cause large-scale damage to mangroves. He has taken the state government to the National Green Tribunal, alleging lack of due diligence and environmental clearances.
D'Cruz is an active participant in AAP's Goa Dialogues, through which workers meet local stakeholders to understand their demands and propagate the AAP manifesto. D'Cruz is currently collating information for strategy, planning and implementation of AAP Goa's policies.
He says the current government is solely focused on mega projects. Its attention should instead be on education, healthcare, unemployment and agricultural decline.
D'Cruz criticised the setting up of a solid waste treatment plant at a reported cost of about Rs 150 crore. "Within 10 days the machine broke down and there was leaching. No proper segregation was done. Slippers and glass pieces were in the garbage and they could not burn it properly. What is the point of spending all this money when there are alternative solutions? Money is also about ecology," he said. "A perception is being created that we are anti-industry. False. We are pro-clean industry."
Kejriwal talked about streamlining processes to help industry. "I got to know that one needs 27 no-objection certificates (NOCs) to host any event in Delhi. We have made the process easier now." He also talked about the delay in construction of the Mandovi flyover, its escalating costs and the pathetic state of roads in prime tourist zones.
AAP meetings are conspicuously small with minimum publicity. Most announcements are posted on the party's Facebook page, shared by their supporters and texted to those who have registered.
'HERE TO LISTEN'
Some party workers claim that they get sudden government notices when they align with AAP. Is the absence of banners at party events a sign of apprehension? "No," says Valmiki Naik, secretary of AAP Goa.
"Our rallies are not conventional rallies. The idea is for Kejriwal to understand what Goa really wants. We are not here to speak. We are here to listen."
"We are new and we know we have got to work hard. We are not afraid of challenges," says Rajashree Nagarsekar, AAP's convener.
During the 2014 parliamentary elections, AAP put up two candidates. Both lost their security deposits. Very few took AAP seriously. Their Facebook page was trolled and they were subjected to a lot of criticism.
In two years, things have changed. AAP now has an identity. Their critics grudgingly concede they are a presence in local politics.
Recently, the disgruntled leader of the Maharashtrawadi Gomantak Party (MGP), Devendra Prabhudesai, joined AAP Goa with 200 supporters. The move is significant because Prabhudesai is a local leader in Parsekar's Mandrem constituency.
AAP's strategy in Goa can be described as underground aggression. Underground because, on the surface, it doesn't make much noise. Aggressive because, week after week, there are updates on social media about party workers reaching out to remote corners of Goa.
"We will continue with small, interactive meetings before we draft our manifesto. You can expect it to be ready by end-September or early October," says Ashutosh.