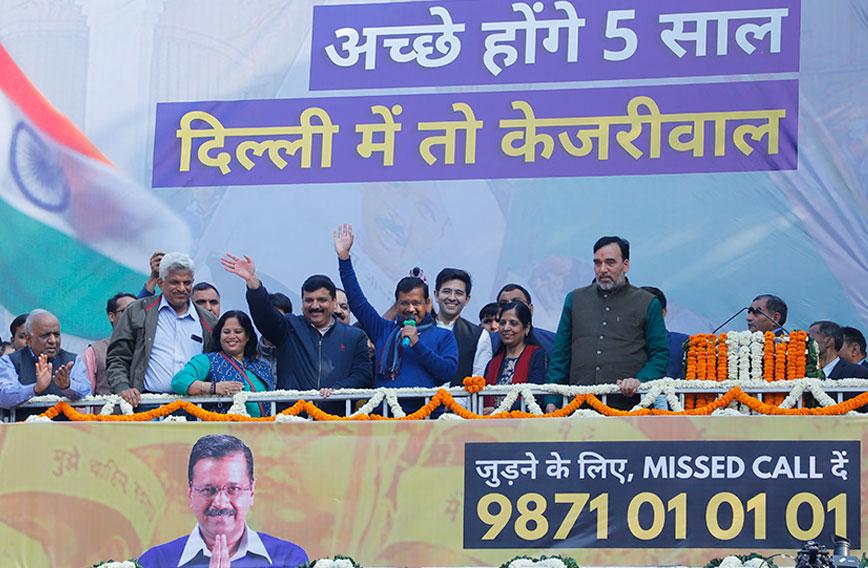 Arvind Kejriwal at the AAP headquarters after his party won 62 out of 70 seats | Picture by Shrey Gupta
Delhi's David vs Goliath fight
Sanjaya Baru
Published: Feb. 11, 2020
Updated: Mar. 03, 2020
Vegetable vendors are a good dipstick for gauging the pre-election political mood in a metropolis like New Delhi. Their roots are semi-rural and the family links to a village close by remain. They deal on a daily basis with the semi-urban occupants of the wholesale market situated on the edges of the city. Their clientele is very urban, very middle class and metropolitan, especially in South Delhi. I have always questioned the cart-pushing vegetable vendors in our locality to get a feel of the political mood in the city. Last week my vendor surprised me.
"Last time I voted for jhaadu" he confessed, "but this time I think I will vote for kamal." I asked him why he had changed his preference. He paused for a while and, avoiding eye contact, replied: "Only Bhajpa can stand up to those Muslims at Shaheen Bagh."
For once that dipstick failed to provide an accurate measure of the electoral mood. In the event, the elections to the Delhi State assembly became a David vs Goliath battle. Despite the Bharatiya Janata Party (BJP) touching a new low in its campaign of communalized nationalism, calling the Aam Aadmi Party (AAP) leader a 'terrorist', Arvind Kejriwal once again came out on top, walking a fine line focusing on delivery and development without yielding space on nationalism.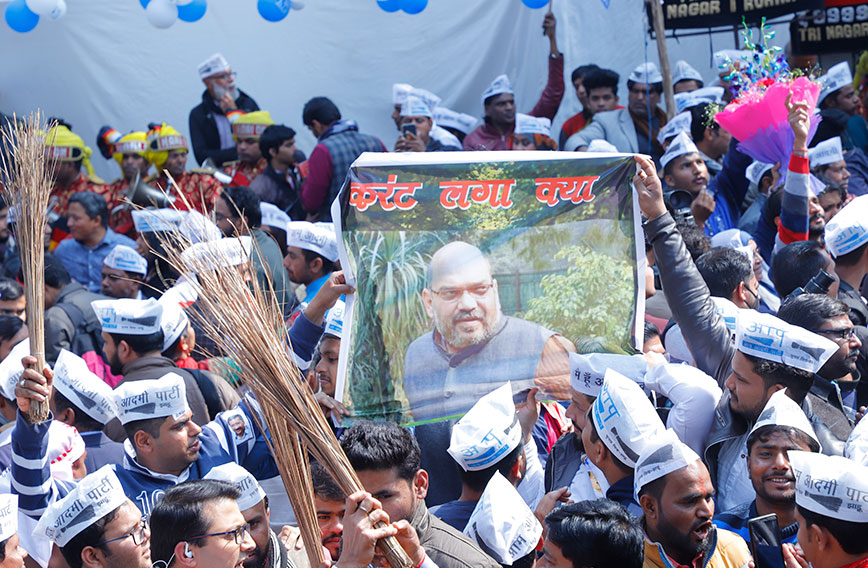 AAP volunteers made jokes at Amit Shah's expense | Picture by Shrey Gupta
The AAP has remained a grouping of do-gooders led by an ambitious activist, while the BJP in Delhi has emerged as the richest political corporation led by domineering leaders with an enormous appetite for power and virtually no agenda to speak of and no record to show off. That the AAP defeated the BJP in February 2015 months after Narendra Modi's historic victory did raise eyebrows. But the fact is that it was the BJP that rode to power in May 2014 on an anti-corruption wave created by AAP. While the BJP lost its way, not delivering enough on development and resorting to sectarian nationalism to retain support, AAP remained focused on its work.
While AAP kept the focus of its campaign on performance, BJP sought to keep the focus on sectarian and communal insecurities and grievances of the majority and minority communities. This is a worrying turn in national politics. In Delhi it also pointed to the fact that the state BJP has little to commend itself to Delhi's voters. Even today the "development CM" of Delhi remains Sheila Dikshit. Arvind Kejriwal has emerged as the face of a more caring local government. The BJP is neither seen as pro-development nor pro-welfare in Delhi. It has come to be viewed merely as pro-Hindu.
It is interesting to note that middle class Delhi has largely voted for AAP. Localities like New Delhi and South Delhi voted overwhelmingly for AAP, while West Delhi voted largely for BJP. This, in itself, is an interesting pattern since New Delhi and South Delhi are more cosmopolitan in their demographic composition and so would better reflect a more national mood.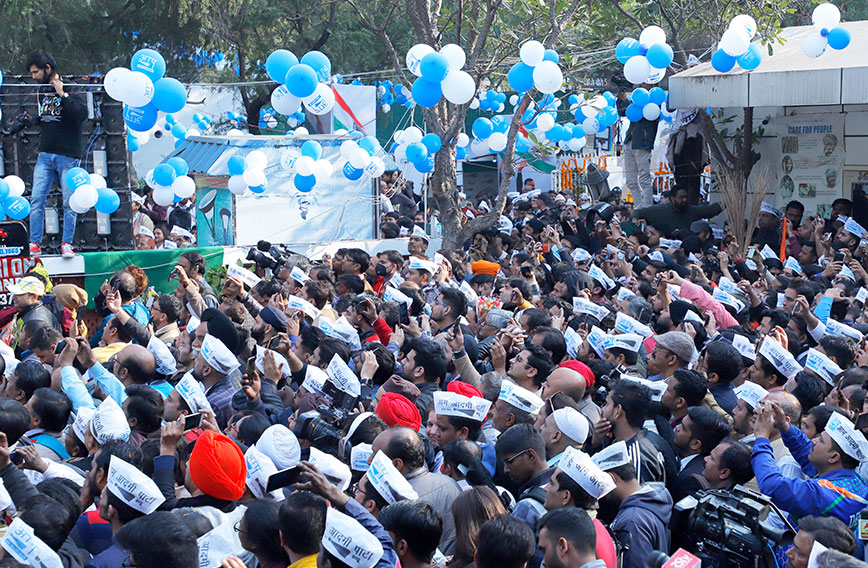 A large crowd gathered at the AAP headquarters to celebrate the party's victory in the Delhi elections | Picture by Shrey Gupta
The importance of AAP politics lies in the empowerment of civil society. I have been witness to the manner in which some AAP activists have tried to engage Delhi's civil society by focusing attention on government schools, mohalla clinics, civic services and the like. While there is, without doubt, an element of populism in Kejriwal's politics and policies, using subsidies to win favour, the bottomline in AAP politics is civic engagement and public decency.
New national trend
Interestingly, the voters of Delhi had made a distinction as early as in 2015 that many other states have since come to imitate and this has begun to define national politics. They voted a national alternative to the Congress party to power in the Lok Sabha elections, but voted for a credible local alternative in provincial elections. That outcome of Delhi 2014-15 was repeated in several state assembly elections in the last two years. As a consequence, the BJP secured an overwhelming verdict in its favour in the Lok Sabha elections of May 2019, but in most elections to state legislatures in 2018-20 it yielded ground to regional parties or regional leaders of the Congress Party.
AAP's leader, Arvind Kejriwal, campaigned as "Delhi ka ladka", remaining equivocal on the citizenship issue. It is the 'local' credentials of regional parties and of regional leaders of national parties, like a Kamal Nath in Madhya Pradesh, that has created a distinct new political pattern that could have implications for the next Lok Sabha elections.
This new pattern has facilitated BJP dominance at the Centre at the expense of the Congress Party, while opening space for regional parties in states. Even when a national party like the BJP won in Uttar Pradesh it was forced to acknowledge the contribution of its 'regional' leader, Yogi Adityanath. If the UP victory of 2017 was in part a contribution of Yogi Adityanath to the BJP, the credit for BJP victories in Assam and a clutch of other smaller states should also go to local leaders.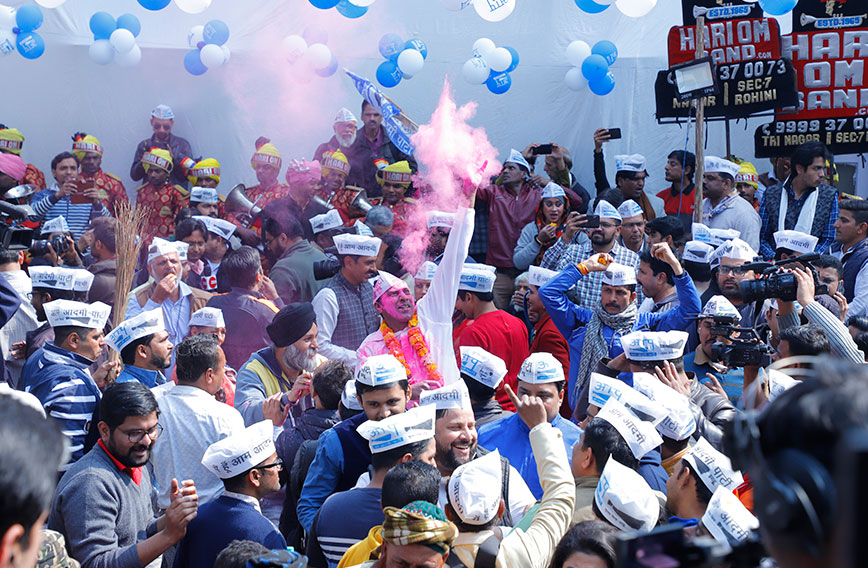 An AAP volunteer celebrating | Picture by Shrey Gupta
The biggest national loser in this pattern would be the Congress Party because at the state level it empowers local leaders, like a Kamal Nath in Madhya Pradesh and a Bhupesh Baghel in Chhattisgarh, but at the national level these regional victories mean little if the Congress's national leaders remain incapable of countering Narendra Modi. Going forward, the Congress Party will have to find ways in which it can help regional leaders opposing the BJP, like Mamata Banerjee, to become the fulcrum around whom a national alternative to the BJP can emerge. It is now clear that the Nehru-Gandhi family can no longer lead a non-BJP alliance back to power. The field is wide open for a new leader of a non-BJP front.
Implications for policy
The last Lok Sabha result followed by recent state assembly verdicts have an important message for policymaking at the national level. The electorate is willing to continue offering support to Narendra Modi at the Centre, but would want him to learn to function in a cooperative manner with state level leaders across the country. Modi has spoken eloquently about 'cooperative federalism' but he has weakened the institutions of federal governance including the Planning Commission, the central bank, the National Development Council (NDC) and the Finance Commission and so on. The Planning Commission performed an important role in federal governance that its weaker substitute, the NITI Aayog, cannot play. The NDC hardly ever meets. The Reserve Bank of India and the Finance Commission have taken decisions that have hurt states.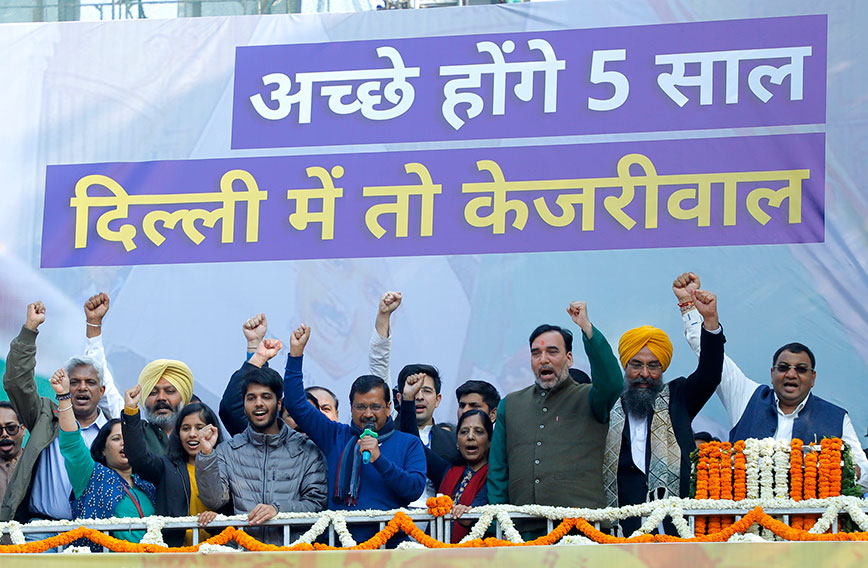 Arvind Kejriwal addressed the volunteers, with his family by his side | Picture by Shrey Gupta
This phase of non-cooperative federalism will have to end. The electorate certainly would want that. Which is why after voting Modi back to power in Delhi, they have been voting Modi-baiters to power in the states. For the next four years Modi will remain Prime Minister while a majority of Chief Ministers will be from non-BJP parties. AAP's impressive victory in Delhi will certainly shape the manner in which both Prime Minister Modi and several powerful state Chief Ministers will deal with each other as they strategise for 2024. If the Delhi result weakens the hardliners in the BJP, discourages the pursuit of the politics of hate and encourages Modi to focus on development, it would have had a positive outcome for the country as a whole.