Published: Feb. 26, 2021
Updated: Feb. 26, 2021
Indian Olive Tree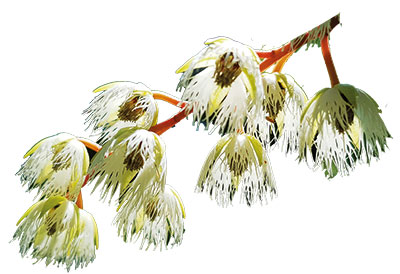 The Indian Olive tree (Elaeocarpus serratus L.) or wild olive tree, is the cousin of the Rudraksh tree. It grows in the Western Ghats and in the Northeastern hills. In most Indian languages this tree is known as Ekamukhi Rudraksh because of the shape of its nuts. However, in Arunachal Pradesh, Assam and West Bengal it is called Jalpai or Zolphai.
The fruits of the Indian Olive tree are extensively used in the preparation of tasty pickles. In Arunachal Pradesh the raw fruits are eaten. The fruits are reported to possess medicinal properties against diarrhoea and dysentery. The Indian Olive tree reaches a height of 20 metres. An evergreen, it is to be applauded for its showy dense white flowers and for the way it fills garden spaces. Its blooms droop beautifully and it yields thousands of green fruits right through the late monsoon and winter. The tree also attracts various species of pollinators.
Vajradanti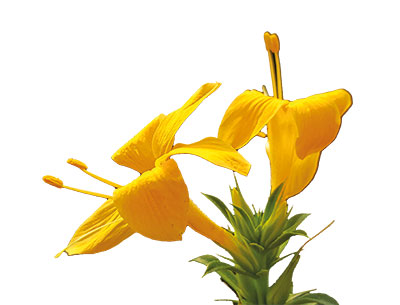 Vajradanti is well-known as one of the prime species used to guard the teeth against any infection and strengthen the gums. It is evident from the name Vajradanti which means diamond teeth as depicted in ancient Ayurvedic texts. The leaves are chewed to strengthen the gums and to protect the teeth against decay. Vajradanti is scientifically known as Barleria prionitis L. It belongs to the December flower family, Acanthaceae.
Vajradanti is a bushy shrub with many branches. It grows to a height of 2.5 metres. Vajradanti's stems are armed with spines and its inflorescences consist of beautiful orange-yellow flowers surrounded by green leafy bracts. The plant's dark green, shiny leaves create a wonderful contrast to its flowers, making this a very attractive shrub.
Vajradanti can be planted in groups as a flower zone or to form informal borders or as clumps on rockeries. It can be planted in containers. In Hindi it is known as Kantsaria. In Malayalam and Tamil it is referred to as Chemmulli. In Marathi it is called Pivalakoranta. Mullugorata or Mullugorante are the plant's vernacular names in Kannada and Telugu. In English, it is popularly known as porcupine flower.
Ankolam Tree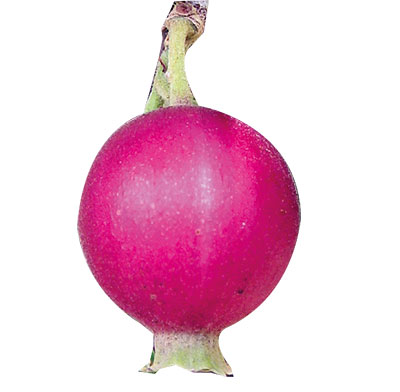 Ankolam or Azhinjil, or Alangium salvifoium, is one of the most auspicious and worshipped trees in India. Traditionally, a piece of the stem of this tree is kept at the entrance of the house not only to prevent the entry of evil spirits but also to bring goodness and cheer to the family. Ankolam is also well known for its antidotal properties especially against several types of poisonous bites.
It is a small, deciduous tree with a pale brown bark with shallow cracks. Ankolam has spiny branchlets that provide safety and therefore attract nesting birds. Anyone who calls himself or herself a lover of birds should have this tree in their garden. The tree has flowers that are white or yellowish-white and fragrant. The berries, 2/1 cm, globose to ellipsoid, are orange-red when ripe and look beautiful. They are sweet and edible. Ankola is the common name of the tree in Sanskrit. It is called sage-leaved alangium in English, Ankole in Kannada, and Ankolamu and Angolam in Malayalam and Telugu, respectively.
Tube Flower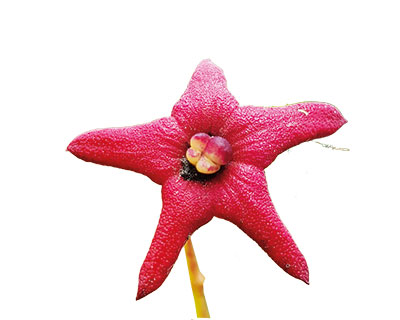 The tube flower is a species that grows to a height of three metres. It is known for its abundant foliage and flowers. The flower has whorls of three in each node. The inflorescences are strikingly large, up to 20 cm long and 10 cm broad. The flowers are white and fruiting calyx are star-shaped, red and very attractive. The fruits are blue and splendid to look at. This shrub grows very fast and can be planted in tall hedges since it cannot be clipped from the top or in beds of shrubs or in a stand-alone pot in your balcony, deck or terrace. In Ayurveda, this species is recommended for improving blood circulation. It is good for digestive disorders and bronchial complaints.
The tube flower is also called sky rocket and bowing lady in English. In Sanskrit, Hindi, Kannada and Telugu it is known as Bharangi.
Wild Himalayan Cherry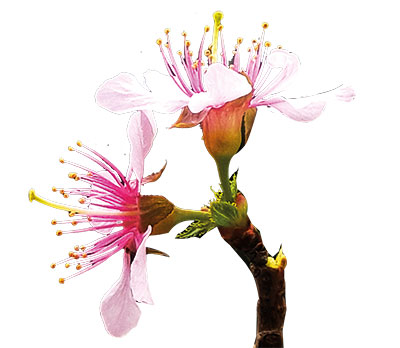 The Wild Himalayan Cherry tree or the Bird Cherry tree (Prunus cerasoides) is a moist deciduous tree which reaches 25 metres in height. The tree's bark is strikingly glossy with a ringed, peeling-off bark. This tree has a single stout trunk hence it can be used to create a focal point in the garden. With its beautiful bark, stunning flowers and edible fruit, the Wild Himalayan Cherry tree is a visual treat throughout the year. The tree flowers profusely. The bark is used for plastering fractured bones and its steam is used for treating vomiting, leprosy and leucoderma.
In Ayurveda, Hindi and Marathi, this tree is called Padmaka. In Kannada it is known as Mara sebu and as Padmakam in Malayalam, Tamil and Telugu.
Kalanchoe Herb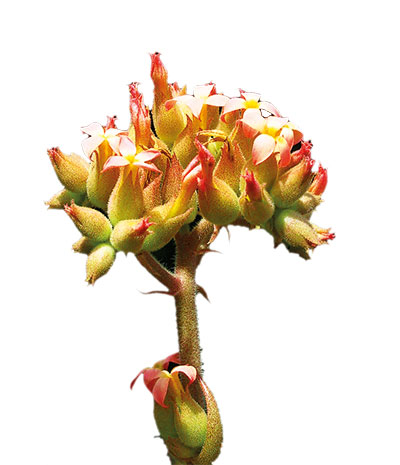 Kalanchoe grandiflora plants are thick-leaved succulents. An amazing herb, it grows to one metre and bears splendid foliage. The inflorescence is short and compact with many strikingly beautiful flowers, yellow and orange-yellow in colour. The cheery clusters of blooms can render a spectacular look to gardens, balconies and terraces. This native species can be the best substitute for the popular, ornamental jade plant. It can be grown even in dry regions with poor, rocky soils. This species is used to treat bruises, wounds, boils and arthritis. It is also a potential substitute for pashanbhed, a well-known Indian herb used to dissolve kidney stones.