Published: Mar. 04, 2022
Updated: Mar. 04, 2022
Bengal Clock-vine
T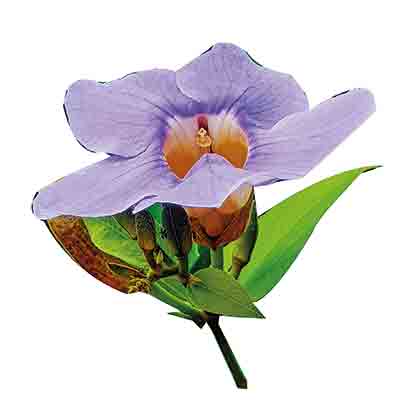 hunbergia grandiflora (Roxb. ex Rottl.) Roxb is native to north and north-east India, hence it is called Bengal Clock-vine. The plant is known for its showy habit and it grows and multiplies quickly. This genus is also an ideal climber and is especially suited for decorating wire fences, beautifying trellises and dressing up walls and pillars. It can be used as a colourful screen. It adds a splendid vertical dimension to a garden and offers privacy and shade. Its spill of bluish-purple flowers with green foliage provides a delightful look to hanging pots. Bengal Clock-vine is a heavy twiner and needs very tall support. It blooms intermittently throughout the year. This climber is the best choice to perch on tall trees, on high roofs and high-rise buildings. It is a dazzling beauty with decorative foliage and colourful, ethereal blooms.
Cat's Whiskers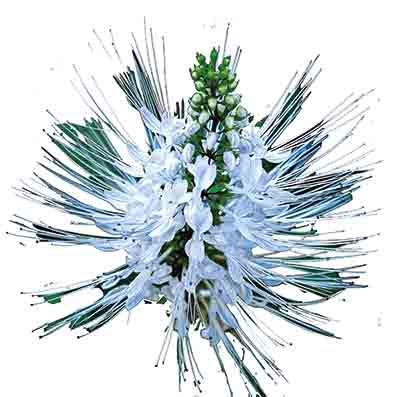 Cat's Whiskers is scientifically known as Orthosiphon stamineus Benth. (Syn.: O. aristatus (Blume) Miq and it belongs to the tulsi family.
Cat's Whiskers is a perennial herb, 30 to 60 cm tall. Inflorescence is in close-whorled, pyramidal kind of racemes at the end of the branches, up to 20 cm long and six cm broad at the base, narrower towards the end. The flowers, white or pinkish purple, are about three cm long. Stamens are very prominent and longer than the corolla. The leaves of Cat's Whiskers are said to have diuretic properties and increase uric acid excretion, therefore tea, popularly known as 'Java Tea', is prepared with these leaves and used in the treatment of kidney and bladder diseases. The aerial part of the plant is reported to reduce blood pressure.
Cat's Whiskers is excellent for creating flowery borders and very long hedges. Its lovely colour and tasty nectar attract butterflies and a variety of birds, and keeps the garden alive. Its white flowers with long, pink-shaded stamens look like a cat's whiskers and beautify gardens. It is also suitable for containers and planters.
Rosy Milkweed Vine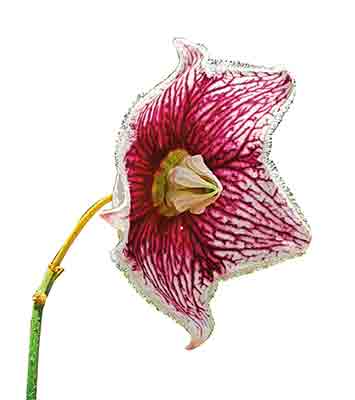 Plants which do not need to climb on any structure for support but use their stems to twist around what they sense and touch are classified under climbers as twiners. Oxystelmaesculentum (L.f.) Sm is one such twiner which grows very fast in tropical climate conditions. It is commonly called Rosy Milkweed Vine but it never grows like a weed. It is a very pretty and slender laticiferous climber with beautiful, bell-shaped pinkish-white flowers. Its fruits are paired follicles, inflated. Adding this twiner on a trellis or any other vertical structure enhances the landscape since the plant flowers profusely. Its growth and corpus of colour give a charming appearance when it is planted inside ponds or along streamlets. It is used in the treatment of ulcers, cancers, kidney disorders, sore throats and itching.
Wavy Trumpet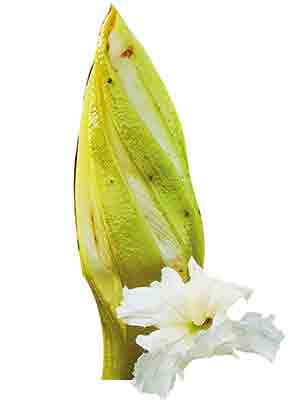 Wavy Trumpet is a deciduous tree which grows up to 20 m and exhibits large trumpet-shaped flowers from its terminal, velvety pubescent branchlets. The flowers are flawlessly white and look very attractive against its bright-green foliage. Wavy Trumpet flowers from August to October. The flowers are mildly fragrant, an added advantage for landscaped gardens or avenues. Fruits are snake-like, dehiscing capsules up to two feet long.
Wavy Trumpet is a fast-growing tree and doesn't spread its crown extensively. Hence, it is best suited for urban avenues. It can add beauty to compound walls, if planted densely. It is a hardy plant and does well in open or partial sun, in mild as well as hot climates. Wavy Trumpet is endemic to tropical thorn and dry deciduous forests of western peninsular India.
Mysore Mallow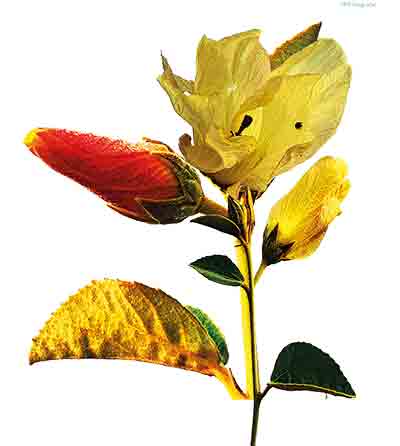 Croton Leaf Mysore Mallow is botanically known as Decaschistia crotonifolia Wight and Arn. It is a wild relative of the hibiscus and looks heavenly. Mysore Mallow is a shrub that grows up to five feet in height. It has woody stems, and its branches are whitish and woolly, very soft to touch. The flowers are large and bright yellow with a deep maroon centre up to eight cm across. Its croton-like leaves and showy flowers make it an interesting addition to gardens. Its yellow buds with crimson red ridges are amazing to look at against sunlight. Mysore Mallow can be planted in rows or in broader beds on lawns. It can even be grown in containers. The plant is used as an antiseptic and antioxidant. Mysore Mallow is commonly found along dry deciduous forests and grasslands. This species is endemic to peninsular India.
Ixora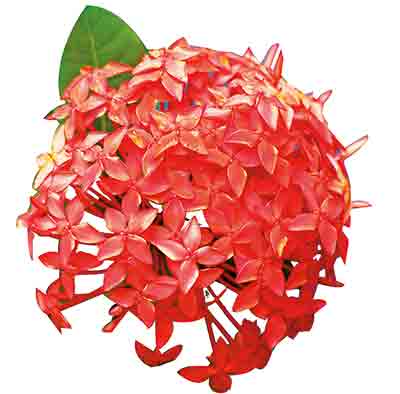 Ixora (s) is grown for its showy flower clusters. Each cluster is very dense, containing many individual, tubular flowers with four petals at the top. Ixora coccinea L. grows wild in our country. Its flowers are a brilliant red to orange-red and its fruits are shiny, fleshy berries with one or two seeds, similar to fresh coffee fruits.
Ixora is not only visually attractive, it also possesses many medicinal properties. It is considered a holy plant, especially in Kerala where it is known as chetthi or thetchi. Puja rooms are decorated with these plants and they are also used extensively during religious festivals. Ixora also looks pretty in flower vases. Ixora coccinea is a sun-loving plant but also grows as an understory in evergreen forests, hence it can be planted in partial shade too.