Paljal Dharanendra Kumar is leading a movement to rebuild kattas or traditional check dams
Zilla man, students revive check dams
Shree Padre, Venoor (Karnataka)
Published: Mar. 24, 2020
Updated: Jun. 06, 2022
For the first time in decades this February, Sundara Gowda, a 55-year-old farmer in the Dakshina Kannada district, doesn't have to spend Rs 6,000 to mine water. In the past he has had to hire an earthmover to do the digging because the rivulet that runs by his farm would dry up.
This year, to his surprise, the rivulet, a tributary of the Phalguni river, didn't dry up. Miraculously, it had plenty of water. A check dam had been built upstream at Paldyaru.
The check dam was one of many such structures built by Paljal Dharanendra Kumar, a zilla parishad member from Venoor village, with the help of student volunteers.
The check dams have resulted in water in the river rising six feet for a distance of 2.5 km. The river now has 90 million litres of water and rivulets which used to run dry have come back to life.
Dharanendra and his student volunteers have been zealously building check dams, called kattas, from December to February. The dams have been built at absolutely no cost to the exchequer.
Dharanendra's check dam movement has benefitted about 20 families of farmers. Lokayya Gowda, a farmer with nine acres of areca plantation, says the water table in the river bed had been declining year on year. He used to hire an earthmover twice after February. That worry doesn't exist any longer.
Rain and shine
No zilla parishad member in this district has worked as hard as Dharanendra for water conservation. In December he set himself a target of 50 check dams and completed them in two months flat.
"My area gets plenty of rain but it was short of water," explains Dharanendra. "If villages like mine deteriorate to such an extent that water has to be brought from outside, what must be the fate of villages elsewhere in my district? That's why I thought it isn't good enough to talk about water conservation. I needed to illustrate my advice through real action. I'm an elected representative. I have a certain responsibility towards the community."
Although Dakshina Kannada and its adjoining districts get annual rainfall of 3,500 mm — last season it was well over 4,000 mm — the region suffers acute drought every summer. The causes are man-made. A significant one is the decline of the katta. Till 50 years ago, each village had hundreds of kattas built with people's participation after the monsoon.
But with electricity available, the irrigation system changed. Instead of water flowing naturally from kattas, motors were introduced to pump water. Instead of bringing neighbours together to set up kattas, farmers found it easier to dig bore-wells. The traditional knowledge of building kattas vanished and the use of the katta soon became history.
A traditional katta is an invaluable but inexpensive structure built with soil, stones and areca nut stems. It gently slows the flow of the river. So, water levels in the river rise and replenish groundwater all around. If a series of kattas are built across a river, its water flow increases for a considerable period and seeps into the surrounding landscape. A temporary structure, a katta has to be built again after a year.
Dharanendra has vivid memories of a large katta near his ancestral home in village Thorpu in Venoor in Bethangady taluk. The Phalguni, which flows past the village, is 100 metres wide there. Around 100 villagers would get together to construct this katta. It was voluntary labour or shramdan. In the old days, water would overflow from the river for 7 km due to gravity and recharge hundreds of open wells, ponds and earthen tanks.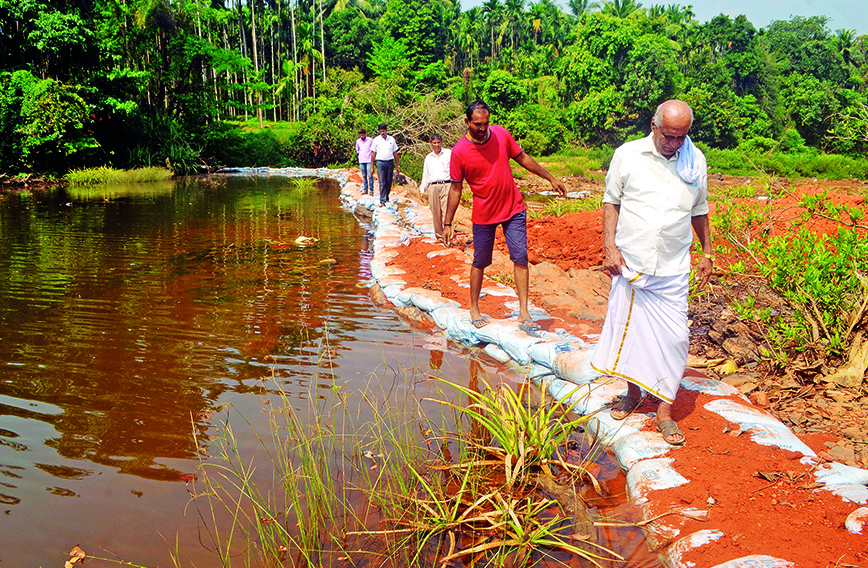 A katta across the Phalguni river
It was Dharanendra's childhood experience that prompted him to select the katta as the only method for his water conservation movement. Since the topography of Venoor is mostly flat, the riverbed slopes very gently. So check dams raise water levels for a considerable distance.
The check dams have been constructed in five or six panchayats across six of the rivulets feeding into the Phalguni.
The way of making a katta has changed. Instead of stones and soil, discarded cement bags filled with sand from the river shore are used. Each sandbag katta would cost, on average, around Rs 20,000 if constructed by paid labour. Instead, local college students are being mobilized to build them. Altogether, 15,000 bags have been filled with river sand and used for 50 kattas. Small kattas were built with 500 to 600 sandbags. The biggest one at Paldyaru required 2,000 bags.
Dharanendra organizes meetings with the local panchayat. A unanimous decision on building kattas is taken. The date of katta construction is decided only after the local college gives its consent.
It was officials from the NSS unit of Alva's College in Moodabidri who requested Dharanendra to arrange community work for their students during their annual camp. In 2018, Dharanendra used the help of some students to build 10 kattas. Their work was appreciated by villagers. So, Dharanendra went ahead and set a target of 50 kattas.
Alva's College in Moodabidri supported him wholeheartedly. "Whenever required, they send their students in a bus to the villages. Once, we constructed three kattas in three different locations on the same day successfully," says Dharanendra. The villagers organize a sumptuous feast for the volunteers during dam construction.
Dr M. Mohan Alva, president of Alva's Educational Institutions, was all praise for Dharanendra's movement. "Whatever his political party, he is a sincere and dedicated social leader. We are very happy to collaborate in his katta movement."
Mostly private colleges send their students. These include Aloysius College, Mangalore, Dhavala College, Mahaveera College and SNM Polytechnic College in Moodabidri. Government colleges like the First Grade colleges in Belthangady, Vamadapadavu and Poonjalakatte have also participated.
The kattas were constructed mainly on holidays and didn't take more than a day. Funds were raised to organize a bus for the students, if it was a government college. Sometimes 100 students would work together.
The students quickly learn what has to be done. Bags are filled and then passed on by students standing in a queue. "A small briefing before we begin work suffices though they are inexperienced," says Dharanendra.
In reality, it is a one-man show. At 8.30 am, when students arrive by bus, Dharanendra is already at the site. A week before, he checks whether the road leading to the site is in good condition. If it isn't, the local panchayat is requested to repair it.
The day before work begins, he drops off a few bundles of empty bags and convenes an informal meeting with students and local villagers. Even the rope for tying the bags is supplied by him. His vehicle and driver are on standby to help with katta construction.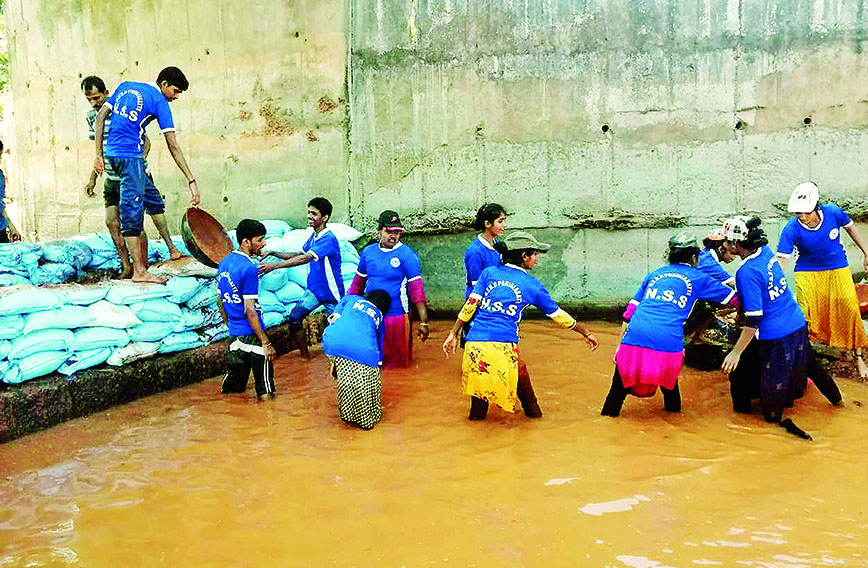 College students pass on sand bags to put in place a check dam
Unlike other political leaders, Dharanendra doesn't leave once the work is inaugurated. He stays, giving suggestions and attending to shortcomings till the end of the day.
He started collecting empty cement bags last summer for this year's construction. "Vishwas Jain of Arihanth Constructions in Hosangadi gave me the most bags. Generally, they cut the cement bags longitudinally. Such bags are of no use for check dam construction. We had to specially request them to cut the bags horizontally so that we can reuse them," said Dharanendra.
He doesn't have a list of the kattas he has built or the money he has spent from his pocket. There are incidental expenses as well. All check dams require fresh soil for filling between the rows of sandbags. This has to be brought in a tipper from a nearby site. This year, in the midst of hectic construction, a shortage of bags slowed down work. Keeping this in mind he is now asking volunteers to collect empty bags in advance and keep them ready at respective sites.
Scarcity to plenty
Villagers across the district say that by February most rivers either dry up or have a meagre flow. But this year there is water, thanks to Dharanendra's katta movement.
At Khandika, he got a check dam constructed for the second time across the Phalguni river by students of Alva's College along with 25 to 30 local villagers. The river is about 60 metres wide here. Jayaram Shetty, a 70-year-old farmer, says last year's katta increased water levels to a distance of 1.5 km and ensured there was water till end-April. This year the height of the katta was increased by adding an additional layer of sandbags. Water levels have risen for a distance of three km.
Shetty says that two years ago, this region suffered a terrible drought. He had dug a ring well in the riverbed about 10 years ago to irrigate his farm. People took water from that well even for drinking, he says. "People should forget politics and join hands to build kattas," says Shetty.
Panchayats have also cooperated. Andinje panchayat, for instance, worked with Dharanendra to build six kattas on a five-km stretch of the Andinje river. One broke after construction but the villagers rebuilt it.
"Two months ago we didn't even have drinking water," recalls Prabhakara Acharya, 49, a local farmer. "Housewives were fetching water from afar." Last year they built a few small kattas with soil and stones and found their water scenario had improved. So this year they requested Dharanendra to build six kattas.
In Kuthlooru village, Dharanendra's student volunteers built just a small katta but it raised water by five feet in the river for a distance of 1.5 km. "We hadn't constructed any katta for many years. We have been facing a shortage of water for irrigation for long. Last year I spent Rs 8,000 and got a pond dug with a JCB. But this year we won't face any water problem," said Santhosh Kanthabettu, member of Naravi panchayat. The river here is 30 metres wide and this year a katta with five layers of sandbags has been made.
"My dream is to make five kattas in a row on this stretch of river to resolve all our water shortages," added Kanthabettu.
Last year, in Marodi village, six kattas were constructed by Dharanendra's team. This year he had to just give them sandbags. The panchayat approached NSS College on its own and with students built 14 check dams. Some kattas have been constructed without student power. In Kashipatna, 60 women came together and built two kattas.
"Panchayats, colleges, the Rotary and Lions Clubs have given me wholehearted support, cutting across party lines. Next year I will extend my movement across Belthangady taluk. Our target will be 100 kattas," said Dharanendra.
There have been some failures too. A few kattas broke after construction, perhaps due to faulty construction or sudden rain. Mohan Andinje, president of Andinje panchayat, feels that since students aren't really katta builders, involving experienced elderly villagers would improve katta design and construction. "But, no doubt, this is a great idea and much needed," he added.
"It's really refreshing to see a political leader being concerned about our natural resources," said Dr Yathish Ullal, assistant commissioner of Puttur. "I hope he creates a new trend among elected representatives."