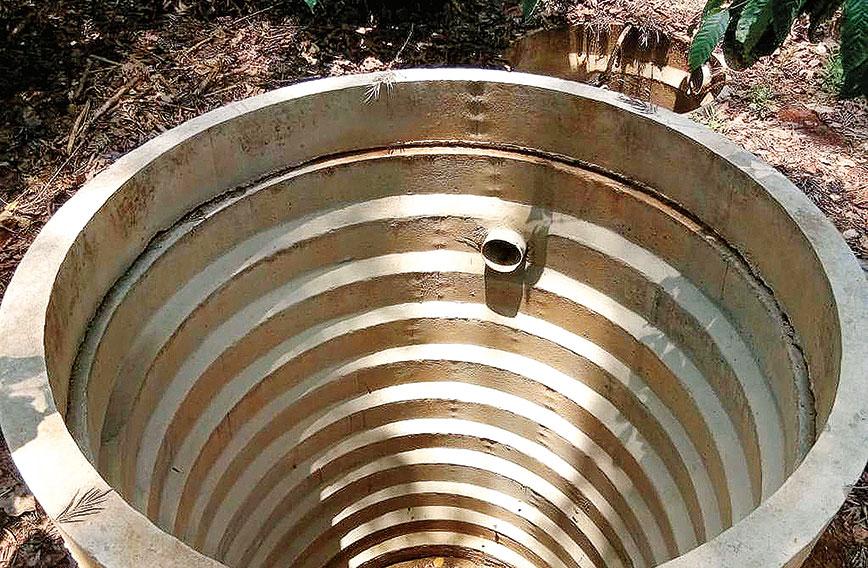 Kodagu takes to recharge wells to harvest rainwater
Shree Padre, Kodagu
Published: Aug. 29, 2019
Updated: Dec. 03, 2020
This summer was bitter for many homes in Kodagu. Their wells almost dried up before the monsoon broke. But 47-year-old Suraj Ajjikuttira in south Kodagu didn't have to worry.
His recharge well, probably the first one in hilly Kodagu, ensured that his open well had ample water during the dry season.
Buoyed by his success, Ajjikuttira made it his mission to spread his knowledge of harvesting rain through videos, workshops and meetings. People can even phone and ask him. As a result, awareness is spreading and the recharge well is increasing in popularity. Kodagu now has at least 40 to 50 recharge wells.
Ajjikuttira's interest in rainwater harvesting began two decades ago, when his 50-foot well, dug in 1979, started going dry. By 2002 he thought he had no option but to dig a bore well for drinking water. Then, fortuitously, he participated in a seminar on rainwater harvesting in Mysore. He picked up the nuances of groundwater recharge very quickly.
Ajjikuttira went home determined to apply his newly acquired knowledge by recharging his bore well. He dug a 10-foot-deep mini well around it. After filling up the mini well with aggregate matter, he diverted run-off from the nearby area into his bore well. The next year itself, the water level in his bore well rose considerably.
"That convinced me about the efficacy of groundwater recharge," reminisces Ajjikuttira. He doubled his efforts and started a serious attempt to catch all the rainwater he could on his estate. He turned his attention to rainwater falling on his roof, on the vast frontage of his home and the adjoining coffee-drying yard or 'kana'.
Earlier, all this water used to disappear into a drain. Ajjikuttira now ensured that all run-off got collected at one spot and then flowed out. A leaf separator was attached at the exit point to prevent leaves from clogging this stream of water.
The usual custom is to make a rain pit for such run-off to percolate. But, in this case, the water that was flowing was excessive. After racking his brains, Ajjikuttira dug a recharge well, five feet in diameter, to catch this water. He placed concrete rings along the inner walls of the well 12 feet deep, to prevent its walls from collapsing. The diameter was then reduced. Another six to eight feet were dug and filled with stones to firm up the second stage of the recharge well.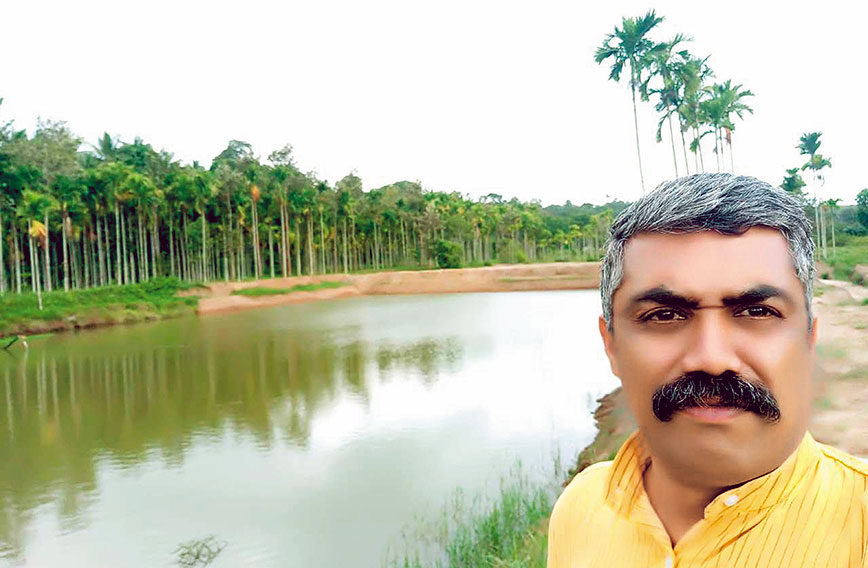 Suraj Ajjikuttira near a large tank which now collects rainwater

Consequently, rainwater collected from about 1,500 square feet of space goes straight into Ajjikuttira's recharge well and is fully absorbed there. "At the most we get one inch of rain per day. I have designed the recharge well in such a way that even this one inch of water is captured," he explains. The water that is percolating is estimated to be around two lakh litres.
Ajjikuttira's well was 42 feet deep when his father got it dug in 1979. In 1994, when the well dried up, it was deepened by another eight feet and eight rings were fixed on its walls. After that the well never dried up. Even during the 2016 drought, Ajjikuttira's well had eight feet of water. Last year, when wells dried up in Kodagu, Ajjikuttira's well had 11 feet of water.
The recharge well is a new concept invented in Chennai in the 1990s. Later, the idea was embraced by residents of Bengaluru. The city now probably has around 50,000 recharge wells. The sole purpose of the recharge well is to recharge groundwater. The well can be very small in diameter, as low as three feet.
COFFEE AND RAIN
Kodagu district's main crop is coffee. Coffee plants are rain-fed. The first showers or 'blossom showers', received in February and March, are very important for coffee farmers. If it doesn't rain at this time, farmers have to pump up water from tanks and sprinkle or irrigate the plants.
After the blossom showers are over, coffee plants require a second spell of irrigation within 15 to 20 days. These showers are called 'back-up' showers. If the rains fail to arrive then farmers who still have water do a second round of sprinkling.
The water in Ajjikuttira's tank was hardly sufficient for even one round of irrigation. About 200 metres away from his tank is a huge seven-acre tank called Katibetta Kere. This water body belongs to the revenue department. It has a catchment of around 500 acres. But the tank's bund had breached in one area and it wasn't retaining water. Ajjikuttira built a check dam with sand bags in the catchment area so that the tank would retain water and help his own tank absorb some water.
Katibetta Kere is at a higher elevation than Ajjikuttira's irrigation tank. Subsequently, the department built a concrete check dam for Katibetta Kere. Recalls a happy Ajjikuttira, "Since then, this tank has enhanced water availability in my own tank. Now, even if we do three rounds of irrigation, the tank still has water."
Rainfall figures differ across Kodagu district. Ajjikuttira's place receives 54 inches — coffee planters still measure rain in inches — whereas not-so-distant Virajapet gets 70 inches. Wetlands here are dwindling and so is forest cover. Due to various reasons, water availability is worsening in the district. Unfortunately, awareness about rainwater harvesting and groundwater recharge is abysmally low.
Once Ajjikuttira succeeded in augmenting water availability in his estate, he started spreading the idea of water harvesting. In the last 15 years, he has conducted more than 300 awareness sessions on rainwater harvesting in schools, government departments, workshops for citizens and so on.
"In most Kodagu estates, the house is located at a higher level. In the past, the yard for drying coffee beans and paddy used to be built near the paddy fields in a lower area. But due to security reasons the yard is now constructed close to the house. So the typical house would have a large area in front with a drying yard close to it. This entire stretch is either built with concrete or lined with interlocking tiles. So a huge amount of clean water flows on this surface," says Ajjikuttira.
"We need a structure that can hold this run-off and make it percolate fast. I experimented with the recharge well. Although it is expensive, it does the job efficiently."
Ajjikuttira is approached by people on the phone or in person for guidance in harvesting rainwater. "If we make arrangements to catch all the run-off from the front area and the drying yard, summer rains alone will ensure the well doesn't dry up," he says confidently. A recharge well costs approximately Rs 60,000-70,000.
Ajjikuttira carries out a simple test to check whether the bore well can be artificially recharged. A few barrels of water are kept nearby and poured into the bore well one after another. If the bore well overflows, it indicates that it won't absorb water and recharge. The idea is then abandoned.
SPREADING AWARENESS
Ajjikuttira has put together a three-part video to spread knowledge on rainwater harvesting in Kodagu. Uploaded on YouTube, it tells people how to use rainwater directly, how to recharge defunct and working bore wells and how to use a recharge well for groundwater recharge.
After taking advice from Ajjikuttira, Tej Thammaiah Ajjikuttira constructed a recharge well 10 feet in diameter and 22 feet deep last year. The well is a big one because Thammaiah's bungalow, front yard and 'kana' spread to about a hectare. The well has cost him Rs 130,000.
Thammaiah's open well, 60 feet deep, didn't dry up completely. But by the end of summer it would have only four to five feet of water. Last summer it had 30 feet of water because he followed in Ajjikuttira's footsteps.
Rakshith of Sulagodu is another estate owner who sought Ajjikuttira's advice. He has an open well which is 100 feet deep. It used to dry up in summer and he found it difficult even to provide water to his labourers. He built a recharge well which cost him Rs 70,000. Two years later his water woes are over.
"Now I have water up to 25 feet," he says. "By the end of summer, water levels recede by seven to eight feet. I don't have to worry about drinking water for many decades to come."
Soil in Kodagu collapses very easily. Ajjikuttira has noticed that many people dig a recharge pit quite close to the well. "This is highly risky. Many wells have collapsed because pits were dug very close to them. It's always better to locate the pits about 15 or 20 feet away," he warns.
He points out that each estate is endowed with expansive areas from where water can be easily harvested. "The shifting of the drying yard from lower areas near paddy fields to the area adjoining the house in an elevated area has also caused water scarcity in open wells. This is because we cement all these areas and never permit water to percolate." Planters who have realised this are taking corrective measures to allow for percolation.
Coffee estates require huge quantities of water for irrigation to induce flower blossoming. "There are several earthen tanks or keres in Kodagu. You can see these tanks on Google earth. But, unlike the old days, tanks are dug unscientifically. The selection of the site should be such that we can divert streams of water into it. Many new tanks don't have this."
Another important groundwater recharge structure in these estates is a legacy of British planters called 'thottilu gundi' or cradle pits, so called because of the shape. Thottilu gundis were systematically and periodically dug and cleaned amidst rows of coffee. They would convert surface run-off from the hills into sub-soil seepage that would reach the tank after many months. "Due to the high cost of labour and poor labour availability, many of us have bid goodbye to digging of this very useful system," laments Ajjikuttira.
Contact Suraj Ajjikuttira at 9901012970