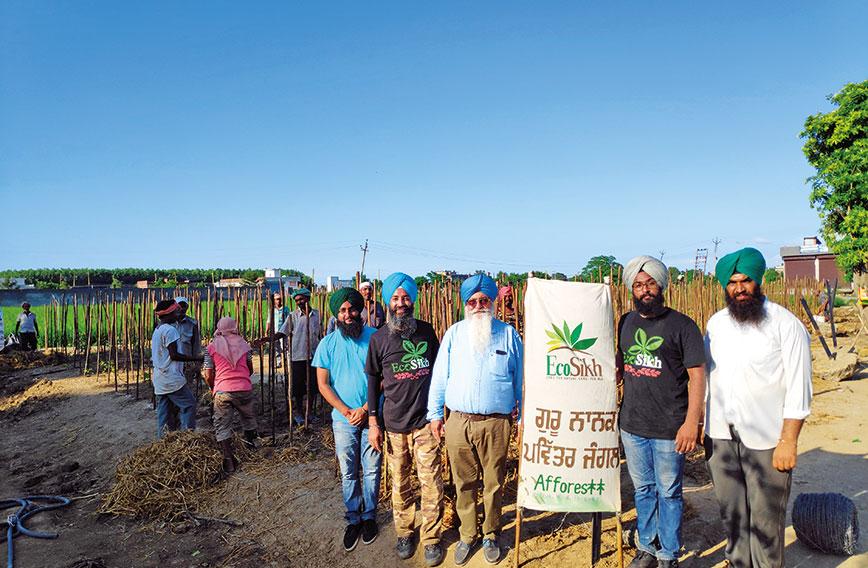 EcoSikh's dedicated group of volunteers
A million trees for Guruji's 550th birth anniversary
Raj Machhan, Chandigarh
Published: Nov. 01, 2019
Updated: Dec. 03, 2020
The air is our teacher
Water is our father
The great earth, our mother
– Guru Nanak Dev
To commemorate the 550th birth anniversary of Guru Nanak, Sikhs in Punjab are taking part in an initiative to plant a million trees across the globe. Guru Nanak Dev, the founder of the Sikh religion, was a strong votary of living in perfect harmony with nature.
The initiative is being led by EcoSikh, an environmental organisation based in Washington, DC. In India, the tree plantation drive is led by Ravneet Singh, an irrigation consultant based in the US who left his job to head the EcoSikh project in India.
"The Million Trees Drive was initiated by our president, Rajwant Singh. We have been celebrating Gurpurab in the past with traditions like distribution of sweets, bursting of crackers, nagar kirtans and prayer durbars. This time we decided to do something that will have a more lasting impact on our ecology," says Ravneet.
The project's objective is to plant a minimum of 550 trees in each micro-forest site. It will need 1,820 sites to achieve its target of planting a million trees. "Instead of birthday candles we are planting 550 trees at each spot to celebrate the birthday of our Guru. Our slogan is: 550 Guru de naam," says Ravneet.
The afforestation drive is being carried out with guidance from Afforestt, a for-profit venture that grows micro-forests in a short span using the technique of famed Japanese botanist Dr Akira Miyawaki.
"In February 2019 we came to know of the Miyawaki method of afforestation. We found it very effective since it enabled us to plant 550 trees on just 60 square metres. That was a real breakthrough because it meant we could create small, dense jungles at a cost of Rs 50,000 to Rs 1 lakh each," says Ravneet.
Subsequently, to encourage people's participation, EcoSikh launched a campaign called Guru ka Jungle. They appealed to villages, companies, non-profits, various institutions and the government to come forward and help them achieve their goal. Ravneet says that they have received tremendous response from all quarters. "From March till date we have planted 28 forests and we have queries for 350 more," he says.
The forests, called Guru Nanak Sacred Forests, have been planted in Bathinda, Gurdaspur, Chandigarh and other parts of Punjab.
Ravneet is upbeat about the Miyawaki method. He says it is inherently superior. While traditional methods have a failure rate of 95 percent, the Miyawaki technique has a success rate of 99 percent. Forests that emerge are small, dense and bio-diverse. The trees chosen for plantation are all native species. Ravneet says that the Miyawaki forest grows 10 times faster and is 30 times more dense. "With this technique, we are able to condense the 200 years taken to grow a full-fledged jungle into a span of 20 years," he explains.
The concept of Guru ka Jungle has appealed to people across the state. "We have the blessings of our Guru. The fact that we are carrying out this drive to commemorate the 550th birth anniversary of Guru Nanak has appealed to people across all sections and religions. All of us cannot shift to Canada. People are realising that nature is receding, giving way to modern living, and we need to make our environment better. At EcoSikh we are not just religious people, we see ourselves as nature's people," he says.
In his experience, people are ready to invest in a greener environment provided they are offered a solution that is credible. The success of the Miyawaki technique has elicited a favourable response from people across religions and communities.
What exactly is the Miyawaki technique? The Miyawaki jungle has four layers of plants. Each is planted at a distance of just two feet compared to the 30 to 50 feet gap in the traditional method. It is bio-diverse.
The traditional method has 900 to 1,000 trees per acre, whereas in the Miyawaki technique one acre has 10,000 to 12,000 trees. In a monoculture forest you can see through the trees. But if you stand in a Miyawaki forest all you can see is dense greenery all around.
First come the shrubs that grow to a height of eight feet. Next are the subtrees that grow to a height of 20 feet. The third level has trees growing to 35 feet and the fourth level is the canopy, occupied by trees with a height of more than 35 feet.
To encourage biodiversity, EcoSikh is planting 51 different species in every micro-forest. Of these, 25 trees are rare native species such as lasuda, malay, ber, karonda, falsa, kareer and mahua. "We can call it a biodiversity conservation project as well. We are creating a seed bank and this will have a long-term impact," says Ravneet.
The afforestation drive comes at the right time for Punjab. The state has a severe groundwater depletion problem on account of free electricity to farmers. The micro-forests are expected to help attract more rain, increase soil porosity, help in soil conditioning and groundwater recharge, and check soil erosion.
EcoSikh has now started its own nursery at Ludhiana. The project is being sponsored by Gurwinder Singh Sajjan, an industrialist who has donated land to EcoSikh.
"We are really impressed by the response," says Ravneet. "It is a true example of community resource mobilisation. All we say to people is — if you have the time, do come join us. And we don't need to say it twice. People contribute freely, inspired by the concept of sewa."
Guru Nanak Dev would surely have been pleased with the offering of a million trees by his followers on his birthday.