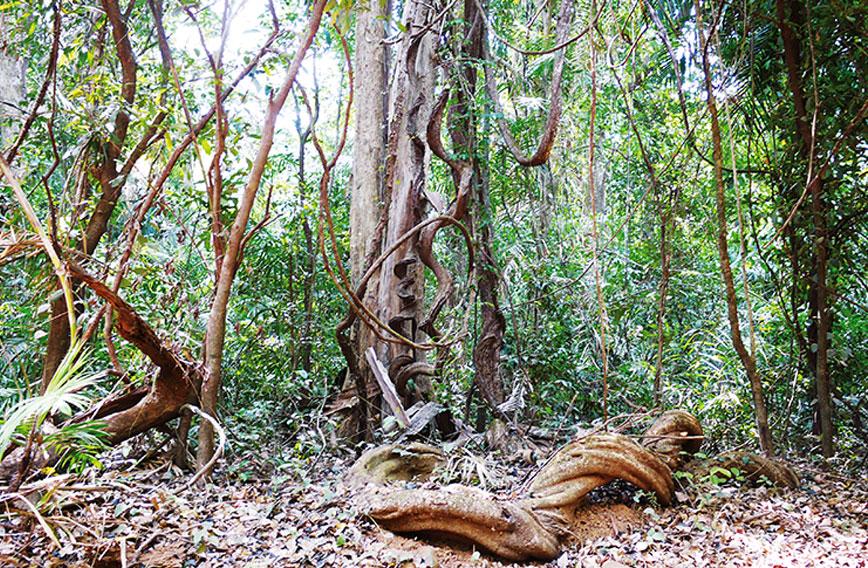 Goan anger over a dark coal corridor
Civil Society News, New Delhi
Published: Jan. 29, 2020
Updated: Dec. 03, 2020
Public anger in Goa has put the BJP-led state government on the backfoot over projects which will ravage forested areas and destroy the environment in the name of development.
Thousands have joined protests to stop what they see as an emerging freight corridor which will primarily be used to move coal from Mormugao Port to the border of Karnataka.
The recent protests have attracted national media attention, but the issues have been simmering since some time with Goans feeling that their quality of life is being irreversibly altered.
In question here is expansion of National Highway 4 A and a railway line and installation of a 400Kv transmission line.
The impact of these three projects will be felt on theMollem National Park and Bhagwan Mahaveer WildlifeSanctuary, which are protected areas.
The three projects are among some 30 other projects that have been pushed through by the National Board for Wildlife during the coronavirus pandemic.
A trail of dust
In December last year (see Civil Society January 2020) the Goa State Board for Wildlife (GSBW), comprising 29 members, witnessed sharp exchanges over a proposal to fell 80,000 indigenous trees in protected forests.The board itself was meeting over a gap of two years.
"The main motive of the three projects is to create a coal transportation corridor from Mormugao Port Trust (MPT) across Goa and towards industries in Hubli, Dharwad, Hospet and Bellary in Karnataka," said Abhijeet Prabhudesai, an environmental activist and secretary of Federation of Rainbow Warriors.
Goa, he pointed out, will only serve as a path of connectivity to the port.The proposed corridor will cut through protected areas like the Mollem National Park and the Bhagwan Mahavir Wildlife Sanctuary. It will destroy hoary trees and wildlife in its path and impact Goa's water resources. It will also leave a trail of coal behind, causing air pollution.
The agenda of the meeting was shared with board members at the last minute.
The proposed doubling of the railway line is from Castle Rock to Kulem and a stretch of the South Western Railway line from Kalay to Margao. In connection with this, a total of 54,860 trees have been marked for felling, affecting 136.4827 ha of protected forests in Mollem National Park and Mahavir Wildlife Sanctuary.
The second proposal is the four-laning of the existing NH-4A in Anmod-Mollem region adjoining the Goa and Karnataka border. A total of 32.085 ha of forest land has been earmarked for use after felling 12,000 trees.
The last project proposed in this region is the laying of a 400 KV transmission line in the village of Xeldem. The line will run from Dharwad in Karnataka to Goa and will affect 48.30 ha of forest area and result in the felling of another 15,777 trees.
Trees, water, wildlife
Several members of the GSBW voiced apprehensions about the manner in which these proposals were presented and pushed forward hurriedly, without any supporting data. Members were also not given any species-wise classification of the trees marked for felling and trees were categorised on the basis of height.
The only assurance offered at the meeting by the chairman of the Board, Chief Minister Pramod Sawant, was that the three projects are "a must for Goa" and that "care will be taken to ensure minimum destruction of the forests".
Explaining the proceedings of the meeting, Rajendra Kerkar, a prominent environmentalist of Goa and a member of the GSBW, said, "We were informed that the main aim is to benefit industries. But nothing was discussed or informed to the members about the type of industries that would be supported."
Kerkar, who has worked tirelessly as the secretary of the MhadeiBachaoAndolan, pointed out that the trees marked for felling are located in areas protected under the Wildlife Protection Act, 1972. He said, "Before being labelled as eco-sensitive zones, these areas were granted the highest status of protection as national parks. In fact, some years ago inhabitants of Nandran village located in Mollem Wildlife Sanctuary were rehabilitated to reduce anthropogenic pressure here."
With wildlife and even tiger corridors passing through Mollem National Park and Bhagwan Mahavir Wildlife Sanctuary, Kerkar warned that roadkills would shoot up exponentially. "When railways and roads pass through any area, the deep vibrations created by these engines are bound to hamper the natural habitat of wild animals," he said, adding that the frequency of landslides will also increase, affecting tribal communities like the Dhangars and VelipGaonkars, who reside in these hinterlands.
Kerkar said that most of the trees marked for felling are likely to be indigenous species such as Terminalia elliptica, Terminalia paniculata, jambul, Terminalia bellerica, and Terminalia chebula.
Terminalia elliptica or the Indian laurel, known as matti in Konkani, is the state tree of Goa. It is among the indigenous trees that are home to wildlife species such as the Malabar giant squirrel, which is the state animal of Maharashtra.
Kerkar also worries that this singular decision will eventually threaten the water security of Goa. "Hydrological parameters will shake to a great extent following this massive tree-cutting. Goa's Khandepar river originates in Anshi-Dandeli Tiger Reserve and it provides a large quantum of water to North Goa. The famed Dudhsagar waterfall is a part of this river," he explained.
Paucity of information
In a written representation submitted by some members to the GSBW, concerns have been raised about the inadequate data on which this decision is based. Secondly, the absence of a plan for 'compensatory afforestation' was noted with discomfort because Goa lacks the land resource needed for replanting such a large number of trees.
According to the India State of Forests Report 2019, the total forest cover in Goa is 2,237.49 sq km which is 60.44 percent of its total geographical area. It comprises moist mixed deciduous, tropical evergreen and semi-evergreen trees. As per the state government's records, the Recorded Forest Area (RFA) is 1,225 sq km of which 253 sq km constitutes reserved forest.
Apart from this, members have questioned the passing of a high-voltage electricity line through protected forests and have also demanded to know whether the overpasses and underpasses provided for by South Western Railways in its plan are located in known animal crossing zones so as to prevent roadkills.
Environmentalist Parag Rangnekar was among the members of the GSBW who signed the representation. "As per our request, the Forest Department has agreed to meet and discuss these concerns and develop a mitigation plan with us. We hope that the department will play a proactive role in this matter," Rangnekar said.
"But despite our concerns, the projects appear to be moving ahead at full speed without debating any peripheral and immediate fallout. These three linear projects are going through a singular protected region. We are viewing them individually but they will have a cumulative impact, which needs to be understood clearly," he stated.
Among these three projects, the larger plan of four-laning NH-4 is already being executed and only a stretch of 12 to 13 km which passes through protected forests is awaiting permissions.
Pick another port
Ramesh Gauns, former member of the GSBW and an environmental activist, said, "This is a suicidal move. The driving forces behind this reckless decision are not in public interest. A unilateral, opaque mode of decision-making is adopted to protect the vested interests of a few industrialists whose business depends heavily on coal."
Gauns warned that the repercussions of such an insensitive move will be felt overnight as the distance between the Arabian Sea and the Western Ghats is a mere 50 to 60 km.
Referring to the Twelfth Five Year Plan which has a recommendation on moving hazardous cargo such as coal away from populated areas, Prabhudesai said, "The upper limit for handling coal in a populated area is 50 MT. If this is going to be implemented at all, then these three projects are pointless as MPT is surrounded by residential areas."
He argued that an alternative port on the eastern coast of India was rejected as it would cost these private bodies an extra Rs 30 per tonne.
"These are 80,000 full-grown forest trees. The amount of carbon they soak cannot be overlooked merely to enhance the profits of private corporations. To save them some money, we stand to lose our forest cover. This move will spell complete disaster," he maintained.
Kerkar confirmed the alleged link between the felling of 80,000 forest trees and coal transportation. "I don't understand why the central government is insistent on transporting materials such as coal through a small and ecologically fragile state at the cost of such environmental destruction," he said while urging the centre to reconsider its decision.
Kerkar demanded to know why Maharashtra and Karnataka with their longer coastline and more ports couldn't handle coal transport for their own industries. "Unnecessarily bringing coal into MPT and transporting it through railways and roads may benefit certain parties financially but why risk the health of Goans and our environment for it?" he questioned.
The timing of this decision couldn't have been worse considering the severe effects of climate change Goa experienced last year. In 2019, pre-monsoon showers in Goa were delayed by almost two weeks. Wells ran dry in villages. When the monsoon finally hit Goa, it lashed out in fury. The season was marked by floods, heavy agricultural losses and was followed immediately by two consecutive cyclones in the Arabian Sea.