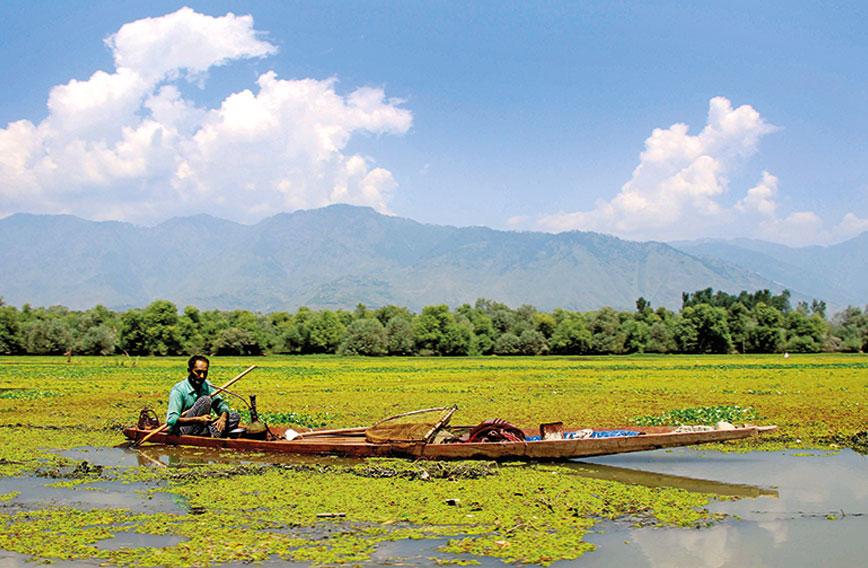 It's hard to catch any fish in Wular Lake
Wular Lake is choking with sewage, filth
Jehangir Rashid, Srinagar
Published: Nov. 20, 2021
Updated: Jun. 06, 2022
WULAR Lake, one of Asia's largest freshwater lakes, is turning into a shadow of its former self. Located in Bandipora district of North Kashmir, the lake, which once brimmed with fish, is now brimming with pollution. Fish species which thrived in its waters are disappearing. Fishermen are abandoning their traditional livelihood and becoming labourers on construction sites.
Fisheries is an important adjunct to agriculture in Jammu and Kashmir and, according to estimates, contributes a significant 23 percent to the state's Gross Domestic Product (GDP). Besides being an important economic activity, the fish economy also generates self-employment.
"In the past, the lake was full of fish. We would catch fish of varying sizes on a daily basis but the situation has now changed. Most fishermen return empty-handed in the evening. Those who are lucky come back with a few kg of fish," said Ali Mohammad, a fisherman.
Rough estimates suggest Wular accounted for 60 to 70 percent of the demand for fish in the Valley in the past. But the state is now importing fish and catch from other states dominates markets. The production of fish in Wular has touched its lowest ever, say experts.
They point out that the increase in pollution is due to the exponential growth of residential houses near the lake and the presence of scores of camps of security forces along the Jhelum river. Sewage from the houses and security camps is directly disgorged into the lake. Previous governments turned a blind eye to this rampant pollution.
"Inflow of sewage, siltation and encroachments have badly affected fish yield. Animal carcasses, latrine waste and other pollutants are all dumped in the lake. Aquatic life has paid a heavy price. The unfortunate part is that nobody is bothered about remedying the situation," said an expert, requesting anonymity.
Mohammad Subhan, a fisherman, said most people belonging to his fishing community have said goodbye to fishing and taken up menial jobs. He said fishermen have been pushed to the wall and that drastic measures need to be taken to restore the lake to its original state.
A survey carried out by a global agency said that resource mapping trends of Wular indicate a steep decline in its fish catch over the past 50 years. The survey states that a massive decrease in the lake's water level and its degradation have led to a steep decline in native fish species like Schizothorax (snow trout) in Wular.
"Large quantities of sewage from Srinagar city and major towns flow into the lake, resulting in increased eutrophication which has adverse impacts on the growth and development of fisheries in general and sensitive species like Schizothorax in particular," says the agency report.
The fishermen and experts say that if filters are erected at Shadipora in Sumbal block upstream, sources of pollution like polythene and animal carcasses can be prevented from entering the lake. Such measures can help increase the fish population.
Decline of Schizothorax is also attributed to the introduction of carp species into the Dal Lake, resulting in their proliferation, as well as heavy siltation in Wular. Excessive growing of vegetable crops on floating gardens, leading to algal bloom, has also led to destruction of the breeding grounds of local fish species.
"The government's priority seems to be revenue generation from tourism rather than the conservation and development of lake fisheries, which would enable fishermen to earn an increased income in terms of returns on time invested in fishing," points out Ghulam Rasool, a fisherman.
Rasool says that care needs to be taken to ensure sustenance and propagation of local species and less of carp. He says that carp culture can be promoted as a separate freshwater aquaculture activity in other water bodies, which would yield good income and help maintain the supply of fish to the markets.
"Monitoring agencies like the Pollution Control Board could have done a great job in stopping pollution in Wular," said a group of fishermen.
"But this did not happen and as a result the lake is full of garbage, human excreta, silt and other forms of pollution. At the end of the day it is the poor man who suffers and this is the case with us, the fishermen of Wular," they added.