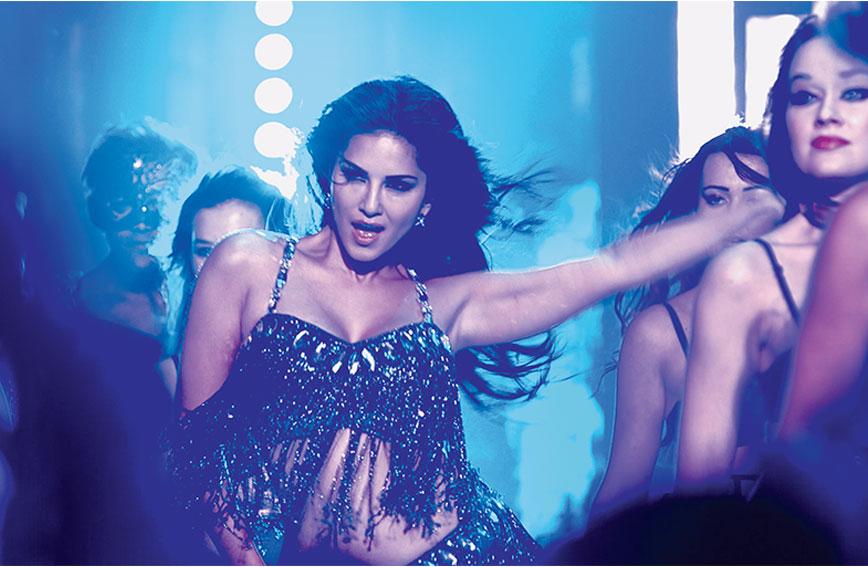 Sunny Leone in Mostly Sunny
From Sunny Leone to AAP to dalits...
Saibal Chatterjee, New Delhi
Published: Jan. 31, 2017
Updated: May. 06, 2019
Documentaries go where fictional feature films usually cannot. Driven by a spirit of enquiry, they unveil reality, ask questions and seek answers. Documentary films blend research, creativity and precise delineation to craft illuminating accounts of exceptional individuals, of far-reaching trends and developments, and of a nation and a society in flux. Why, then, do documentary films rarely make it to India's multiplexes?
This year, led by the remarkably successful The Cinema Travellers, which premiered at the Cannes Film Festival in May, a bunch of Indian documentary films focussed on unmasking the many faces of this vast country that are attracting international attention.
Yet, it is unlikely that any of these films will play in a theatre near you any time soon. But they deserve to be seen and celebrated.
Here is the lowdown on 10 Indian documentaries made over the past year and some more that are crying out for wider exposure in the land they have sprung from.
Put them on your must-watch list and seek them out. One thing is for sure: these films will be well worth your time — and patience.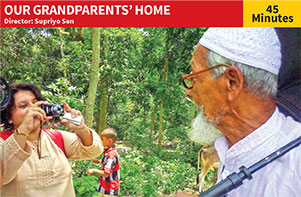 Our Grandparents' Home is Supriyo Sen, a much awarded documentary filmmaker's latest exploration of the Partition and its emotional, social and political after-effects. As 16 young scholars from India and Bangladesh (former East Pakistan) are engaged in a process to collect the memories of the third generation of Partition survivors, two granddaughters, one each from Bangladesh and India, embark on a journey to find the homes that their grandparents were forced to leave during the Partition.
Through the means of these academic and emotional journeys, the film seeks to relive the memories of Partition while trying to understand the meaning of identity, nationality and home among succeeding generations of survivors.
Our Grandparents' Home, in many ways, is of a piece with Sen's abiding interest in the trail of disruption and misery that the Partition left. It is a follow-up to his award-winning 2003 documentary, Way Back Home, in which the Kolkata-based director narrates the story of his parents who left their small town in East Bengal in 1947. The film takes them, 50 years later, on an emotional journey to the place of their birth. LikeWay Back Home, Our Grandparents' Home is as much a record of personal journeys as a recapitulation of a cataclysmic historical event that tore into many lives, but has rarely got the kind of play in films that it merits. Sen, of course, uses the medium, as he does here, to probe the repercussions of what is one of the biggest forced migrations in human history.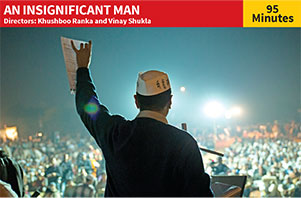 Khushboo Ranka and Vinay Shukla's An Insignificant Man is a rivetting observational documentary about the people's movement that culminated in Arvind Kejriwal's newfangled Aam Aadmi Party (AAP) wresting a brute majority in the Delhi Assembly in 2015.
Like The Cinema Travellers, An Insignificant Man is resonating with audiences globally. After premiering at the Toronto International Film Festival in September, it came home to the MAMI Mumbai Film Festival in October. It also made the cut at the International Documentary Film Festival (IDFA) Amsterdam, a Mecca for non-fiction filmmakers.
An Insignificant Man plays out pretty much like a political thriller in which the key players encounter dramatic ups and downs as the electoral process unfolds. Its appeal stems principally from the manner in which it encapsulates the energy and complexity of an Indian election.
Co-directors Ranka and Shukla are both first-timers who spent a year and a half recording AAP's rallies, meetings and war-room confabulations in the lead-up to its first electoral battle in 2014.
An Insignificant Man, produced by Anand Gandhi (director of Ship of Theseus), chronicles a crucial transition point in contemporary Indian history with a fly-on-the-wall approach that lends the film great kinetic energy and heft.
At no point does the film appear to be taking sides or pushing any particular political line, choosing instead to focus squarely on a ragtag group of individuals fighting the establishment and questioning the status quo.
Even if you aren't an AAP supporter, or even if you happen to be among those who feel terribly let down by how Kejriwal has gone about the task of ruling Delhi, there is enough in An Insignificant Man that is of lasting thematic significance.
Neither judgmental nor over-indulgent, An Insignificant Man shows how anti-establishment forces can deliver results only if they are channelled in the right direction by determined leaders.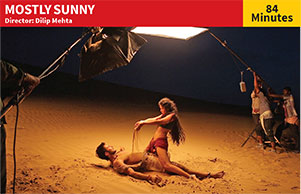 Mostly Sunny is the odd one out in this selection of the best documentaries made in India, or about India, in the recent past. It is about the life and times of a Bollywood starlet who wouldn't normally make it to the pages of this magazine.
This film is here because it is the breeziest and most entertaining documentary made by an Indian in a while. Mostly Sunny isn't a prurient, manipulative study of sleaze and exploitation. It is a social and cultural exploration that seeks to make sense of the rare phenomenon of a former adult movie star carving a niche for herself in the mainstream Mumbai film industry.
The career graph of Sunny Leone, one of the unlikeliest of stars Hindi cinema has ever seen, provides the narrative grist to photojournalist and filmmaker Dilip Mehta's documentary. But there is much more to the film than just an eventful life story packed with action.
As the film tracks the Canadian-born former porn actress's emergence in Bollywood, it examines, with humour, insight and empathy, the dynamics of the industry itself – and of Indian society as a whole, by extension.
Mehta uses the Sunny Leone story as a vehicle for obliquely probing the new India where deep social contradictions are rife and anything is possible. The film seeks to understand why Sunny, the most googled personality in India five years in a row, has takers among mainstream Hindi movie fans.
Notwithstanding the many dramatic changes that India has seen in recent decades, the country hasn't had a genuine sexual revolution. "Sunny Leone is spearheading a revolution in mindsets," says Mehta, whose work as a photojournalist has appeared in Time, Newsweek and National Geographic magazines.
Mehta captures the actress speaking at length about her childhood, her equations with her orthodox Sikh parents, and the choices she has made in life. She points to the fact that the Indian community in Sarnia, Ontario, (her birthplace) has disowned her, but Bollywood has embraced her with open arms. To provide a contrast, Mehta zeroes in on three Bollywood extras who see Sunny as a role model even as they themselves struggle on the fringes of a ruthlessly exploitative movie industry. She has everything that a Mumbai film actress can aspire to, these girls say with not a little envy.
Adman Suhel Seth offers an explanation for the 'social acceptance' in India for Sunny Leone. "She is married. She is not an available porn star," he says. On the other hand, Mehta's film has former police officer Kiran Bedi blaming pornography and the likes of Sunny Leone for sexual violence.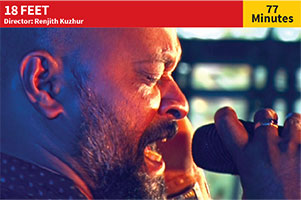 A profoundly moving documentary that erases the boundaries between detached observation and deep emotion, 18 Feet is the debut film of 34-year-old Renjith Kuzhur, who trained as an editor at the Satyajit Ray Film and Television Institute, Kolkata. It maps the rise and rise of the folk music band Karinthalakkootam, which sings defiantly of the Dalit identity of its members and traces the history of oppression the community faces.
The band was founded by Remesh, an employee of the Kerala State Road Transport Corporation. In the film, he opens up about his music, his aspirations and the psychological impact of the injustice he has faced.
Remesh's mother was pregnant with him when she cleaned the cow dung in her Brahmin neighbour's home in order to feed herself and her husband. In his growing up years, too, he faced ridicule from schoolmates. The percussive music that Remesh produces and the songs he sings are his tools of protest.
Renjith, a Nair who belongs to the same village as Remesh (Vadama, Thrissur district), began filming the band four years ago, but it was only two years later that he managed to get its members to move beyond their sound and speak about their individual histories.
The title of 18 Feet refers to the distance that the lower castes had to keep from the Namboothiris and Nairs in the days when untouchability was prevalent in Kerala.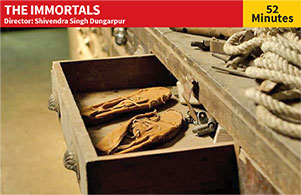 The Immortals was commissioned by the Busan International Film Festival as part of a special programme, 'The Power of Asian Cinema,' initiated to celebrate its 20th anniversary last year. That is where filmmaker and film conservationist Shivendra Singh Dungarpur's second documentary had its world premiere. His first, Celluloid Man, about the life and work of film archivist P.K. Nair, was critically acclaimed the world over.
The Immortals delves into Indian cinema history via physical objects and fading memories associated with some of its greatest personalities. It travels through time and space to pick out hidden stories and rediscover objects and images that at one time were an integral part of the lives and films of these industry stalwarts.
The film is a visual exploration of physical artefacts, personal spaces and living memories where the image speaks for itself, capturing the essence of each of the iconic figures while telling the story of Indian cinema.
Among the things that find space in The Immortals are Dadasaheb Phalke's car, Raj Kapoor's shoes used in the 'Mera joota hai Japani' number in Shri 420, and K.L. Saigal's harmonium.
While some of these elements were easy to bring in, a few others were infinitely more difficult to locate and acquire. While the Kapoors were accessible, Saigal's family had to be tracked down and convinced to help out before Dungarpur could begin his research.
The story behind Phalke's car — the one that he used to ride to his shoots — is a chapter in itself. It was found lying in a mechanic's garage in Nashik. Nobody had any idea of the 'importance' of the abandoned vehicle until the filmmaker got wind of it.
The Immortals also travels to the homes of Satyajit Ray and Baburao Painter to probe the cultural milieu and creative impulses that drove their cinematic output.
The Immortals is a personal essay that works on many levels both simply as a collation of little-known stories as well as an informed overview of Indian cinema.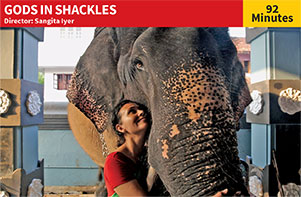 Gods in shackles is a feature-length documentary that delves into the dark side of Kerala's cultural festivals of which elephants are an integral part. Many of these pachyderms are captured from the wild and subjected to torture in the name of religion.
Canada-based environmental journalist, broadcaster and wildlife filmmaker Sangita Iyer, who was born and raised in Kerala, peels off layers to reveal a horrifying story.
In the film, we are told the stories of Lakshmi, a female elephant in a Thrissur temple, and Sunder, an elephant who was rescued from a temple in Kolhapur after being severely abused by his mahout.
She takes the help of a wide range of stakeholders, from elephant owners, festival organisers and mahouts to researchers and conservationists to piece together an ugly portrait of neglect and exploitation and issue a call for urgent action to save these highly social animals.
Kerala has over 3,000 religious festivals which culminate in the grand Thrissur Pooram celebrations. In all the attendant rituals, ornately decked-up elephants play a key part. But the animals rarely receive the care they deserve. In the past three years, more than 150 captive elephants have died due to inhuman negligence.
Kerala has over 700 elephants in captivity and, as Gods in Shackles points out, the campaign to protect the endangered Asian elephant has to be stepped up drastically if it has to achieve success. The film is a telling statement on behalf of the cause of saving the large, gentle elephant.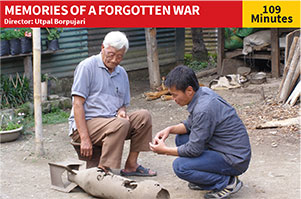 Memories of a Forgotten War, directed by critic-turned-filmmaker Utpal Borpujari, is about the crucial World War II battles that were fought in the northeast, especially in Manipur and Nagaland, but which have faded from public memory. The film was selected in the non-features section of the Indian Panorama of the 2016 International Film Festival of India, Goa.
These battles, fought by soldiers completely unacquainted with the topography of the battlefield and its environs, took a heavy toll of young lives, while dragging the local population into the vortex of the conflict. In what was then known as the Burma Front, a rough terrain with dense forests, the Allied army and Japanese forces fought decisive battles that stopped the latter's advance into India.
World War II veteran Lt Gen J.F.R. Jacob puts the plight of the soldiers in perspective: "Soldiers don't make wars. Politicians make wars. Soldiers fight, give their lives. And who makes the peace? Politicians sit down and make the peace. Horrible."
While focussing on aspects of the Battles of Kohima and Imphal, the film presents constant reminders of the human cost of military conflict. What was true seven decades ago is just as true today. While celebrating the valour of the soldiers — this comes out in the reminiscences of the combatants (all of them now in their nineties, some deceased since the making of the film) and the witnesses to the war — the film also upholds the spirit of reconciliation, justice and peace.
Until the recent declaration by the National War Museum of Britain that the Battle of Kohima was the most important operation by the Allied Army during World War II, ahead of even the Normandy landing, these battles of Manipur and Nagaland hardly attracted any attention. This feature-length documentary seeks to bring them out of the shadows of time and succeeds.
Memories of a Forgotten War serves the purpose of ensuring that we do not forget the sacrifices of the men who were dispatched to stop the Germans in World War II but found themselves fighting in an alien land and confronting the Japanese.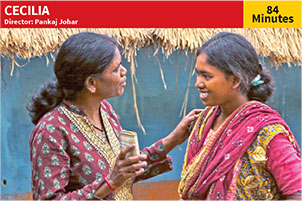 A personal documentary that puts a human face on the horrors of trafficking of household helps from poverty-stricken tribal regions of India to the country's big cities, Cecilia is about a tough, long-winded fight for justice waged by a maid engaged in Delhi journalist-turned-filmmaker Pankaj Johar's home.
"This film is not just Cecilia's story," says Johar, who is also the film's narrator. "It is a story of every poor tribal who is being sold glitzy city dreams and being lured miles away from their land. It is also a story of every middle class family that has been indirectly contributing to trafficking by hiring these trafficked girls and children. If I could have been so ignorant, then I am sure there are plenty others like me."
Housemaid Cecilia Hansda, working in the home of Johar and his lawyer-wife Sunaina since 2014, learns one day that her 14-year-old daughter is lying in a morgue in Faridabad. The girl had been trafficked without her knowledge and hired as a help by a family in Delhi.
Cecilia is under pressure not to pursue the case and accept compensation and move on. But she decides to fight with the support of Johar and Sunaina. The odds are heavy and there are points in the course of the struggle that are tinged with utter hopelessness. They are up against a society for whom the dead girl is just another statistic in the never-ending story of trafficked women.
One interesting aspect of this film is the manner in which it explores the line between filmmaking and activism, with Johar raising questions over whether he is putting Cecilia and her family, as well as his own family, at undue risk by unrelentingly probing the world of the traffickers. The journalist in him wins out in the end although the story that Cecilia tells is tragic.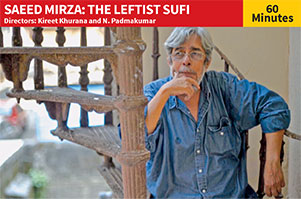 Saeed Akhtar Mirza hasn't made a film in years. But he continues to exercise huge influence on the minds of young filmmakers and other socially conscious youngsters through the power and purity of his thoughts.
India has moved miles away from the ideals that Mirza espouses — a reason for severe personal angst for him — but he carries on regardless, standing up and speaking out for causes he holds dear. This and other aspects of his personality come out loud and clear in this 60-minute documentary.
Saeed Mirza: The Leftist Sufi probes his ideology as a film director and a human being. It turns the spotlight on the FTII alumnus who was among the pioneers of the parallel cinema movement in Bombay with such critically applauded films as Albert Pinto Ko Gussa Kyoon Aata Hai, Salim Langde Pe Mat Ro, Arvind Desai Ki Ajeeb Dastaan and Naseem.
Mirza straddles temperamental polarities: he is a philosopher and an iconoclast, a hermit and heretic, a charismatic recluse and a lively conversationalist, and a poet and a crusader. He combines in him a liberal worldview that willingly embraces contradictions: this is what makes this documentary such a delight to watch.
Mirza's contribution to Indian cinema and our times hasn't been duly recognised. This documentary fills a long-felt gap and delivers a vibrant cinematic essay on a man whose films always focussed on underdogs fighting to break free from rigid social shackles.
The Leftist Sufi has been shot in Mumbai, Goa (Mirza's second home), Pune and Leh. It revisits many locations at which Mirza's films were shot three decades and more back. The film tracks him from the spaces that define his leftist being to the areas where he transforms himself into a Sufi looking for peace and harmony in a world where neither is easy to come by.
The film features interviews with Kundan Shah and Sudhir Mishra, who owe their careers to Mirza. They talk about his approach to filmmaking. Also on camera is Mahesh Bhatt, who throws light on why he was inspired by Mirza's outlook and films.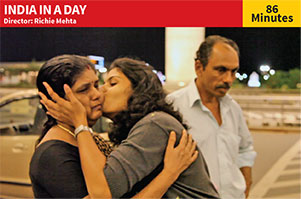 India in a Day, directed by Indian-origin Canadian filmmaker Richie Mehta, is a freewheeling cinematic sketch of a country and its people. The film provides a record of a day in the life of India — midnight to midnight — to bring alive a country overflowing with human stories of both beauty and pain.
India in a Day, powered by Google and produced by Ridley Scott and Anurag Kashyap, is an 86-minute documentary composed of videos shot on a single day — 10 October, 2015 ­— by thousands of people across the country.
In Mehta's own words, the story of an evolving India is the story of an evolving world. Mehta, who was born and raised in Canada but is now based in London, says: "This film presents a continuum of all our achievements. Parts of India still live the way we did 1,000 years ago, while the country has sent a mission to Mars."
As part of an initiative by Google, Mehta received 400 hours of film in the form of 16,000 submissions made using varied forms of technology. He and film editor Beverley Mills spent three months watching the videos before getting down to editing them.
India in a Day is like a filmed diary composed of entries from different parts of the country — it reflects the diversity of the land, with all its capabilities and drawbacks, with a delightful lightness of touch and a sense of playfulness.
India in a Day captures the challenges of living in India while reflecting the energy and humour of its people, which is palpable in every frame of the film.
Touches of earthy wit liven up the film. In the opening video, a young man talks of five families in a building sharing a single wi-fi router. A little later, a boy in a car says his age is 25, but his sister in the backseat is quick to correct him: "You're 26."
The film abounds in moments like these, which reflect the nature of the exercise. India in a Day does not have a whit of artifice. It is a real portrait of a people caught in the flow of time.