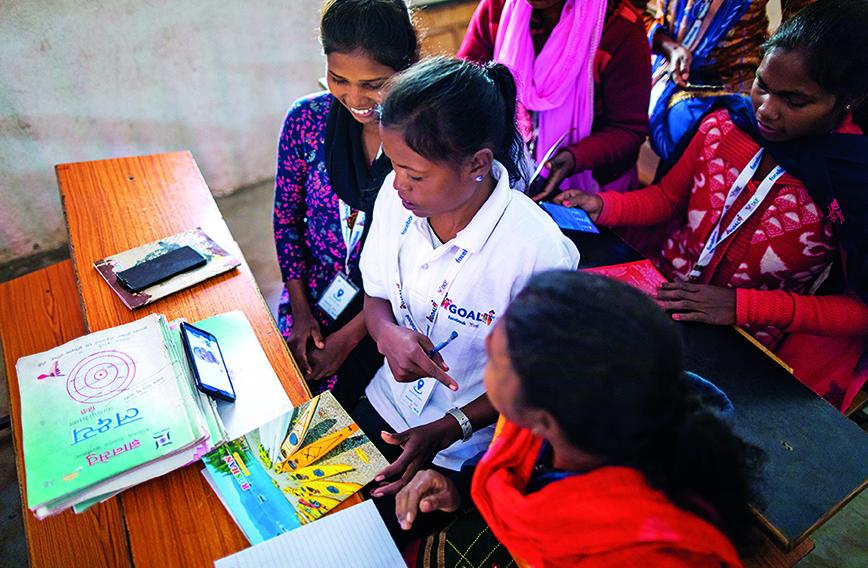 The smartphone emerged as the most important tool for learning during the pandemic
A phone is not enough
By Osama Manzar
Published: Sep. 12, 2020
Updated: Sep. 12, 2020
When the coronavirus pandemic set in and a rigid lockdown brought life to a standstill across India, millions of migrant workers left cities and headed back to their villages to be with their families. They carried with them their sparse belongings in small suitcases and backpacks, but their most valued possession was always kept at hand — a cheap mobile phone with prepaid talk time.
The mobile phone was their only link with the rest of the world and particularly their families, waiting anxiously for them to return as they walked down highways and across fields and waded through rivers to sneak across state borders.
But soon keeping the phones functioning became a challenge in itself. There was nowhere to recharge fading batteries and no money to top up talk time. Of some 12,000 people walking from New Delhi to Bundelkhand, 2,000 made calls to a toll-free number on which they had learnt they could find help.
The toll-free number was provided by Jan Sahas Social Development Society, a non-profit, which wanted to help migrants taking challenging routes find directions, shelter or local help.
But the calls received by volunteers at Jan Sahas were invariably about connectivity. The migrants were worried about how to keep their phones working.
Many of them wanted to know from Jan Sahas if talk time and internet data could be free for them because they didn't have the money to pay for recharges. They were already moving in groups so that several of them could share one mobile phone.
There were other concerns, too, such as the police cracking down on them, highways being blocked and social distancing keeping others who wanted to help away. Yet, it was connectivity that was uppermost in their minds in that time of distress.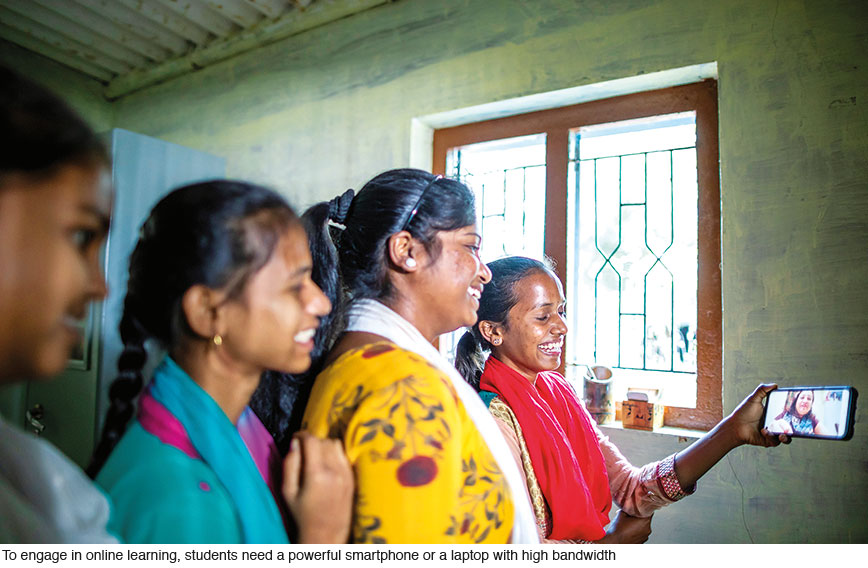 The migrants just wanted to talk to their families. A simple need. But as India goes digital, connectivity has come to stand for much more. From banking to education to healthcare to delivery of government benefits and services, everything is increasingly online. Equal access to robust PCs and broadband has acquired a new urgency so that rich and poor alike can avail of mainstream benefits. More so perhaps smartphones and high-speed mobile networks since people prefer handheld devices.
Where does that leave large numbers of Indians who languish on 2G networks and don't have smartphones? India has 500 million smartphone users. But there are also 550 million Indians who have just basic feature phones with which they can at best make calls and send messages, but can't access the internet. Another 300 million Indians have no connectivity of any kind at all.
The result is a digital divide and yawning inequalities. In the very cities where smartphones are common and the best 4G bandwidth is available, migrant workers in the informal sector continue to use basic feature phones. In rural areas where there are actually 200 million smartphone users, there often isn't the connectivity to support those devices.
Can connectivity be made more meaningful? Should it be treated as a basic right? Should phone calls and data be made free for those who are below the poverty line (BPL) and daily-wagers in the informal sector?
Perhaps this disruptive pandemic is the time to consider a scheme like a 'Pradhan Mantri Free Talk Time and Internet Yojana', especially to combat COVID-19. A scheme of this kind running for six or 12 months will have not just immediate benefits but could be transformative in the long run. The money spent on it could be compensated through USOF (Universal Service Obligation Fund) to which phone companies contribute.
Running a business, e-commerce, online transactions, audio-visual content consumption and real-time video conferencing requires high bandwidth, powerful machines, or at least significantly powerful smartphones with 3G or 4G connectivity. We have widespread connectivity but bandwidth is scarce and limited. Likewise, devices that are powerful enough to deliver multimedia content, including educational content, aren't widely available.
Recently, the Alliance for Affordable Internet (A4AI) released guidelines to arrive at a definition of "meaningful connectivity". It highlighted four requirements: Regular internet access, an appropriate device, enough data and a fast connection.
India has 'connectivity' but not 'meaningful connectivity'. This has led to 320 million students suffering because of the inability to access online education. Over 400 million people, below the poverty line, who are dependent on foodgrains from ration shops, are often unable to access their entitlements because of non-functionality or non-availability of the internet for checking real-time biometric authentication.
Similarly, around two million frontline health workers don't have the smartphones and the connectivity that will allow them to more ably serve children and mothers in villagers. As a result, lives are being lost. In times of a pandemic meaningful connectivity should be regarded as a basic necessity.
We, at the Digital Empowerment Foundation (DEF), are deeply aware of these realities. The pandemic, however, has forced us out of our comfort zone. We took to relief work by providing food for the hungry and migrant workers walking back to their villages. Relief work had its uses. But the more important question before us was how to leverage our digital knowledge to gain a better understanding of the situation. So, we created a database of 150,000 migrant workers and tracked their journeys across cities and towns.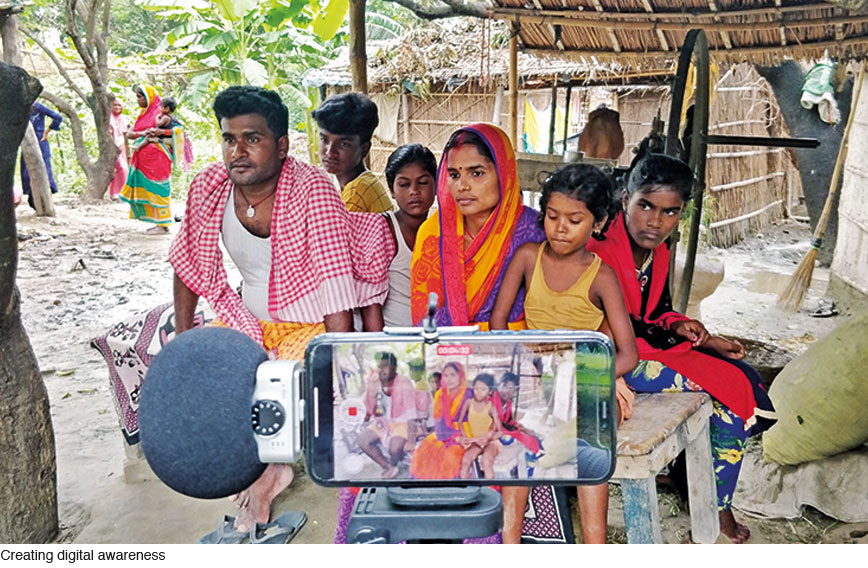 Migrant workers use mobile phones in just the same way as they live their lives — on the move. They rely heavily on them to make calls and on the ability to pay as they go. The pandemic and its fallout became an occasion for us to know the number of users of cheap feature phones or secondhand smartphones.
According to Ashif Shaikh of Jan Sahas: "The total informal sector workforce is estimated to be about 440 million. Out of this, the vulnerable informal sector workforce is around 304 million. The total number of seasonal migrants is estimated to be 55 million." (Census data of 15.1 million is outdated.) Additionally, according to government statistics, every year over nine million new migrant workers move from rural areas to cities and towns.
I am assuming that most migrant workers, adding to the informal sector's entire workforce, would be using feature phones. The International Data Corp (IDC) says that in 2019 there were about 450 million smartphone users as compared to 550 million feature phone users in India. About 40 to 45 percent of feature phone users own a device that costs less than Rs 1,000.
The informal sector mostly constitutes the working class. Many float around in towns and cities and in areas where transactions and business take place. Therefore, it may not be erroneous to assume that all of the informal sector, including migrant workers, would be a subset of 550 million feature phone users.
COVID-19 has paralyzed movement, transportation, travel and economic activity that would have ensured food in the hands of people. At this time, the question to address is: how can such a huge population pay for its basic needs and necessities, without being connected? Consider that more than half the Indian population relies on feature phones and prepaid connectivity. Consider also that they have no means to pay for being connected. Consequently, it is important for the government to support digital connectivity and communication as a basic necessity, a fundamental need and a human right.
A MIGRANT WORKER'S STORY
Joseph Hemron called me sometime in May from his in-laws' village, Devbahar Ambatoli, 25 km from Simdega town and about 150 km from Ranchi, the capital of Jharkhand, one of India's poorest states.
Joseph asked about my family and my son, Abner, in particular, whom he is very fond of. He mentioned that he was stuck in Devbahar Ambatoli because of the lockdown and was unable to return to Delhi, where he lives with his family. I asked if he needed help and sought his wife's mobile number.
The real story emerged when I talked to his wife, Alka. In March, Joseph decided to visit his village, Karra, 40 km from Ranchi, to collect his driving licence, which had been issued from Ranchi. As he was about to leave, his sister-in-law who works as a domestic help in an apartment in Gurugram also decided to visit her village for a short holiday. Instead of going straight to his own village, Joseph went to his in-laws' village to drop his sister-in-law. While he was there, the nationwide lockdown was announced.
Joseph was now stuck in Devbahar Ambatoli since transport was restricted and individuals weren't stepping out due to fear of the lockdown and the raging COVID-19 pandemic.
Meanwhile, in Delhi Alka ran out of money and rations at home. She had already spent March to May borrowing money. A call to her husband was difficult. Sometimes weeks passed before she could speak to him because the village where Joseph was stuck had weak telecom signals which, when disrupted, would take a long time to restore.
I first met Joseph, an Adivasi Christian, in 1998 when he was 20 years old and a rickshaw puller in Ranchi. He would pick up and drop my sister's six-year-old to school. Expecting a child ourselves, my wife and I asked Joseph if he would like to move to Delhi and work in our home. Like millions of citizens, Joseph migrated and lived with us for four years, helping us bring up our son and learning how to drive from my wife.
After he left us, he pursued driving as a career, got married, and started a family. Like millions of migrants, Joseph too lost his job during the lockdown and wasn't paid his dues for the few months he was working. He too got stranded, far from his family, in another state. He suffered economic losses, often lived without food and went for weeks without any telephonic or data connectivity.
THE LAST MILE
The COVID-19 lockdown threw up issues that were never expected to emerge simultaneously with a health pandemic. In late March, we at DEF introspected on our role. We realized that the impact of the disaster caused by the pandemic had spilled over to access to food and relief work — areas which we don't directly work in.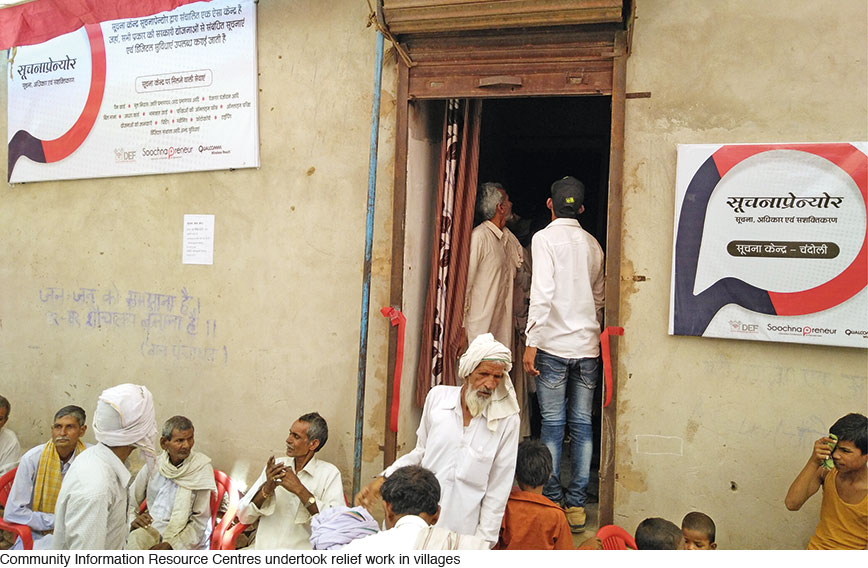 Yet, DEF's widespread digital infrastructure and presence made us realize our responsibility. DEF has over 700 digitally enabled Community Information Resource Centres (CIRCs) run by 'Soochnapreneurs', the name we have coined for 'information entrepreneurs'. We have over 10,000 digital foot soldiers, spread across the country in 130 districts and 23 states.
At the time of the lockdown, our associates across rural India got special permission to move around as relief workers and food suppliers who also provided doorstep banking services and enabled access to government entitlements for villages.
To make an impact, we formed the 'COVID-19 Digital Emergency Relief Program (C-DERP)' with the specific mandate to deliver relief, ensure access to critical information, fight misinformation and fake news, mobilize resources, crowdsource essentials and route them to the needy. Additionally, we also communicated preventive health information and measures including special COVID-19 kits for as many as possible.
Being digitally enabled and entrepreneurially driven, with a physical presence on the ground, makes a difference. I went to Nuh, the headquarters of Nuh district in Haryana, hardly 60 km from the heart of New Delhi, the national capital. Nuh is among the most backward districts of the country, struggling with basic problems related to education.
DEF has more than 10 digital centres across villages and blocks of Nuh district, connected through a broadband wireless network. Across these centres, our local team of Soochnapreneurs managed to raise donations in cash and kind amounting to Rs 25 lakh through social and digital media. The Soochnapreneurs in Nuh distributed thousands of food packets for months to those who barely had any income or livelihood.
In Alwar, 71 km from Nuh, DEF has over 10 centres across the district. One centre in Rayebka village is run by Irfan, the local Soochnapreneur, who has reached out to every household in the village and panchayat and ensured nobody is left without food or access to banking.
Irfan would take the authentication through a biometric device. He would collect rations from ration shops and deliver it to the entitled home. Wherever people were unable to withdraw money provided by the Prime Minister's Relief Programme, Irfan, being a licence-holder for providing banking services, would deliver the money to their homes.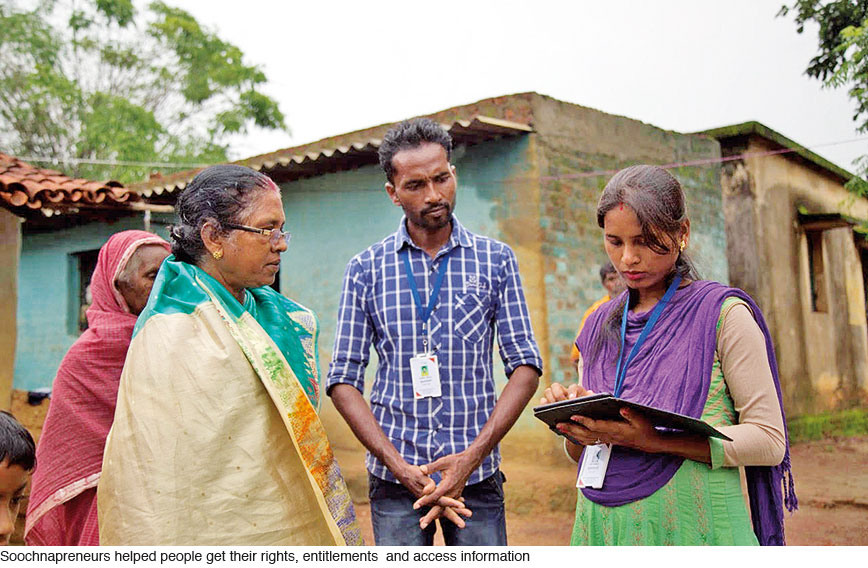 Soochnapreneurs across hundreds of CIRCs enabled the delivery of rights, information, and entitlements at the time of the lockdown and the pandemic.
'DIGITAL DAAN'
Every aspect of life in India has been impacted by the pandemic and its ripple effects. But it is the education sector that has been the most impacted in tangible and intangible ways. There was a recent report of a girl who committed suicide because she did not have access to a laptop or any other means of accessing her classes, which were being conducted online.
It has been five months since the pandemic started. Educational institutions have been closed. As public and private institutions steer towards online education and engage students through digital media, the pressure to keep up with this new model is mounting on students and having a domino effect on parents.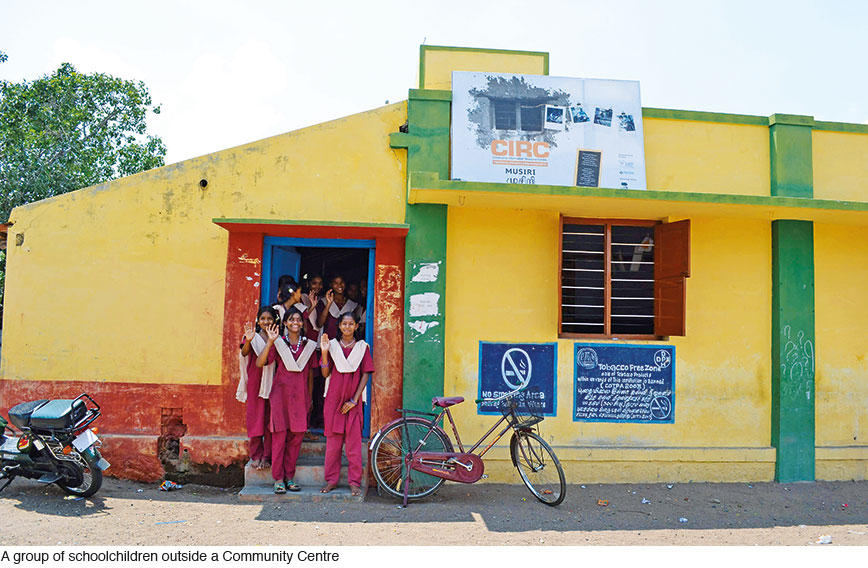 To attend and engage in online classes, students need access to a device — a laptop or a smartphone. This device needs to have high bandwidth and the capacity of high data consumption as classes take place online, in real time and on video. For education purposes, the best way to be connected is through a desktop or a laptop, not through a smartphone. And India's PC penetration is hardly 3 percent according to data available two years ago. India is going to suffer a tremendous digital divide in access to education. It's going to be tougher on girls, given how often access to digital devices for girls in many households comes as an afterthought.
It is for this cause that the Digital Empowerment Foundation launched 'Digital Daan', an online crowdsourcing initiative, to motivate people to donate their working but used devices for citizens in need. DEF's target is to source a million digital devices and make them available across India over the next three years.
The philosophy of this initiative is simple — to generate and distribute devices so that people gain access and connectivity. This would also help reduce the country's digital lag or exclusion and aid the adaptation of digital culture.
Since March, we have undertaken many initiatives to help in the immediate situation on hand and understand the new normal emerging from the pandemic. Our interest is not limited to just mass migration. We also seek to understand the future of migrant labourers when they return to their villages and homes. Would they come back to cities in search of jobs? How are they surviving in villages without work and money? If the impact of the pandemic continues till early next year, how will they manage for so long?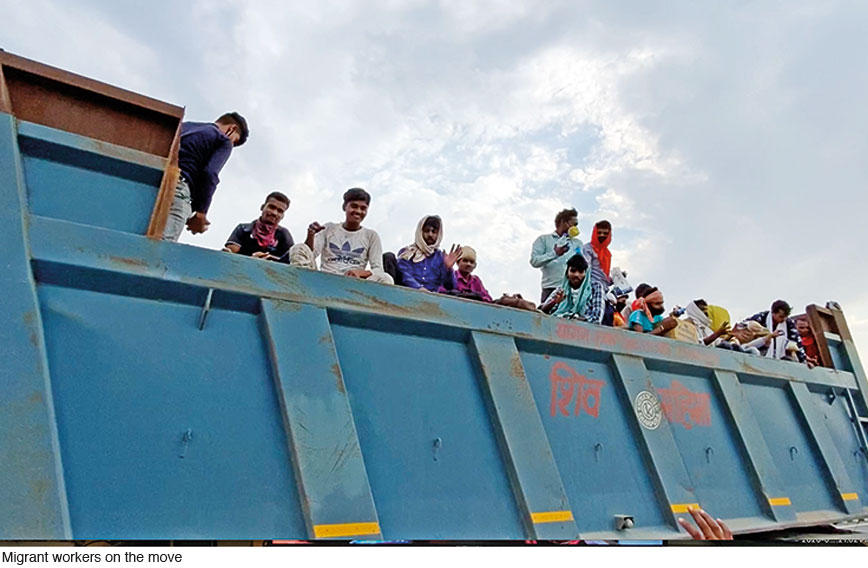 Towards this end we have designed a programme called 'Migrants: Connecting, Tracking, Serving' and we are conducting an ethnographic study on migrants. We have travelled across Haryana, Rajasthan, Uttar Pradesh, Bihar, Jharkhand, Andhra Pradesh, Telangana, Tamil Nadu and Madhya Pradesh to gain an understanding.
We continue to provide relief work to the most vulnerable and their families and we will be tracking 150,000 migrants till early next year to understand the long-term effects of the pandemic and the exodus from cities. We will be conducting a 30-day digital skilling programme for selected migrants across the country through the CIRCs of DEF and we will produce a documentary film on migration in the digital era.
Till last count, DEF has been able to serve over 500,000 people across the nation during the pandemic and lockdown period. All this was possible because of trained digital entrepreneurs and digital access.
To conclude with the story of Joseph Hemron, we went to his village and brought him to Ranchi, trained him to download and manage the Aarogya Setu app, and bought him an air ticket to fly back to Delhi to his family.
An emotional Joseph told us, "I was already planning to bring my family back to the village as there is hardly any job in the city and no hope either." I offered him a job at DEF so that he can continue to live in Delhi. Joseph said, "The only reason I don't want to go back to my village in Jharkhand is because my children will be destroyed and they will remain uneducated. I want my children to be educated and break the cycle of slavery that we have all been subjected to."
While each of us can help with our capabilities, I hope that the government is also listening to its most vulnerable citizens.
Osama Manzar is founder and director of Digital Empowerment Foundation. He can be contacted at osama@defindia.net. Manzar is also a member of the advisory group of Alliance for Affordable Internet (A4AI).