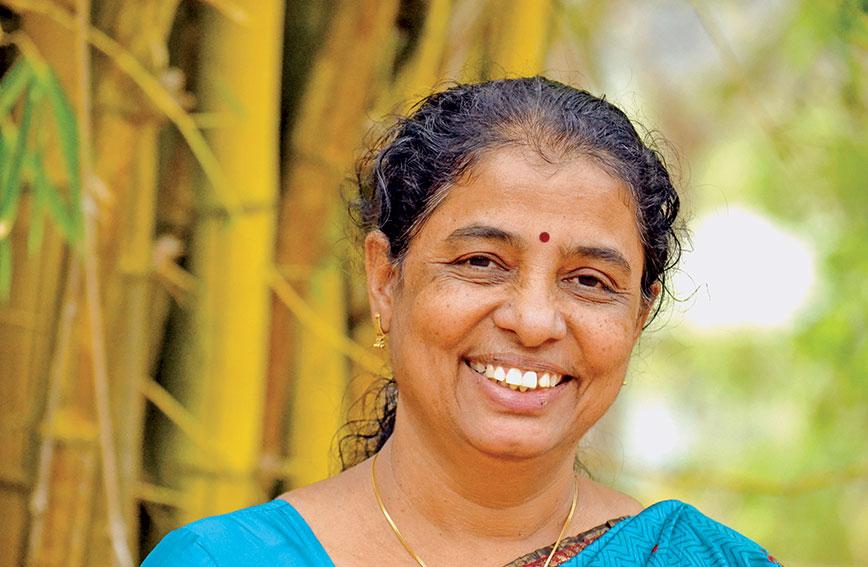 Dr C.R. Elsy, who heads the IPR Cell of the Kerala Agricultural University
Kerala's GI hunters provide stardom to unique crops
Shree Padre, Pattambi
Published: Apr. 03, 2017
Updated: Jan. 30, 2020
CHengalikodan is a banana with a venerable past. An ancient document from a Tharavad household in Kerala mentions its history. It says Chengazhikodu was a tiny kingdom which was under threat. The rulers enlisted some families beyond the boundaries of their kingdom to stave off the enemy. When the war was over, the rulers suggested the families stay on and cultivate bananas. That's how the Chengalikodan banana got its name.
"It is a unique banana, sweeter than other nendran varieties and quite apart in looks and properties," says P.V. Sulochana who served for 15 years in Erumapetty panchayat in North Thrissur from where the banana originates.
The Chengalikodan banana now has a Geographical Indication (GI) tag, raising its profile and price. So do Pokkali rice which grows in saltwater, Travancore jaggery, rich in sucrose, iron and magnesium, two scented varieties of rice called Jeerakasala and Gandhakasala, and the Valakkulum pineapple, named after the place it originates from.
Altogether seven unique plant varieties in Kerala have received GI recognition thanks to the earnest efforts of the Intellectual Property Rights (IPR) Cell in the Kerala Agricultural University (KAU). Led by the redoubtable Dr C.R. Elsy, a plant breeder professor, the IPR Cell has been scouting fields and farms in Kerala to identify breeders of unique plant varieties.
Another four GI recognitions are in the pipeline. That's not all. The IPR Cell has succeeded in getting 17 Plant Genome Saviour Awards given to farming communities and farmers for conserving and propagating unique plant varieties.
In 2014, 37-year-old N.M. Shaji, secretary of Pain and Palliative Care, an 18-year-old NGO in Wayanad district, received the Plant Genome Saviour award for his unique collection of tubers. Shaji believes that lifestyle and food habits need to change to counter the rise in cancer cases and that the ...