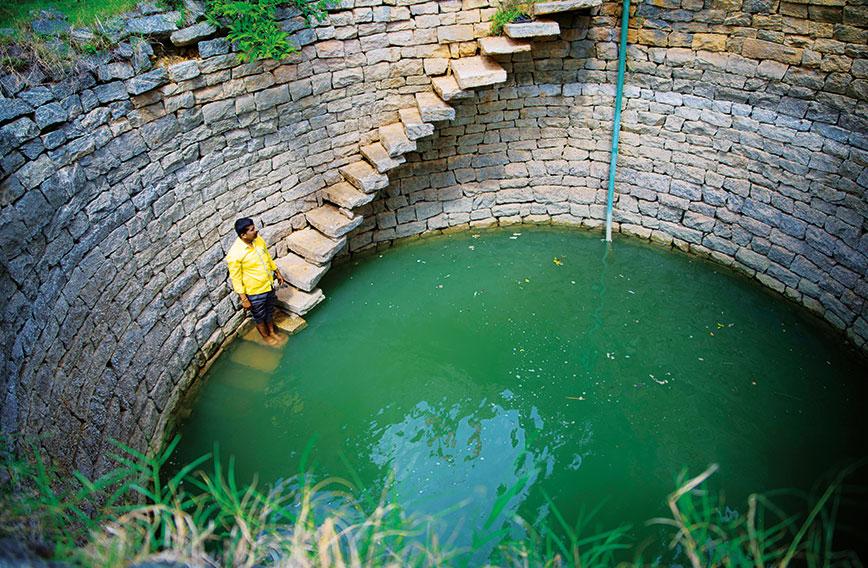 Photograph by Isabella Porras - The Water Story
A million wells for Bengaluru
Shree Padre, Bengaluru
Published: Nov. 01, 2019
Updated: Jul. 29, 2022
Rainbow Drive, a housing colony on Sarjapur Road, has never known a water shortage. It is a big thing in Bengaluru where tankers routinely make up the deficit in municipal supply and predictions have it that the city's groundwater will all but vanish in a few years from now.
Not so at Rainbow Drive where its residents in 280 homes don't live with such daunting fears. They are secure in the thought that they will always have enough — thanks to some 250 recharge wells dug in backyards and stormwater drains that soak up almost as much rain as falls on the 35 acres of the colony.
When their homes were first handed over by the builder in 2003, the residents had two bore wells to meet their needs. But bore wells go deep down and tend to fail. The 250 recharge wells they now have work differently by replenishing water in aquifers closer to the surface, making better quality water perennially available.
Rainbow Drive was fortunate to get the advice of Biome Environmental Solutions, a design firm focused on ecology, architecture and water. The firm was formed in 2008 by merging S. Vishwanath's Rainwater Club with Chitra Vishwanath's practice as an architect.
Vishwanath has been a water-harvesting evangelist who in 2018 launched the Million Recharge Wells Campaign to make Bengaluru self-sufficient in water. He believes the solution provided to Rainbow Drive is, in fact, the one best suited to Bengaluru on the whole. Instead of boring deep tubewells, the city should be using open wells and drawing on shallow aquifers. Bengaluru gets enough rain and Vishwanath's calculations are that a million recharge wells will put enough back into the ground for the city to put water shortages behind it.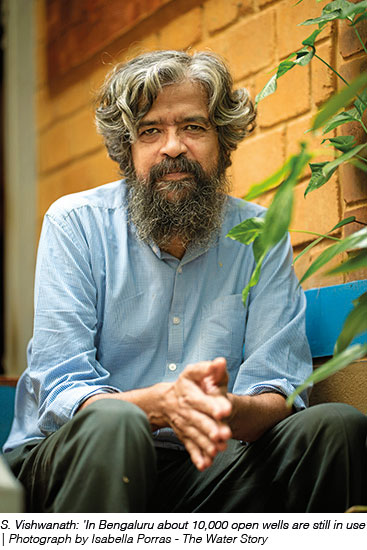 With water scarcities growing consumers need sustainable solutions. As awareness spreads and expertise becomes available, people are realising that there are many uses for water harvesting beyond personal consumption such as diluting industrial effluents and combating fluoride.The setting up of Biome Environmental Solutions is part of a larger trend of mainstreaming traditional practices like water harvesting and offering them as professional services with quantifiable results.
There has been an increase in the number of small enterprises to cater to the needs of factories, campuses, farmers and households. Most of these enterprises carry out rooftop water storage, recharge of bore wells and construction of open wells for a fee.
These business activities have also helped revive traditional livelihoods. In and around Bengaluru, thanks to Biome, the Mannu Waddars, a sub-caste of the Bhovi community, have found work because of their knowledge of digging and maintaining wells. Similarly, the tanka from Gujarat has found its way to the south.
Rainbow Drive basks in its status as a zero run-off colony. "Out of 100 rainy days, water might overflow from our premises for only eight to 10 days," says K.P. Singh, a resident.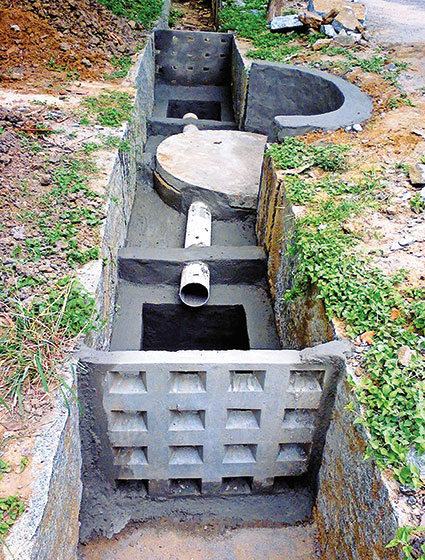 Recharge wells dug in a stormwater drain at Rainbow Drive
People are finally learning to pay for water and take responsibility. "Our policy is a recharge well for each house. Everyone has to contribute towards water sustainability," explains Singh.
"We haven't spared a single house. Most families have dug the well on their premises. Those with space constraints have paid us `30,000 to dig the well outside their houses on their behalf," he says.
There is differential pricing of water, implemented by consensus. Those who consume more, pay more. Monthly consumption is classified into three slabs. Residents who use up to 15 KL (15,000 litres) pay `15 per KL. For 15 to 25 KL, the rate is `50 per KL. For consumption above 25 KL, charges jump to `125 per KL.
Being self-sufficient
"A million recharge wells will make Bengaluru self-sufficient in water," says Vishwanath. "Each acre in the city is blessed with 3.5 million litres of rainwater. Even if just one-third percolates into the ground, we can manage without Cauvery water," says Vishwanath.
Nobody in India has studied open wells and shallow aquifers as deeply as him. Vishwanath, whose pseudonym is Zen Rainman, has gone globetrotting to Iran, China, Sri Lanka, Indonesia, Brazil, Chile, China, Sweden, Finland, Estonia and Latvia to study wells.
Biome Solutions' calculations are as follows: Greater Bengaluru is spread over 750 sq km. From half this area, 80 percent of rainwater runs off. Bengaluru loses billion of litres of water in this way.
"To catch this huge quantity of rain, we need a million recharge wells. Those with three feet diameter and 20 feet depth are suitable. Each well can hold about 4,000 litres of water," says Vishwanath.
Bengaluru already has 100,000 recharge wells and another 900,000 are needed.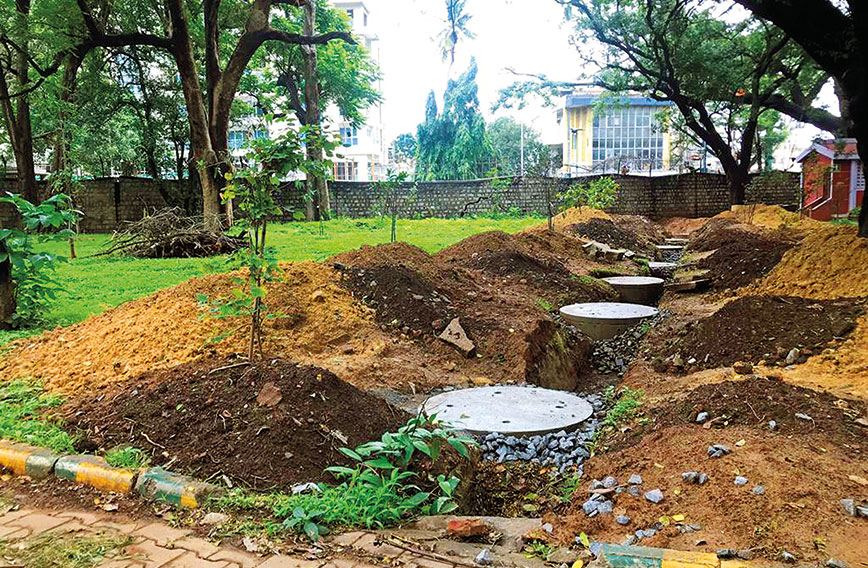 A row of recharge wells at Lalbagh in Bengaluru
The recharge well was first introduced in Chennai in the 1990s by the Alacrity Foundation. The Rainwater Club popularised it in Bengaluru. "These are suitable for large areas like apartments, colonies and layouts. The Indian Institute of Management (IIM) campus has recorded a percolation rate of 1,000 litres an hour in recharge wells. The overall percolation rate of rain in Bengaluru is, as per estimates, three to 10 percent. To increase this to 50 to 60 percent, we need recharge wells," says Vishwanath.
"Wells have a history of 4,500 years," he says. "In Bengaluru, about 10,000 open wells are still in use. In the city's geological landscape, the shallow aquifer is very important. We can easily recharge wells and go on using them. Actually, it's high time we started conserving and utilising our shallow aquifers on priority."
Biome began seeking out Mannu Waddars or the city's traditional well diggers and mapping the city's existing wells. It recently conducted an awareness session for them.
Bengaluru is lucky to still have Mannu Waddars. Altogether 750 families live in and around the city. A three by 20 feet recharge well, dug by a mannu waddar, costs around `30,000.
Traditional well diggers collectively have the capacity to dig 1,000 recharge wells per day. "Their deep knowledge of the hydrogeology of the city is contributing into turning our dream into reality," remarks Vishwanath.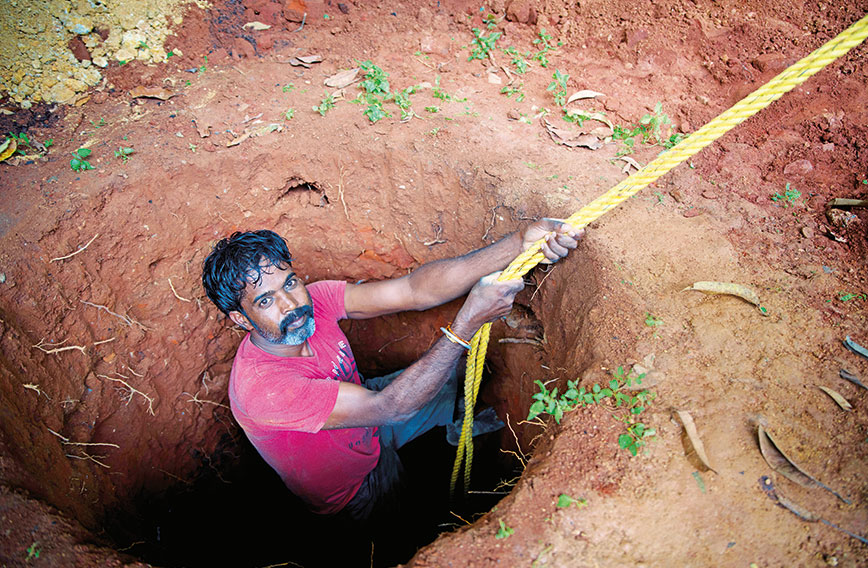 A traditional well digger in Bengaluru | Photograph by Isabella Porras - The Water Story
"We made the well diggers our ambassadors," says K. Ramprasad, co-founder of Friends of Lakes, who has joined the campaign. "They go house to house requesting work and explaining why it is better to trust the shallow aquifer."
Slowly, people in power, residents in apartment blocks and house owners began responding. "The recharge well has entered the lexicon of builders and architects," says Shubha Ramachandran, team leader of the Biome Environmental Trust, the non-profit arm of the firm under which the 1000 Wells campaign comes. The Bellandur Development Forum plans to dig 2,500 wells in a low-lying area at the Bellandur Lake that gets inundated with rainwater during the monsoon.
The campaign has also caught the attention of politicians and bureaucrats. The deputy chief minister, C.N. Ashwath Narayan, has initiated digging of 100 recharge wells in his Malleshwaram constituency. So has Ramalinge Gowda, MLA from Koramangala constituency.
Recharge wells can also control urban flooding. "To save lakes we have to increase the groundwater table," says Ramprasad. "Recharge wells are the best choice."
It is also a fallacy that the entire city's groundwater levels have plummeted. "Many areas still have open wells which provide water, yet people dig bore wells," says Venkatesh, a traditional well digger who can rattle off groundwater levels in each area of the city. "In Indiranagar you get water at 10 feet, in JP Nagar at 15 to 20 feet, and at Banashankari Third Stage, BTM Layout and Domlur you strike water at 15 feet."
Adds Ramakrishna, another well digger: "Ulsoor has water at five feet. In and around Marappa Garden, many families still use open wells. At HSR Layout, you get water at 20 feet."
Vishwanath is hoping the Kannada language media does some consistent reportage on the Biome campaign. The local language press, he says, can play a bigger role in spreading the message than seminars in English.
Cubbon Park
A cluster of recharge wells in Bengaluru's famed Cubbon Park has hugely increased its stock of water. The park's success was noted by half a dozen government institutions, which have decided to follow suit.
Cubbon Park stretches over 197 acres. Around 1.2 million litres per day are required to irrigate its garden. The park has three bore wells, which don't perform. It buys treated water from the Bangalore Water Supply and Sewerage Board (BWSSB) and pays `20 per KL or `70 to 80 lakh per year.
In 2017, the park's officials, with help from Ramprasad, revived seven open wells which had been lying idle for 50 years. "There was a lot of silt and waste material inside. We cleaned the well and covered it with mesh," says Mahantesh Murgod, the then deputy director of horticulture for Cubbon Park.
This year 60 recharge wells are being dug. "Well revival has reduced water shortage in the park. We now save `25 to 30 lakh annually. By next year we should be self-sufficient." Seeing Cubbon Park's success, Lalbagh has set out to dig 100 recharge wells.
The Railway Wheel Factory, a public sector company, has opted for recharge wells. The factory requires 200,000 to 300,000 litres per day for cooling processes. It has five open wells and four bore wells but they were insufficient so about 200,000 litres of treated water used to be bought from BWSSB.
In the past two years, the factory began to seriously enrich its shallow aquifer. Four out of five wells, located at the lowest level of the campus, were cleaned. Old, silted ponds were deepened and new ones dug. All the stormwater was directed to this low-lying area, designated an eco-zone.
Now the run-off from 191 acres goes to the eco-zone and fills all the ponds and wells which have started yielding ample water. All of last year their own water was adequate. This year, due to less rainfall, the factory bought some water for six months. Bore well water has been kept in reserve. This year they have decided to rejuvenate their fifth open well and dig one more.
The factory has also started harvesting roof and surface water in a big way. "From next year we might not need to pump water from our wells during the monsoon," says Ajay Singh, chief environmental officer of the factory. The Border Security Force (BSF) and Central Reserve Police Force (CRPF) have now sought the Railway Wheel Factory's expertise to augment their water resources.
Chennai's well revival
After a gap of 25 years, interest in recharge wells is being rekindled in Chennai. "Three decades ago, Chennai's city area was 174 sq. km. At that time, each house had a well. Now our city has expanded to 426 sq. km. After the apartment culture caught on, open wells disappeared," says
Dr Sekhar Raghavan, director of Rain Centre in Chennai and an expert in rainwater harvesting.
In 2003, the Jayalalithaa government made rainwater harvesting mandatory for all buildings in Tamil Nadu. In a survey conducted a couple of years later, Rain Centre discovered that in parts of the city the water table had risen by six to eight metres.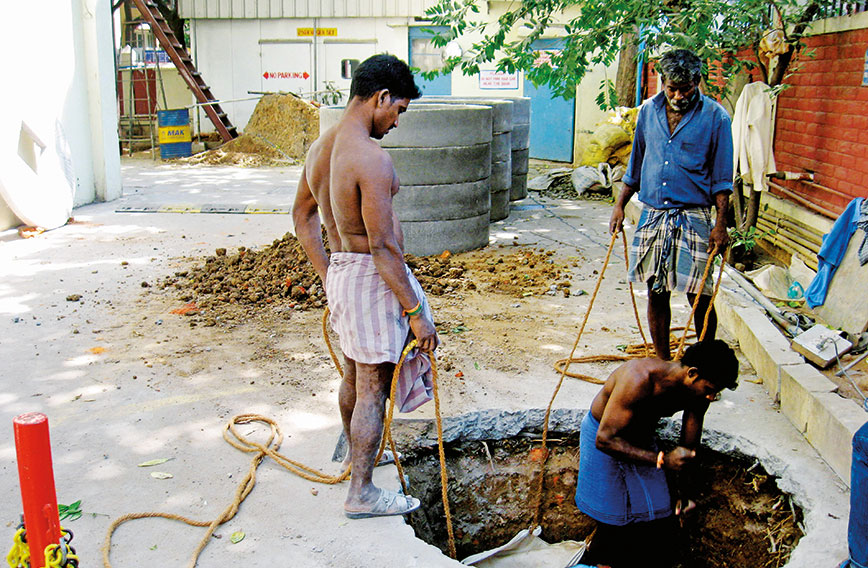 A new well being dug in Chennai where there has been a revival in recent years
In 2007, AB Apartments in Bhaktavatsalam Nagar found that their bore well had become dry. They sought Dr Raghavan's advice and invited him to their apartment block. He was surprised to find their open well had water but nobody was using it. He drew a bucketful and found that the water tasted fine. After a little persuasion, residents started using it.
The Rain Centre has been advising people to dig open wells. In some areas where bore wells had gone dry people discovered they could strike ample groundwater thanks to the water-rich shallow aquifer. About 50 newly dug wells, initiated by Rain Centre, are all yielding water. The water authorities have now taken to digging big open wells.
"We have to recharge with rain sensibly. People can use well water during the monsoon months and in summer, they can use bore wells. Conjunctive use of shallow aquifers and deeper aquifers will make water use sustainable," says Raghavan.
Improving Quality
Although the main objective of rainwater harvesting is to increase water quantity, it also helps to improve quality. Two examples are seen in the work carried out by BAIF Institute for Sustainable Livelihood and Development in Karnataka and the Rainwater Literacy Foundation (RLF) in Erode in Tamil Nadu.
Erode suffers from water scarcity, water contamination and its shallow aquifers have disappeared. Rainfall, on average, is 470 mm annually and very erratic.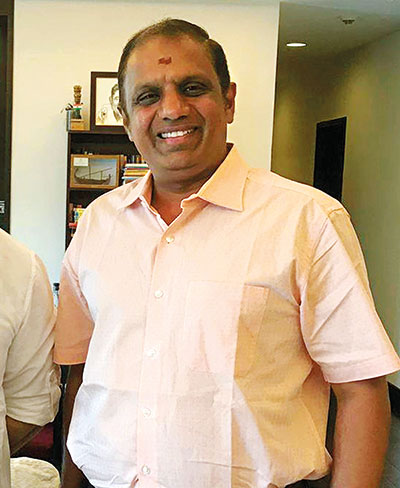 K. Shivakumar
K. Shivakumar, a British citizen born and brought up in Erode, founded the RLF, a non-profit, in 2012. Every year he spends three months in his home town, propagating rainwater harvesting and revival of recharge wells, knowledge he gained from his association with Vishwanath.
Shivakumar realised that the fastest way to percolate the maximum water in Erode was through recharge wells. As per World Health Organisation (WHO) standards, water with Total Dissolved Solids (TDS) levels more than 400 is not potable. Cauvery river water has TDS of 4,000 when it crosses the Tamil Nadu border from Karnataka, according to Shivakumar. "Once the river reaches Erode, TDS levels shoot up to 40,000 because industrial effluents are discharged into the river. The water has traces of toxic metals too," he says.
"Groundwater levels have plummeted. Shallow aquifers have vanished in many areas. Where such aquifers can be found their water is so contaminated it's not fit for bathing."
The RLF has alleviated the water shortage in two schools through rainwater harvesting and digging recharge wells. The schools are the Sagar International Senior Secondary School in Perundurai on the outskirts of Erode and the S.V.N. Matriculation Higher Secondary School at Kongapalayam.
On Sagar School's 21-acre campus 40 recharge wells were dug along with two ponds to catch any spillover from the wells at a cost of about `6 lakh. The school has two bore wells. In the previous five years it was spending `5,000 to 7,000 per day buying water from tankers.
"For the last two years we have had very little rain. Yet we don't have any water shortage," says C. Soundararajan, the school's correspondent. "Water levels in our bore wells have risen from 600 feet to 900 feet. And TDS levels have declined from 1,500 to 1,000."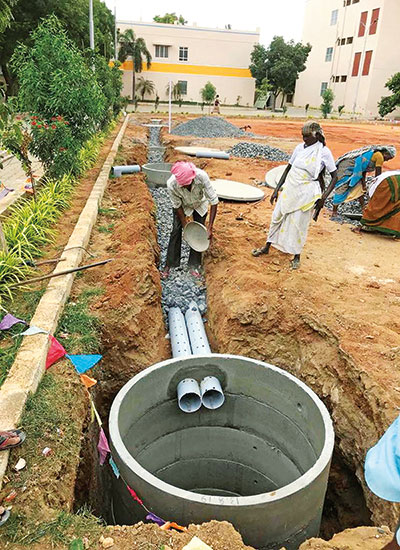 A school in Erode gets a water recharge system
The S.V.N. Matriculation Higher Secondary School has an open well and four bore wells. They were spending around `6 lakh annually buying water. But no longer after nine inter-connected recharge wells were dug after identifying the rainwater run-off path. Two more have been dug near the bore wells. The school's administrative officer, P. Thangaraj, is hopeful that if rains are good this year, the school will be self-sufficient in water. Both schools have nearly zero run-off now.
The RLF doesn't charge for its services. "In Tamil Nadu, mostly in Erode, we must have dug more than 1,000 recharge wells. To suit local soil conditions, we keep the diameter of the well at three feet by five feet and the depth at 15 feet," he explains. Shivakumar's water mantra is: reuse, recharge and then discharge.
Fighting fluoride
The BAIF, on the other hand, has been tackling high levels of fluoride in water — a major issue in 16 states — through rainwater harvesting. In three fluoride-hit districts of Karnataka — Gadag, Tumkur and Chikkaballapur — BAIF has carried out probably the most extensive attempt in India to combat excessive fluoride in water.
It has built about 8,000 roof water storage structures in the three districts. All eligible families are covered in villages like Gamkarnahalli, I.D. Halli and Shanghanahalli in Madhugiri taluk of Tumkur.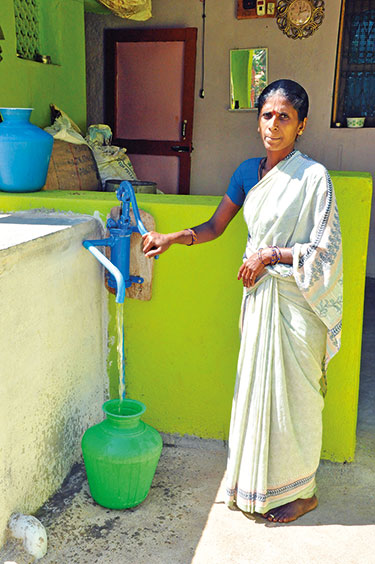 BAIF's rainwater storage tank in Tumkur
Covered tanks of 5,000 litre capacity are constructed, using local masons and local knowledge. "The results were instant. Within three months of drinking this safe rainwater, many residents suffering from joint pain could bid goodbye to painkillers. The number of visits they made to the hospital were reduced and their ability to work improved," recalls Pandit Patil, chief programme executive of BAIF.
The non-profit estimated four litres as the daily drinking water requirement of a person. For a family of five, the stored water lasted eight to 10 months. "However, instead of providing drinking water alone, if we follow an integrated approach, combining soil and water conservation with groundwater recharge work, the results are even better. The reason is simple. The fluoride content in groundwater gets diluted," says Patil.
Adoption of both techniques, recharge and storage, is the best strategy.
Farm with rain ponds
An innovative storage-cum-recharge structure is being promoted by 79-year-old Dr P.K. Thampi, a retired geologist in Thiruvananthapuram. He is the founder of WESTCON (Water Environmental Sciences & Technology Consultants) and previously worked as head of the Geosciences Section of the Centre for Earth Sciences. Most of his projects are in Kerala and he is approached by institutions battling water shortage.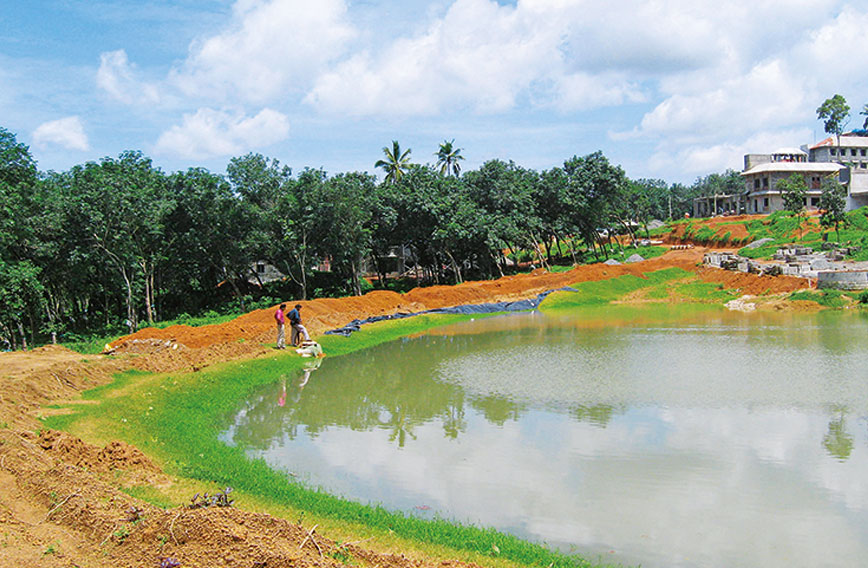 WESTCON's rain pond at Kumbanad Bible College in Pathanamthitta
Thampi's method is to capture run-off from a vast area and collect it in a newly dug rain pond. A sub-surface dyke is constructed adjacent to the pond, using a plastic sheet. This is inserted into a deep trench. The dyke checks side seepage of the sub-surface flow.
One of WESTCON's best projects is at the Ahalia Foundation's 35-acre campus in Kozhippara near Palakkad. This is a rain shadow area with annual rainfall of less than 1,000 mm. Before 2002, the campus didn't have enough drinking water.
The first rain pond of 1.5 hectares was constructed that year followed by two smaller ones. The campus now has seven rain ponds on five hectares which together collect 200 million litres. These ponds have helped raise the water table.
In fact, water levels in wells near the ponds have risen to the same level. There is no scarcity even after summer is over. The foundation grows vegetables and paddy with this water. The ponds have changed the micro-climate of the locality. "I don't think any other big rain farm like this one exists in the country," says Dr Thampi.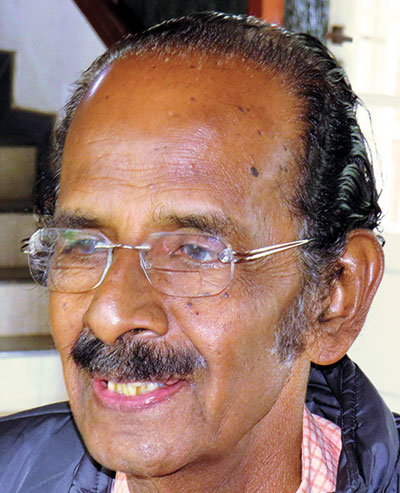 Dr. P. K. Thampi
In the past two decades 40 such rain ponds have been built on Dr Thampi's advice. Some are at Yenepoya Medical College in Mangalore, Kinfra Film and Video Park, Thiruvananthapuram, Kumbanad Bible College in Pathanamthitta district, Textile Park in Palakkad, Food Park in Adoor, Industrial Park in Kunnanthanam and others.
The stored water is lifted from a well built inside the pond. "After the second season of rain, you can take out about three times water you see from the pond. This is because the pond recharges a large area where water can't be seen," he says.
The open rainwater tank
Rainwater storage tanks are also becoming increasingly popular. Unlike Dr Thampi's rain ponds, these are impermeable sheet-lined tanks that store water by stopping seepage.
P.J. Varghese, a farmer from Kottayam district in Kerala, founded P.J. Rainpond India Pvt Ltd to make such tanks 14 years ago. So far, his company has constructed about 200 big ponds for agriculture, fish farming, industrial and recreation purposes. P.J. Rainpond undertakes the complete work of tank construction.
According to Varghese, a one million-litre tank, including all works, costs around `1 per litre. The larger the tank, the lower the per litre cost. He has built tanks that can store as much as 15 million litres. "We can make even bigger ones," he says.
Different types of sheets are used to line such tanks. But a common complaint from farmers is that these sheets don't last long and have to be replaced every four or five years, which is an expense.
Varghese's rain ponds are lined with three different sheets, one above the other. The upper and lower sheets are protective. The middle one is to stop seepage. "We have to take certain precautions. The earthwork has to be carefully done. Anything that can pierce the sheeting has to be manually removed. The sloping has to be correct. The outer edge of the sheet has to be closed so that small creatures don't damage it," he says. Varghese claims that he gives a five-year guarantee on his tanks and attends to all customer complaints.
Today there are many agencies like P.J. Rainpond that build such tanks on contract.
River water storage
A new instance of the use of such sheet-lined tanks is by the grape farmers of Bijapur in Karnataka. Bijapur grows the sweetest grapes in India and farming grapes is very remunerative there.
Tikota taluk is a prominent grape belt. But for three months in summer bore wells run dry
and farmers face a scarcity of water. Krishna river water is brought to the district by canals due to the initiative of M.B. Patil, former irrigation minister.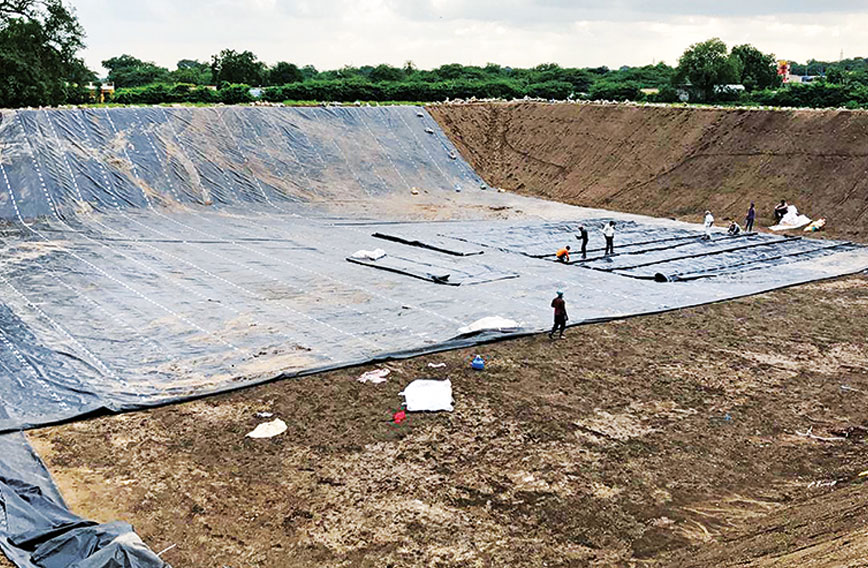 Yogiraj Kolhar uses this tank lined with a plastic sheet to store water for his grape garden in Tikota in Bijapur
Farmers construct plastic-lined tanks and fill them with the river water to use in summer. "We calculate how much water we require for these three months and then decide tank capacity," says Yogiraj Kolhar, a farmer with a 20-acre grape orchard.
His newly constructed tank, which cost `15 lakh, covers an acre and will hold about 40 million litres. "About 10-15 tanks are being constructed this season," he says. River water has an added advantage. It is soft water, and of good quality as compared to hard water from bore wells. These are all open tanks not meant for drinking water but for irrigation.
Tanka under home
The tanka is an underground tank for storing drinking water traditionally used in Gujarat. Roof water is filtered and then stored in tankas. Old two-storied homes in Gujarat still have tankas.
Most tankas are engineering wonders for two reasons. The tankas have to bear the hydraulic pressure of water stored in them plus the weight of the building above. Some of these tankas were built before cement was invented.
Several houses in Dwarka city in Gujarat have tankas. Even new houses invariably have a tanka. Generally, they are so big that the household has enough water to last two years. The family uses this water for drinking and cooking only.
The tanka has now spread to Telangana, Maharashtra and even Karnataka. Says Dr Devraj Reddy, a water expert, "In Karnataka, many people have built sumps to store rainwater. But this custom of constructing underground tankas alongside house construction was unknown earlier. Now I know of at least two dozen homes in low-rainfall areas of Karnataka where tankas have been constructed." These have been built on his advice.
This current phase of water harvesting is marked by invention, enterprise and the spread of knowledge. The new mantra is — catch water where it falls and make some money too, but responsibly.
Biome Environmental Solutions – (080) 4167 2790; water@biome-solutions.com