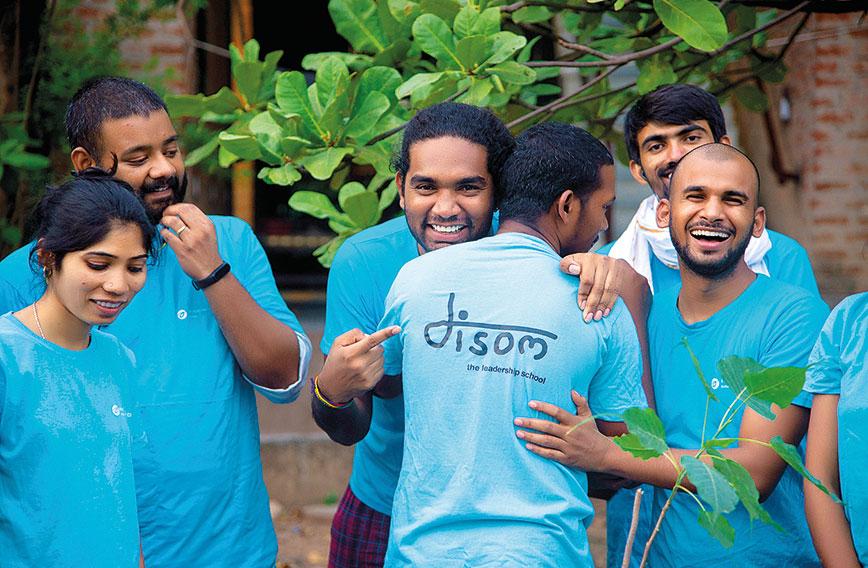 Disom fellows share a laugh
It is like the Bigg Boss House...
Civil Society News, New Delhi
Published: Nov. 05, 2021
Updated: Nov. 05, 2021
HOW much money and time would you put into developing leaders who will serve India well? It is a tough one, but what does one year and `3 crore sound like to you?
Most brave new ideas seem a bit over the top. So also with Disom, a leadership school, in which 21 people from multiple walks of life are learning to dream, discover themselves and become servant-leaders in public life.
For the past several months, even as they have been learning to live with one another, this first batch of Disom fellows have immersed themselves in an unstructured process of discovering India and their places in its complex social and political landscape.
Disom is a leadership school, but not in the sense you might expect. The course is for a year, but there is no faculty, rigid learning material or even a campus for that matter — though the original intention was to have one. Those who join are paid what they need to stay away from jobs and take care of their families. They spend nothing.
It is a consensual arrangement. Everyone is free-falling, hanging together almost like skydivers fluttering around but connected. Looking out and in. Decisions are taken collaboratively at daily meetings.
The first batch of fellows were chosen after an extensive search. An essential qualification was to have a dream to serve society. The course began in February and, as the year progresses, and they go from one experience to the next, they revisit that dream to see if it's intact or has changed. Finally, they will go out into the real world to make that dream happen.
The first two months were spent on the campus of the Initiatives of Change at Panchgani, two hours from Pune. Then it was on to Nagaloka, a Buddhist training centre in Nagpur, to imbibe the meaning of the middle way. Next came 25 days on the Nai Talim campus at the Gandhi Ashram at Sevagram in Wardha. From there it was off to Hyderabad and the Montford Social Institute run by Brother Varghese who works with invisible people in cities. And then to Varanasi, Bastar and who knows where?
The idea of a leadership school came from Initiatives of Change, which is concerned about moral values in public life. It was set up in India by Rajmohan Gandhi in 1968.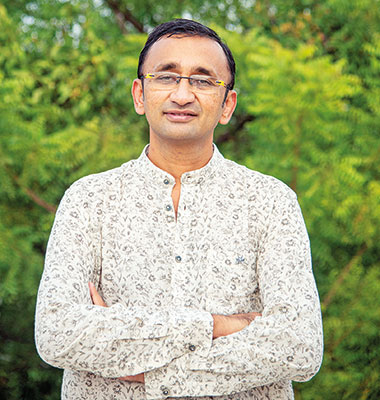 Biren Bhuta: 'There are conflicts, there is affection'
The trustees of Initiatives of Change suggested the idea of a leadership school to Biren Bhuta, whom they knew over the years. He had just then given up his job as Chief of CSR at Tata Steel.
Bhuta, 47, wasn't the usual company executive. He is introspective and abstemious in his lifestyle. He had been a journalist before joining Tata Steel. His handling of CSR had an authentic quality about it. He was, for instance, deeply respectful of tribal cultures. An annual festival of tribal people, called Samvaad, held in Jamshedpur, was unique.
"When I quit Tata Steel my intent was to just chill, travel around the country, explore what next I could do in life. I especially wanted to make tribal worldviews succeed," says Bhuta.

He was hesitant, but the thought of setting up a leadership school immediately appealed to him. He saw the school as an "inspirational idea" which had the "seeds of transformation if I can do it right."
Bhuta now has with him eight others who together make up a faculty but prefer to be known as "curators". Like the people admitted to the course, these "curators" too come from different walks of life. The process of learning is shaped as they go along by the fellows as well as those directing the course. Everyone is involved. The common goal is a better understanding of India.
Bhuta did much of the spadework for Disom. He talked to hundreds of people across the country. It was decided to fund it with modest donations, the highest being `10 lakh so that no one could exercise too much control.
Fellows could be from any strata of society so long as they had a vision. The money part was important. It was decided to fund people as per their need. Currently that works out to around Rs 11 lakh for the year per person which includes accommodation, travel, food, healthcare and a stipend. The total cost of running the course works out to around `3 crore.
The 21 fellows together represent a microcosm of the country. They are between 23 and 38 years old. There are 15 men, five women and one person who identifies themself as non-binary queer. Two of them are persons with disabilities and one is wheelchair bound. Eight come from tribal communities, three are Dalits and three are Muslims.
How do so many strong-minded people who see themselves as leaders manage to stay glued together?
Says Bhuta: "It's like the Bigg Boss House, you know, that thing that happens on television. So, there are conflicts, there are skirmishes, there is affection for each other. There could be romantic things happening. All of this that we see in society."
"Everything that happens outside happens here. As it unfolds, we deal with it and we discuss it. Every morning, we have a majlis and every week there are two fellows who take the leadership of the week," he explains.
How successful will Disom be? It is anyone's guess. But that an interesting beginning has been made is there for all to see.