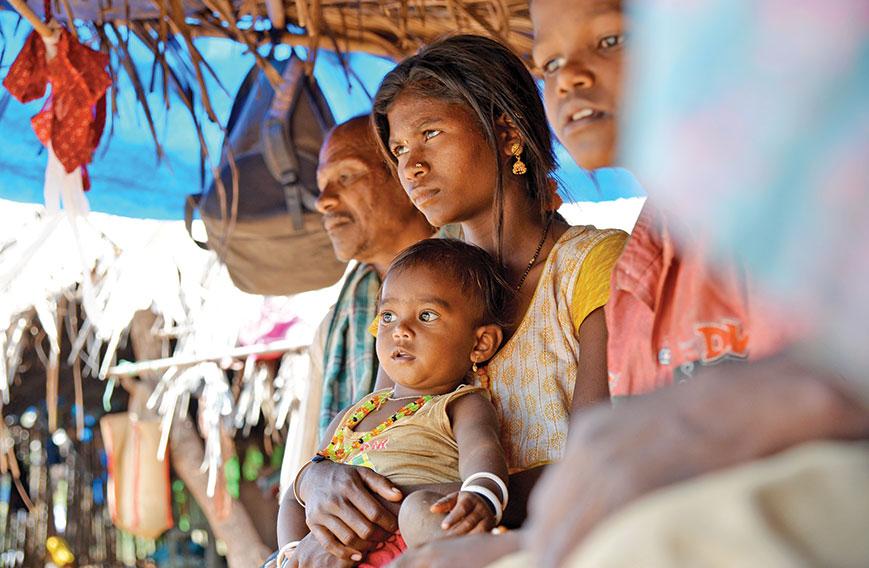 The Wanarmares are a primitive tribe that settled in Goa
Beaten, threatened tribals find succour
Gauri Gharpure, Ponda | Photographer: Samrat Bandodkar
Published: Dec. 23, 2016
Updated: Apr. 03, 2017
About half an hour from Ponda in south Goa, an undulating road leads to a village called Nirankal. Here, on a hilltop, Wanarmare tribals settled around four years ago. They made flimsy huts propped up on bamboo poles. The floor was plastered with cow dung. With no walls, it was the roof covered with tarpaulin sheets that saved them from Goa's torrential monsoon.
On 16 October, when most Wanarmare families had left to find work, a mob from a nearby village ransacked their huts. The FIR report, filed on the night of 18 October, alleges that all tarpaulin sheets were pulled off, solar light panels donated by the state government were broken, some huts were pulled down, water barrels were emptied and broken, and that large amounts of rice gruel boiling on twigs in makeshift chulhas were overturned.
The villagers threatened the tribals with eviction. One woman was injured in the mayhem. The FIR names two people, a man and a woman. The man was taken into custody and granted bail the next day. The police did not arrest the woman, saying that nothing was to be recovered from the site under Section 41A.
The Wanarmares are a tribal community originally from remote parts of Maharashtra. They were expert hunters especially adept at catching monkeys, and hence the name. Some groups of Wanarmares settled in Goa decades ago — in Bicholim and nearby northern regions, apart from Nirankal in Ponda, south Goa.
Trouble was brewing in Ponda for a long time. On 2 October, some villagers came to their settlement and ordered them to leave. On 8 October a few Nirankal villagers met the district collector and the industries minister and local MLA, Mahadev Naik, with demands to evict the Wanarmares, calling them 'dirty' and 'a nuisance'. About a year ...