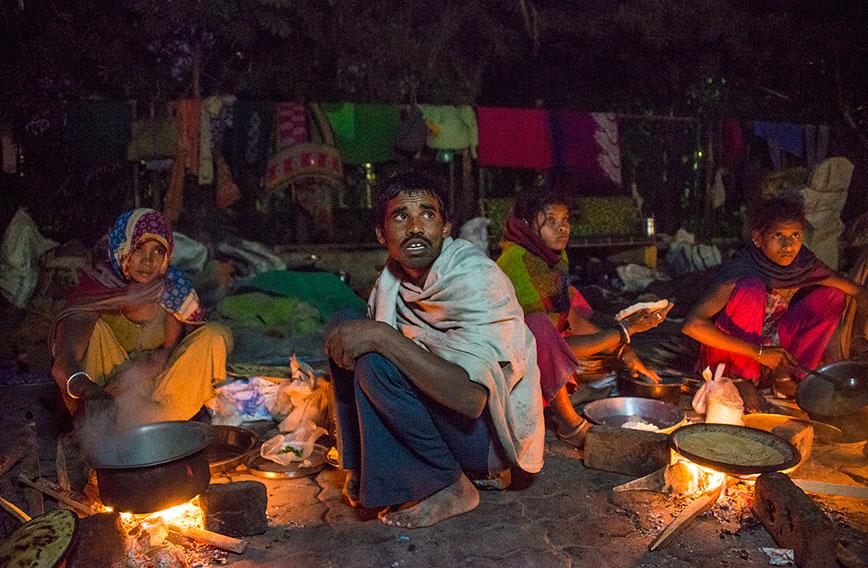 Get food to worksites, says Aajeevika in Ahmedabad
Civil Society News, New Delhi
Published: Dec. 16, 2020
Updated: Nov. 05, 2021
When the lockdown began to ease in June, migrant workers who had left Ahmedabad for their villages started returning to the city in the hope of finding some employment.
It hasn't been easy. Industrial areas haven't opened up fully and employers are going slow on taking on workers. Sunk in debt with insecure work, hunger now stalks migrant workers.
Entire families have been living out in the open on worksites. The city, a hub of industrial and commercial activity, has about 1.3 million migrant workers, one-sixth its population. Most of them are from the tribal regions of Northern Gujarat, southern Rajasthan, western Madhya Pradesh, and from Uttar Pradesh, Bihar, Odisha, and Chhattisgarh.
Getting food to migrant families is priority and Aajeevika Bureau, which works for migrant labour, has started a campaign called Jahaan Mazdoor, Vahin Annaz or take food to workers and worksites.
Aajeevika Bureau has urged the government to continue two food distribution schemes for migrant workers started during the lockdown: the Anna Brahma Yojana and the Pradhan Mantri Garib Kalyan Yojana.
Universalization of the public distribution system (PDS), point out Aajeevika activists, will avert hunger, help migrants stay on in the city and put the economy back on its feet.
"Subsidized food and ration must be made available unconditionally, regardless of documentation or domicile, to migrant communities in Ahmedabad," says Mahesh Gajera, programme manager of Aajeevika Bureau in Ahmedabad.
Initially migrant workers did get jobs as worksites began to open up and contractors started picking up workers from labour chowks.
"With more workers arriving, the situation since November is that jobs are now hard to find. People are getting work for only 15 days a month. Not all factories have opened. Smaller units continue to remain closed," says Gajera.
"Unskilled workers are not being hired. Skilled workers do get employed but they are expected to also do the work unskilled workers used to do previously. Home- based workers, who form a considerable workforce of the garment sector, are still unemployed."
The men are getting paid Rs 280 to Rs 300 per day and the women, Rs 150 to Rs 200, Gajera says. It is a triple blow of rent, debt and no savings.
Landlords are demanding the rent, which has accumulated over months, be paid. Workers have taken loans from moneylenders. Tribal workers owe as much as Rs 50,000 to Rs 60,000 to private usurers. Whatever little assets people had, like a TV, a mobile or a cycle have been sold to survive.
As a result, there is widespread hunger. According to one estimate, only 63 percent of workers in Ahmedabad were eating twice a day. Before lockdown 93 percent used to eat twice a day.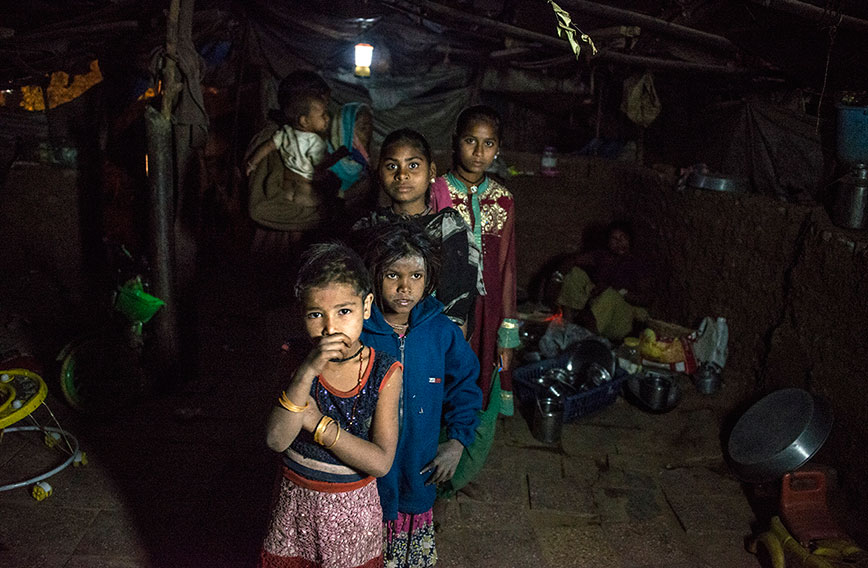 Aajeevika's own survey of 135 workers found that, on average, workers were spending as much as 40 percent of their income on food. More than half were buying rations on a daily basis. Around 95 percent are entirely dependent on their daily income to buy food. About half of the workers surveyed said they got work for only 15 days a month. And over 70 percent said they had received no ration under government schemes during the lockdown. Besides 98 percent of workers do not possess ration cards.
Workers are needed to restart the city's economy. The pandemic is likely to ease in the coming months and it's important for workers to stay on. According to official estimates, sectors like construction, hotels and hospitality, transportation, domestic work and innumerable factories depend on migrant workers to run their businesses.
The state and central government can help a return to normalcy by continuing the Anna Brahma Yojana and the Pradhan Mantri Garib Kalyan Yojana.
Under the Anna Brahma Yojana, which was operative from April 4 till end-June, migrant labour were provided free rations, subsidized electricity, cash transfer and other civic amenities.
Under the Pradhan Mantri Garib Kalyan Yojana, undocumented migrants could each get five kg of wheat and rice and one kg of channa. Both schemes were helpful.
The Aajeevika Bureau would like the two schemes to continue till the pandemic is over and things settle down completely. There isn't any shortage of food, they say.
According to the Union Ministry of Consumer Affairs, Food and Public Distribution, the state lifted 88 percent of allocated food grain but has distributed only one percent by end August.
A third of migrant workers surveyed said they had received ration under the scheme in May and June.
To ensure that the schemes reach all migrant workers and their families, Gajera says industry associations, unions and NGOs could be asked to survey work sites and industrial areas and inform workers of the two food distribution schemes.
Aajeevika has also managed to link eight construction sites to anganwadis and ensure women get to take home rations. "It's a small step. But we hope, through our campaign, to reach many more workers and their families," says Gajera.