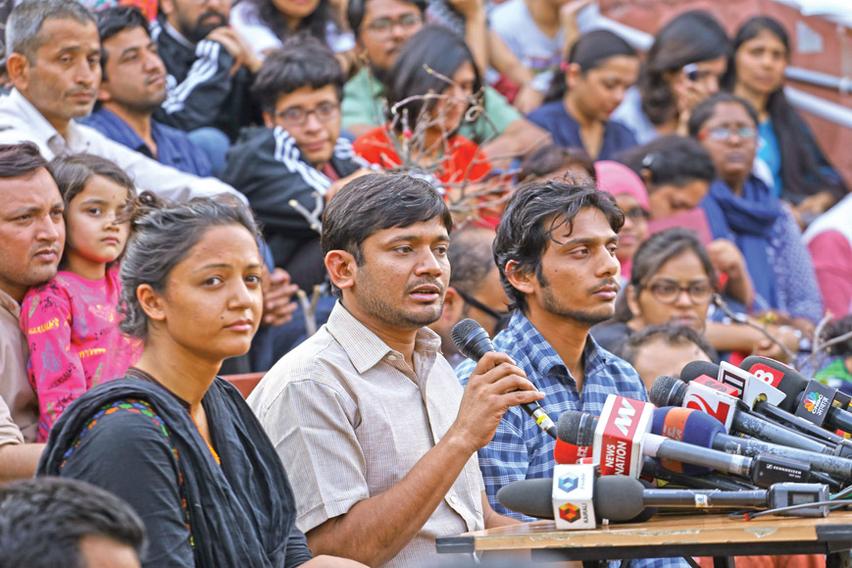 Dissent, politics and campus karma at JNU
Abida Khan, New Delhi
Published: Apr. 01, 2016
Updated: Jan. 29, 2020
Student politics has always been a seasonal story about who has won which union election and stuff like that. But in recent times campus life has been in the spotlight like never before. With the arrests at the Jawaharlal Nehru University (JNU) names like Kanhaiya, Anirban and Umar have made it to prime time. What may have passed as random oratory in years gone by, has now come to transfix the nation.
In this turbocharged atmosphere, questions have been raised over the significance of student politics, its scope, its impact on the academic life of a student and the funding of institutions like JNU with public money.
So, what is the real political atmosphere within JNU? Going beyond the headlines what are students saying? To start with, there are six significant student organisations that are both popular and big in terms of membership. They owe their allegiance to political parties like the CPI, CPI(M), CPI(ML), the Congress and BJP. Leftist unions dominate the campus.
Kanhaiya Kumar is a member of the All India Students Federation (AISF) which is aligned with the CPI. Anirban Bhattacharya and Umar Khalid were members of the now defunct Democratic Students Union (DSU), ardently left in orientation.
There are also fringe groups and committees based on various issues and ideologies, for example, The New Materialists' group and the Gender Sensitisation Committee Against Sexual Harassment (GSCASH).
There are four members in the JNU Students' Union (JNUSU) — president, vice-president, general secretary and joint secretary. Apart from these main posts, councillors hailing from different student organisations are elected to represent each of the academic centres and schools of JNU.
Let's begin with the All India Students' Association (AISA). According to its website, it is a revolutionary students' movement with a firm presence on campuses throughout the country and has a vision of 'a new India and a new world'.
AISA national president and ex-JNUSU president Sucheta De explains, "AISA is a left student organisation, formed in 1991 when right-wing forces in the name of the Ram Mandir were dividing society. We organise students to democratise Indian campuses as well as Indian society."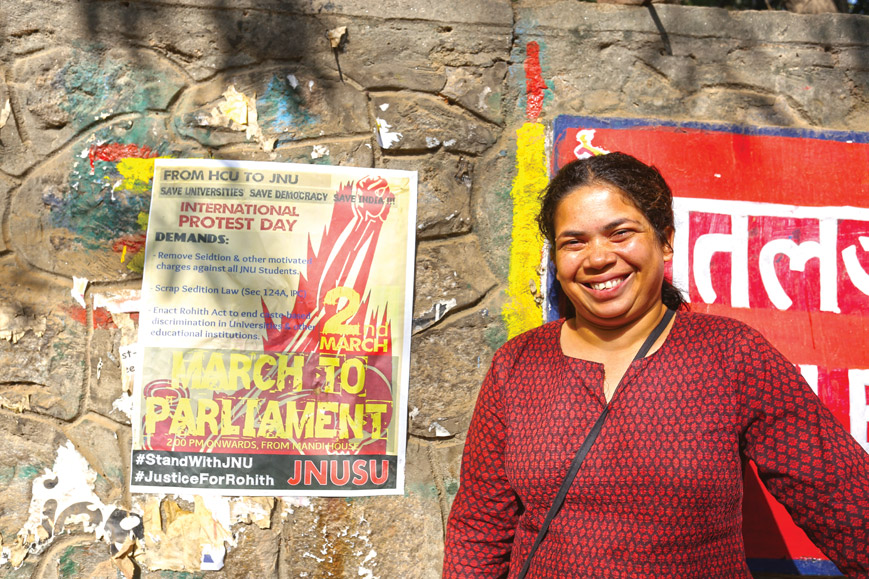 De, 32, belongs to a middle-class family from West Bengal. She joined AISA in 2005. "I chose AISA over all other left groups because they believe that the structural exploitation of people needs to be challenged through organised forms of resistance by the Indian working class, poor and marginalised communities," says De. "We draw our ideals from peasant movements across India."
In terms of strength in numbers, AISA is the biggest union in JNU. However, in terms of popularity among left-leaning students, the Students Federation of India (SFI), Democratic Students Federation of India (DSF) and All-India Students Federation (AISF) are strong contenders.
V. Lenin Kumar, organising committee convener of DSF and president of the Jawaharlal Nehru Students' Union (JNUSU), reveals he has been involved in student politics for over 15 years.
"DSF is a student organisation that we started in July 2012. We broke off from the SFI because of their intense ties with a national political party. I firmly believe that students movements should involve solely students. In the recent past, student movements stagnated for multiple reasons. Students were being pressured and directed by the big political parties over what to do and what not, what is good for students and what is not," says the 28-year-old Lenin, who comes from a lower-middle class family in Chennai.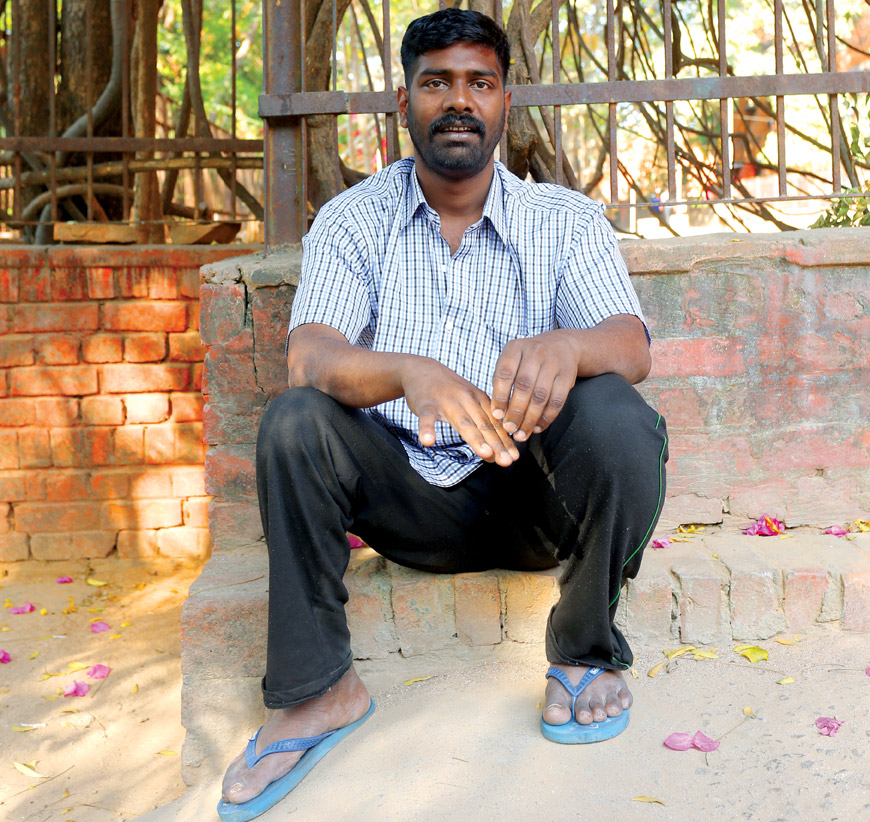 A student movement should be about the students and not the party, Lenin asserts. As the JNUSU president, Lenin organised the JNU protest against the Nirbhaya rape. He reiterates that although student organisations have often become puppets in the hands of national parties, not all hope is lost.
"Now, starting with the Film and Television Institute of India (FTII), the movement is finally becoming one coalition, one student body All universities are uniting in their fight, not led by any political party, and that is how student movements are supposed to be," he says.
Young and vibrant, Aparajitha Raja, daughter of CPI leaders D. Raja and Annie Raja, says growing up amid leftist literature and discussions she chose left politics by default. She is active in the AISF.
"Our organisation has also picked up issues like a common education system, fund cuts in education, saffronisation of education and how it's related to communalism. So this is not just about politics out there, it very much affects our everyday life and how you perceive and read things," says Aparajitha, who firmly believes that political activism sharpens one's academic life instead of deadening it.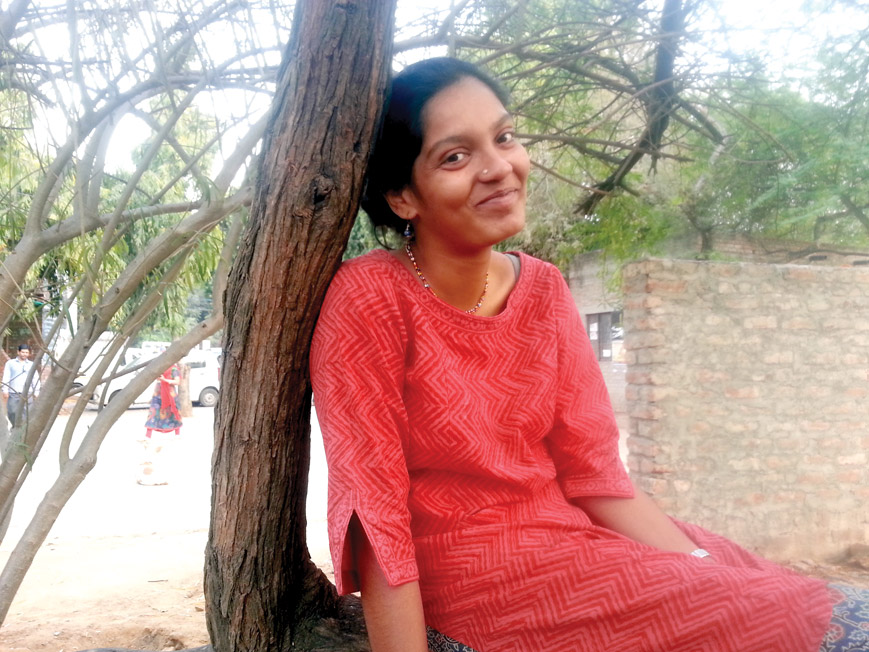 Aparajitha's view is echoed by students on the JNU campus who see political awareness adding to their academic learning.
"In JNU we gain knowledge not just by attending classes. We read pamphlets, attend public meetings and debates. Our activism enriches and shapes our academic opinion on issues. Getting involved in political activism always enriches your world view and academic knowledge," points out Lenin.
The Students Federation of India (SFI) was founded in 1970 and is affiliated to the CPI(M). Last year it claimed it had 4.3 million members among school and university students throughout India.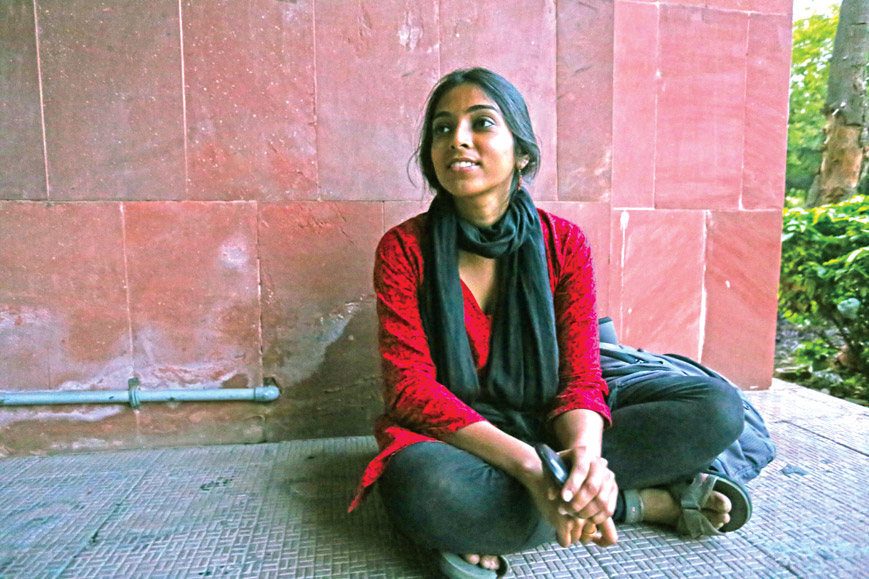 Shatarupa Chakravarti, SFI leader and JNUSU councillor from the Social Studies School (SSS), explains, "In JNU, political activism helps students realise their role in society in a much larger sense. Students from JNU don't just graduate, find a job and settle down. They actively take part in the struggles of the marginalised and discriminated-against communities. Our leader, Vijoo Krishnan, ex-JNUSU president, is now leading the All-India Kisan Sabha, which is majorly struggling for the rights of farmers in our country."
Questions have also been raised on whether JNU has become a left hegemonic space, where students are burdened with left diktats and pressured into activism.
Vijay Kumar, councillor from the School of International Studies (SIS), belongs to the Akhil Bhartiya Vidyarthi Parishad (ABVP). He says ABVP supporters are discriminated against in an atmosphere where leftist groups prevail.
"This year two out of five ABVP candidates from the School of Languages were flunked. We are the ones actually being witch-hunted within this campus. In the shadow of fear and aggression we study here. In fear we carry out our activism on this campus," says Kumar.
The ABVP is affiliated to the Rashtriya Swayamsevak Sangh (RSS). Balraj Madhok took the initiative to found the ABVP in 1948 to counter communist influences on university campuses. It has been working on the JNU campus since 1989-90.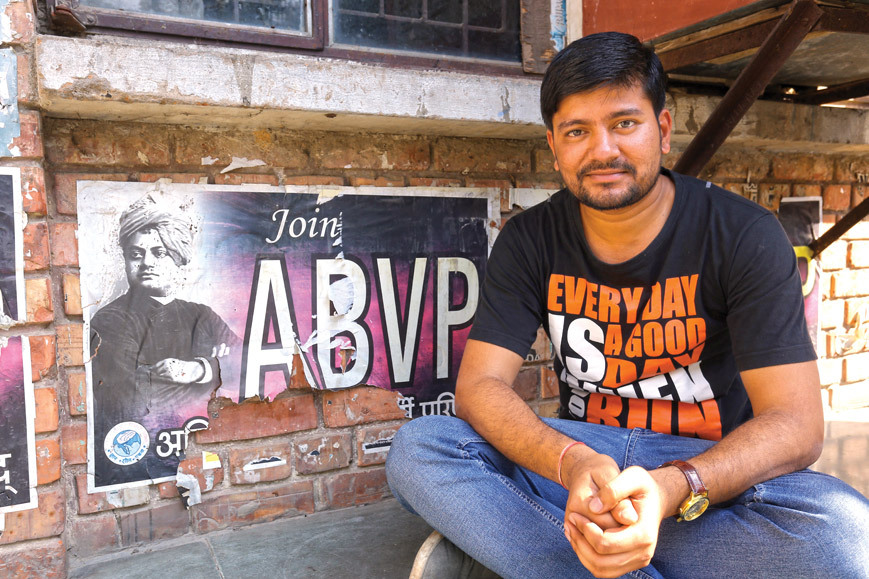 "Last year we received around 1,000 votes and even won a seat in JNUSU. Throughout India, about 10,000 people have left their parties and joined us in the last year. Nobody is talking about that," says the 27-year-old Kumar who comes from a lower middle-class family in Muzaffarpur, Bihar.
Another councillor from SIS, Arnab Chakravarti, 26, says he "may disagree in principle with ABVP on many issues, but I am shocked that if anything happens on this campus they blame the ABVP. The moment I say that I don't support anti-national slogans they label me as being from the ABVP and keep forcing the label on all my discourses. Even if we sneeze it is painted as a communal thing."
Interestingly, Arnab quit ABVP some years ago due to differences of opinion. But he is concerned about Leftist dominance.
"I would definitely say that witch-hunting happens within this campus and it happens with the nationalists and the right-wing people, not the left-wing ones," says Arnab. "Unfortunately, this campus has become their bastion and they are treating it like their personal propaganda space."
The National Students Union of India (NSUI), formed in 1971 as the student wing of the Indian National Congress, has become almost non-existent in JNU.
Vipin Yadav, NSUI national coordinator and former general secretary of the JNU unit, says, "The basic ideology of the NSUI is to mould future leaders for the nation and to organise students to realise the objectives of the Indian National Congress."
All these student groups state that they raise their funds on campus. They hold a membership drive every year, through which they propagate their agenda and raise funds for their activities.
"NSUI has a membership drive every year in which an individual applies for new membership by paying `10. It is renewable each year for `10. The membership fee is our main source of funds," says Yadav, who belongs to a Dalit community in south Rajasthan.
Shatarupa adds that students are usually interested in donating funds because most of the issues picked up are student-related. For example, if there is a seminar on the hostel crisis, students readily donate funds. "Similarly, we hold public meetings, gatherings, discussions where we debate various issues and consolidate support over injustices," she says.
JNU is known to have a long list of alumni who now occupy important political and bureaucratic positions. And though it is a much debated aspect, most students in JNU feel that student politics shapes the political backbone of a country.
The question is how much distance should there be between student unions and political parties. Lenin believes it is essential and hopes that the trend of students uniting on issues that concern the student community primarily will continue to grow.