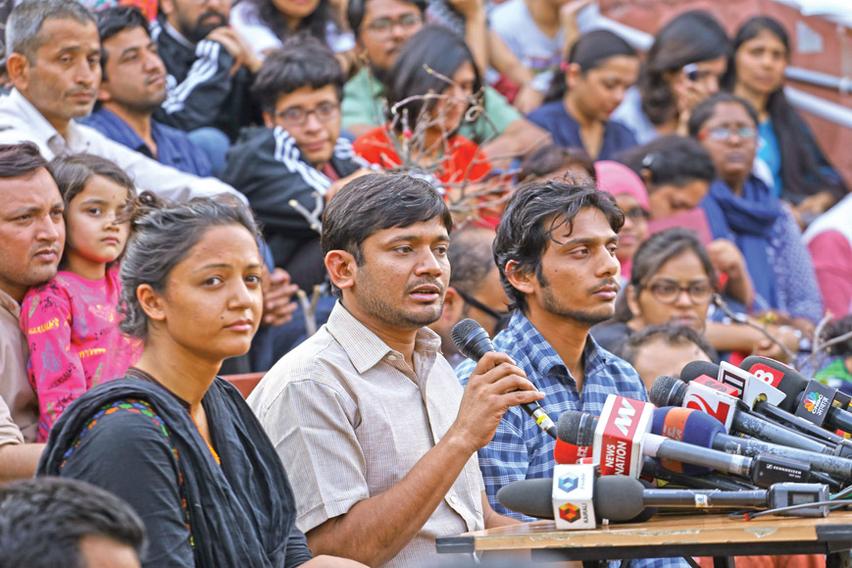 Dissent, politics and campus karma at JNU
Abida Khan, New Delhi
Published: Apr. 01, 2016
Updated: Dec. 23, 2016
Student politics has always been a seasonal story about who has won which union election and stuff like that. But in recent times campus life has been in the spotlight like never before. With the arrests at the Jawaharlal Nehru University (JNU) names like Kanhaiya, Anirban and Umar have made it to prime time. What may have passed as random oratory in years gone by, has now come to transfix the nation.
In this turbocharged atmosphere, questions have been raised over the significance of student politics, its scope, its impact on the academic life of a student and the funding of institutions like JNU with public money.
So, what is the real political atmosphere within JNU? Going beyond the headlines what are students saying? To start with, there are six significant student organisations that are both popular and big in terms of membership. They owe their allegiance to political parties like the CPI, CPI(M), CPI(ML), the Congress and BJP. Leftist unions dominate the campus.
Kanhaiya Kumar is a member of the All India Students Federation (AISF) which is aligned with the CPI. Anirban Bhattacharya and Umar Khalid were members of the now defunct Democratic Students Union (DSU), ardently left in orientation.
There are also fringe groups and committees based on various issues and ideologies, for example, The New Materialists' group and the Gender Sensitisation Committee Against Sexual Harassment (GSCASH).
There are four members in the JNU Students' Union (JNUSU) — president, vice-president, general secretary and joint secretary. Apart from these main posts, councillors hailing from different student organisations are elected to represent each of the academic centres and schools of JNU.
Let's begin with the All India Students' Association (AISA). According to its website, it is a revolutionary students' movement with a firm presence on campuses throughout the country and ...