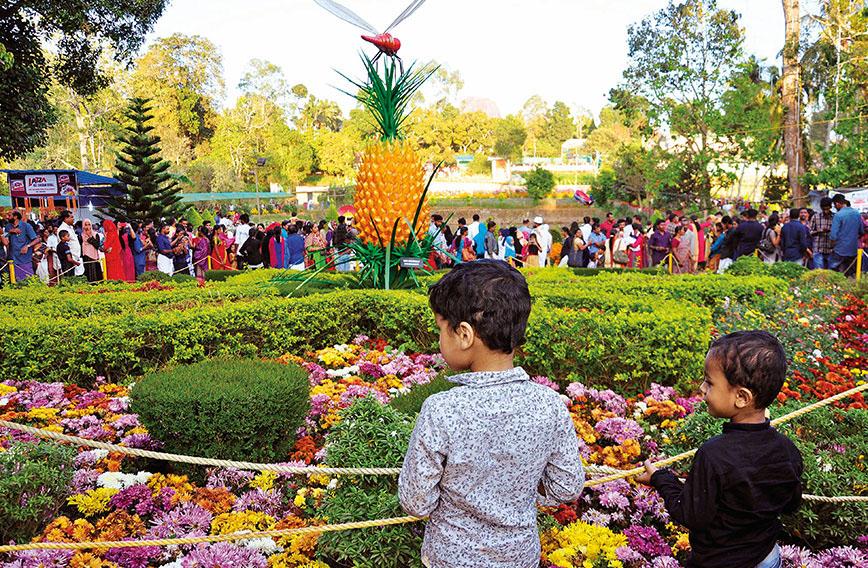 Wayanad's flower fest stretches across 12 acres and attracts local and international visitors
Wayanad has a flowers and a popular festival too! ?
Shree Padre, Ambalavayal
Published: Mar. 27, 2018
Updated: Mar. 30, 2018
A profusion of flowers might just change the destiny of Wayanad, Kerala's most backward district, infamous for drought and farmer suicides.
Thanks to an amazing flower festival taking place here for five consecutive years, the district is likely to emerge as a hub for floriculture.
This year, the flower festival, a cornucopia of colour across 12 acres, was held from 1 to 18 January. It attracted an estimated 500,000 visitors across Kerala and has the potential to become an international event.
Locally called Pooppoli, the festival is organised by the Kerala Agriculture University's (KAU) Regional Agriculture Research Station (RARS) at Ambalavayal.
"The Pooppoli is emerging as the best flower show in the country," said Dr M. Aravindakshan, former Director of Research, KAU, and Ex-Director of the Coconut Development Board.
"The Ooty flower show is confined to roses and cut flowers though it has picturesque botanical gardens in the background. In Bengaluru, the flower show is held in a very small place called a glasshouse," says Dr Aravindakshan. "But here in Wayanad, the festival takes place on 12 sprawling acres with a profusion of flowers, water ponds and amusement options. There are gladioli, aster, chrysanthemum, gerbera, dahlia and about 1,000 varieties of orchids you won't find in flower festivals anywhere else in the country."
One acre was devoted to gladioli alone. Entire families turned up and took selfies with marigolds, dahlias and succulents. Children took boat rides in ponds. The landscape was dotted with installations — Kathakali dancers, frogs, butterflies, giraffes and a giant pineapple. They were all put up by local artists.
With an entry fee of Rs 20 and 50 percent concession for students, this year's revenue from entry tickets alone was Rs 94,27,890. The total income came to Rs 1,75,03,246 with revenue from rent on stalls, pay-and-use toilets, amusement park events, sale of processed food and so on.
"We have shown that a public sector organisation can hold an event of this magnitude. Wayanad is considered backward but it is in the hands of the community to change its fate," explained Dr P. Rajendran, Assistant Director of Research, RARS, and the dynamic person behind this festival of flowers.
Every year, the Wayanad Pooppoli comes up with a surprising new addition. This year it was an exhibition of some 400 exotic fruit plants. The festival also featured a seminar, a dog show and a musical night.
"Dr Rajendran has achieved all this, despite shortages. He has no manpower, only woman power," joked Dr Aravindakshan. The reality is that most scientists aren't willing to work in so-called distant and backward areas like Wayanad and Kasaragod. Out of 15 posts of scientists in RARS, only one has been filled — by Dr Rajendran.
"Seven temporary posts have been sanctioned. We use the services of staff who are hired under externally funded projects," said Dr Rajendran.
The tiny state of Kerala doesn't have any annual flower show of this scale. The Agri-Horticultural Society at Kannur has been holding an annual flower show since decades. But most of the flowers it displays are brought from outside. The Wayanad flower festival has flowers grown in Wayanad.
Just five years ago, the exhibition grounds of the flower festival were a wild forest. "In the evening, we needed torches to walk through since there would be snakes crawling amidst the wild plants and trees," recalled Dr Rajendran.
Early in his career, Dr Rajendran had worked in the RARS at Ambalavayal for a year. He remembers that from way back then, funds were always a problem. Casual labourers working on the RARS farm used to get only 14 days of work in a year.
When Dr Rajendran was posted here again in 2013, there was an acute scarcity of water. He started two major initiatives almost simultaneously. First, a series of ponds were dug to catch rainwater. A few of these are low-cost ponds lined with jute gunny bags dipped in cement solution. Today, this farm can boast of having as much as 300 million litres of water in its many ponds.
With permission from his bosses, Dr Rajendran obtained external funds and started neatening the farm and making its fields less of an unruly jungle.
The first flower festival was announced for January 2014. "It was more to bring the idle land into cultivation rather than any other objective," he said.
The university did not specially sanction funds for the festival, but Dr Rajendran got permission to use Rs 25 lakhs of the funds that were available. That's how the first festival, a modest affair, was held on four acres. Stalls were put up under temporary sheds. Yet, the event earned the university Rs 20 lakhs. Year by year, the area for the festival expanded along with the variety of flowers, stalls and sources of revenue.
This year, KAU sanctioned Rs 1 crore for the festival. RARS now has permanent halls to house hundreds of stalls and it has been announced that the festival will be an annual feature.
The festival even drew people from overseas. A team of 300 German visitors attracted as much attention as the flowers. "The festival is an opportunity for local people at Ambalavayal to earn. The community here sees it as an essential event," says Dr Rajendran.
"There was no floriculture in Wayanad. But now the district has been deemed a special zone for floriculture by the Planning Board, after noting the performance of flower crops in the Pooppoli," said Dr C. Narayanan Kutty, a professor at the Agriculture Research Station at Mannuthy in Thrissur.
"The event has instilled confidence in farmers that commercial flower cultivation of gladioli, marigold, chrysanthemum, gerbera and so on is definitely possible."
With rubber prices dipping and faced with recurring drought, Wayanad has been searching for options. People are coming to RARS asking for different plants including gladioli.
Wayanad is now famous for its flower festival. But with Dr Rajendran slated to retire in a year, there is a question mark over whether the spirit in which it is now held will persist.
Contact: RARS Ambalavayal: (04936) 260 421; Email: adramb@kau.in