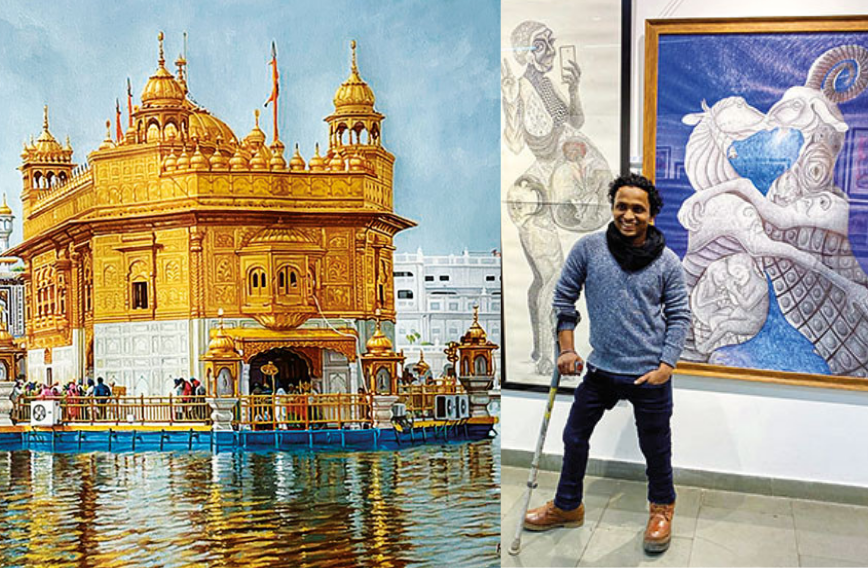 Hardeep Singh Kalsi's painting of the Golden Temple (Left), Niyaz Hussain and his paintings, Selfie and Love Story (Right)
A growing canvas of 'beyond limits' art
Surmayi Khatana, New Delhi
Published: Jan. 21, 2022
Updated: Jan. 21, 2022
IT is a painting of the Golden Temple in Amritsar and it is blessed. There is divinity in its details. Turbans and dupattas reflect in the tank of the Hari Mandir. You could be there with that man performing sewa in the background.
Hardeep Singh Kalsi is the painter. He is from Ludhiana, self-taught and 44-years old. He also has a speech and hearing impairment.
Along with 66 other artists with disabilities like himself, his work was on display at the Arpana Fine Arts Gallery in Delhi in December.
The exhibition was curated by Preeti Johar, CEO of the Family of Disabled (FOD), who has made this annual exhibition an opportunity for artists with disability to interact, display their works and find buyers.
The exhibition is called Beyond Limits and on display this time were over 100 artworks. Some were by seasoned painters while 23 artists exhibited their work for the first time.
Business was good and the exhibition ended with 23 sales of artworks ranging from Rs 4,000 to over Rs 1 lakh.
Along with paintings, there were sculptures in wood, steel, fibre, stone and bronze. Walking through the hall you could see artwork with mixed media, acrylics, oil, ink and even digital art on display.
A series of three miniature paintings depicting Ganesha in contemporary settings caught the attention of visitors and was a crowd-puller.
The paintings, by Ajay Kumar Garg, depict Ganesha travelling in an autorickshaw and sitting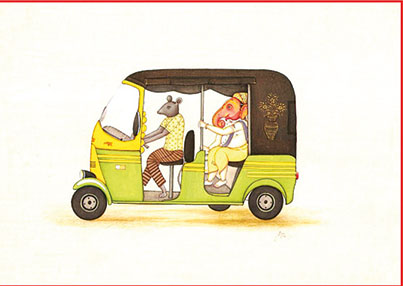 Ganesha in an autorickshaw by Ajay Kumar Garg
on a see-saw. Garg is a 50-year-old artist trained in the tradition of the Royal Court Art of Rajasthan.
He has formal training in miniature paintings. In his work Garg captures the playful attitude of Ganesha. Like Kalsi, Garg too has a speech and hearing impairment.
Family of Disabled is an NGO that works to build the capacities of people with disabilities. It was founded in 1992 by Dr Rajinder Johar, who never let quadriplegia prevent him from helping other people with disabilities.
"Earlier we would write letters to artists and organizations. Now with the internet it is easier for us to reach out to people and for them to reach out to us," says Preeti Johar, his daughter.
Scouting for artists and putting the exhibition together means going to art institutions, speaking with other NGOs, and communicating with networks of people with disabilities. Word of mouth helps too. Artists, who have previously exhibited their work, tell other artists not to miss this opportunity.
The exhibition has been consistently held since its inception in 2001. In 2020, FOD was unable to have an offline exhibition due to the pandemic and held it virtually instead.
"While we were glad to be able to connect online, what was missing were the minute details that you can spot only with the painting right in front of you," says Johar, pointing to Kalsi's painting of the Golden Temple.
Kalsi's touch is brilliant. He likes to paint "rural elegance and everyday joys". His paintings look like photographs from afar. In 'Making a Plait' you can even spot a bit of pickle on a plate.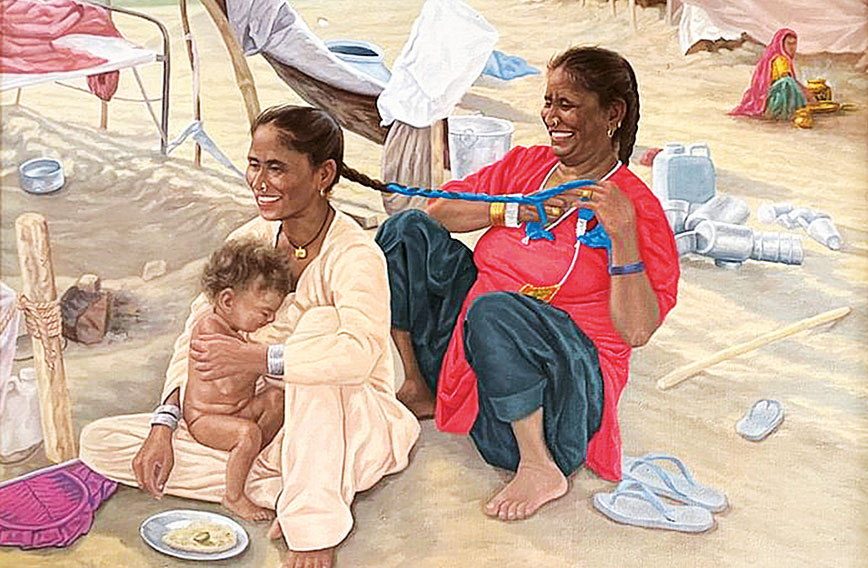 Making a Plait, another painting by Kalsi
Arveen Budh Singh's work on Lord Buddha radiated peace with a green background of leaves in the midst of the hall. The serene painting is acrylic on canvas.
Another striking exhibit was a five-feet-tall artwork in black ink. Niyaz Hussain's 'Selfie', was influenced by his mother. He explained how a mother in a family structure is often busy ensuring that every individual is cared for.
She doesn't give priority to her own needs. 'Selfie' captures a moment of reflection in a mirror. A mother's contribution to shaping her child before and after birth is depicted by the details drawn in her womb and limbs. The being with horns growing in her thigh represents a grown child dismissive of his mother's experiences.
Hussain uses ink on paper as his medium since both are easy to carry around and economical as well. "My budget is pretty important to me. I have a lot of family responsibilities and so ink and paper work well," explains Hussain.
Next to 'Selfie' was Hussain's painting 'Love Story'. He said it was inspired by personal experiences of an inter-religious relationship. Etched in black and white, it had lines and shadows with interesting elements to gaze at.
Hussain had polio in both his lower limbs. He has been associated with FOD for over 11 years. FOD helped sponsor Hussain for a bachelor's degree in fine arts at Jamia Milia Islamia.
He participates in 'Beyond Limits' each year and considers it a space where he can spend time with other artists and their art and feel inspired.