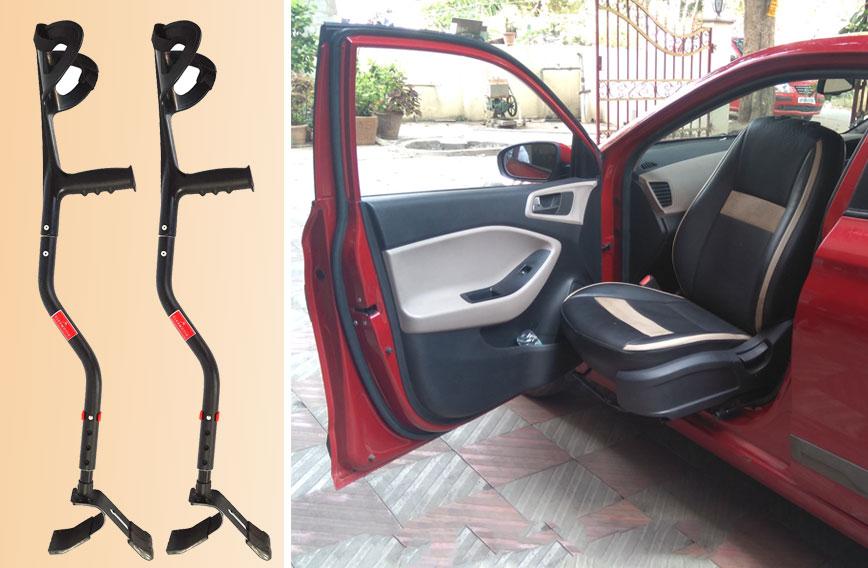 Car seat to crutch and music app for the disabled
Kavita Charanji, New Delhi
Published: Dec. 07, 2020
Updated: Jan. 23, 2022
The world's first self-standing crutches are called Flexmo. TurnPlus is a swivel chair that can be fitted to a car seat so that a disabled person can travel comfortably. NaadSadhana is an app which uses artificial intelligence to create musical experiences for people with disabilities.
These were some of the inventions that won the 11th NCPEDP-Mphasis Universal Design Awards 2020. People were also honoured for their contribution in improving the lives of people with disability.
"Without accessibility all our fundamental rights remain inaccessible. As the pandemic has shown, access to information for everyone with or without disability is particularly important," said Arman Ali, executive director of the National Centre for Promotion of Employment for Disabled People (NCPEDP).
Mphasis, an applied technology company, has been associated with the awards over the years. Explained Srikanth Karra, chief human resources officer: "We extend our support to inclusion and innovation. The most important thing for us is the structural change brought about by policy-level advocacy."
Shakuntala Doley Gamlin, secretary, Department of Empowerment of Persons with Disabilities, Ministry of Social Justice & Empowerment, was the chief guest. She said it wasn't easy to implement universal access in the built environment, information technology and public transport. "But without accessibility, inclusivity cannot become a reality."
The winners of the NCPEDP-Mphasis Universal Design Awards are a great example of inclusivity. Here is the list of winners:
PERSONS WITH DISABILITIES
Ravinder Rambhan Singh, who has a locomotor disability, is the founder of MyUDAAN. His organization has developed V Go, a wheelchair that converts a manual wheelchair into an inexpensive, easy-to-use motorized wheelchair.
Raghavendra Satish Peri, who is visually impaired, is a digital accessibility buff. He is the founder of Hello A11y, a community of accessibility professionals, developers and enthusiasts building an eco-system for people with disabilities on the internet.
Dr Vikrant Sirohi, paralyzed in the right leg due to polio, is senior medical health officer at the Roorkee Municipal Corporation (RMC) and medical superintendent, Community Health Centre (CHC), Bhagwanpur, Roorkee. He ensured the CHC fulfilled all National Health Mission objectives. Proactive during the pandemic, he set up a separate isolation ward at his CHC even before the COVID lockdown. He was honoured as a Corona Yoddha (warrior) by the RMC.
SPECIAL RECOGNITION BY JURY
Ketan Kapoor B. is a Disability & Inclusion (HR) Consultant at Siemens India and an activist. He is categorized as a person with 100 percent disability with a medical condition from birth known as Osteogenesis Imperfecta (OI) type III. Last year in the Pimpri Chinchwad Municipal Corporation area, Kapoor did pro bono career counselling with the Skill Council for Persons with Disabilities (SCPwD) for underprivileged disabled people seeking jobs at a jobs camp.
Pratishtha Deveshwar hasn't lost her spirit despite an accident that left her paralyzed chest down nine years ago. A graduate from LSR College in Delhi, she is doing a master's in public policy from Oxford University. As president of the Equal Opportunity Cell of LSR, she conducted access audits, got ramps built, provided accessible reading material to visually impaired students, organized mobility workshops and events designed to be accessible to all students.
WORKING PROFESSIONALS
Sandeep D. Ranade is the founder of NaadSadhana, an iOS app that uses artificial intelligence to create melodies with many instruments. People with disability can use it to practise, perform and publish amazing music.
Anupam Kumar Garg, a software engineer from IIT Kanpur, left his job to promote maths and science learning among the visually impaired. He has developed a patented GEOMKIT that helps them construct 'embossed' geometrical patterns.
Adarsh Hasija, a computer engineer, has developed an app, Suno-Be My Ears, for iPhones for the hearing impaired. In 2020 he released a new version of Suno that aids people with visual disabilities.
Naveen Kumar M. is the creator of the first light-weight multi-purpose wheelchair with sitting, standing, sleeping and stair-climbing features. He has also developed a spring-assisted crutch that is easier to use than a conventional crutch.
SPECIAL JURY AWARD
Dr Srinivas Puppala works for the government of Telangana as deputy transport commissioner. He has trained 40 people with hearing disabilities to clear theory and practical driving tests. He also taught them to overcome hearing loss during driving. This remarkable initiative is being replicated across the country.
SPECIAL RECOGNITION BY JURY
Aakanksha Sharma and Bharath Surendra are students at the National Institute of Design (NID) in Ahmedabad. They have developed Typo, a literacy tool for children with cerebral palsy. Typo enables young ones to learn and write English and improves their sensory-motor skills.
Astha Ashesh Avinash is a student at NID. She has designed Loopers, a toy for partially visually impaired children with additional disabilities like cerebral palsy, autism and low cognitive abilities.
COMPANIES/ORGANIZATIONS
Flexmotiv Technologies has created the world's first self-standing crutches, brand-named Flexmo, which improves mobility. The crutch is slip-resistant and pain-free. It has ergonomically-designed grips which provide a natural wrist angle and distribute load across the palm. The crutch can help a person navigate wet surfaces, snow, rocks and mud.
Kidaura Innovation's Screenplay is a digital game-based screening tool that helps identify children with mild autism who are misdiagnosed or not identified. Screenplay reduces the identification assessment process. Schools usually take one year.
Tactopus Learning Solutions promotes a diverse, inclusive learning culture and social integration. It has a range of multi-sensory learning products for children aged three onwards, especially designed to include children with disabilities.
TurnPlus Consulting Services has invented an award-winning, cross-disability swivel seat mechanism for car passenger seats. The easy to instal swivel seat can be used for people with osteoarthritis, paralytic stroke, pregnant women, the aged and wheelchair users.
JAVED ABIDI PUBLIC POLICY AWARDS
Karpagam M. is the first visually challenged woman lawyer-activist in Tamil Nadu. She has filed PILs and fought for the right of the disabled to access 38,000 temples in Tamil Nadu. She is the CEO of VVIP (Voice for Voiceless Indian People Foundation), that has helped 10 hearing and speech impaired people find jobs or start their own enterprise. She has filed over 400 RTI applications for assessments and audits on the rights of persons with disability. During the pandemic, she got a government order to rescue intellectually disabled people stranded on pavements. Two hundred such persons were rescued and relocated to government homes by the State Disability Commissioner.
Arun Kumar Singh, who has a locomotor disability, is president of the Jharkhand Viklang Manch. He has filed numerous PILs and got judgments in favour of persons with disabilities for accessible elections, employment and public spaces. He has also helped persons with disabilities find government jobs.
JAVED ABIDI PUBLIC POLICY JURY AWARD
Kausar Jamil Hilaly worked as State Commissioner for Persons with Disabilities (SCPD) in Assam till July 2020. During his tenure he implemented the Rights of Persons with Disabilities Act, 2016, in Assam making a crucial contribution to government efforts.
In the 2019 Assembly elections, he advocated an accessible election for persons with disabilities. He also swung into action during the pandemic by ensuring prompt distribution of rations and medicines for vulnerable persons with disabilities. It was because of his efforts that the Assam State Disaster Management Authority (ASDMA), the National Health Mission and DIPR produced accessible government advisories and other publicity material on COVID-19 for visually and hearing impaired people.