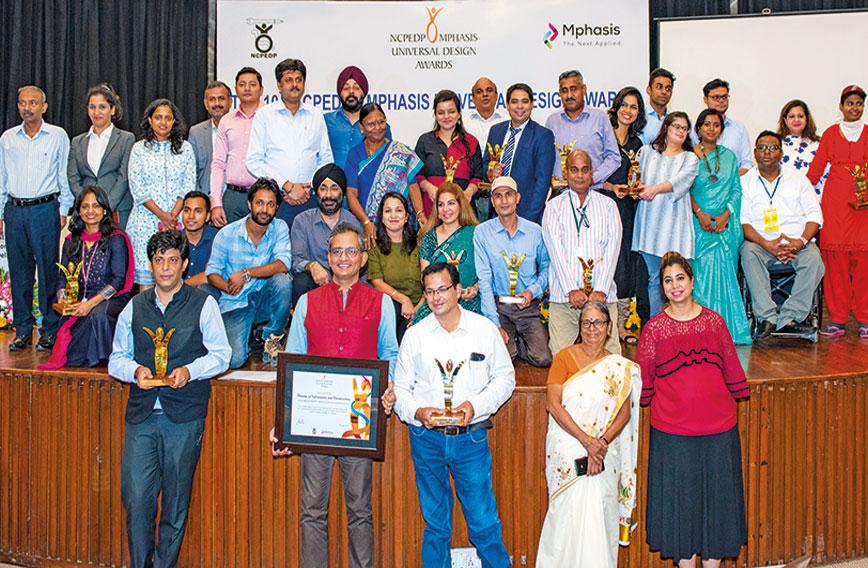 Winners of this year's NCPEDP-Mphasis Universal Design Awards | Photograph by Shrey Guta
Inventions for disability get design awards
Rwit Ghosh, New Delhi
Published: Aug. 29, 2019
Updated: Dec. 07, 2020
The winners of this year's NCPEDP-Mphasis Universal Design Awards created devices or services that were scalable and inventive. Some of them were Aneesh Karma's knee ankle foot orthosis which improves gait, Prashant Gade's inexpensive prosthetic arm, Kunaal Prasaad's app which tells visually impaired people what is happening in a movie and Big Bazaar's quest to make shopping more disability-friendly.
At the award ceremony held on August 14, Arman Ali, executive director of the NCPEDP (National Centre for Promotion of Employment for Disabled People), underlined the importance of access for all. He praised the efforts of the awardees. Ali was especially appreciative of the Union Ministry of Information and Broadcasting.
"We would like to appreciate the ministry for playing a proactive role on accessibility and setting an example for other ministries to follow. It's high time people acknowledge that persons with disabilities are not secondary citizens. We have every right to seamless access to all kinds of information," said Ali.
The awards were given in the following categories:
PERSONS WITH DISABILITIES
Aneesh Karma and his wife were both diagnosed with polio and required low-cost drop-lock callipers. Unfortunately, the callipers were uncomfortable and restricted mobility as they didn't allow them to ride cycles, climb stairs or board vehicles. Aneesh designed a knee ankle foot orthosis that improves gait for people with knee-extensor weakness and allows people with weak knees to walk, run, climb stairs and ride a bicycle.
Nekram Upadhyay established the first Department of Assistive Technology at the Indian Spinal Injuries Centre in 2006. He currently heads the department.
Upadhyay has been providing assistive technology services to people with disabilities to ensure that they can live as independently as possible.
Rajesh Sharad Ketkar is hearing impaired and has post-polio paralysis in both limbs. He is a computer science graduate who has taught English and digital literacy to deaf youngsters through Indian Sign Language (ISL). He plans to launch a Gujarati and ISL dictionary online and booklets on deafness with QR codes ensuring linguistic accessibility for deaf persons.
WORKING PROFESSIONALS
Rajni Kant Singh, a physiotherapist for over 25 years, has developed innovative appliances for people affected by leprosy, elephantiasis, podoconiosis and diabetes. When micro cellular rubber footwear was introduced it did not fit those affected by leprosy. Singh introduced the 'Mobile Foot Care Unit' which provides protective footwear close to a patient's home.
Prashant Gade, a young entrepreneur, has invented an inexpensive prosthetic arm after three years of experimenting. It is being used by around 1,000 people. When Gade realised that 85 percent of people without an arm couldn't afford a prosthetic one, he quit his job to create it.
Kunaal Prasaad and Dipti Prasaad invented XL Cinema, an application with a feature called 'AD Movies' which provides an audio description to the visually impaired of what they are watching. They have made their own proprietary glasses that have a non-intrusive system which shows or removes subtitles from screens.
Ankita Gulati is the founder of TouchVision, a social enterprise incubated at IIT Delhi, which designs and develops inclusive learning resources for visually impaired people. Their flagship product, the TouchVision multisensory kit, narrates the content in a picture when a visually impaired person touches it.
Gulati has received a National Award from the president of India for her work.
COMPANIES/ORGANISATIONS
SM Learning Skills Academy for Special Needs has developed CogniAble — an online platform for non-experts to detect autism and ensure affordable behavioural intervention for autism and other neuro-developmental disorders.
People can simply upload a video using the internet. The video is analysed by the academy's proprietary algorithms to make autism screening predictions. An 'intervention service' is also available for parents and schools.
The National Institute of Open Schooling (NIOS) has developed videos in sign language in six subjects at the secondary school level. The open school has 150 videos on English, Hindi, Social Science, Home Science, Painting, Yoga and Data Entry Operations. They plan to develop more videos for the remaining subjects for senior secondary. An ISL dictionary is also available on their website.
Big Bazaar has introduced accessible trial rooms and washrooms. Through their programme, codenamed 'Sab ke Liye', the superstore chain has sensitised their staff to the needs of shoppers with disabilities. They provide shopping assistance, priority queuing and home delivery. Big Bazaar has also conducted India's first Quiet Hour for people with autism across 23 stores.
Robert Bosch Engineering & Business Solutions has designed a Multi-Point Audio Switch (MPAS), an audio device for managing computers, mobiles and desk phones. One of the challenges that persons with visual impairment face to be effective in their jobs is to manage the screen reader when they are on a phone call. MPAS provides a hands-free headset switch that helps you to interact on the phone and manage a screen reader at the same time.
The company is designing a smart headband for the visually disabled which can detect obstacles using feedback from bone conductors (devices which bypass your eardrums).
BleeTech Innovations, founded by Janhavi Joshi and Nupura Kirloskar, has created a wearable band which connects to the user's smartphone and converts sound signals to vibrations and visual notifications. Last year, they launched BleeTV — a digital platform which provides access to information and learning-based content in ISL.
JAVED ABIDI PUBLIC POLICY AWARD
Smitha Santhakumari Sadasivan, a disability rights activist with multiple sclerosis, worked as a consultant with the Election Commission to ensure that persons with disabilities could cast their votes in the general election. She has collaborated with Delhi's Public Works Department to ensure infrastructure is made accessible. Sadasivan also made sure that the UGC provided a Braille question paper to NET candidates who were hearing or visually impaired.
JURY AWARD
The Union Ministry of Information and Broadcasting has been one of the first ministries to make sure television is accessible to persons with hearing disabilities using sign language and closed captioning.
The Rights of Persons with Disabilities Act, 2016 directs governments to take steps to ensure that all content available in audio, print and electronic media is accessible by providing audio description, sign language interpretation and closed captioning.
The Ministry has already added deaf commentators. They were broadcasting live on Doordarshan TV during the quarter-final and semi-final matches that India played in this year's cricket World Cup.