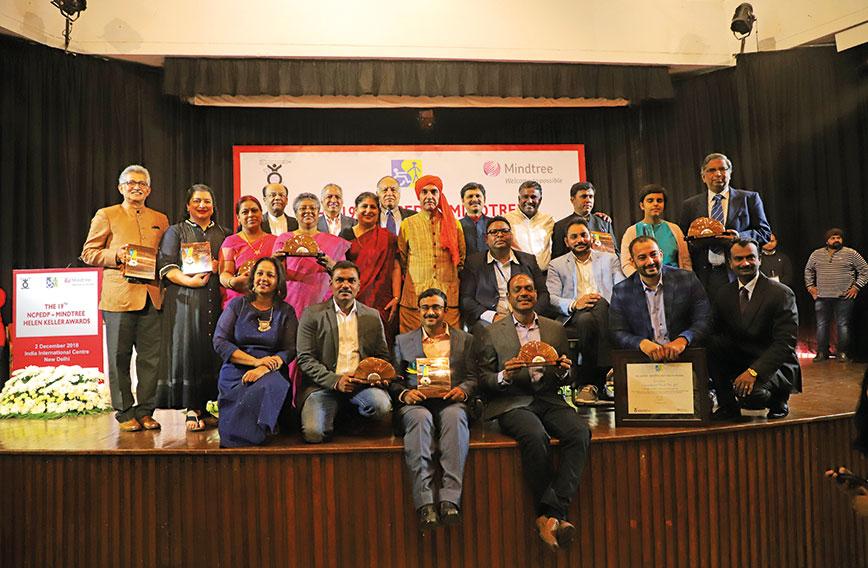 Able disabled: Awards for innovators, role models
Rwit Ghosh, New Delhi
Published: Jan. 15, 2019
Updated: Jan. 23, 2022
It is all of 19 years but the NCPEDP-Mindtree Helen Keller Awards of 2018 haven't lost any of their freshness in highlighting the work of individuals, companies and institutions that improve the lives of people with disabilities.
The annual ceremony is always full of enthusiasm and positive energy. This year was no different though it was tinged with sadness being the first after the passing of Javed Abidi, founder of the National Centre for Promotion of Employment for Disabled People (NCPEDP).
The chief guest this year was Dr Satyapal Singh, Union minister for human resource development (HRD). He said just one percent of people with disability get to go to school. The Rights of Persons with Disabilities Act, 2016, reserves four percent of seats in higher education institutes for persons with disability. The central government has gone a notch higher and is providing five percent reservation for the disabled in higher education institutes like the IITs and IIMs.
Arman Ali, executive director of NCPEDP, welcomed the move. "If we provide equal opportunities and reasonable accommodation, all jobs are suitable for persons with disabilities," he said. "Yes, it is true that everybody can't do everything. But we know of autistic persons involved in software testing. Understanding the heights of achievement that persons with disabilities can reach requires a mindset change."
"It was refreshing to see a lot of new nominations come from the retail and hospitality sector. We also need to see how the NCPEDP-Mindtree Awards can reach rural areas and recognise entrepreneurs in districts and villages who promote employment of people with disabilities," added Ali.
There is also lack of data on the number of persons with disabilities. Census 2021 would be crucial in filling this gap. Ali was appreciative of the IT sector's contribution in employing people with disabilities. Currently, about one percent of staff in the IT sector are people with disabilities. This is higher than other sectors in India. He urged NASSCOM to innovate affordable technology for those with various disabilities. "With a little innovation every phone can become a hearing aid," he said.
This year, the awards were announced under three different categories.
Role Model/Persons with Disabilities
Dawinder Singh became bedridden at the age of 23 after a spinal cord injury. In 2002, he underwent rehabilitation. Fifteen years later, Dawinder has become a successful entrepreneur and developed an e-commerce platform for exporting gemstones across the world. He has also started the Spinal Cord Injury Association to identify people with spinal cord injuries and provide them wheelchairs along with counselling support.
Moses Chowdari Gorrepati is a Programme Manager (Training and Solutions) at EnAble India in Bengaluru. Along with his team, he builds ecosystems for digital literacy and livelihood options for persons with visual disabilities across India. Through a peer sensitisation module, he has successfully mainstreamed the employment of people with visual disabilities.
Naveen Ravindranath developed poor vision at the age of 10. He also has a hearing disability. Ravindranath has been a part of Dell-EMC's Issue Retrieval Cell in Bengaluru for the past two years. Well-known for his quick turnaround time, Ravindranath uses the company's in-house software portal and external applications to keep the company's IT assets up to date.
Tiffany Brar founded the Jyothirgamaya Foundation which trains visually disabled people in rural areas in skills so that they can get jobs. It also offers residential training courses to visually handicapped people. The foundation ensures jobs, integration and assimilation into mainstream society. Brar is visually impaired herself.
Role Models for increasing employment opportunities
Aradhana Lal leads Lemon Tree Hotel's Brand and Communications departments as well as its Sustainability Initiatives. Lemon Tree employs over 500 employees with disabilities. Lal co-leads recruitment of persons with disabilities and new initiatives in the disability space.
B.S. Nagesh is the founder-chairman of Retailer's Association of India, and the founder of the Trust for Retailers and Retail Associates of India (TRRAIN). Through TRRAIN's Pankh programme, he has created employment avenues for persons with disabilities in the retail sector.
Yajuvendra Anil Mahajan is founder of the Deepstambh Foundation in Jalgaon, a centre for tutoring students for competitive exams. He has trained 541 students with disabilities and of these, 42 have qualified in different competitive exams for jobs in banks, the railways, UPSC and SSC.
Role Model Companies / NGOs / Institutions
Dr Reddy's Foundation works with young people, children, women and people with disabilities across 20 states in India. The foundation's GROW PwD programme focuses on youth with orthopaedic disability and speech or hearing impairment and provides them skills to get employment. Skilling centres have accessible infrastructure and trained professionals including sign language experts.
Squaremeal Foods, headed by Raja Shekhar Reddy and Shishir Gorle, has a restaurant called Mirchi & Mime in Mumbai which employs persons with speech and hearing disabilities. Diners communicate through hand gestures. The menu has colourful pictures and diners order by pointing to the food item they want.
The Leprosy Mission Trust India works with people affected by leprosy. Through their vast set of programmes in 14 hospitals, two clinics, six vocational training centres and five residential care homes for the elderly they have helped young boys and girls affected by leprosy or coming from leprosy-affected families, to develop skills and find employment.
Trent Hypermarket is part of the Tata Group. They aim to be role models in the retail industry by not only providing employment to persons with disabilities but also developing training modules to address the needs of their disabled employees in order to help them perform their duties independently.
WORTH Trust focuses on providing employment to people with hearing, orthopaedic and intellectual disabilities and those affected by leprosy. They manufacture Braille kits, wheelchairs, walkers, crutches. WORTH Trust is also the world's sole assemblers of the renowned Perkins Braillers, a typewriter for those with disability.