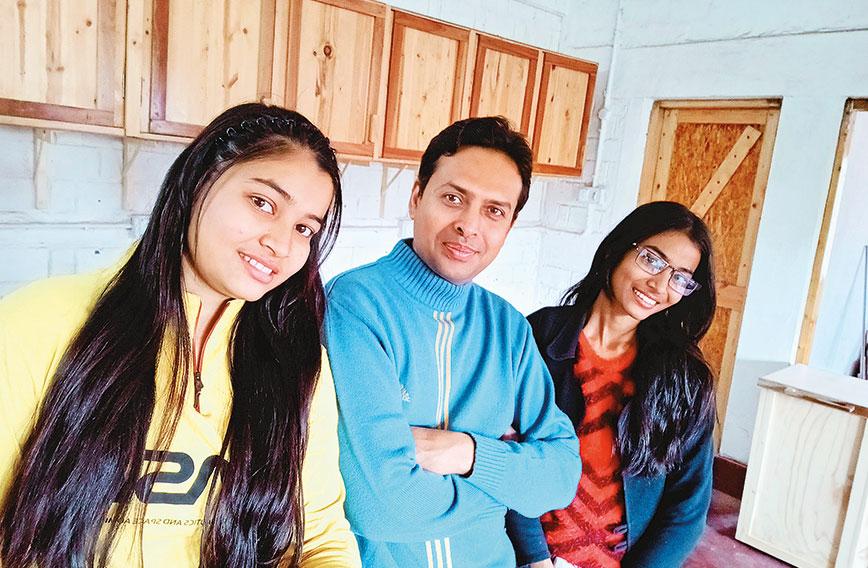 The Neev Woodworks team: Anurag Jain with Anjali and Tanupriya at their workshop
'Wood is divine, I like being a craftsman'
Civil Society News, Gurugram
Published: Apr. 19, 2022
Updated: Apr. 19, 2022
A tree lives on as wood in the hands of a skilled craftsman, becoming a thing of beauty and a joy forever. Ask Anurag Jain, who makes minimalist furniture from recycled pine. Woodwork is worship for him.
"You know, from cradle to grave we use wood. It's intrinsic to our lives and so sustainable. Is there anything you can't make with wood?" muses Jain. Sitting in his 15 feet by 18 feet workshop, he has a line of neatly made wooden cabinets visible behind him.
Jain, 47, is well-known as the founder of Neev Herbal Handmade Soaps, a social enterprise which he started with ex-wife Shikha in Hurlung village in East Singhbum district near Jamshedpur in 2007. The business did remarkably well and won several awards for the purity and gentleness of its soaps. It succeeded in commercial terms, too, reaching a turnover of `2 crore.
"That is a pretty good turnover considering the business is run from a village," says Jain.
Post his divorce, Neev Soaps is run by his ex-wife. Jain realized he'd have to think of an alternative livelihood. An admirer and follower of J.D. Krishnamurti, Jain was teaching Advaita Vedanta at Neev Trust's Centre for Self-Inquiry. But the centre was short of funds and needed an income-generating activity.
So, in October last year, Jain registered a small business — Neev Woodworks which is also located in Hurlung village.
"I like working with wood. I was always fascinated by its qualities and versatility, the amazing variety of wood available, its grains, its behaviour," says Jain, clearly passionate about his new vocation.
Jain is a self-taught wood worker. Circumstances were such. Every time he'd call a carpenter to repair something at home, the man would either not turn up or do a bad job so he decided to learn how to fix things himself.
After registering and getting his GST number, Jain got a workshop going with the equipment he needed. He hired an enthusiastic intern, 23-year-old Anjali Kumari. Subsequently, her sister, 21-year-old Tanupriya Kumari, joined them. Jain taught the two of them wood work and five months later they are adept carpenters, probably the only female carpenters in all of Jharkhand.
The small team does everything, from buying wood to designing, cutting, pounding, polishing, artwork as well as marketing. As with his handmade soaps, this time, too, Jain is ensuring that his enterprise is green and environmentally sustainable.
"We use mainly recycled pine wood. It's also light in colour so it lends itself to more inventiveness," he says.
The Indian furniture market, segmented into several categories, is still dominated by the informal sector. The pandemic, with its accent on work from home, increased the demand for furniture and décor, as millennials scrambled to set up home offices and smarten their interiors. The demand for furniture is expected to grow at 12 percent annually.
Most furniture available in the market is made of medium-density fibre board, a wood composite made with leftover wood, with veneers. There is also a rise in demand for unsustainable materials like metallic furniture and plastic blends for upholstery.
"It's rare to find solid furniture. If you do, the costs are so high that ordinary people can't afford it. We want to produce items affordable for people at large. Our accent is not on ornamental furniture but on minimalistic designs with modern aesthetics so that the grains of the wood show, a sign of high craftsmanship," says Jain.
He is designing 50 products which can be standardized and sold in the local market. Since courier charges are prohibitive, Jain intends to sell smaller utility items through online stores. "We have started by selling lamps, pen holders, dustpans, side tables, stools and home utility items locally. There is an infinity of small products we can make."
Neev Woodworks will also make customized furniture but only for local clients.
"I love craftsmanship. I am not for mass production," he says.
The designs are inventive. Jain was approached to design a self-watering pot for an enterprise called First Leaf, which grows and sells micro greens in Delhi. After some thought, he came up with a planter with two boxes. A small earthen pot can be placed in the lower box with a jute thread going up to the box above which is filled with soil. The jute thread takes water from the lower box to the upper one. "It looks really pretty when it's filled with micro greens," says Jain. This product is likely to be priced at `500.
There is also an attractive window made wholly of wood which Jain is proud of. "The entire window frame is made with wood. Even the slider isn't made of aluminium but wood," he says. There's also a solid wood door with a smart design redolent of the old doors of the 1960s. A machine for his workshop which would have cost him `1 lakh has been designed by him for `10,000, saving costs.
There is also a jewellery box and coasters painted with contemporary designs by Tanupriya. There are lampshades in pine wood designed such that the bulb radiates a burst of light.
"It's easy to do this work because of the tools we use here. I studied commerce and I was doing my bachelor's in business administration. I wasn't sure what I would do after studying. Should I opt for a bank job? This new business looked more interesting," says Anjali. "I like making utility items and my sister prefers painting and design work." There are storage boxes with wheels, dustpans, tables, chairs — all newly made.
The items are neat, eco-friendly and eye-catching as well. Ironically, Jain never went to design school. He studied civil engineering at the Regional Engineering College in Kurukshetra, worked for L&T, became a social entrepreneur, a teacher and is now a craftsman and entrepreneur, once again.