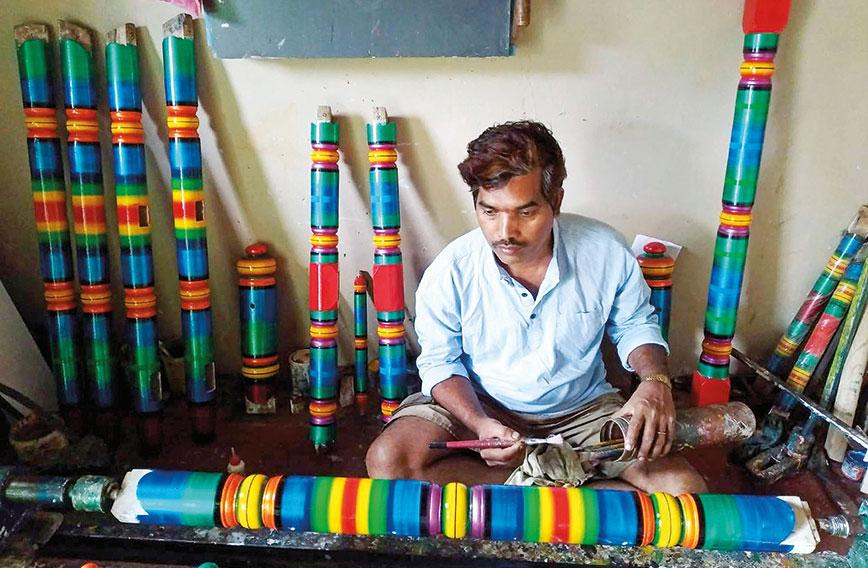 Maruthi Badiger at work. Natural colours and teak wood are used.
Town with a unique cradle
Shree Padre
Published: Aug. 19, 2022
Updated: Oct. 25, 2022
KALAGHATAGI, a small town in Karnataka's Dharwad district, is famous for its beautiful cradles. Made with teak wood and painted in vivid natural colours, the craft dates back several centuries. The town is proud of its cradles and recently its municipal council decided to make the Kalaghatagi cradle its official logo.
"We have taken a decision, but we are yet to make an official announcement," said Y.G. Gaddi Goudar, chief officer of the Kalaghatagi Municipal Council (KMC).
What makes these cradles unique is that they are baby-friendly, attractive and long-lasting. The wood used is high quality teak. The colours are natural and extracted from vegetable dyes. No nails are used. Bright colours and patterns make the cradle an instant attention catcher.
Another attraction is the drawings on the side panels of the cradle. Depending on customer preference, the craftsman draws Krishnavathara, Dashavathara, Rama Panchayath or Shiva Panchayath on the panels. Since the craftsmen are skilled artists, they paint the drawings directly on the wood without any prior sketches.
These cradles are rather expensive. Those with stands are priced at around `75,000. Those which can be hung with ropes from the ceiling cost between `20,000 and `25,000.
Due to lack of demand, the cradle-makers were on the verge of giving up their craft. Fortunately, in recent years, there has been some revival of interest.
Thirty-five years ago, when I visited Kalaghatagi to write a story on these famous cradles, I had met 80-year-old Gangadhar Peeraji Sawakar when I visited his house in Chitragara Oni (Artists' Lane). He was painting an old cradle which, he said, his father, Thammanna Sawakar, had made and sold for just `5, sixty years earlier.
It would take eight to 20 days to make a cradle. But, despite demand, there weren't many families involved in this traditional profession even at that time. "We earn only `100 after a week of work," a cradle-maker said. "The Kalaghatagi cradle is becoming history."
Last month, when I happened to pass by Kalaghatagi, I didn't think I'd see any cradles being made there at all. But locals told me they were still being made though only by one family. They led me to Shridhar Sawakar's house in Chitragara Oni.
Thirty-year-old Shridhar turned out to be Gangadhar Sawakar's nephew. He said his is the sixth generation proficient in the craft.
Shridhar, a graduate, took up his uncle's profession after the latter fell ill. His own father passed away last year. Shridhar is one among just three people continuing this tradition. "It requires one and a half to two months to make a cradle," he says. In the past five years, he must have made about 25 cradles.
Ekamaresh Tandur, an electrical engineer and contractor from Davanagere, got a cradle made for his granddaughter, Athira Tandur, last year. "I had seen a similar cradle in my grandmother's house decades ago. Although some colours had faded, it still looked attractive. At that time, I never dreamed that I would own such a cradle," says Tandur.
He had been told that cradle-making was a dying craft in Kalaghatagi. So he placed an order for one with Shridhar. It cost Rs 1 lakh. "They make sofa sets too with the same kind of colour combinations and woodwork. I have ordered a sofa," he adds.
Tandur was very excited when the cradle reached his house. To mark the occasion, he organized a small function and invited 45-year-old Krishnadevaraya, member of the erstwhile royal Vijayanagara dynasty, who honoured Shridhar Sawakar for conserving an old tradition. "This cradle is my contribution for the coming generation," says Tandur.
Thirty-year-old Ajit Mothi, a jeweller from Davanagere, is another buyer. When his sister gave birth to a daughter, Sujnani Prabhu Patel, she was keen to have a traditional cradle for the baby. "Cradles are not new for us. We have made silver-covered wooden cradles for our customers. But my sister and I wanted to buy one which had natural material and colours," says Mothi. The final choice was the Kalaghatagi cradle. "This heritage of ours should be conserved for future generations," he says.
Shiva Kallappa Bagalkot, a postman from Kamadhenu, a neighbouring village, also got a cradle made to gift to his daughter when his granddaughter, Shriraksha, was born. "It's an art form of historical importance. I thought it will be a memorable gift to my daughter," he says proudly.
Shridhar works alone. So even if he has confirmed orders, he is not able to deliver the cradles quickly. The reason he cites for not hiring people is that he doesn't want to broadcast his traditional knowledge of colours. Besides, profit margins are small and don't justify extra expense on additional labour. Shridhar's words betray considerable anxiety about the future of his craft.
Two more families are making Kalaghatagi cradles: Maruthi Badiger and his cousin, Ashok Badiger. Maruthi, 43, learnt the intricacies of this craft from his grandfather. His father was not keen to follow it. He says cradle-making requires considerable manual labour but the returns are paltry. Occasionally, an old cradle made by his grandfather is sent back to him for repainting and repair. He charges Rs 5,000 for repainting.
He makes 10 to 12 cradles a year. He also paints idols and kolata sticks used for performing kolata, a traditional dance.
Maruthi points out that the craft faces stiff competition from plastic cradles and other cheaper varieties. He says that people ask why they should buy his cradles when they can get plastic ones for as little as Rs 1,000 to Rs 2,000.
So he came up with an economy version of the cradle which costs around Rs 60,000.
The main colours used for the cradles are yellow, green, red, black and white. Permutations and combinations of these basic colours produce other colours. The colours are either extracted from vegetables or from natural stones. Black is derived from traditional kajal and white is processed from a particular clay sourced from nearby villages.
Undoubtedly, the use of natural colours is a selling point. "Chemical colours are harmful since the chance that the baby will bite or lick the cradle are high," says Maruthi.
However, he says he is happy that in recent years, the popularity of Kalaghatagi cradles has increased. "Five to six years ago, cradle-making had come to a virtual halt. This was because our sources for wood had stopped. The department had made it compulsory for wood to be bought from government departments. Luckily, in the past two or three years, some film actors took an interest in our cradles and ordered a few. This attracted media attention and helped revive our profession."
The wood is expensive. One cubic foot of teak wood costs between Rs 6,500 and Rs 9,000, says Shridhar. A cradle with a stand would require three to four times that number. This means the raw material itself adds a considerable chunk to the cost.
"The government should give cradle-makers teak wood at a subsidized rate. This will improve their profit margins and encourage them to continue their craft with more interest," says Mohan Pandith, 73, a farmer from Kalaghatagi and a long-time observer of its cradle industry.
Training more people and perhaps additional help from the National Institute of Design could help the cradle-makers of Kalaghatagi enhance their craft and produce a range of other products as well.
Contact: Shridhar Sawakar – 72594 10616, Maruthi Badiger – 92422 11652