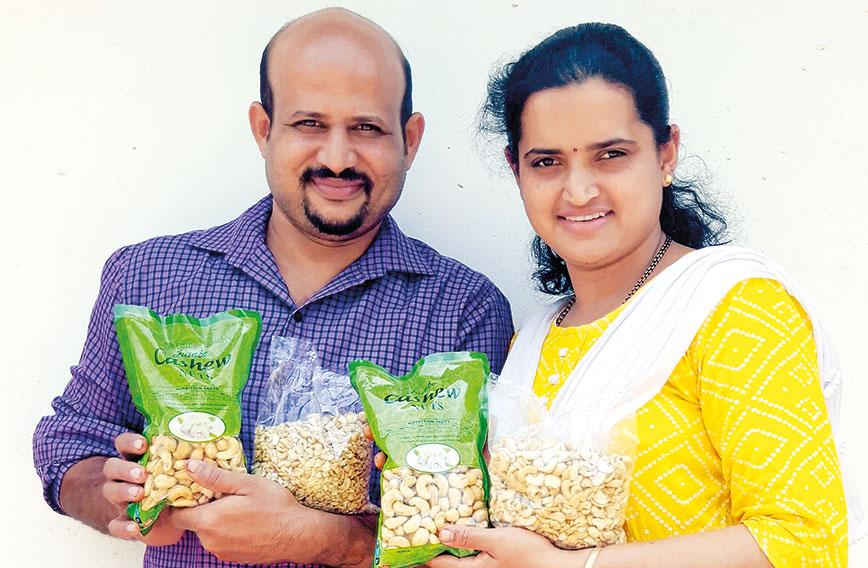 Vishwakeshava Kuruveri and Navyashree with their cashew packets
Calling the shots with cashew
Shree Padre, Uppala (Kerala)
Published: Nov. 26, 2022
Updated: Nov. 26, 2022
EVERY year, Vishwakeshava Kuruveri, a 39- year-old farmer, used to sell his freshly harvested cashew crop to some cashew-processing factories in Uppala. This year, too, at the beginning of the harvesting season, he sold 2.5 tonnes of cashew for Rs 110 per kg to the factories.
But, after some time, the cashew factories began to dither. "We have enough stock," they told him. "We don't want to buy any more cashew."
Kuruveri realized this was a ruse. The cashew factories were a rapacious cartel.
"This is a regular ploy," he says. "The factories import cheap cashew nuts from African countries and then drive down the prices of Indian cashew." They now offered him just Rs 80 per kg. "How can we break even at that price?" says Kuruveri. "We are paying Rs 500 per day to our farm labourers."
Kuruveri was determined not to be bullied any longer. He went home and discussed matters with his wife, Navyashree. They decided to process their own cashews and sell the kernels in packets directly to consumers.
"Our major apprehension was whether we would succeed in marketing our cashew nuts. But we are now confident. Our nuts have earned a good name though the quantity is low. We are overwhelmed at seeing many neighbouring farmers coming to our house to pick up a packet or two of our kernels," says Kuruveri.
He admits he had to invest his own money, and then plan, organize labour and take on the additional workload of processing. But it was worth it. "We doubled our income," he says.
FARM TO FORK
Kuruveri is a postgrad in social work. Navyashree is a B.Com graduate. The couple lived in Bengaluru for 11 years. He worked for an automobile company in the human resources department. Navyashree was a housewife.
After they realized that it was becoming tough for Kuruveri's parents to manage their areca gardens, they returned home to help. Since then, they have been striving to improve farm productivity and income.
Areca nut is the main cash crop of Kasaragod district. Eleven years ago, the Kuruveris planted cashew on their hilltop. "We don't have surplus water for irrigation, so we thought cashew would be the ideal crop since it is rain-fed," recalls Kuruveri. They took care to select grafts of the best varieties like Ullal-3, Bhaskara and Vengurla. They opted for high density planting, crowding 850 plants on four acres. Their cashew yield is, on average, four tonnes per annum.
When he told his parents, Ganapathy Bhat Kuruveri and Draupadi Ganapathy Bhat, that he was considering processing their own cashew they supported him wholeheartedly. The family had been toying with the idea for a while. His parents had some experience of processing. Years ago, they had minimally processed their raw jackfruit and supplied it to a chips factory in Mangalore.
The young couple got down to work. They searched for mini cashew processing machines on YouTube and consulted Manjunath, a farmer in Tumkur, experienced in converting cashews into kernels and marketing it.
They found out that small cashew processing machines weren't available in Kerala and Karnataka. Such machines were made in Goa and Maharashtra. They travelled to Pune after fixing an appointment with a manufacturer who had been making a range of such machines, from five kg to 200 kg, for 40 years. The company trained them for a week in cashew processing with machines.
The family invested around Rs 2 lakh to buy a boiler, a splitting machine and an electric dryer. Scooping and peeling are carried out manually. "Since we are processing a small quantity, it is manageable. We will buy a peeling machine and moisture chamber shortly," says Kuruveri.
Now, once a week, Kuruveri Farm processes its own cashews in-house. The farm labourers scoop out kernels and then peel them. Navyashree manages the processing and marketing. It takes them a week to process 80 kg of whole cashew which yields 25 percent of kernels.
The price they quote for their best grade of kernels is Rs 900 per kg. They market and sell on social media and reach end-consumers.
"In fact, our stocks get sold within a few days after packing. Unlike the kernels you get from factories, our kernels from this coastal region are a bit yellowish. But these are sweeter and tastier. What companies sell is made from imported kernels. Our customers are distinguishing this change in taste," says Navyashree.
Kuruveri Farm sends its packets to buyers through Indian Post since they have a post office in their village. "Sometimes, when we get invited to weddings and other functions, we take a few packets of cashew nuts along and place them on a table. In no time they get sold. Most guests might have seen photos of our product. Since it is processed locally by a farming family, they buy it." The Kuruveris don't have any leftover stock.
So far, they haven't branded their cashew kernels. "This year we are running a trial. We have understood two things clearly: one, we can easily market our cashews sitting in our farm. Second, our income doubles. If we had meekly submitted to the cashew factories' dictates, we would have had no savings at all," Kuruveri says.
The prices offered to cashew farmers are very low. Local buyers aren't interested in buying local cashew. So farmers, out of frustration, are compelled to sell their crop for just Rs 70-80 per kg.
Instead of being paid Rs 110 per kg for two tonnes of cashew, this year the Kuruveris secured a price of Rs 235 per kg. "Besides, we don't have to wait for buyers," says Kuruveri.
Farmers like him urgently need small processing machines, customized for farm-based kernel production. The Kuruveris were very appreciative of the Pune company that makes such machines to order.
Now that their venture is successful, will they buy cashews from farmers for processing? "We aren't interested. We plunged into this since Navyashree agreed to manage production and marketing. Our main priority is agriculture, which is areca nut farming," clarifies Kuruveri.
Years ago, when the Kuruveris realized that growing cashew wasn't remunerative, they had even thought of felling their trees. But since cashew is a food crop they hesitated. Now they are patting themselves on the back.
Contact: Kuruveri Farm (WhatsApp ) 94492 93632