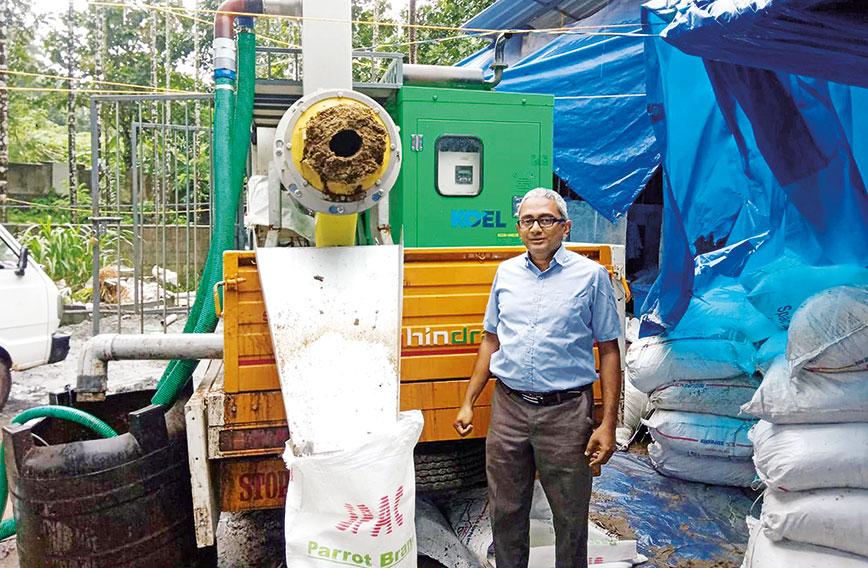 Pradeep Subash with his Dung Van
Engineer saves farmers with dung cart, instant manure
Shree Padre
Published: Oct. 22, 2022
Updated: Oct. 25, 2022
A ChanakaVandi, or Dung Van, roaming around Ernakulam, has so many customers it is finding it difficult to meet demand. Dairy farmers from Kannur to Thiruvananthapuram now request the Dung Van to arrive at their doorstep. The Dung Van carries out a most crucial service, probably the only one of its kind in India.
Developed by Pradeep Subash, a dairy expert and owner of Farms Dairy, a company that provides consultancy for dairy farming in Ernakulam, the Dung Van is a pick-up truck mounted with a rejigged dewatering machine. It converts slurry into manure and returns it to dairy farmers if they want it.
"Kerala is suffering from excessive cow dung," says Subash, a strange comment at first, from a dairy expert. Cow dung is an excellent manure and a farmers' favourite. Why would he say that?
A B-Tech graduate, 48-year-old Subash ran a dairy for 14 years. His company now undertakes turnkey dairy projects in Kerala and Karnataka. But his work as a dairy farmer revealed to him the major challenges in dairying.
"Kerala is a heavy rainfall area. The monsoon is extensive and pressure on land is more than in neighbouring states. The density of houses in one unit is pretty high. Each dairy farm has a slurry tank. This gets filled up fast, sometimes as quickly as every two to three months. There is no farmer for whom it fills up just twice a year," he explains.
During the monsoon, the slurry tank fills even faster. If it overflows, its stench spreads in the area. Objections are raised. Dairy farms with six or more cows have to obtain a licence from the municipality. If someone complains, the municipality has the authority to cancel the licence.
Besides, groundwater levels in Kerala are high. During the rainy season, chances of water getting mixed with slurry when the tank overflows are very high. Management of slurry has become a big headache for dairy farmers.
Farms Dairy came up with a solution four years ago. Its Dung Van has a technical unit which transforms the slurry into manure and fills it into bags.
The unit works for six to seven hours a day. It is operated by a team of three people. On an average, 2.5 to 3 tonnes of manure are produced in a day. The van's monthly output is 70 to 90 tonnes of manure. "We work for about 25 days a month. One unit is not enough to cater to our city, Ernakulam. There is heavy demand for this service," says Subash.
Once the unit is ready, it pumps water to the dung pit to dilute the solid dung so that it can be easily pumped. Next, the slurry pump stirs the slurry. This slurry is lifted to the unit and dewatering begins. In five minutes, one bag is ready, filled with manure. One kilo of dung makes only 200 grammes of manure. The remaining water is flowed back into the pond. This is also rich in nutrients, but seldom used for farming.
KEEP OR SELL The ChanakaVandi services a radius of about 30 km. It is equipped with a generator set that ensures uninterrupted power supply. It requires 45 minutes to prep up the unit. After the task is finished, another 45 minutes are needed to clean up the unit before the return journey begins. If conditions permit, the unit can produce a maximum of 6 to 6.5 tonnes of manure a day.
Generally, most dairy owners don't have any use for the dewatered dung. So Farms Dairy buys it back for 1.50 per kg for four tonnes and Rs 2 per kg for larger quantities. If the customer sells the manure to the Dung Van, no dewatering fee is levied.
If the customer wants to keep the manure, he has to pay Rs 2.50 per kg for the first five tonnes. Above that, the fee is Rs 2 per kg. "We go to farms which have 100 cows and we go to farms with just two or three cows," says Subash.
Tresa Joseph, Subash's wife, manages the daily schedule of the mobile van and attends to marketing of the manure. "We decide our priority based on the level of slurry in the customer's dung pit because if his pit starts overflowing it creates a chain of problems for him," she says.
The dung manure that is brought from dairy farms has 35 percent moisture content. Farms Dairy dries the manure once they get it. This reduces the moisture content to 20-25 percent.
The manure is sold under their brand name, Nanma, in small packets of two, five and 10 kg at Rs 12 to Rs 15 per kg for homesteads, vegetable growers and nurseries. It is also available in large packs of 40 kg and 50 kg and costs Rs 9 to Rs 12 per kg. "Nurseries are our major customers. Of late, farmers have also started buying. They always buy in bulk," says Joseph, who is assisted by two staffers.
Anil Thiruvairanikulam, one of Farms Dairy's initial customers, has 40 cows. His dung pit gets filled every two months. Once it's dewatered, it yields 10 to 12 tonnes of manure. He is happy that such a service is available. He doesn't cultivate any crops. Earlier, he used to request people to take the slurry for free. Now he just sells it to Farms Dairy.
"We need to spend the whole day looking after cows, so dung management is a real burden. In fact, I was so fed up with my overflowing slurry pits, I was considering closing down my dairy," he says.
Edward Innocent, another dairy farmer, used to advertize the dung in his pit in newspapers. He used to get a few buyers, but they wouldn't pay even the paltry Rs 1,000 he was charging for two tonnes. They would offer just Rs 500. He too was thinking of closing down his dairy business. His half-acre dairy farm is within city limits so for farmers to come and buy and then transport the dung was not practical because of the distance.
Innocent has availed of the mobile dewatering service three or four times. "But they don't seem to have customers for the manure, and I still have one stock of manure on my farm," he says.
FAILURE AND SUCCESS Like other dairy farmers, Subash too faced the problem of overflowing slurry pits. So, in 2013, he bought a dewatering machine from Nagpur. But it didn't work at all and he lost
Rs 1 lakh.
Since he was a mechanical engineer, he developed his own machine. In the next two years, he sold 35 such machines priced between Rs 1.5 lakh and Rs 2.5 lakh, depending on the model, in Kerala. But these too did not last long. In two or three years the machines started rusting because dung is corrosive and damages machine parts.
Subash began an intensive search for the right machine. He finally found an Italian machine that was reliable. He began buying the machine and distributing it here through Farms Dairy. He sold 12 of them. But he still wasn't happy though this prototype was reliable and did the job. The machines were much too expensive. "Many dairy farmers can't even afford a milking machine, how will they buy a dewatering machine that costs Rs 30 lakh?" he wondered.
This led him to the idea of starting a Dung Van, a mobile unit, that would go from farm to farm, turning slurry into manure. But he first decided to test his idea with dairy farmers. Their response was: how much will you charge?
Subash had not worked out the fee structure. At that juncture he met a woman dairy farmer who was a widow. He asked her. She said, "If you start such a service, I will buy two more cows."
That settled the issue for Subash. In 2018 he began designing the mobile unit. Today, he finds it difficult to meet demand.
PANCHAYAT AS CLIENT Kerala has a cattle population of 14 lakh, says Subash. Each cow excretes 20 kg of dung per day, so the state's dung production is estimated at 2.80 crore kg per day.
"This overflowing slurry problem seems to be unique to Kerala," he says. "In neighbouring states like Karnataka and Tamil Nadu, pressure on land is less so they manage by spreading the slurry on the land. We serve only 100 to 130 dairy farms because repeated visits are necessary. Kerala, according to available statistics, needs about 3,000 mobile units like ours."
The Kerala government has approved of dewatering machines. Two panchayats, Noolpuzha in Wayanad and Pukkattupadi in Idukki, have started using such machines. Subash has now been approached by 30 panchayats, mostly from Kollam, to install dewatering machines.
Noolpuzha panchayat has 1,200 dairy farmers and 5,600 cattle who yielded 38 lakh litres of milk this year. "Since agriculture is not lucrative, people are opting for dairy farming," says Dr Assainar Kakketeri, a veterinary surgeon of this panchayat.
Noolpuzha panchayat got a Rs 32-lakh grant from the Central Financial Commission and bought the Italian machine from Farms Dairy a few months ago. An eight-member society, Ksheeramekhala Vikasana, has been entrusted with the responsibility of operating the unit for six months. The society has to pay a monthly fee of Rs 10,400. The difference is that their dewatering machine is not mounted on a pick-up van. The society hires a tractor to take it to dairy farms.
But Pukkattupadi panchayat says that its mobile dewatering unit failed. The problem seems to be not the machine but management of it. It was entrusted to a Kudumbasree unit. The panchayat secretary says they aren't keen to revive it.
"When we started this service four years ago, we had no inkling that overflowing slurry is such a huge problem in the state," reminisces Subash. "Nor did we ever think panchayats would approach us to help out with this issue."
He is now working on upgrading his unit. Since most customers want their manure returned, Subash has designed the unit so that bags filled with manure can be brought back in the same vehicle and returned to the farmer. It will also run on engine power and not need a generator. He hopes his new unit will be ready by Gandhi Jayanti.
He has been approached by 12 cooperative societies in Thiruvananthapuram for his mobile units. "Three have applied for loans from the centre's National Agriculture Infra Financing Facility. Loans from this fund have a 3 percent interest subsidy and don't require collateral if the sum doesn't exceed Rs 2 crore," he says.
Meanwhile, the Kumarappa National Handmade Paper Institute (KNHPI) in Jaipur has recently developed a technology that can produce paint and newsprint from cow dung. Its financial viability is yet to be known, though.
Contact: Farms Dairy – 85890 04472