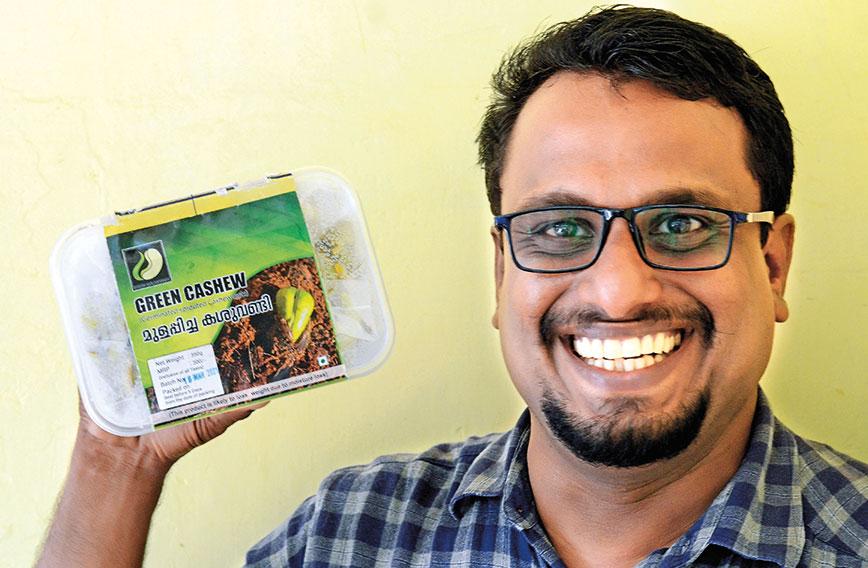 Brijith Krishna: 'Nature packs crops with excellent nutritive value in special ways'
Picking up the green cashew, taking it to market
Shree Padre, Kasaragod
Published: Jul. 20, 2021
Updated: Mar. 28, 2022
DO you know what green cashew is? Most people in cities don't. They are familiar only with the white roasted variety. Green cashew is the main part of the newly germinated cashew nut. It is higher in nutritional value than white cashew and is likely to become the next new superfood.
Every year, after the onset of the monsoon, cashew farmers find a sprinkling of green cashews under their trees. They pick it up and eat it happily. Children like it too.
A new enterprise has now come up selling green cashew commercially, probably for the first time. Brijith Krishna, a 43-year-old farmer, and his wife, Srishma, who live in Iritty in Kannur district, are growing and selling packaged green cashew. They started their venture about a year ago. Brijith has a diploma in mechanical engineering. He was employed in Malappuram for many decades. The COVID pandemic rendered him jobless. He returned home and began wondering what he could do. His two-acre newly planted cashew orchard, acquired six years ago, had begun fruiting.
Once summer rains start, cashew nut shells start absorbing water. The shell turns a little blackish from outside. In market parlance this manifestation is called 'mazhaandi' or rain cashew nut. Prices of cashew nuts crash with the arrival of the rains as such cashews are wet or rain-drenched. Wet cashews generally sell for half the price of dry cashews.
"The percentage of rain-drenched cashew nuts among cashew farmers is quite high. It can go up to 25 percent of overall production if the rains start early," says Brijith.
Worried about this loss, Brijith began wracking his brains for an answer. He recalled his childhood days. Fallen cashews would sprout under the tree during the monsoon. Children liked them. They would quickly pick up the wet cashews, pluck out the two cotyledons and eat them.
Brijith had read that green cashews had higher nutritive value than the usual white roasted ones. "Nature packs crops with excellent nutritive value in special ways," Brijith thought. "Coconut, with its hard shell, has beneficial lauric acid. Jackfruit has a shiny thick outer peel and its fruit has low glycemic index as well as high dietary fibre. The cashew with its hard shell must also be having valuable nutritive contents."
Brijith started to study this aspect deeply. He travelled to different labs in Kerala and Karnataka with samples of green cashew. The main labs he approached were at the Kerala Agricultural University (KAU) and the Central Food Technological Research Institute (CFTRI) of Mysore.
Brijith's guesswork was not wrong. Compared to roasted white cashew, green cashew's iron content was 10 times higher. It also had more calcium, zinc and fibre, though it lagged behind white cashew in taste.
Brijith began to think about how he could commercialize green cashew. He realized he would have to cross many hurdles. Cashew sprouts would most likely carry microscopic pathogens, so production methods needed to be tailored to avoid this. Seed viability was another issue. Cashew seeds germinate only up to three months. The third issue was even bigger. How could he extend the shelf life of green cashew? Green cashews lasted a mere four days, too short to take it to consumers.
Maybe this was one of the reasons nobody in the world sold packaged green cashews, he thought.
He went to the Cashew Research Station at Madakkathara, near Thrissur, and requested them for guidance.
Recalls Dr Jalaja Sudhi Menon, head of the station, "We too were thinking along similar lines. And now a young farmer had approached us with the same idea. It inspired us too." The station standardized a method to produce cashew sprouts aseptically and worked out a production protocol for Brijith.
Cashew nuts require high humidity to germinate. "All nuts that fall from the tree don't germinate. They only sprout in areas with thick layers of dry leaves," explains Brijith. With trial and error, he constructed a 'germination room' to produce green cashew. The couple doesn't use soil to germinate cashew nuts. Instead, they use pro-trays containing coir pith.
Seeds are sown every day. They now harvest 15 to 25 kg of green cashew daily. Production is Srishma's forte. Brijith is in charge of promotion and marketing.
"Since this is a completely new product, creating awareness is the major challenge," says Brijith. Recently, he got an opportunity to promote his product at a supermarket in Kannur. Brijith explained all the beneficial qualities of green cashews to shoppers. He sold nine boxes in a couple of hours. But his three remaining boxes remained unsold even after three days!
Brijith realized that he wouldn't be able to create awareness on a large scale for his product. He opted for another route. He took it to people who understood food science — chefs. Brijith travelled to most cities in Kerala, seeking out chefs in three-star and five-star hotels. In a month's time, he met not less than 50 chefs. Gradually, a few chefs started showing interest. Word began to spread. A chef's daughter posted a video on green cashew on social media. Brijith too promoted his product on Facebook.
He also worked out logistics so that he could ensure timely delivery. He packs his green cashew nuts in thermocol boxes filled with ice gel and sends them by the night bus service to various cities from Iritty. This packing keeps the cashew nuts cool for 12 hours, till they reach their destination the next morning. There are one-kg boxes priced for `600 and half-kg boxes as well.
Brijith and Srishma have also converted their home into a cookery lab, experimenting with different recipes. "Green cashew goes well with most vegetables. I have used the nuts in biryani, aviyal and pickles. I also made milkshake, sharkaravaratty and many other delicacies with green cashew," says Srishma.
"If more people start selling green cashew, it will catch on among consumers. Farmers will then get a better price for their rain-drenched cashew nuts," says Brijith.
Dr Jalaja is full of praise for Brijith and Srishma. "Our contribution is limited to the production part. Managing transport and marketing in a short span was Brijith's effort. Green cashew is a nutritious food, full of antioxidants. It can be an alternative to meat too. But production of green cashew requires utmost care," she explains.
"Most of Kerala's old cashew varieties are late-bearing types. They yield at the end of summer. Nuts are harvested mainly in the midst of summer rains, resulting in inferior quality nuts. If green cashew enterprises succeed, the income of cashew nut farmers will definitely rise."
Contact: Brijith – 94471 78995