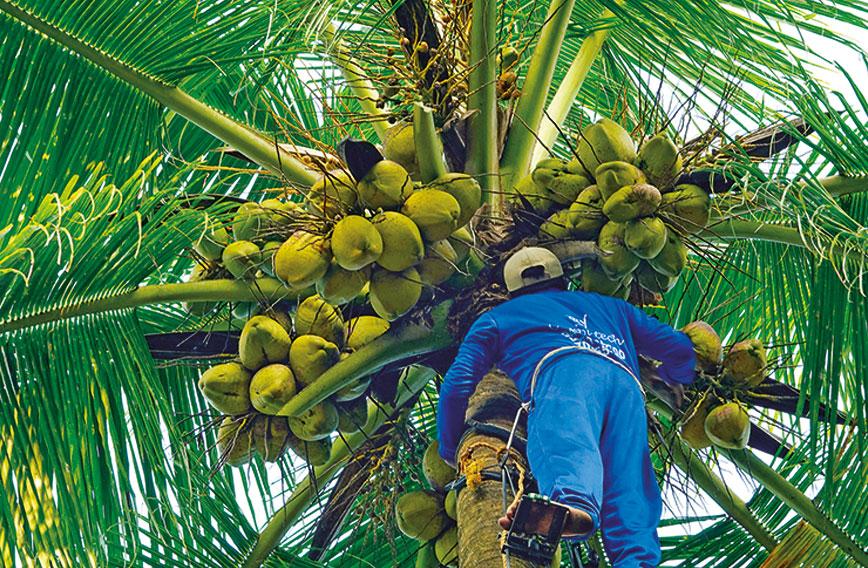 Atop a tree: Coconut harvesters are mostly between 20 and 30 years old
Jobs grow on coconut trees: Kerala bails Chhattisgarh
Shree Padre, Thiruvananthapuram
Published: Mar. 26, 2022
Updated: Mar. 28, 2022
NINE years ago, when 57-year-old Pushpangadan Mohandas, an ex-serviceman, went in search of a coconut tree climber, he couldn't find anyone. Finally, he bought a device and climbed his own tree to harvest his coconuts. Once up, he found it tough to come down. It took him an hour to figure it out. But the experience taught him a valuable lesson. Kerala, the land of coconuts, was suffering from a serious shortage of climbers. Here lay a business opportunity.
Mohandas converted his company, Computech, which used to teach computer education, into a coconut harvesting company. People are trained to climb coconut trees and then put on the job.
What is unusual about his company? Well, all his climbers are from distant Chhattisgarh. None had seen a coconut tree until arrival in Kerala. Not a single person from Kerala has applied for a job with Mohandas' company.
The coconut tree climbers from Chhattisgarh have earned a reputation for professionalism. They turn up on time, bring down the coconuts safely, ensuring nobody's head or tiled roof gets damaged, and they charge just `50 per tree.
"Local harvesters have to be called 10 times before they turn up. Then they charge extra for crown cleaning, pesticide application, and demand up to `125 per tree. But with Computech, things are different. One call is enough. I have recommended them to many of my neighbours. Their harvesters have a positive attitude," says Peroorkada Narayanan, owner of 22 coconut trees, approvingly.
Today, about 46,000 families in Thiruvananthapuram depend on Computech to harvest their coconuts. Located in Ayiroorppara, a suburb, the company now has eight branches across the city.
The coconut tree climbers or harvesters are mostly between 20 and 30 years old. Most have completed a school education. Each earns between `25,000 and `40,000 per month. When they go back to Chhattisgarh after six months or so, they take with them around `2 lakh each. Those who stay for a year save, on average, `4 lakh.
"For young men in Chhattisgarh, joining our company is like going to the Gulf for Keralites," says Mohandas. "Their first priority is to buy a motorcycle. Many of them do so within six months of joining us. In fact, if you hear a motorcycle rumbling past in a village in Chhattisgarh it may very well be a member of our staff. They have also constructed concrete houses with their earnings."
The company now has a staff strength of around 100 people and attrition rates are low. But when Mohandas started, he found it tough to attract workers to his unusual venture.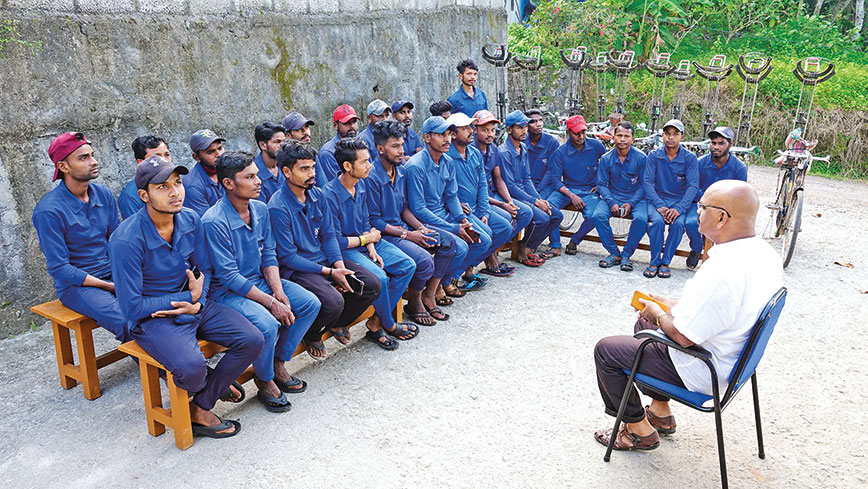 Pushpangadan Mohandas training his workers
SHAKY START
Back in 2013, when Mohandas decided to convert Computech into a coconut harvesting set-up, he thought the best way to begin would be by training newcomers. Early one morning, he drove to Pothencode junction where hundreds of migrant labour from north India gather at 4 am, waiting for building contractors to come with trucks and pick them up.
As soon as Mohandas arrived, workers milled around his car. What was the work, they asked. How many labourers do you want? Mohandas explained that he was looking for people he could train to do a different kind of job. If they learnt, they could earn as much as `1,500 per day. Eight interested workers piled into his car.
Mohandas took them to his home-office and explained the job. He showed them a video and started training them to climb a coconut tree. After half an hour, they said they couldn't do it and please could he drop them back.
Mohandas' attempt to find workers was futile the next day as well. On the third day, labourers warned other labourers not to go with him. "It's a waste of time," they said.
So, Mohandas looked for another labour pick-up spot. There, too, for six days he couldn't attract any workers. Finally, a labourer from Chhattisgarh, desperate for work, said, "If you give me a basic place to sleep, I'll do whatever you tell me to." His name was Ramesh and he became Computech's first coconut tree climber. Mohandas trained him and in a few hours Ramesh was able to harvest nuts from nine coconut trees. He worked five years for the company.
Another five workers from Chhattisgarh then joined Computech. Initially, Mohandas would take them in his car and climb coconut trees with them, alongside. The reason was that none of his workers knew Malayalam and customers found it difficult to communicate with them. Also, since they were unfamiliar with the city, they found it difficult to locate the addresses of clients. Subsequently, Mohandas bought bicycles for all of them.
These workers returned to their villages and came back with friends and relatives who wanted to become coconut harvesters. That also filled Mohandas with confidence. He realized he was on the right track.
"Coconut harvesting is a tough job," he says. "But these boys from Chhattisgarh carry it out efficiently. They pedal nearly 25 km daily."
CALLING A CLIMBER
To spread awareness about the company's services among the residents of Thiruvananthapuram, Mohandas advertised on FM radio and on hoardings and banners.
Computech now has a call centre manned by 11 women who take down the caller's details and insert them in the database. "We have the route map of each harvester in front of us. If his schedule isn't full, the job is allotted to him immediately. Otherwise, it is fixed for the next day. There is no delay," says Meena, a call centre staffer.
Computech has also developed a 'workers app'. Once the call centre at Ayiroorppara receives a booking, it passes it on to the harvester on his mobile. If the harvester has chosen not to work on that day he simply has to press a 'no' button. There is no compulsion. If he has completed his work, he can ask for more assignments which fall on his route home.
Office hours are from 7 am to 6 pm. "We work even during the rainy season. If it rains during work, no issues. But if it rains at the start of a working day, that becomes a deterrent," says Mohandas.
"We don't ignore a request even if it is from the owner of one tree. In fact, we give them priority. If a customer wants the harvester to come on a holiday, we organize it. The customer's convenience is always honoured."
Each branch has a manager and a superviser selected from amongst the workers. The manager sees to it that processes run smoothly and the superviser is in charge of collecting and disbursing money.
Earlier, employees used to assemble at Computech's office in Ayiroorppara and then travel all over the city, sometimes going 25 to 30 km. In 2017, to reduce their daily footprint, the company began opening branches. Now harvesters have to travel upto a radius of just five to 10 km.
"If conditions are favourable, they harvest 100 trees a day on average. If they have to visit two or three sites, this number falls to 60 to 80. Some call it a day around 3 pm. Others go on working till 5 pm," says Mohandas.
Out of `50 per tree charged, the company gives the climber `32. "We disburse about `12 lakh to our harvesters every month," says Mohandas.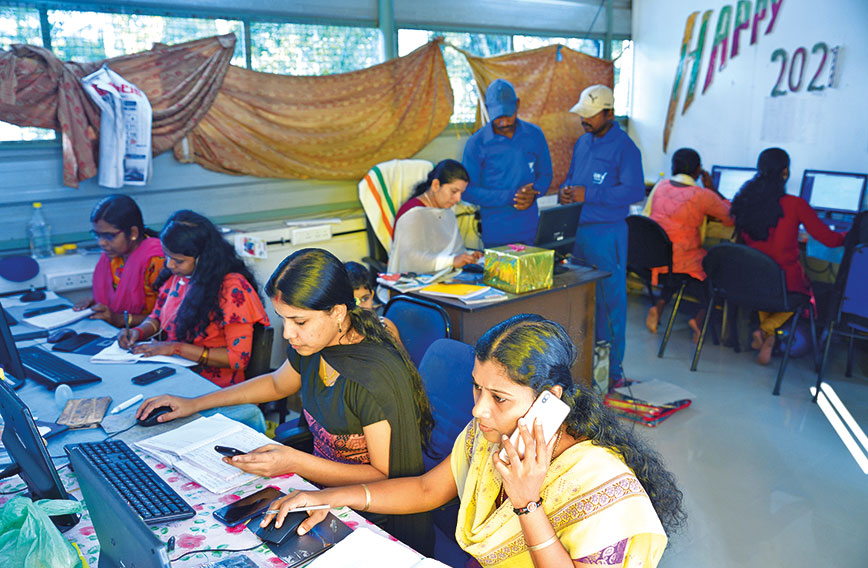 The busy call centre
FROM NORTH TO SOUTH
In Chhattisgarh the daily wage in rural areas is a paltry `150 to `200 per day. Mohandas, who has visited some of his workers' villages to attend weddings or to meet them, says he was surprised to see people still living in thatched houses. The boys generally go home for weddings or during the monsoon to cultivate their lands. They return after two or three months.
Shyam Singh, 29, joined Computech a year ago. His elder brother, Shripal Singh, has been working for the company for five years. It took Shyam six days to learn to climb the trees. Now he harvests nuts from 30 to 40 trees per day. His monthly income is `25,000.
Shyam Singh comes from a village in Ratanpur district of Chhattisgarh. His is a joint family of a dozen members. They own nine acres, some of which has been mortgaged to borrow money. He says his monthly expense on food is `2,000 and he is saving the rest. His family back home is constructing a six-room building which they hope to lease out for commercial purposes.
The elder brother, 41-year-old Shripal Singh Paikra, has studied upto Class 8. Earlier, he worked in Delhi as a coal loader, earning `8,000 per month. He now earns `30,000. Last year, he spent `6 lakh to build a new home. He has brought nearly 12 youngsters from his village to work for the company. "I can't dream of earning such an income back home. In fact, I don't feel like going back at all. I'll work here as long as I can," he says.
Shripal and a friend have brought their wives to Thiruvananthapuram. They are living together in a rented house in a nearby area. Computech provides free accommodation to single workers.
"At first, locating the homes of customers was difficult for us. But now I know every nook and crany of Thiruvananthapuram," says 33-year-old Shiv Narayan Marani. He has studied upto Class 10 and has worked for Computech for five years. He harvests, on average, 85 trees a day and earns `35,000 per month.
"Everything is just fine here. I don't know how time passes," he says. "After working for six or seven months I will go home to help with cultivation and then I'll return. Back home, my status has gone up." Marani has built a new home for `8 lakh. He has brought five members of his family to work for Computech.
Initially, the problem Computech faced was that harvesters would leave the job after two or three months. "The company wasn't getting any benefit after training them. So, for recruits we have a new rule. They get half their pay for the probation period of six months. After that they can take their full pay," says Mohandas. In nine years the company must have trained about 500 coconut tree climbers.
Some years ago, Computech faced an unexpected crisis. A lady staffer left her job and took several harvesters with her. Computech then faced an acute shortage of manpower. Recruiting and training newcomers takes time and effort. Mohandas didn't despair and instead travelled to Chhattisgarh.
He went to the villages his recruits came from. He spoke to families and got a positive response. A group of youngsters boarded the train to Thiruvananthapuram to work for him. His staff strength was restored. He also publicized his job offer in the villages.
Noting Mohandas' success, a few more coconut harvesting set-ups have sprung up but none can match Computech in efficiency and service. His outfit is a model for south Indian states which have coconuts languishing on tree tops.
Computech: 70255 46660 ( 7am – 6 pm)